Photos
Bob Odenkirk Visits Late Late Show; Thomas Schnauz, Peter Gould Talk Jimmy & Chuck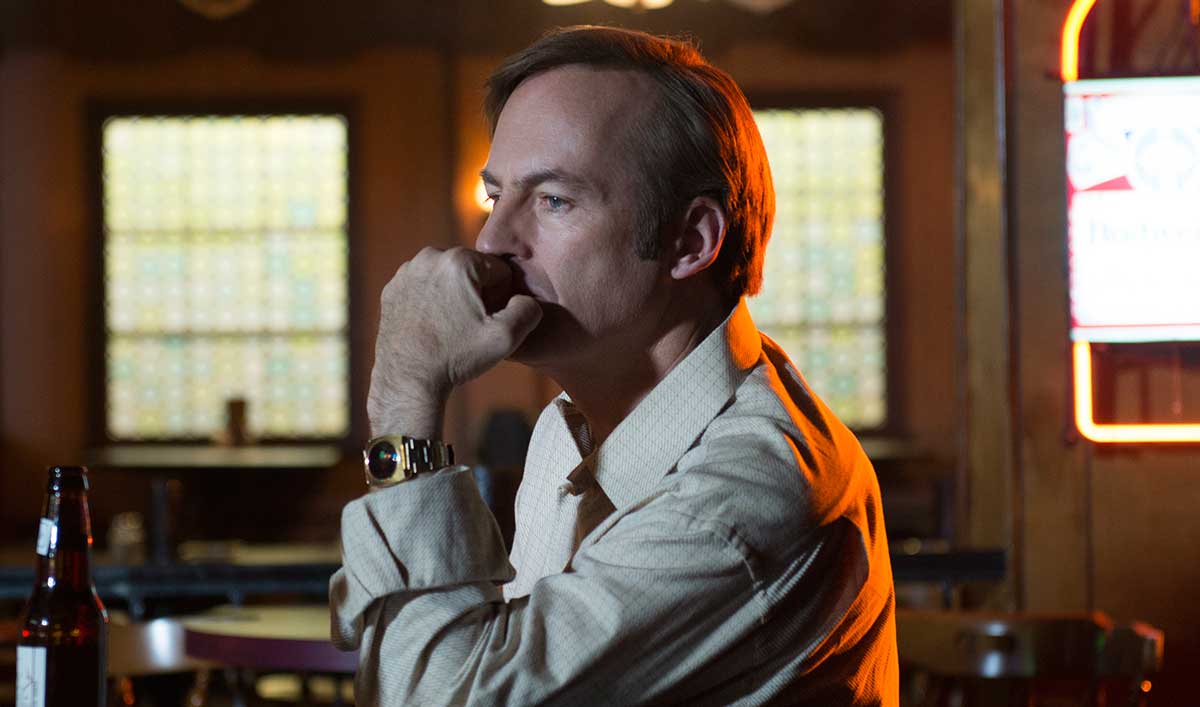 This week, Bob Odenkirk visits The Late Late Show, while Thomas Schnauz and Peter Gould discuss the dynamics of Jimmy and Chuck. Plus, Giancarlo Esposito really wants to be on Better Call Saul. Read on for more:
• On The Late Late Show, Bob Odenkirk explains that he was taught how to make Cinnabons and, now, "I can make one to specs." He also explains to James Corden that he always thought Saul would die on Breaking Bad.
• Thomas Schnauz, who wrote and directed Monday's episode, "Pimento," tells The Hollywood Reporter, "Would Jimmy turn into Saul Goodman if not for Chuck's horrible actions? Is it a self-fulfilling prophecy? Or was Slippin' Jimmy always going to be become Saul Goodman? We'll never know."
• Looking ahead, Peter Gould discusses Jimmy and Chuck with Entertainment Weekly: "It is fair to say the gloves are off. These guys understand each other. They are no longer hiding who they are from each other. This revelation is going to change everything between them."

• According to Uproxx, Giancarlo Esposito channeled Gus when he apparently told Vince Gilligan, "If you do not put me in Better Call Saul, I will kill your wife. I will kill your son. I will kill your infant daughter."
• Bob Odenkirk previews his monologue in the Season 1 finale, telling The Hollywood Reporter, "I find it to be an involving challenge to attempt to do the work as written, even in a speech that long. Exactly, exactly as written."
• Forbes interviews Thomas Schnauz, who says, "One of my favorite parts of this season was writing the brothers' confrontation. The direction I gave Bob was that he had a witness on the stand and this was the 'You can't handle the truth' moment where you need to get him talking."
• Thomas Schnauz teases the Season 1 finale to Yahoo TV, noting the effect of Chuck's words on Jimmy: "He just drives away. He tries to deal with it one way. I'll just say this: In the finale, he tries to deal with the events one way, and realizes that he can't. He goes another direction."
• Bob Odenkirk is Entertainment Weekly Community's MVP of the week because he's "no longer the caricature of a weasel lawyer, but instead, a dogged, persevering, down-on-his-luck man just trying to make his big brother proud."
• Michael McKean tells Salon that he enjoyed the confrontation between the brothers, saying, "I loved having things to do and it was going to be a big thing, a big scene, and then when I read it I realized what a terrifically written scene it was."
• Talking to Salon, Jonathan Banks discusses playing Mike, that "I really enjoy doing this character. It brings out a lot of my sadness, of Jonathan's sadness, to come and do that. Maybe it's therapeutic in some ways, I don't know."
• Rhea Seehorn also speaks with Salon about Kim, saying how she's "thrilled with the three-dimensional female that they've created, who is not just reactionary, who has her own trajectory that is, to me, just a very real, honest character."
• Vince Gilligan, with help from Bob Odenkirk, will host a night of classic television on MeTV on Apr. 5, according to the Chicago Tribune.
• Gordon Smith chats with The Wall Street Journal about Jimmy's and Chuck's approaches to the law: "To Chuck, it's more about playing by the rules, an old-school mentality. Jimmy is definitely more flexible: let's make this work, the law is living and breathing."
• Julie Ann Emery chats with BuddyTV about Jimmy's transition to Saul, saying, "But the question is, when does the moment happen that tips it over the edge? That's what will keep me coming back."
• Deadline reports that Netflix has picked up Bob Odenkirk and David Cross' new sketch series, With Bob and David.
• Ahead of the Season 1 finale, Fansided recommends watching a Better Call Saul marathon on Apr. 6 starting at 12:15 p.m. ET: "Snuggle in with your space blanket and order a pizza, because you're not leaving the house on Monday."
• Bustle notes that the latest episode was not the first time Mike has talked about pimento ("clearly Mike's cheese of choice") sandwiches.
• Uproxx points out that Mike's client, "Pryce," was played by Mark Proksch, who, several years ago, assumed the identity of a self professed "Yo-Yo Master" and "tricked a bunch of mid-western local news morning shows into having him live, on-air."
• Meanwhile, according to Kotaku, the guy who gets beaten up by Mike was played by Steven Ogg, "the man you may recognize as the voice of everyone's favorite hillbilly psychopath Trevor Philips" in Grand Theft Auto V.
• Uproxx shares all the "incredibly cool details" from this week's episode, while The Hollywood Reporter has advice from the show's superfans on searching for Easter eggs.
• The Montreal Gazette profiles a native son, Michael Mando, who acknowledges that viewers don't know much about Nacho: "We don't know his backstory — which I'm so excited to explore further in Season 2. But I can say he is more interested in financial success than in violence."
• Michael Mando, speaking with the Toronto Sun, says Nacho is "unlike anything I've ever played before."
• Esquire speaks with Dave Porter, Better Call Saul and Breaking Bad's composer, about the differences when it comes to scoring the two shows.
• Rhea Seehorn visits KTLA and explains Jimmy and Kim's relationship, saying, "There is great love there. And great intimacy and history in their relationship."
• Indiewire considers Better Call Saul a modern tragedy, "the story of a man who thought he could live the American Dream, only to find out it's all used up."
• Eater, citing Better Call Saul's Cinnabon montage as an example, believes "we are in the very first golden age of food on television."
• Den of Geek takes a look at Michael McKean's impressive career.
• The Conversation explains that Better Call Saul works so well for three reasons: "character, character, and character."
• Above the Law interviews a lawyer about her blog, "The Legal Ethics of Better Call Saul," which "explains the ethical implications of Saul Goodman's conduct."
• Pocket-lint tests out a new Better Call Saul app and concludes, "Needless to say it was funny."
• Inlander comes to a realization that "the thing about the Breaking Bad universe is that bad things happen to bad people even when they do good things."
• For recaps and reviews of Season 1, Episode 9, "Pimento," check out A.V. Club, Digital Spy, Entertainment Weekly, Forbes, Gothamist, The Guardian, HitFix, IGN, Los Angeles Times, New York Daily News, Rolling Stone, Tampa Bay Times, TV.com, Vulture, The Wall Street Journal, The Washington Post and Yahoo TV.
To stay up-to-date with all the latest Better Call Saul news, join the Better Call Saul Insiders Club.
Read More