Press
Bob Odenkirk, Peter Gould Look Ahead to Season 2; Vulture on Bad/Saul Links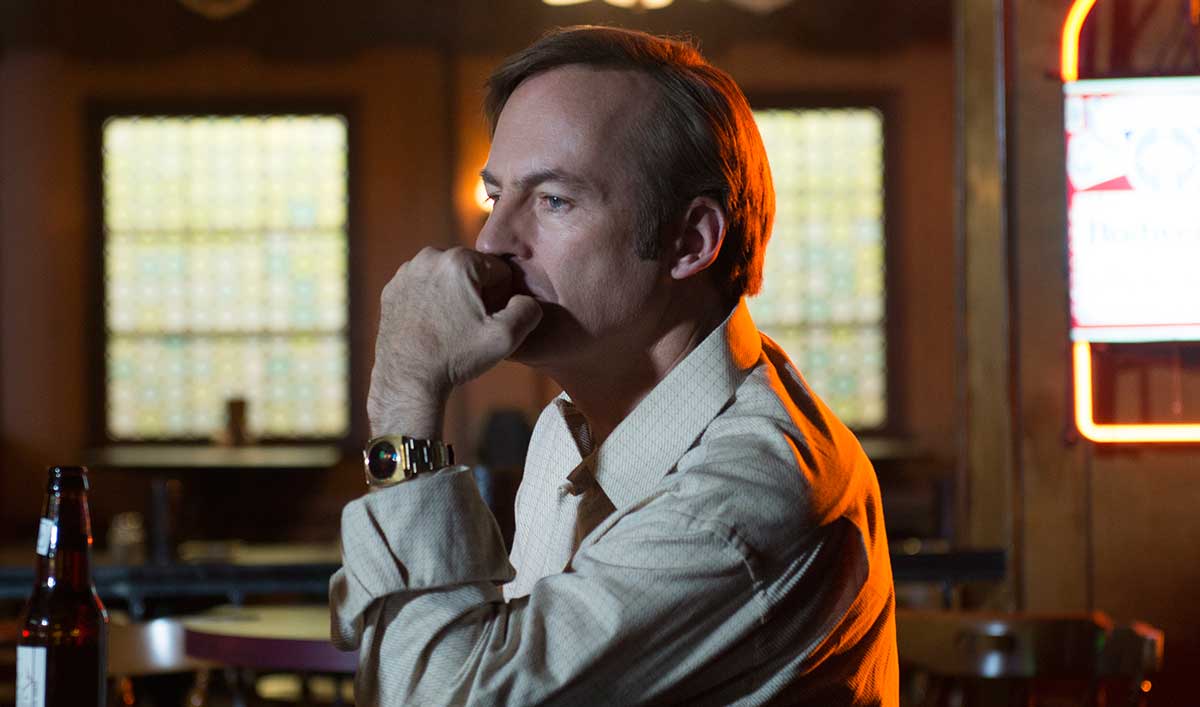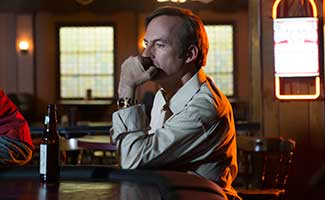 This week, Bob Odenkirk and Peter Gould look ahead to Season 2, while Vulture looks at the links between Breaking Bad and Better Call Saul. Plus, People has four things it wants to see next season. Read on for more:
• Bob Odenkirk tells Entertainment Weekly that, in the final scene, Jimmy decides "he's going to stop checking in with the world at large as to whether his moves and his choices are approved and blessed by the greater, higher power."
• "He's going to cut loose and I feel great about it" is Bob Odenkirk's assessment of Jimmy's attitude in the Season 1 finale's closing moments, according to The Hollywood Reporter.
• Bob Odenkirk says to Variety, "I would love to see a scene or two or a story that plays out parallel to Breaking Bad. Because I do think when Walter White walks out the door of Saul Goodman's office, we really had no idea where Saul's life went to, and what he did."

• Speaking with Yahoo TV, Peter Gould cautions, "I think probably we'll find that Jimmy's progress to Saul — progress or descent, depending on how you look at it — into becoming Saul Goodman is not something that's going to happen all at once."
• Similarly, Peter Gould says to The Hollywood Reporter, "The thing to look at is how close is Jimmy McGill to being the guy we met on Breaking Bad? The Saul Goodman we met on Breaking Bad recommends murder as a business strategy. Do you think Jimmy McGill would do that?"
• Entertainment Weekly learns from Peter Gould that Jimmy "surprised us with how likable he is, how well-intentioned he is, how much he cares about other people, and those are all qualities that we don't associate with Saul Goodman."
• Looking ahead to Season 2, Peter Gould teases to TV Guide, "We have talked a lot about what Jimmy's next step is and what this next season is, and what we've found is that Jimmy's decisions often have implications and corollaries that he does not expect."
• Peter Gould talks to USA Today about the different tones and styles of each episode, that "it might be controversial for some folks that each episode seems to follow its own course. But for us, that's with keeping where Jimmy is. He's a guy who is searching for a path."
• Talking to Variety, Peter Gould makes it clear that "Mike is now in the game, and I think there are going to be some very interesting ramifications from that."
• Peter Gould updates Deadline on mapping out Season 2, saying, "We're in our writers' room with a bunch of very, very talented writers and we're just in the early stages of putting together the outlines of the first few episodes."
• Vulture examines "the bigger narrative and thematic threads that drew" Breaking Bad and Better Call Saul together.
• People shares the four things "we hope to see the next time we meet Jimmy."
• Rhea Seehorn tells Esquire she enjoyed the nail salon scenes because "the intimacy inside this very Edward Hopper, beautiful painting that [director of photography] Arthur Albert had set up for the shoot was so, so great to play. Just the quiet moments."
• Bustle, The Huffington Post and International Business Times point out the Breaking Bad references that showed up in the Better Call Saul Season 1 finale.
• With Season 1 now in the books, The Week concludes that Jimmy is "the moral center of the story. This isn't a show about a good guy breaking bad; it's a show about a bad world breaking a good guy."
• Ahead of the Season 1 finale, USA Today applauds, "We also have one more good reason to trust writers Vince Gilligan and Peter Gould — because they knew Saul could carry this series when many others doubted it."
• NPR declares that Better Call Saul is "every bit as compellingly watchable as the first season of Breaking Bad. And I'll put the penultimate episode 'Pimento' up against the best "Breaking Bad" had in its first season."
• Bustle, while wondering when Season 2 will premiere, says that "what makes Better Call Saul so refreshing — and why I'm so thrilled that it already has a Season 2 is that even though it's technically a spinoff, it's so original (props to the TV master Vince Gilligan)."
• Bustle, looking back at Breaking Bad references, showcases "a few highlights of what you missed on our first return trip to Albuquerque."
• Uproxx draws comparisons between Jimmy and The Simpsons' Lionel Hutz, pointing out that the two have "an awful lot in common."
• In honor of Bob Odenkirk and David Cross teaming up again for a new Netflix series, The Hollywood Reporter highlights 10 memorable sketches from cult favorite Mr. Show, the duo's previous collaboration.
• Den of Geek looks back at Jonathan Banks' 10 most "geek friendly" roles.
• For recaps and reviews of the Season 1 finale, "Marco," check out A.V. Club, Den of Geek, Entertainment Weekly, HitFix, Los Angeles Times, Slate, The Telegraph, Vulture, The Washington Post and Yahoo TV (recap and review).
To stay up-to-date with all the latest Better Call Saul news, join the Better Call Saul Insiders Club.
Read More