Press
TV Guide Applauds Saul; Bob Odenkirk Appears on Jimmy Kimmel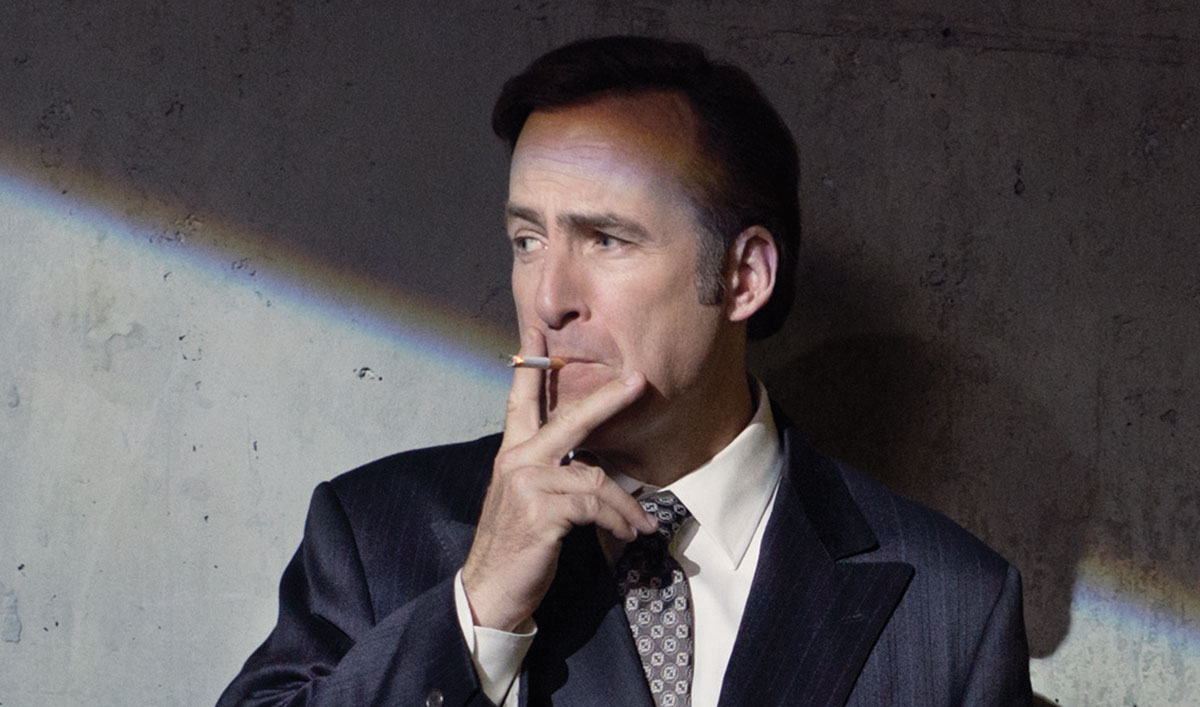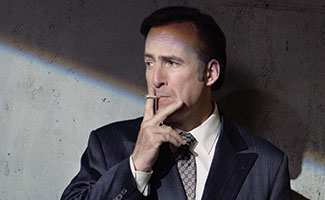 This week, TV Guide applauds Better Call Saul, while Bob Odenkirk appears on Jimmy Kimmel Live. Plus, Vince Gilligan and Peter Gould talk to the Los Angeles Times about the new show. Read on for more:
• TV Guide awards 4-1/2 stars to Better Call Saul, calling the show a "marvelously original and instantly engrossing hybrid of origin story, prequel and spinoff." [No link]
• Jimmy Kimmel hosts Bob Odenkirk, who talks about how he's dealing with his newfound fame from playing Saul.
• The Los Angeles Times chats with Vince Gilligan, Peter Gould and AMC President Charlie Collier about the origins of Better Call Saul.

• Talking to The Wall Street Journal, Bob Odenkirk says of Saul that the "scheming, the double talk, the escapades–they're fun to play, but we really dig down to this guy's basic drives. That's what stuck with me, all the hurt, and the personal story that made him who he is."
• Ahead of Better Call Saul's Feb. 8 premiere, TV Guide speaks with Bob Odenkirk, who calls this version of Saul "a far richer character. He's a whole human being. There's his public face and his private existence." [No link]
• Bob Odenkirk, interviewed by GQ, characterizes Saul as someone who "has things he wants, and they're not just money. He wants people's respect. He wants to know where he fits."
• Vince Gilligan, speaking to the Richmond Times-Dispatch, says he joined Better Call Saul because "I wanted to keep the band together; I wanted to keep working with Peter Gould…and I wanted, selfishly, to keep writing that fun dialogue that Saul Goodman is so quick to come up with."
• The Chicago Tribune, interviewing Bob Odenkirk, declares that "it's Breaking Bad that broke out Odenkirk, and it's Better Call Saul that promises to be his own showcase."
• Vox, talking to Vince Gilligan and Peter Gould, quotes Gilligan saying, "We started with pure affection for this character [Saul], to the point that all we really knew, being brutally honest about our process, was that we loved putting words in this character's mouth."
• Variety attends the Better Call Saul premiere and learns from Vince Gilligan that it "really helped us to go six years in the past and see him before he was Saul Goodman, and see him as an underdog and struggling and really trying to make it."
• At the premiere, Peter Gould tells The Hollywood Reporter that Jimmy McGill is "a classic underdog. He's certainly somebody who gets beaten up by the world, but he does not have a terminal disease. He has a different set of problems in the world…"
• "Better Call Saul not only stands right alongside Breaking Bad as a stunningly entertaining TV series, it stands on its own," applauds NPR.
• The Washington Post's Better Call Saul review describes the spinoff as "a worthy companion piece to Breaking Bad, though it is different in a few subtle, if notable, ways."
• The Telegraph, reviewing Better Call Saul, says the spinoff "doesn't just look unmissable, it looks like the new Breaking Bad."
• The Huffington Post calls Better Call Saul "new, fresh, and so very addictive. From scene one, you'll want to keep watching."
• Slate contends that Better Call Saul "resembles nothing so much as the early stages of a superhero narrative: Saul Goodman, The Origin Story."
• Time points out that Better Call Saul distinguishes itself from Breaking Bad because "it has different aims–it takes the character seriously, but it's more of an entertainment, more picaresque. And ultimately, it's about a different kind of figure…"
• PennLive speaks with Pennsylvania native Patrick Fabian, who says his Better Call Saul character is "one of life's successes. I am rich. It's a big company. The sun shines on me."
• Michael Mando talks to Canada.com about playing Nacho Varga on Better Call Saul.
• Movieweb features a preview that provides insight into the show's supporting characters, like Michael McKean's Chuck McGill, Patrick Fabian's Howard Hamlin and Rhea Seehorn's Kim Wexler.
• Better Call Saul is now available as an online comic book, which "sketches out the history of Saul and Mike," according to Mashable.
• Business Insider shares "everything you need to know" about Better Call Saul. Similarly, Tastefully Offensive offers a supercut of Saul's best one-liners.
• International Business Times lists its candidates for Saul's best Breaking Bad quotes.
To stay up-to-date with all the latest Better Call Saul news, join the Better Call Saul Insiders Club.
Read More