Press
EW Praises Saul; Michael Mando Already Eager for Season 2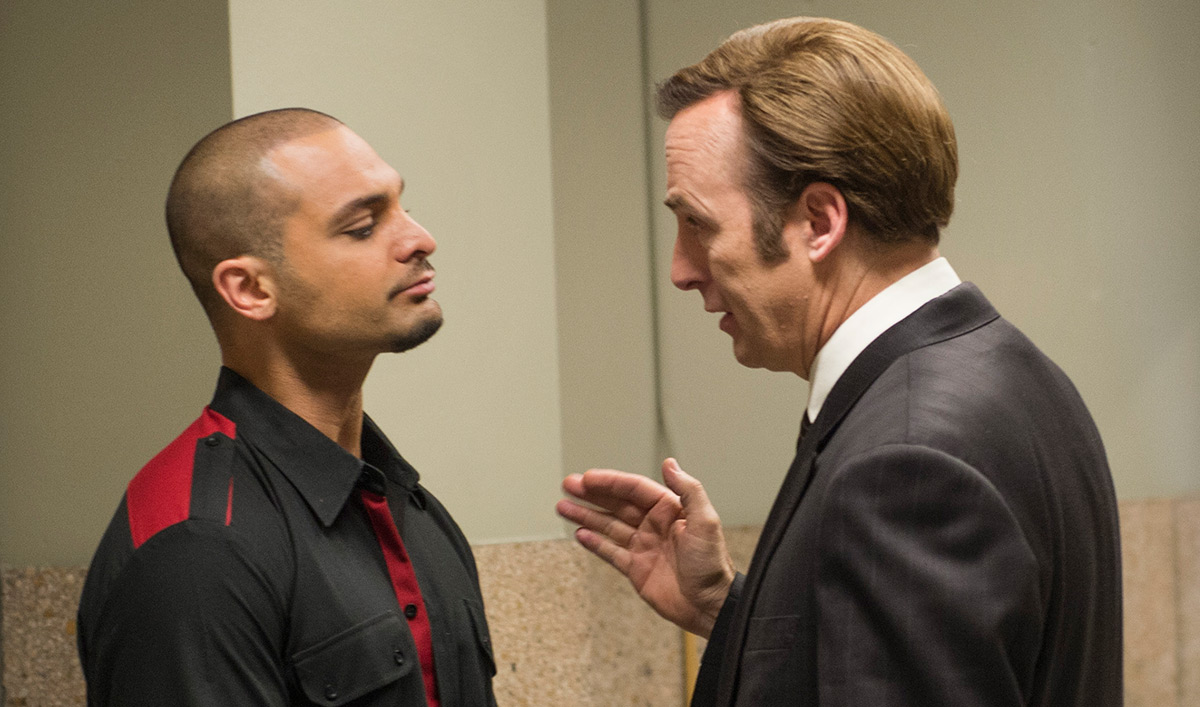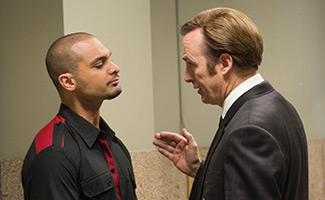 This week, Entertainment Weekly praises Better Call Saul as a "spin-off that works," while Michael Mando tells Albuquerque Journal he's already eager for Season 2. Plus, Gennifer Hutchison teases the rest of Season 1 to The Hollywood Reporter. Read on for more:
• Entertainment Weekly lauds Better Call Saul as "the rare spin-off that works, expanding the original show's mythology while creating its own distinct funny-sad sense of humor." [No link]
• Michael Mando, talking to Albuquerque Journal, says he's eager for Season 2 and notes, "Nacho is really unlike any character I've ever played. He's extremely intelligent and patient. He's very ambitious and to be in that character's skin is a journey for me."
• Esquire has an excerpt of Ian Black's conversation with Bob Odenkirk, where he talks about "the origins of Saul Goodman."
• Gennifer Hutchison, who wrote the latest episode, "Hero," tells The Hollywood Reporter that Jimmy "doesn't yet understand the implications of the things he does. As the season goes on, that's what happens — there are consequences to his actions."

• Yahoo TV learns from Patrick Fabian that he likes "Hero" because it's "an episode where Jimmy starts to really confront Howard and get in his face, and Howard doesn't like the boat rocked."
• The Wall Street Journal interviews Patrick Fabian, who teases about Jimmy and Howard, "Things are going to get very interesting. Things aren't always what they seem."
• Julie Ann Emery and Patrick Fabian talk to The Hollywood Reporter about Jimmy's scheming and how it's "fascinating to use someone like the Kettlemans as Jimmy's first moment of corruption," according to Emery.
• Speaking with The Canadian Press, Patrick Fabian warns that Jimmy had better watch out since Howard "didn't get to be the head of a 125-employee top white collar law firm in Albuquerque by being nice the whole way."
• The Boston Globe calls Better Call Saul "highly entertaining, if not as tense and addictive and psychological as its mothership. Kudos to Bob Odenkirk for taking a relatively flat character and adding lots of dimension."
• In a twist on TV show recaps, Funny Or Die tweets a recap of "Hero" written purely with emojis.
• Esquire gleans some insights from Jennifer Bryan, Better Call Saul's costume designer, on dressing Jimmy: "What do you do with a guy who we know is going to start out with literally nothing, and have the audience believe that this guy is going to be a dandy and a peacock?"
• The Guardian explains that "you don't really need to have seen all five seasons of Breaking Bad to enjoy Better Call Saul."
• The Hollywood Reporter credits Better Call Saul, which has improved the ratings for its time slot by 500 percent, for AMC's decision to move TURN: Washington's Spies to Monday nights.
• Parks and Recreation's Adam Scott, a Breaking Bad fan, tells HuffPost Entertainment he's impressed by Better Call Saul, saying, "I watched both of those opening episodes twice. They're just amazing. The storytelling is as good as Breaking Bad. The acting is incredible."
• RadioTimes recommends following Thomas Schnauz on Twitter (@TomSchnauz) because it's "the behind-the-scenes story of what it's like to write Better Call Saul."
• Rotten Tomatoes interviews Michael Mando, who says that when Nacho and Jimmy interact, "there's this really profound sense of wanting more than the cards they've been dealt that somehow binds them together."
• Julie Ann Emery, talking to Starpulse about the Kettleman family dynamic, says, "I think it's obvious that Betsy wears the pants in her family."
• Zap2it interviews Michael McKean about his childhood and background.
• CarterMatt spotlights an AMC video where Jonathan Banks reveals why it's a bad idea to cross him in an airport.
• Fansided has some ideas for 10 more Breaking Bad spinoffs, since Better Call Saul is proving that Vince Gilligan and his cohorts "have not lost their touch."
• For recaps and reviews of Season 1, Episode 4, "Hero," check out A.V. Club, Collider, Hitfix, IGN, The New York Times, PennLive, Rolling Stone, Screen Crush, Vulture, The Washington Post and Yahoo TV.
To stay up-to-date with all the latest Better Call Saul news, join the Better Call Saul Insiders Club.
Read More