Press
Bob Odenkirk Talks Tuco's Return With EW; Vince Gilligan Teases Next Episodes to THR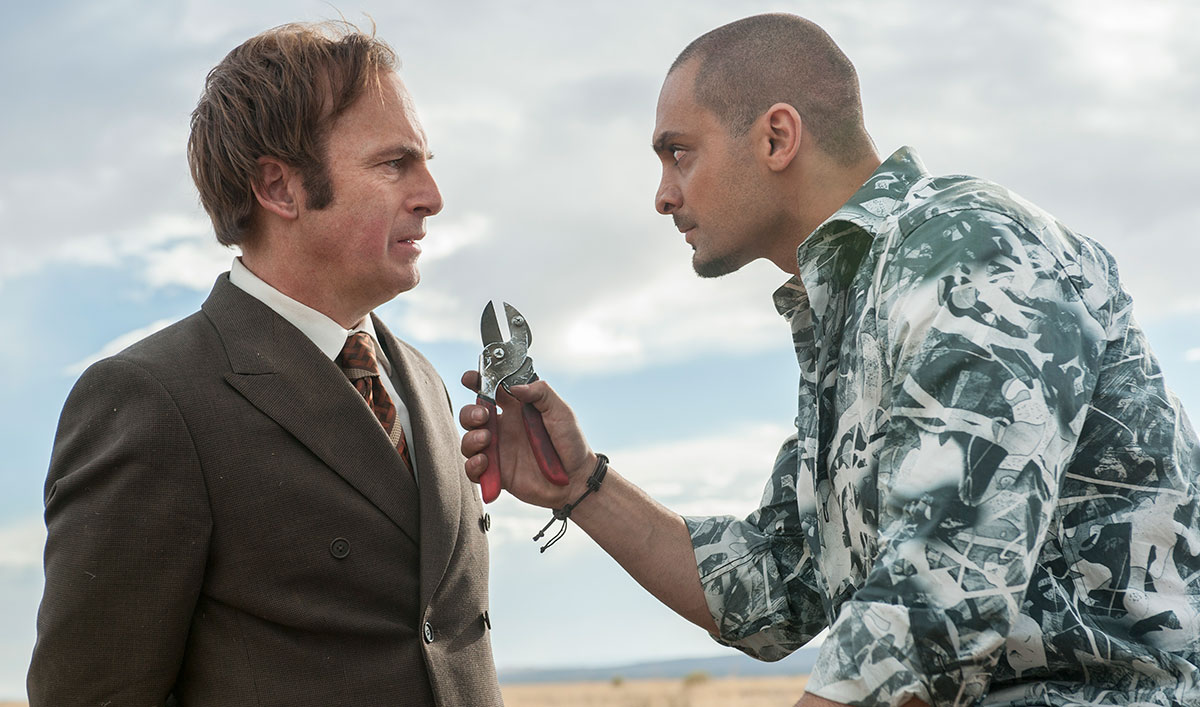 This week, Bob Odenkirk and Peter Gould talk Tuco's return with Entertainment Weekly, while Vince Gilligan teases the next episodes to The Hollywood Reporter. Plus, Michelle MacLaren and Raymond Cruz discuss Episode 2. Read on for more:
• Entertainment Weekly talks Tuco's return with Peter Gould and Bob Odenkirk, who cautions, "I'm always looking forward to seeing Tuco, but I've got to say: Nacho is scary on a whole other level. He's an incredibly frightening character, but there's wheels turning in his head, which in some ways makes him scarier."
• Speaking with The Hollywood Reporter, Peter Gould reveals that Jimmy is "a character whose secret weapon is his mouth. Bob probably learns more dialogue for a single episode than most actors have in a season. He comes in and he's letter perfect every time." And Vince Gilligan teases that the Episode 2 montage has a character who "will be very important in episode four."
• Michelle MacLaren talks to The Hollywood Reporter about directing the Episode 2 montage, which is meant to show that Jimmy is "a hard-working, dedicated lawyer. He's a good guy. He's trying to do the right thing and he cares deeply. The guy just can't get a break."

• The Hollywood Reporter interviews Raymond Cruz, who says of playing Tuco again that it's "a great character, but to try to pull it off is really difficult. It's really high-energy. It's relentless. It's very physical and it wears you out. You get very drained."
• Raymond Cruz, also interviewed by The Daily Beast, says, "I've never looked at Tuco as being a bad guy. I've always seen him as the hero of his own story, and someone who has to defend what he's fighting for, and who will go to any length to protect what he needs to protect."
• Vince Gilligan and Peter Gould explain to The Hollywood Reporter why they decided to bring Tuco back and whether there will be more scenes of "present-day" Saul in Omaha.
• Bob Odenkirk tells The Hollywood Reporter that Jimmy's "got more stumbling to do. He is not on an upward trajectory. He is on a jolting upward trajectory and he's expelling fuel cells as he goes and it's bursting into flames all around him."
• Huffington Post checks in with Jonathan Banks and Michael McKean, with Banks declaring that returning to Mike was "not as challenging as I thought it might be because you're going to learn a lot about Mike. When you meet him in Saul, Mike already has a hard edge."
• Vince Gilligan and Bob Odenkirk talk to Entertainment Weekly about the opening to the series premiere, with Odenkirk noting that he was "glad to see he [Saul] was somewhere in the world, and it just made me happy to know where he ended up."
• The Hollywood Reporter interviews Bob Odenkirk, who says Jimmy isn't successful when the series starts because he's "a square peg in a round hole. He needs to find a square hole. He's not in the right place. He's not being given the opportunity to be all that he can be."
• Entertainment Weekly reports that the series premiere is the highest-rated series debut in cable history, with 6.9 million viewers and a 3.4 rating in the ages 18-49 demographic. Episode 2 was the No. 1 show on cable on Monday in the 18-49 demo, according to Variety.
• Speaking with The Washington Post, Jonathan Banks says he thought Better Call Saul was "a great idea, selfishly, because I love the character of Mike. I was in right away. It was a character that I so enjoyed doing. There was no question."
• Forbes interviews Jonathan Banks, who says, "I like that you don't know much about Mike. You don't know what or where and I like that mystery."
• Jonathan Banks tells Metro, "Mike knows he lost his soul, and Mike doesn't forgive himself. At the same time, buried in there is a decent man who does some really horrible things, but if he has a flaw, it's…I don't think he thinks he can save other people, but he does have a tendency to try to protect them."
• CNN declares that Bob Odenkirk "delivered an Emmy-worthy performance" in the series premiere.
• Huffington Post talks to Michael Mando about his character, Nacho, whose "big ambitions put him on a collision course with Jimmy McGill (who obviously becomes Saul Goodman), and their confrontation could lead to very dire consequences for both of them."
• Yahoo TV reveals "the four big shout-outs to Breaking Bad we noticed in Saul's first episode."
• After watching the series premiere, Bustle has eight questions about Jimmy McGill's journey to the events of Breaking Bad.
• USA Today highlights Better Call Saul's connection with Cinnabon.
• The Washington Post examines the "visual language" of Better Call Saul and quotes Peter Gould saying, "We try to think of ways to use color in this show that maybe has a slightly different theme to it or different elements."
• The Associated Press notes that Albuquerque is especially excited about Better Call Saul because local officials are hoping the prequel "sparks more interest" in the city.
• For recaps and reviews of the series premiere, "Uno," check out A.V. Club, Channel Guide Magazine, The Daily Beast, Entertainment Weekly, The Guardian, HitFix, Moviepilot, The New York Times, People, Stuff.co.nz, TVLine and Vulture.
• For recaps and reviews of Season 1, Episode 2, "Mijo," check out A.V. Club, Channel Guide Magazine, The Daily Beast, Entertainment Weekly, Forbes, HitFix, New York Daily News, Paste Magazine, The Telegraph, USA Today and Vulture.
To stay up-to-date with all the latest Better Call Saul news, join the Better Call Saul Insiders Club.
Read More