Press
Better Call Saul Two-Night Debut is #1 Series Premiere in Cable History! Watch on www.amc.com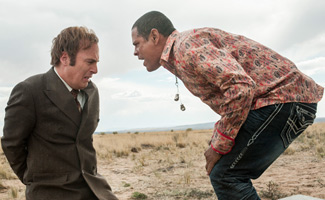 The verdict is in, and the evidence couldn't be more clear: Better Call Saul has now been confirmed as the #1 series premiere in cable history among adults 18-49 and adults 25-54 in live+3 ratings, which include three days of time-shifted viewing. The series' two-night premiere on February 8th and 9th delivered a combined total of 15.6 million viewers, 9.7 million adults 18-49, and 9.1 million adults 25-54 (live+3). The viewership records were set by just the first half of the two-night premiere, the February 8th telecast, which delivered 9.8 million viewers, 6.1 million adults 18-49, and 5.7 million adults 25-54.
"There are many who are responsible for taking Better Call Saul from 'Can we actually do this?' to the biggest series premiere in the history of cable television," said Charlie Collier, AMC president. "It's a good day indeed and, at the same time, we all know there's a lot of road to navigate ahead. We remain collectively focused on sharing, in style, Jimmy McGill's long, strange trip from nail salon to Cinnabon."
Missed part one, "Uno," or part two, "Mijo," or want to see them again? Watch both of them right now on www.amc.com (no login required).

Better Call Saul airs Mondays at 10/9c on AMC.
Read More