Better Call Saul: Client Development Comic Now Online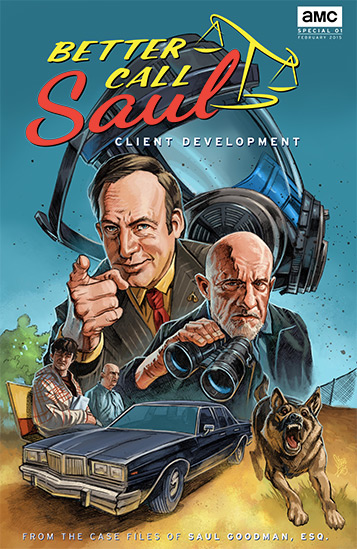 In Breaking Bad Episode 208, "Better Call Saul," Walt and Jesse engage the services of criminal lawyer Saul Goodman to save Badger from certain jail time and keep their identities under wraps. Afterwards, Saul hires his private investigator — the irascible Mike Ehrmantraut — to suss out "Heisenberg's" real identity, a feat he accomplishes in just a few short hours. "I think it should be much, much harder for people to track you down," Saul counsels Walt afterwards. But how exactly did Mike track Walt down?
The all-new Better Call Saul: Client Development online comic follows Mike and Saul as they work to root out the truth about Saul's newest client, revealing exactly what took place between when Jimmy In-N-Out gets arrested as Heisenberg and the moment Saul confronts Walter White in his chemistry classroom. As a bonus, the Better Call Saul comic also includes an exclusive two-page short that reimagines Saul as a superhero, rescuing a client from the clutches of evil police officers.

Better Call Saul premieres in a two-night event this Sunday and Monday at 10/9c on AMC.
Read More