Press
Rainn Wilson Interviews Bob Odenkirk for Yahoo; USA Today Visits Saul Set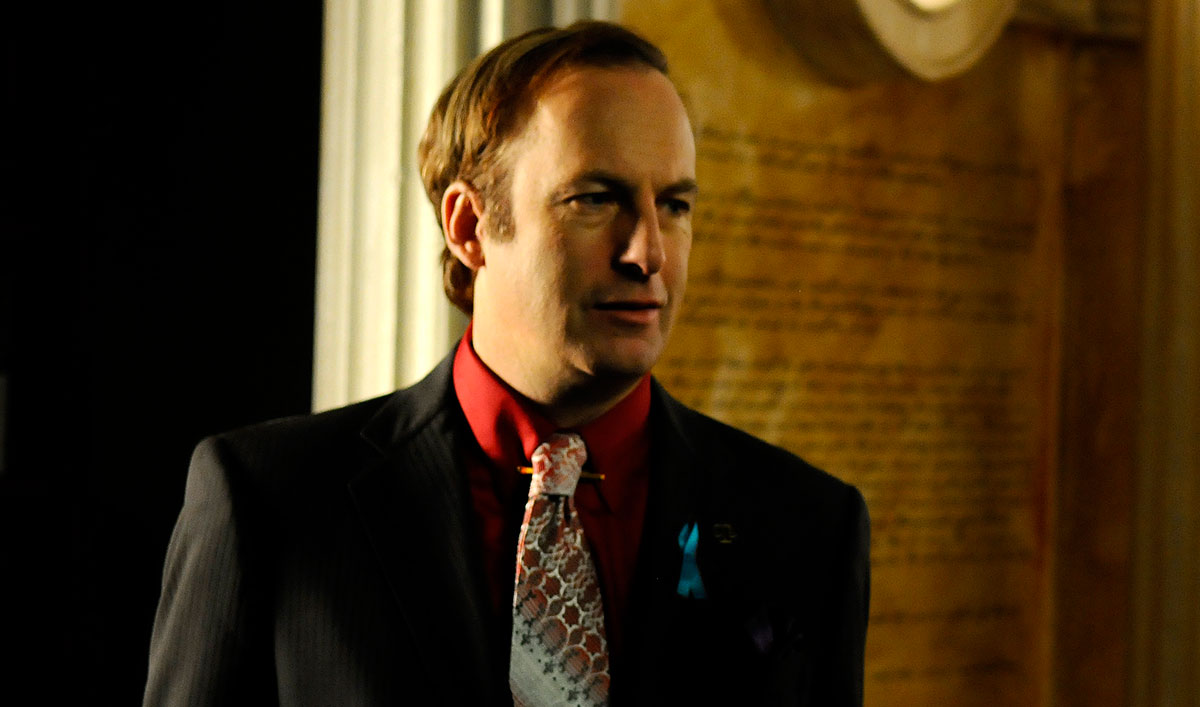 This week, Rainn Wilson of The Office interviews Bob Odenkirk for Yahoo TV, while USA Today visits the Better Call Saul Albuquerque set. Plus, Vulture profiles Odenkirk ahead of Saul's Feb. 8 premiere. Read on for more:
• Bob Odenkirk, interviewed by Rainn Wilson for Yahoo TV, says of James McGill, "I think the feelings he has, the struggle he has to become himself and to discover where to apply his talents in the world so that he's rewarded and feels like a meaningful presence… I think I get that journey and that desire."
• On the Albuquerque set of Better Call Saul, USA Today learns from Bob Odenkirk that he wanted Saul out of the office, saying, "I don't want to be sitting there opening legal books and doing a procedural. Let's put him through the wringer."
• Vulture speaks with Bob Odenkirk about Better Call Saul and calls the drama "easily the most anticipated new show of the year — and the first spinoff of this golden age of premium cable."

• Bob Odenkirk tells Entertainment Tonight, "If you've watched Breaking Bad and you know it, this show will be that much richer for you. You're going to see things, and notice things, and it's going to be like you're in on it."
• Peter Gould talks to HitFix about the evolution of Better Call Saul, how a "lot of the challenge with figuring out what the show was figuring out Saul. Vince [Gilligan] has this phrase I really like it's, 'What's the itch he can't scratch?'"
• The Hollywood Reporter, calling Better Call Saul "a television experiment," says "there's no question that [Vince] Gilligan and [Peter] Gould have earned the right to attempt this. So going along for the ride, no matter how it unspools, seems absolutely essential."
• Entertainment Weekly talks to Rhea Seehorn about how viewers don't need to watch Breaking Bad before starting Better Call Saul.
• MTV shares 11 Better Call Saul non-spoilers that viewers need to know before the show airs.
• The Wall Street Journal showcases a behind-the-scenes video from AMC that features interviews with Bob Odenkirk, Melissa Bernstein, Vince Gilligan and Peter Gould.
• Chicago magazine, profiling Bob Odenkirk, quotes Vince Gilligan, who says, "We knew he was one of the funniest men alive, but it wasn't until we started shooting Better Call Saul that I realized the depth of drama and emotion he could truly put into this character."
• Reviewing Better Call Saul, Esquire declares, "The first few episodes that I saw are better than Breaking Bad. They are smarter. They are sharper. I have never seen a prequel handled so cleverly."
• The New York Observer, previewing Better Call Saul, says, "By the way, we've seen early episodes, and it's great."
• After watching the first three episodes, Mashable asserts that Better Call Saul "shows promise with [Bob] Odenkirk confidently stepping into the leading man shoes and with the cliffhangers making us want more."
• TV.com says Better Call Saul is not Breaking Bad but that "doesn't mean it's bad. In fact, it's very, very good. It's just, well, different."
• Danny Trejo talks to Uproxx about possibly appearing on Better Call Saul, saying, "Tortuga was pretty popular, so I'd love it. Let's see what happens."
• According to The Hollywood Reporter, the Berlin International Film Festival will screen Better Call Saul in its international premiere.
To stay up-to-date with all the latest Better Call Saul news, join the Better Call Saul Insiders Club.
Read More