Press
NY Times, Variety Visit Better Call Saul Set; AP, HitFix Attend Saul TCA Panel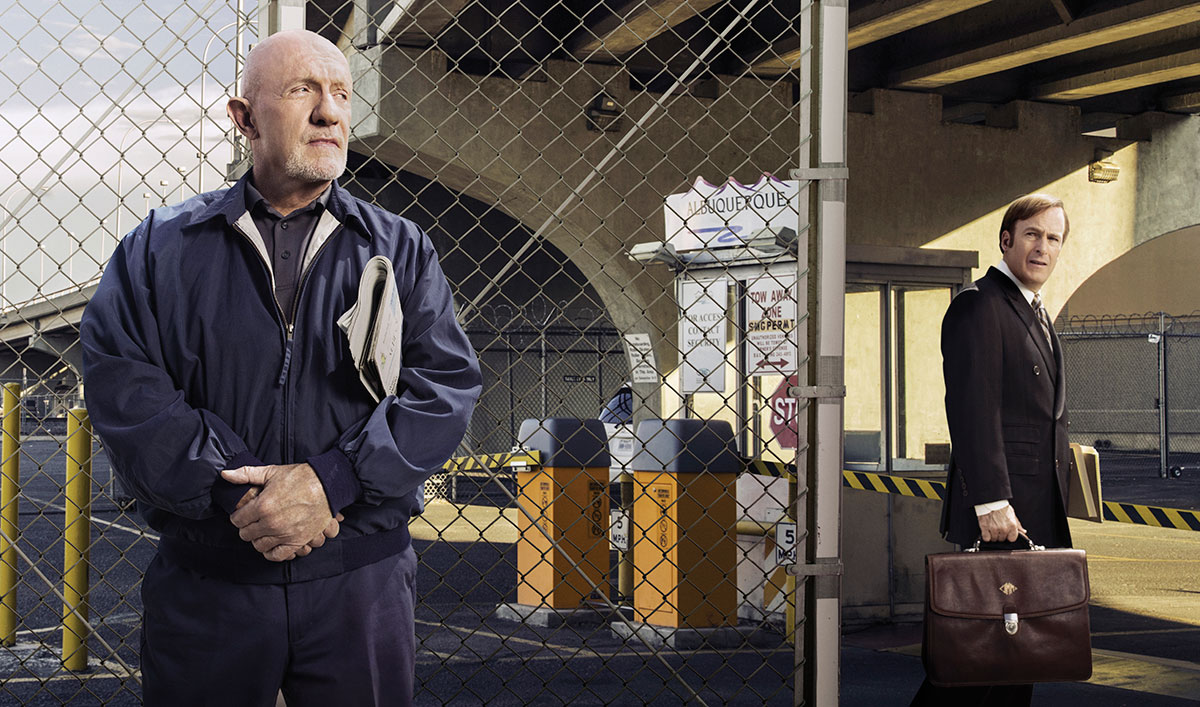 This week, The New York Times and Variety visit the Better Call Saul set, while the Associated Press and other publications attend the show's Television Critics Association panel. Plus, Entertainment Weekly eyes a new extended trailer. Read on for more:
• The New York Times checks out the Better Call Saul set and gets Vince Gilligan's take on Bob Odenkirk: "we loved that he was funny, but there was so much range there. He crushed it so completely that we started to daydream about what else we could do."
• Variety pays a visit to Better Call Saul's Albuquerque set, during which Bob Odenkirk explains the show is "a superhero origins story. The superhero is Saul, and his special power is his mouth, an agile mind and some stones."
• At Better Call Saul's TCA panel, Variety, reporting that Walt and Jesse won't appear in Season 1, quotes Peter Gould, who says, "We want this show to stand on its own." According to HitFix, Bob Odenkirk says that Gould and Vince Gilligan enjoy creating ethically questionable situations where the character "has to navigate a complex and ever-changing prism of ethical choices." At the same event, the Associated Press reports that Vince Gilligan is proud of Saul: "I don't know if the world is going to like this thing, but I really do. I'm really proud of it."

• Entertainment Weekly features an extended trailer for Better Call Saul and observes that the pre-Saul James McGill "got in quite a bit of trouble." RedEye notes that McGill "still appears to be the slippery lawyer we've come to know and love." CNN calls the trailer "the most extensive look yet" at the show.
• Channel Guide Magazine interviews Bob Odenkirk, who says Better Call Saul will take a deeper look at Saul because "we're meeting a richer character, we're seeing behind the scenes, we're seeing all the elements that make up who he is, and quite a few of them are very new and surprising."
• The Washington Post, reviewing Better Call Saul, says the premiere is "right in line with the tone and style of the original, now-classic series."
• What Culture designates Better Call Saul the hottest new TV show of 2015, describing it as "the smartest spin-off decision since Frasier swapped Boston for Seattle."
• The Globe and Mail characterizes Better Call Saul as "one dark, though entertaining, ride through many levels of moral crises."
• The Wall Street Journal learns from David Cross that he and Bob Odenkirk are exploring the idea of doing something to market Mr. Show's upcoming 20th anniversary.
• Cosmopolitan advises readers to "cure Breaking Bad withdrawal" with Better Call Saul. [No link]
To stay up-to-date with all the latest Better Call Saul news, join the Better Call Saul Insiders Club.
Read More