Press
EW Talks Better Call Saul With Peter Gould; NY Times Calls Saul Most Anticipated Series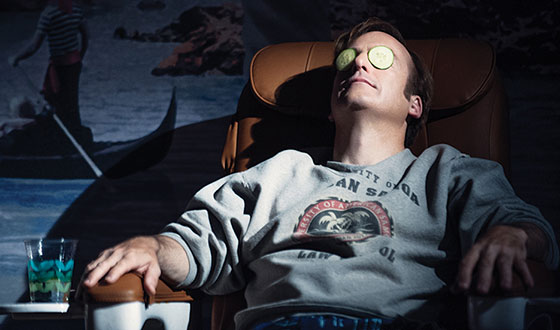 This week, Entertainment Weekly talks Better Call Saul with Peter Gould, while The New York Times calls the series the most anticipated show this winter. Plus, Digital Spy checks out a new teaser. Read on for more:
• Ahead of Better Call Saul's premiere, Peter Gould tells Entertainment Weekly that the show's "tone zigzags in surprising ways. There are episodes that are dark as night, but also episodes that have me laughing every time I see them — and I've seen them a lot." [No link]
• Digital Spy highlights a new Better Call Saul teaser, which "centres on Jimmy McGill trying to convince a potential client to hire him after a recent arrest."
• The New York Times calls Better Call Saul "probably the most anticipated new series of the winter."

• According to USA Today, TV fans can "ring in the new year" with Better Call Saul on Feb. 8.
• Ahead of Better Call Saul's premiere, TheWrap writes, "Bob Odenkirk is a borderline national treasure, and his character James M. McGill — A.K.A. Saul Goodman — is one of the finest, funniest sleaze-bag lawyers of the current Golden Age of TV."
• CNN, excited for Better Call Saul, says Saul is "played masterfully" by Bob Odenkirk.
• The Los Angeles Times calls Better Call Saul the "only Breaking Bad spinoff any sane person would care to see."
• Previewing Better Call Saul, The Globe and Mail declares, "Everything else get out of the way, this is the big one coming down the track."
• A.V. Club can hardly wait for Better Call Saul, a "(slightly) lighter, less episodic show with its own tone, from some of Breaking Bad's crackerjack team of writers."
• Harper's Bazaar looks at entertainment in 2015, including Better Call Saul, when "Breaking Bad fans can satisfy their withdrawal."
• TV.com is also eager for Better Call Saul since "Saul was one of our favorite characters from the original series, and if Vince Gilligan feels okay about expanding Breaking Bad's scope…then we feel okay about it, too."
• Citybeat Cincinnati is looking forward to Better Call Saul and notes, "Die-hard Breaking Bad fans will be happy to revisit some of the source show's characters, like Mike Ehrmantraut (Jonathan Banks)."
• Business Insider checks out AMC's press kit for Better Call Saul, including a letter from Vince Gilligan and Peter Gould that calls the spin-off "a brand new show. We're telling a different story here — one with its own rhythm, its own look, its own tone. We're excited to share it with you."
• Variety reports that Better Call Saul is No. 1 on ListenFirst's DAR-TV ratings, which measures digital engagement of TV shows, for new programs.
• Moviefone makes a new year's resolution for Saul, to "find a better class of clientele. Maybe just white-collar criminals."
• The Canadian Press spotlights Canadian involvement in 2015 TV, such as the presence of Canada's Michael Mando in Better Call Saul, playing "a tough troublemaker who does legwork" for Saul.
To stay up-to-date with all the latest Better Call Saul news, join the Better Call Saul Insiders Club.
Read More