Press
Buzz Builds for Saul; Bob Odenkirk Wins Praise From NY Times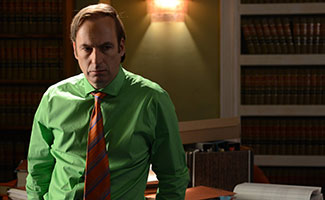 This week, buzz is building for Better Call Saul according to Variety, while Bob Odenkirk wins praise from The New York Times for his new book. Plus, multi-threat Odenkirk also wins kudos for his comedy album. Read on for more:
• Variety reports that Better Call Saul's digital audience rating debuted on the Cable/Streaming trending chart at number seven after a clip aired during The Walking Dead's midseason finale.
• The New York Times review of Bob Odenkirk's A Load of Hooey asks, "Is it fair that he is not only a funny, successful actor but also a funny, successful writer?"
• A.V. Club deems Bob Odenkirk's Amateur Hour one of the best comedy albums and specials of 2014, observing that Odenkirk "throws away jokes that other comics would kill for, though presumably he'll pick them back up at some point."

• Inlander recommends Bob Odenkirk's A Load of Hooey, calling it "a grab bag of laughs from one of the best in the business."
To stay up-to-date with all the latest Better Call Saul news, join the Better Call Saul Insiders Club.
Read More