Press
Bob Odenkirk Explains Better Call Saul to EW; Newsday Calls Saul a Must-See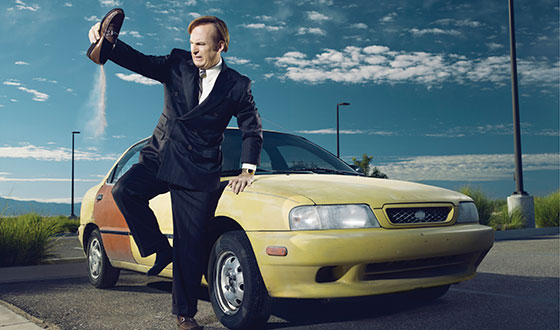 This week, Bob Odenkirk explains Better Call Saul to Entertainment Weekly, while Newsday calls the show a must-see. Plus, buzz is building for the show as multiple publications refer to Saul as the most anticipated new series of 2015. Read on for more:
• Entertainment Weekly will be watching Better Call Saul starring Bob Odenkirk, who tells EW, "There's a lot of tone, style choices, tension, and atmosphere of Breaking Bad, but otherwise it's just its own thing."
• Newsday considers Better Call Saul a must-see in 2015 since the show "will bring fresh dimensions to a series we loved."
• The Better Call Saul series premiere is one of the 44 pop culture moments to get excited about in 2015, according to The Huffington Post.

• Better Call Saul is WhatCulture's most anticipated TV show of 2015 because "what most people really want from him [Vince Gilligan] is very simple: more Breaking Bad."
• The Salt Lake Tribune is getting excited about Better Call Saul's Feb. 8 debut, since "any prequel is an iffy proposition at best. But this is a prequel to Breaking Bad, so you've got to at least give it a chance."
• The Verge recommends watching out for Better Call Saul, as AMC has released more and more teasers "and each one just makes us want to see it even more."
• Ahead of Better Call Saul's premiere, the Tampa Bay Times writes, "If anyone could meet the criminally high expectations conjured for this Breaking Bad spinoff, it's Bad creator Vince Gilligan, who co-created Saul with writer Peter Gould and will run the show with him."
• The Fresno Bee's 2015 entertainment preview spotlights Better Call Saul's debut and says, "The fact it's coming from Vince Gilligan — the man behind Breaking Bad — means the writing will be exceptional."
• MStars is also looking forward to Better Call Saul, calling it "easily the most talked about series of the new year."
• Similarly, the Pittsburgh Post-Gazette designates Better Call Saul "arguably the most anticipated new program."
• The StarTribune's list of the most tantalizing TV of January and February includes Better Call Saul, which has "an emphasis on laughs rather than stone-cold evil."
• Bob Odenkirk shares his pop culture favorites of 2014 with A.V. Club, including "Hisingen Blues," an album by Sweden's Graveyard.
• Los Angeles Magazine names Bob Odenkirk's "Amateur Hour" one of 2014's best comedy albums, noting, "Odenkirk's deadpan delivery is always what floors us."
• The Knoxville News Sentinel's review of Bob Odenkirk's "Amateur Hour" describes the debut stand-up comedy album as not "really amateur or spontaneous, but it sounds informal enough to be the random musings of the funniest friend you ever had."
To stay up-to-date with all the latest Better Call Saul news, join the Better Call Saul Insiders Club.
Read More