Press
EW Spotlights Saul February Premiere; E! Online Watches New Teaser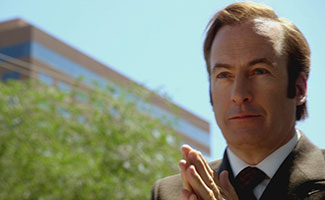 This week, Entertainment Weekly spotlights Better Call Saul's February premiere. Plus, E! Online checks out a new teaser for the show. Read on for more:
• Entertainment Weekly reports that Better Call Saul will premiere over two days, on Feb. 8 and Feb. 9, and advises viewers, "Better clear your calendar." BBC News, CBS News, CNN, The Hollywood Reporter, Time, Variety, Vulture, The Wall Street Journal and TheWrap also have the news.
• E! Online spotlights a new teaser, which shows "just what kind of person would seek out Saul for legal help."
• The Interrobang spotlights Bob Odenkirk's debut stand-up comedy album, Amateur Hour (available on CD and iTunes on Nov. 25).
To stay up-to-date with all the latest Better Call Saul news, join the Better Call Saul Insiders Club.
Read More