Press
WSJ Checks Out New Saul Clip; Robert Forster on Being Recognized for Bad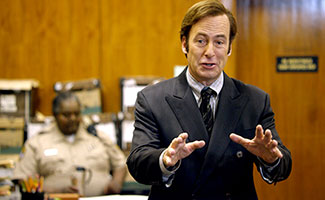 This week, The Wall Street Journal checks out a new Better Call Saul clip, while Robert Forster tells Vulture about being recognized for Breaking Bad. Plus, RadioTimes compiles everything it can find about Better Call Saul. Read on for more:
• The Wall Street Journal and Zap2it spotlight the newest Better Call Saul clip, with the latter noting that "it definitely shows off the Saul Goodman (Bob Odenkirk) we all know and love trying his hand in the courtroom."
• Robert Forster, who plays the Disappearer in Breaking Bad, tells Vulture he gets recognized for Breaking Bad and how "that episode of Breaking Bad was probably seen by more people than have ever seen Jackie Brown, even this many years later. It gave me a huge lift. Suddenly people start pointing and saying, 'Hey, how ya doin'?'"
• RadioTimes recaps "every nugget thrown our way for a comprehensive guide to what we know so far about Better Call Saul."

• According to Splitsider, Bob Odenkirk's first comedy album, Amateur Hour, will be released on Nov. 25.
• Uproxx points out that viewers may not be aware that Bob Odenkirk started his career as a writer on Saturday Night Live.
To stay up-to-date with all the latest Better Call Saul news, join the Better Call Saul Insiders Club.
Read More