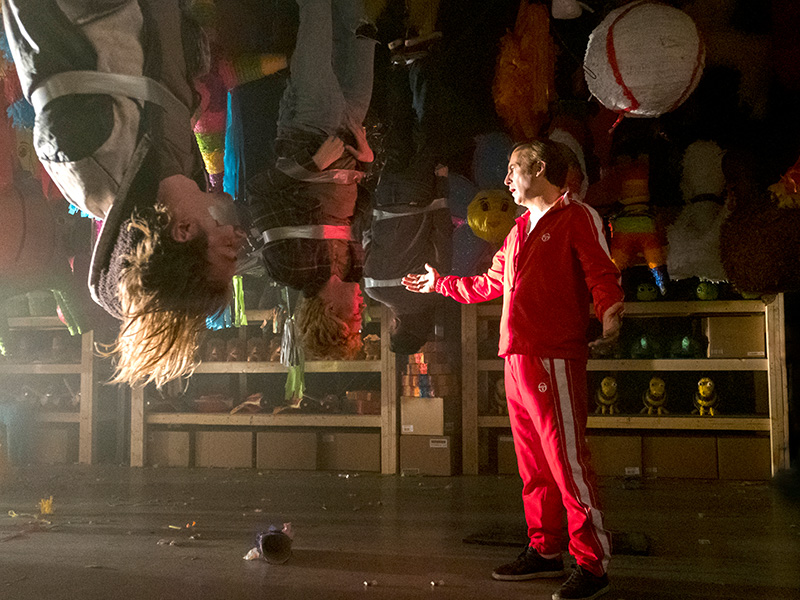 Season 4, Episode 6
Piñata
While Jimmy daydreams about reconstituting Wexler-McGill, Kim sets out to secure her own future; Mike puts a plan into motion for Gus.
Show Full Recap
Better Call Saul is currently not in season.
---
VOD
Watch episodes on demand through your local cable provider.
Full Recap
In a flashback, Jimmy cheerfully distributes mail to HHM employees and collects their ballots for an Oscar pool.
Jimmy and Kim meet up in the bullpen with their mail carts. The office bursts into applause as Chuck walks in fresh off a big win in court. Kim starts to explain Chuck's case to Jimmy. Overwhelmed by what he perceives as legal details, he asks for a summary. Chuck walks in their direction and Kim introduces herself, and asks an informed question about the case. Jimmy tries to join the conversation with a lowbrow joke, which Chuck brushes aside.
Jimmy pushes his mail cart past the HHM law library. He pauses, turns back, and quietly enters the library, allowing himself to consider a future in law.
In the present, Kim dictates notes for Mesa Verde in her kitchen. However her gaze lingers on a stack of public defender case files.
Kim goes to bed and finds Jimmy asleep. She picks up his notepad and sees his list of potential logos for the next iteration of a Jimmy McGill and Kim Wexler legal practice.
The next morning, Jimmy confesses to Kim that he never scheduled an appointment with the grief counselor because therapy is not for him. Kim reluctantly accepts his decision.
Kim sits in the waiting room of Schweikart & Cokely and is greeted by Rich Schweikart. She thanks him for seeing her on short notice.
In Schweikart's office, Kim asks Schweikart if he would like a banking division at his firm.
Mike and Gus walk around a cavernous industrial warehouse with two prefab houses in the center. Mike makes a list of amenities that Gus should provide for Werner and his crew. He explains that the crew will be working 10 hours of heavy labor every night for up to 10 months and will require a strong incentive to stay put. He requests security cameras inside and outside with 24-hour monitoring. Gus leaves after learning from Tyrus that Hector has developed a serious infection.
At CC Mobile, Jimmy receives a call from the nephew of Geraldine Strauss, the elderly client who starred in his Sandpiper commercial for Davis and Main. The nephew explains that Mrs. Strauss has recently died and that he has some questions about executing her will. Jimmy sadly processes the news and asks if Mrs. Strauss's relative, Clarence, received the Alpine Shepherd Boy Hummel figurine. He tells the nephew that he no longer practices law but refers him to HHM.
At home, Jimmy rewatches the commercial with Mrs. Strauss. Kim calls and asks him to meet her.
Over cocktails, Kim informs Jimmy that Rich Schweikart offered her a partner position and asked her to build and run a new banking division. She reveals that she has been taking on pro bono overflow at the public defender's office and that she really likes it. She explains that if Schweikart & Cokely help with the Mesa Verde workload, she would be able to continue her public defender work.
Jimmy excuses himself from the table to take in what Kim has just shared. He stares into space as he comes to terms with her news, his hope for Wexler McGill 2.0 extinguished.
Jimmy rejoins Kim and urges her to take the job.
Mike visits Stacey's house to apologize for losing his temper at the support group. She accepts his apology and assures Mike that she will never forget Matty.
Jimmy stops by HHM to pick up his inheritance check from Chuck's estate. He notices empty cubicles on his way to Howard's office.
Howard gives the $5,000 check to Jimmy and explains that HHM had to downsize on account of the firm's flailing reputation. Jimmy orders Howard to stop "wallowing" and to fight for the firm. "F— you, Jimmy," Howard says. Jimmy encourages Howard to channel that attitude to rebuild the firm.
Jimmy purchases a large wholesale shipment of prepaid phones and stores them in his old office at the nail salon.
Later in his office, Jimmy chats with someone on the phone about a discrete and secure location that may house pinatas. Once Jimmy wraps up, Mrs. Nguyen complains to him about his latest "get rich quick" scheme. Jimmy placates her with a free pre-paid phone.
Gus sits by Hector's hospital bed and tells a story about reviving a hopeless fruit tree when he was young and selling the fruit in his village. He describes how he patiently ensnared and fought a wild animal that took fruit from his tree and then forced it to live a long painful life in captivity. He assures an unconscious Hector that he will wake from his coma.
Werner and his German crew arrive in the industrial space and marvel at the amenities. Mike gathers the crew to lay out some ground rules. One of the men, Kai, pours himself a beer and ignores Mike. Werner forces him to join the group. Afterwards, Werner assures Mike that they are all good men and will focus once they begin work.
Mike leaves the facility after getting buzzed through two security doors. He exits the building, revealing a remote desert landscape.
Mike stops by the security trailer and asks one of the men on guard to keep a close eye on Kai.
That night, Jimmy approaches the three punks who mugged him and offers to give them $100 a night if they agree not to hassle him while he sells his phones. The punks ignore his offer and demand his money at knifepoint. Jimmy runs. They corner him in a dead end alley. Jimmy warns that they should have taken the deal. A pair of armed, masked men sneak up on the punks, trapping them.
Jimmy stands in front of the punks in a piñata warehouse. The punks are suspended by their feet with their mouths taped shut. The masked men menace the punks with bats as Jimmy unsympathetically demands their cooperation. The punks promise to leave him alone while he sells his phones on the street, and to put the word out that he is not to be messed with. As the men leave the room, they remove their masks, revealing Huell and Man Mountain.