Blog
The Best Christmas Ever Viewing Guide: 25 Days of Christmas Movies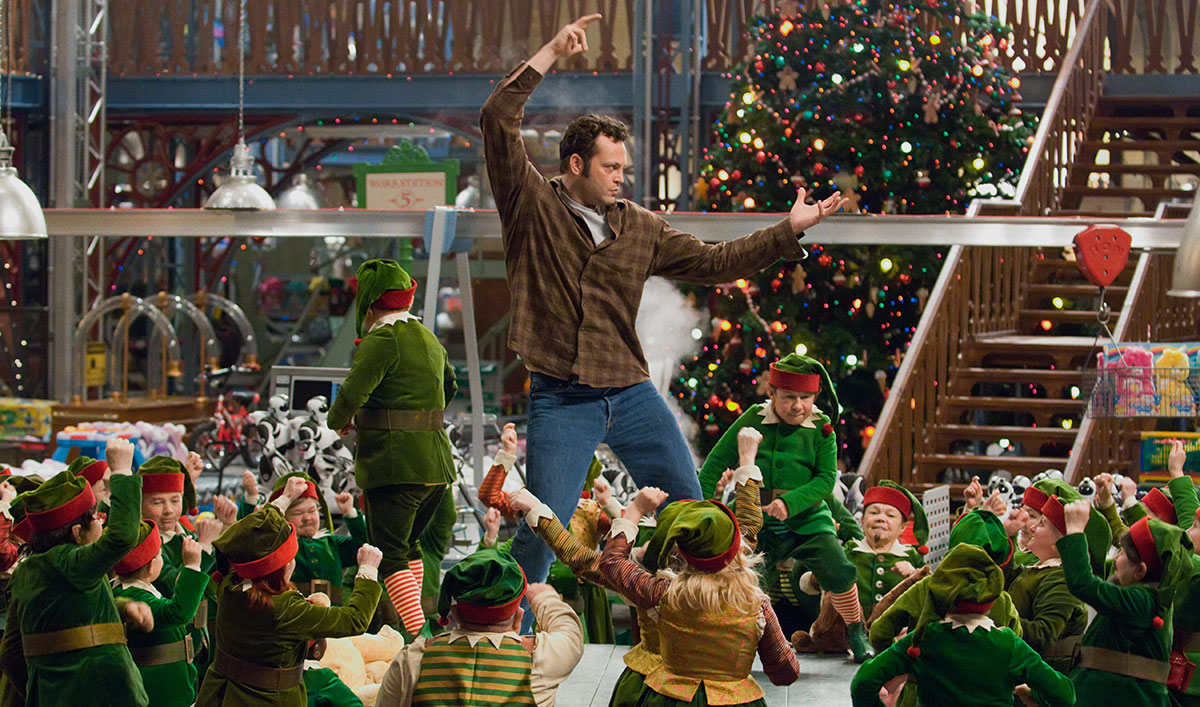 It's the most wonderful time of the year! To celebrate, AMC is hosting Best Christmas Ever, a Christmas movie spectacular featuring holiday movies and specials all month long. No matter your background, we should have something for everyone, ranging from the most festive flicks to absurd Christmas comedies, sentimental holiday romance to even Christmas horror.
Dip into the "holidaze" slowly with family favorite films, or dive right in with Christmas classics. Check out what's streaming in our Best Christmas Ever viewing guide:
1. Planes, Trains and Automobiles (1987)
Steve Martin stars as Neal Page, a control freak struggling to get home for the holidays, who finds himself reluctantly paired-up with another traveler, Del Griffith, played by John Candy. When his flight is rerouted, Neal is forced to find another way to get to his family, all while trying to maintain his sanity while travelling with the talkative Griffith.  Watch Planes, Trains and Automobiles here.
2. Snow Day (2000)
The 2000 film embraces the excitement of having a guilt-free day off, when school is closed due to the snowfall. A group of kids take advantage of their newfound freedom, because on a snow day, "Anything can happen." But when the snowplow man (Chris Elliot) threatens to ruin their plans of a fun day, the kids must band together to keep the snow day going. Watch Snow Day here.
3. Nanny McPhee (2005)
2005's Nanny McPhee revolves around a widower (Colin Firth) and his seven children, who have taken over run of the house. In an attempt to get back control, the dad hires a stern, magical governess by the name of Nanny McPhee (Emma Thompson). Like the scores of nannies before her, the children try to drive her away — but when the family's house is threatened, the ruthless and wild children discover they might need Nanny McPhee most of all. Watch Nanny McPhee here.
4. Miracles From Heaven (2016)
In this biographical drama, a 10-year-old girl named Anna (Kylie Rogers) is diagnosed with a debilitating illness that forces her to use feeding tubes. Two years later, she falls 30 feet out of a tree. When she comes to, she's cured of her pre-existing illness. Nobody can explain this, other than being a miracle. Jennifer Gardner and Martin Henderson play her parents. Watch Miracles From Heaven here.
5. The Year Without a Santa Claus (1974)
In this film based on Phyllis McGinley's 1956 book, Santa Claus feels like no one believes in him. Rather than delivering presents to the world's children, he decides to go on vacation. Two of his elves, Jingle and Jangle, set out to prove him wrong. Everyone can have an off day. Maybe Santa will change his 'tude. Watch The Year Without a Santa Claus here.
6. Christmas With the Kranks (2004)
Every year, Luther (Tim Allen) and Nora Krank (Jamie Lee Curtis) go all out for Christmas. But when their daughter, Blair, plans to be away for the holidays with the Peace Corps, the Kranks come up with a new plan: "skip Christmas." They soon discover that their neighbors and friends aren't so understanding of their desire to spend their Christmas fund on a vacation cruise. After burning some bridges, the Kranks get surprising news: Blair is coming home! But now the Kranks have to race against time to put together a Christmas extravaganza. Can they rally their neighbors to the Christmas call? Watch Christmas With the Kranks here.
7. 12 Dogs of Christmas: Great Puppy Rescue (2012)
A young woman (Danielle Chuchran) puts together a Christmas pageant to save a puppy orphanage. She has until Christmas to raise enough money to pay the mortgage for the puppies' home. This is a follow-up to 2005's The 12 Dogs of Christmas, which centered around a town that banned dogs. Watch 12 Dogs of Christmas: Great Puppy Rescue here.
8. The First Christmas: The Story of the First Christmas Snow (1975)
Narrated by Angela Lansbury, The First Christmas tells the story of a young shepherd who loses his sight. The nuns at a nearby abbey take him in and look after him. They live in a valley near the sea where it never snows. To keep the blind shepherd's spirits up, they describe the world around them. Watch The First Christmas: The Story of the First Christmas Snow here.
9. Frosty's Winter Wonderland (1976)
We first met Frosty the Snowman in the 1969 special. When he made his return in 1976, he had a foe. Jack Frost sees how much fun the children have with good ol' Frosty and sets out to steal his magical hat, which gives him life. But that's not Frosty's only problem! Watch Frosty's Winter Wonderland here.
10. Gremlins (1984)
When a dad waits until the last minute to do his Christmas shopping, he finds himself in a tiny shop in Chinatown and gets his son a new pet. This pet, not like any he's seen before, comes with instructions: 1) Do not expose to light; 2) Do not get wet; 3) Do not feed  after midnight. Of course, rules are meant to be broken — and boy, are there consequences. Watch Gremlins here.
11. Rudolph's Shiny New Year (1976)
We met Rudolph the Red-Nosed Reindeer in the 1964 origin movie. In the 1976 sequel, Rudolph is called on again. Father Time is beside himself because Baby New Year is missing. Rudolph is recruited to lead the search to find him. If Rudolph can't find the new year, it will remain December 31 forever. Watch Rudolph's Shiny New Year here.
Michael Keaton stars in this Christmas fantasy comedy about a rock singer, Jack Frost, who dies in a car crash on his way back to his family for Christmas. Starts off on a dark note, sure, but don't worry! With some Christmas magic, Jack Frost comes back to life — as a snow man. Jack Frost has one day to reunite with his son and make amends with his family before the magic runs out. Watch Jack Frost here.
13. The Life & Adventures of Santa Claus (1985)
Have you ever wondered where Santa Claus came from? Like, was he a baby once? The answer: yes. The Life & Adventure of Santa Claus tells the story of how Saint Nick came to be. If anyone deserves an origin story, it's this guy. Watch The Life & Adventures of Santa Claus here.
14. All I Want for Christmas (1991)
A little girl (Thora Birch) goes to see the department store Santa and asks for her parents to get back together. Santa tells her, "I usually specialize in stuff that I can wrap." It might take more than a Christmas Miracle to mend a broken marriage. The little girl doesn't count on magic alone; she and her big brother have some matchmaking ideas of their own. Watch All I Want for Christmas here.
15. To Grandmother's House We Go (1992)
Two sisters (Mary-Kate and Ashley Olsen) decide to go visit their grandmother. Unbeknownst to their mother, the girls stow away on the local bus. But, it doesn't get them very far. From there, they sneak into the delivery man's truck. You see where we're going with this… it's like the pint-sized version of Planes, Trains and Automobiles. Watch To Grandmother's House We Go here.
16. The Polar Express (2004)
When a little boy loses his faith in Santa Claus, a train unexpectedly pulls up outside of his house, and the conductor (Tom Hanks) offers to take him to the North Pole. We can't imagine anyone declining such an offer. The little boy accepts and goes on a magical adventure of a lifetime. Watch The Polar Express here.
17. The Nativity Story (2006)
The Nativity Story tells the story of Jesus Christ's birth. Mary (Keisha Castle-Hughes), is visited by the Archangel Gabriel. Gabriel tells her that she will be blessed with God's son. When her parents learn she is pregnant, they fear she will be accused of adultery. Her husband Joseph (Oscar Isaac) is suspicious, but Gabriel visits him in a dream, which calms his nerves. Watch The Nativity Story here.
18. Last Holiday (2006)
When a shy young woman (Queen Latifah) finds out she only has three weeks to live, she decides to make up for lost time. Cashing out her entire life savings, she heads to Europe and checks into a posh hotel. With nothing left to lose, she enchants the guests and staff with her newfound confidence and zest for life — just as it's about to slip away. Watch Last Holiday here.
19. Fred Claus (2007)
Did you know Santa has a brother? He does. And his name is Fred (Vince Vaughn). You could say they're "polar opposites." We can't blame Fred for being a little resentful: their parents compared him to his Saint of a brother (Paul Giamatti) their entire lives. When Fred goes to visit his family at the North Pole, things get a little out of control. Watch Fred Claus here.
20. A Dennis the Menace Christmas (2007)
Dennis Mitchell (Maxwell Cotton) is prone to getting into trouble. You'd think things might be different around Christmas, with all children wanting to land on Santa's good list. But, nope. Six-year-old Dennis wants to ensure his neighbor, Mr. Wilson (Robert Wagner), has a nice Christmas, but based on his track record, Dennis' acts of kindness might just backfire. Watch A Dennis the Menace Christmas here.
21. Four Christmases (2008)
Kate (Reese Witherspoon) and Brad (Vince Vaughn) spend every Christmas away from their dysfunctional families. But when a local news station interviews them after their flight to Fiji is cancelled, the jig is up: their families know they're in town. Kate and Brad are forced to attend four different Christmases, since all of their parents are divorced and remarried — while meeting each other's family's for the first time. Can their relationship last the day? Watch Four Christmases here.
22. Very Harold & Kumar 3D Christmas (2011)
It's been years since best friends Harold (John Cho) and Kumar (Kal Penn) have spoken. The two are reunited and go on a misguided adventure in search of a Christmas tree after Kumar accidentally burns down the tree prized by Harold's father-in-law. But Harold and Kumar can never have an ordinary adventure, and things quickly go downhill. Watch A Very Harold & Kumar 3D Christmas here.
23. A Christmas Story 2 (2012)
1983's A Christmas Story has become a staple in Christmas movie-watching. And, we have the 2012 sequel. We meet-up with Ralphie (Braeden Lemasters) five years later, and he has an eye on a car. Apparently, he's graduated from BB guns. This time around, Daniel Stern plays Ralphie's father, "the old man." Watch A Christmas Story 2 here.
24. Elf (2003)
Elf is one of those movies that can be enjoyed all year. Will Ferrell stars as a human who grew up in Santa's village as an elf. When he starts to outgrow the other elves, it's clear he's different. He sets out to NYC to find his biological father, who happens to be the head of a fancy department store. And you know what they sell there, right? Toys! Watch Elf here.
25. National Lampoon's Christmas Vacation (1989)
The Griswold family (Chevy Chase and Beverly D'Angelo) has not had much luck when going on vacations, like in their 1983 road trip to Walley World and their trip to Europe in 1985. So, this time around, their plan is to have a low-key Christmas. They're going to play it safe and stay home this year — but then the rest of their family shows up. Watch National Lampoon's Christmas Vacation here.
Looking for even more holiday movies? You can take a look at the entire list of films and specials streaming with AMC's Best Christmas Ever here. 
Movies streaming with AMC's Best Christmas Ever are available to watch with a cable login on amc.com and the AMC apps beginning December 1. Got an Apple TV, Roku, Xbox One or Fire TV? Hallelujah! Download the AMC app and start streaming on your television right away. Looking for some Christmas cheer on the go? You can also watch the above movies and more on your mobile device with the AMC mobile app, available for iOS, Android, Windows and Fire Tablets.
Check out the full schedule here to see when your favorite holiday movies are airing on AMC. Don't want to wait? Take a look at our full holiday offering of Christmas movies on amc.com and the AMC apps.
For more details on how to experience AMC's Best Christmas Ever holiday movie spectacular, sign up for the AMC Insiders' Club.
Read More