Blog
AMC's Best Christmas Ever: 10 Things We Love About National Lampoon's Christmas Vacation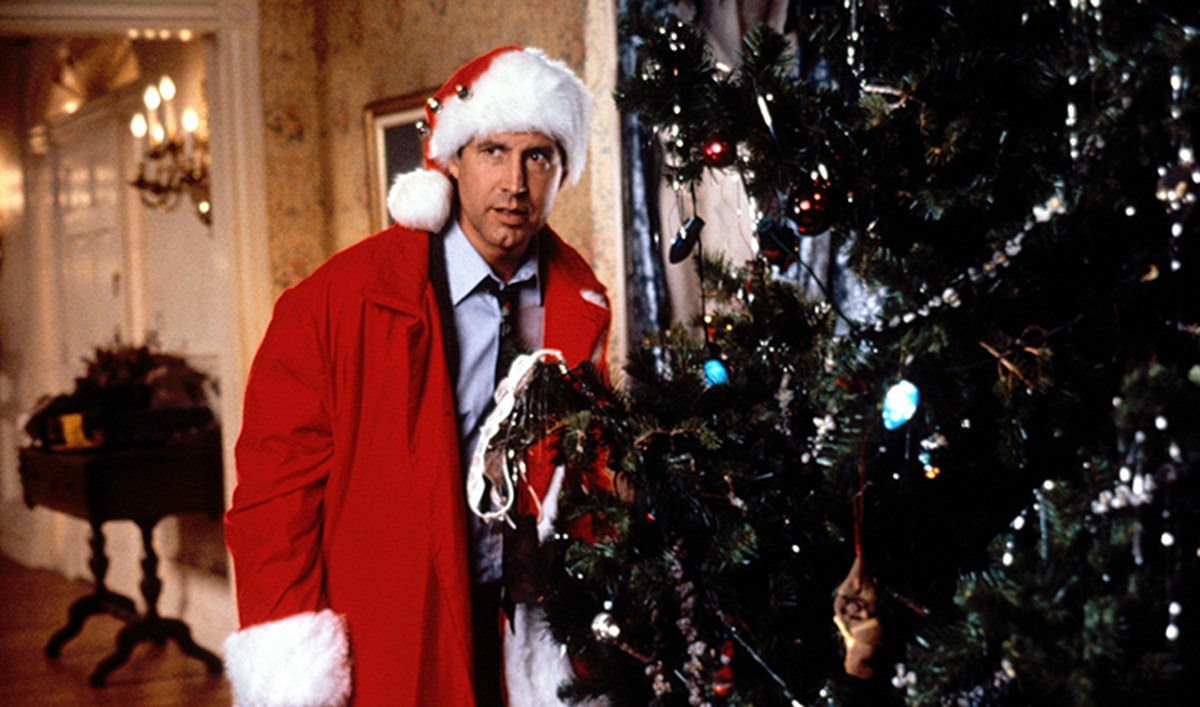 Yearly viewings of National Lampoon's Christmas Vacation have become a holiday tradition for families everywhere. As part of AMC's Best Christmas Ever, a holiday movie spectacular featuring hours of Christmas movies, specials and more, you and your loved ones can watch National Lampoon's Christmas Vacation and more holiday favorites now through December 31st.
Featuring Chevy Chase, Beverly D'Angelo, Randy Quaid and more, the beloved Christmas comedy turned 30 this month. To celebrate the milestone anniversary of the film that brings families the "hap, hap, happiest Christmas" every year, we're reflecting on what we love about the Christmas classic:
1. It's Written by John Hughes
John Hughes is often remembered for his iconic teen movies like The Breakfast Club, Sixteen Candles, Ferris Bueller's Day Off and more, but he brings his talent for witty characters who can't get along to the Vacation franchise. In his pre-Hollywood days, Hughes was actually a frequent contributor to the humor magazine National Lampoon. The idea for National Lampoon's Christmas Vacation started as a short story he wrote for the magazine in 1980 titled "Christmas '59." If you look closely in the movie, when Clark is stuck in his attic watching old VHS tapes, one of the tapes is labelled "Christmas '59."
2. Julia Louis-Dreyfus
Multi-Emmy Award-winning actress Julia Louis-Dreyfus was only 28 when she played the Griswold's much maligned, disdainful yuppie neighbor, Margo Chester — though it's hard to feel too bad for the Griswolds here when Clark returns the Chester's scorn with even worse behavior throughout the movie. Louis-Dreyfuss is actually one of four Saturday Night Live alumni in the film; Chevy Chase, Randy Quaid and Brian Doyle-Murray also took a turn on SNL.
3. The Griswold Family Tree
The film opens with the Griswolds on their way to collect their Christmas tree for the season. Clark is obsessed with finding the best Christmas tree in the forest, just as he's obsessed with creating a "picture perfect" Christmas in everything else — before things go awry. Clark of course forgets to bring a saw, so the film implies that he literally digs up the tree by its roots to cart it to their home. When the Griswolds finally set the tree up in their house, it blows out their windows because it's so large. What does Clark have to say about it? "Lotta sap in here." It's a sequence too ridiculous not to love.
4. Brian Doyle-Murray
Brian Doyle-Murray returns for his second role in the National Lampoon's Vacation franchise, this time as Frank Shirley, Clark's penny-pinching boss (he appears in the original Vacation movie as the Kamp Komfort clerk). Doyle-Murray has had a prolific career in film and television, but if you still can't quite place why his face looks so familiar, it might be because he's Bill Murray's older brother. You can see Brian Doyle-Murray in AMC's Lodge 49 as Ernie's boss, Bob Kruger.
5. Cousin Eddie Is Allegedly Based on a Real Person
National Lampoon's Christmas Vacation is full of a hilarious cast of characters, but Cousin Eddie, played by Randy Quaid, might just take the cake as the most memorable. Cousin Eddie seems like such an out-of-this-world character, but allegedly, Randy Quaid has said that he adapted some of Cousin Eddie's mannerisms (like the tongue-clicking), from someone Quaid knew while growing up in Texas!
6. Johnny Galecki's Glow Up
Johnny Galecki was only 13 years old when he played the Griswold's teenage son, Rusty. While he had done some acting before Christmas Vacation, Galecki was still wet behind the ears. In an interview with Rolling Stone, Galecki recalls, "Chevy [Chase] worked like a puppet master for me in some scenes since I was young and had never done comedy before. He'd almost cue me for my timing." Fast-forward to 2018, and Galecki was reported to be the second highest-paid television actor that year for his role as Leonard Hofstadter on The Big Bang Theory. Looks like those comedy lessons from Chevy Chase really paid off!
7. The Squirrel Scene Caused Actual Chaos
When Clark brings in a new Christmas tree from his lawn, he releases an unexpected guest into the house: a squirrel. The squirrel causes rampant chaos throughout the Griswold home, especially when Eddie's dog gives chase. In real life, filming the squirrel chase scene was it's own kind of pandemonium. An animal trainer had spent months training the dog and squirrel "actors" to run through the set, but on the day of the shoot, the trainer broke bad news to director Jeremiah Chechik: the squirrel was dead. Chechik recalls the trainer said, "Ya know, they don't live that long." The crew resorted to using an untrained squirrel. Diane Ladd (Norah Griwsold) told Rolling Stone that she remembers during filming: "I'm supposed to pass out on the floor and the squirrel runs past me. And the director said, 'Diane, please get closer to the squirrel!' Meanwhile, the squirrel wrangler was saying, 'Diane, please don't get closer to the squirrel. If someone screams or scares one, their claws are like razor blades.'" No wonder the Griswolds are terrified of it!
8. Pep Talks With Dad
In the previous National Lampoon films, there's a man-to-man talk between Clark and his son, Rusty, but in Christmas Vacation, Clark's dad is the one to take him aside. After Clark explodes in anger at his family when everything goes wrong, his dad gives him an emotional pep talk. "You're too good a father to act like this," Clark, Sr. tells his son privately. It's a memorably sweet scene in an otherwise insane movie — and it's the turning point to reminding Clark about the true meaning of the season.
9. Christmas Bonus Solidarity
In the climax of the movie, the police come to rescue Clark's boss, Frank Shirley, after Cousin Eddie kidnaps him as a gift for Clark. The armed officers storm the Griswold home and keep the family frozen at gunpoint, but when the truth comes out that Frank suspended Christmas bonuses for his employees, the tides turn. Even Frank's wife is upset with him! It's a funny twist on a tense scene.
10. The True Meaning of Christmas
Despite the shenanigans, explosions and disasters, Clark makes it to the end of the movie finally understanding the true meaning of Christmas. It's not about making a "picture perfect" holiday, but it's about the people you love — even if they frustrate you during the holidays. The movie's message makes it one of the most enduring holiday classics of all time.
Watch National Lampoon's Christmas Vacation now, or settle in for a "Stay-Cation" with an all day marathon of the Vacation movies on Thursday, December 26 on-air on AMC. Check out the full schedule here.
National Lampoon's Christmas Vacation is available to watch with a cable login on amc.com and the AMC apps through December 31. Got an Apple TV, Roku, Xbox One or Fire TV? Hallelujah! Download the AMC app and start streaming National Lampoon's Christmas Vacation on your television right away. Looking for some Christmas cheer on the go? You can also watch the Griswolds on your mobile device with the AMC mobile app, available for iOS, Android, Windows and Fire Tablets.
Check out the full schedule here to see when your favorite holiday movies are airing on AMC. Don't want to wait? Take a look at our full holiday offering of Christmas movies on amc.com and the AMC apps.
For more details on how to watch National Lampoon's Christmas Vacation and the rest of AMC's Best Christmas Ever holiday movie spectacular, sign up for the AMC Insiders' Club.
Read More