Blog
AMC's Best Christmas Ever: 10 Things You Might Not Know About Elf (2003)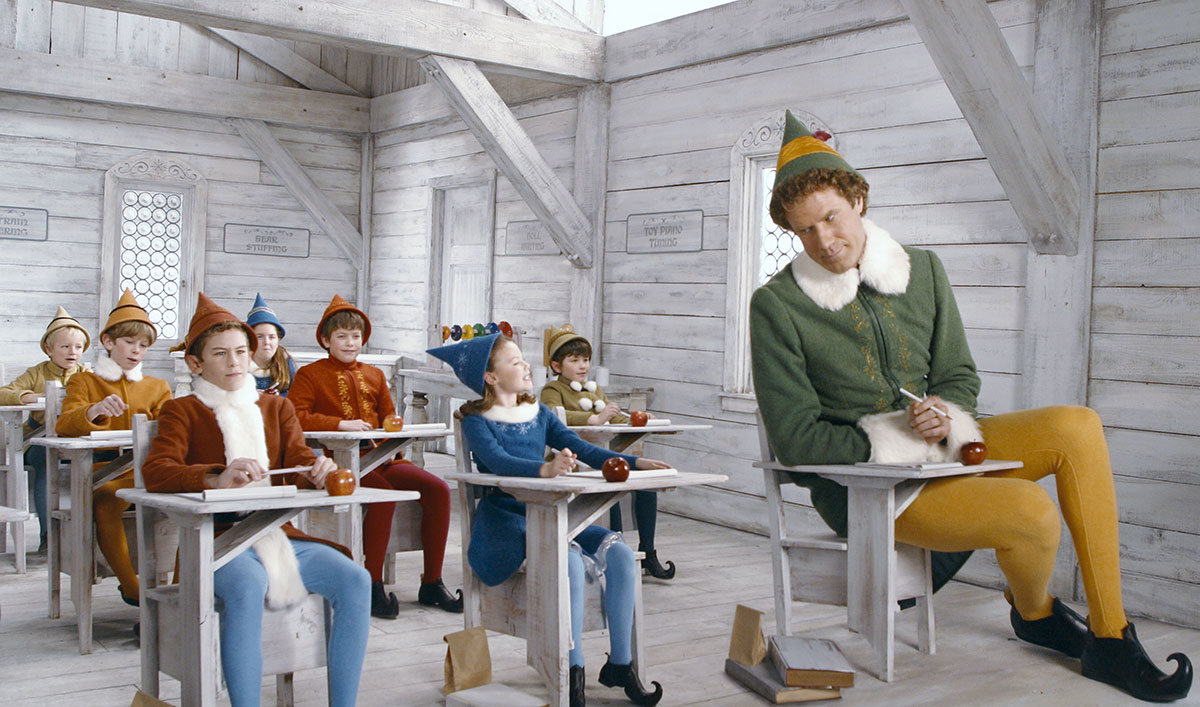 Now you can follow the Code of the Elves and "Treat every day like Christmas" by streaming the 2003 Christmas comedy classic Elf  on amc.com and the AMC Apps. As part of AMC's Best Christmas Ever, our holiday movie spectacular with family friendly holiday movies available on-air and online through Christmas Day, you can watch beloved movies like Elf and more all month long.
But did you know that Jim Carrey almost starred as Buddy? Or that part of Elf was shot on an allegedly haunted set? While you watch Elf this year, get schooled on these behind-the-scenes facts about the classic you may have never heard before:
1. Buddy's Whimsy Was Based on a 1-Year-Old
While thinking of what kind of silly antics Buddy could get up to in New York, director Jon Favreau observed his 1-year-old son, Max. After all, Buddy explores the real world just like a child out and about on their own. Thankfully for New Yorkers, there isn't actually an elevator in the Empire State Building with buttons going all the way up to the top — that was created just for the film.
2. The Sets Have a Spooky History
You'd never think Elf has ties to horror, but did you know some of the sets were built in an abandoned mental hospital? The interior sets for Walter's apartment, the Gimbel's toy department, and the jail cell were built in a Vancouver facility called Riverview Hospital. The same facility — rumored to be haunted, of course — hosted sets from Supernatural, Freddy Vs. Jason, Jennifer's Body, The X-Files, and many more. Weirdly enough, A Christmas Story 2 also filmed there!
3. Favreau Goes Method to Spook Ferrell
Speaking of scares, in the scene in which buddy is testing the jack-in-the-boxes, Will Ferrell really is on the edge of his seat. Director Favreau held a remote control to trigger the boxes, but Ferrell never knew when they were going to go off!
4. There's A Christmas Story Cameo
Like Elf, A Christmas Story is a holiday classic, and with Favreau's homage to numerous Christmas specials throughout the movie, of course he needed a nod to the beloved holiday film. Look closely at Ming Ming the Elf in the toymaking workshop. Recognize those piercing blue eyes? That's Ralphie, all grown up! Played by Peter Billingsley in an uncredited role, he helps point out that Buddy is an elf with other talents. Notably, Peter Billingsley and Jon Favreau also star in another Christmas movie together, Four Christmases, which you can watch on amc.com and the AMC Apps here.
5. Favreau Based North Pole Designs on Rudolph the Red-Nosed Reindeer
Speaking of holiday callbacks, much of the designs for the North Pole — Santa's Workshop, the elf's uniforms, the stop-motion creatures, Leon the talking snowman — were all based on the classic Rankin/Bass holiday special, Rudolph the Red-Nosed Reindeer. You can watch Rudolph in other Rankin/Bass specials like Rudolph and Frosty's Christmas in July and Rudolph's Shiny New Year as part of AMC's Best Christmas Ever, too.
6. Buddy Broke Corleone
Favreau wanted a real "straight man" to act opposite of Buddy's fantastical fish-out-of-water character, and he definitely found it in The Godfather's Sonny Corleone, James Caan. But even a mobster isn't immune to Will Ferrell's comedy. In the scene when Walter takes Buddy to get a DNA test (featuring Favreau as the doctor), Caan didn't know Ferrell was going to scream when his finger was pricked. You can see Caan turn away from the camera to hide his laughter for a moment.
7.  Zooey Deschanel Helped Influence the Music of the Movie
In the film's director's commentary reel, Favreau reveals that he added more music after hearing Zooey Deschanel's singing voice. When she was cast as the deadpan department store worker, Favreau didn't know she could sing, but when he heard the actress's voice, he knew he had to make some scenes to add even more Christmas spirit.
8.  Buddy Stops Traffic in New York — Literally
New York really wasn't ready for Buddy. When Will Ferrell was walking through the Lincoln Tunnel in his elf costume, he caused a few minor traffic accidents because people were so surprised and distracted to see him in costume. Later, for the montage scenes of Buddy's first outings in New York, it was just Jon Favreau, Will Ferrell and their camera man wandering around the city for locations to shoot. They asked passersby on the spot if they'd like to be extras in the movie while Buddy paraded around the city. Another New York fact: the exterior shot of Walter's apartment building is the same as Dana Barrett's (Sigourney Weaver) in Ghostbusters (1984).
9. The Central Park Rangers Were Designed to Be Ring Wraith's
In 2003, the first two installments of The Lord of the Rings trilogy had been released, and Favreau apparently was a big fan. He modeled the "Central Park Rangers" who chase Santa and Buddy through the park after Tolkein's Nazgûl, with their costumes designed to reference The Lord of the Rings, and even had the chase scene shot in a similar way.
10. Jim Carrey Almost Starred as Buddy
Can you imagine anyone else as Buddy the Elf? It seems hard to believe now, but when screenwriter David Berenbaum's script for Elf first hit the Hollywood scene in 1993, Jim Carrey was attached to star instead. But the film took another 10 years to finally be put in motion, and after Will Ferrell had made a name for himself on Saturday Night Live, we couldn't think of anyone better for the role.
Elf is available to watch with a cable login on amc.com and the AMC apps through December 31st. Got an Apple TV, Roku, Xbox One or Fire TV? You're in luck! Download the AMC app and start streaming Elf on your television right away. Looking for some Christmas cheer on the go? You can also watch Buddy the Elf on your mobile device with the AMC mobile app, available for iOS, Android, Windows and Fire Tablets.
Check out the full schedule here to see when your favorite holiday movies are airing on AMC. Don't want to wait? Take a look at our full holiday offering of Christmas movies on amc.com and the AMC apps.
For more details on how to watch Elf and the rest of AMC's Best Christmas Ever holiday movie spectacular, sign up for the AMC Insiders' Club.
Read More