Unscripted
4th and Loud Q&A – LA KISS's Aaron Garcia (Quarterback)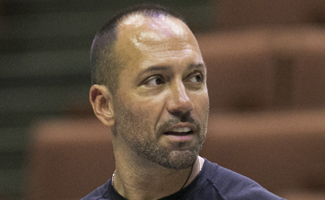 4th and Loud's Aaron Garcia, the LA KISS quarterback, talks about breaking a passing record set by John Elway and hearing KISS for the first time live. 
Q: You broke John Elway's high school football passing record. While Elway was an owner of an AFL team, did you ever have an interaction with him about that?
A: We had chances when we played against the Colorado Crush, the team that he owned at the time. I don't know if we had that conversation specifically, but I know it was something people always documented. It was a pleasure and an honor to meet him and to compete against [his team] at the time.
Q: Co-owners Paul Stanley and Gene Simmons were an integral part of getting you to come play for the LA KISS. Did they promise you fame and fortune?
A: No, they didn't. They were very personable. I was very pleasantly surprised at the conversation that we did have. Something that I've always known as an athlete [is if] I came in there, tried to turn that thing around and win games, a lot of good things would've happened, not just for myself but for all the players on the LA KISS. Unfortunately, once I got there, we weren't able to turn the season around, but also [Paul and Gene] went out on tour, so there wasn't a lot of interaction after that point, and I wish I could've talked to them more. I think it's great the amount of commitment they've put into this league, and I really hope they're able to turn things around and make that a great franchise in the future.
Q: Taking over for another QB mid-season has got to be tough. Did you find there were chemistry problems from the get-go, or did you feel comfortable in your new role?

A: I felt comfortable. I think the biggest problem, chemistry-wise, was even before I got there, there were a lot of changes made — a lot of cuts — and so there wasn't a whole lot of chemistry from Day 1. I think on our watch we went through about 70 different players, and it made it very hard for us to develop that bond that makes [it] necessary to win in that league.
Q: You took over offensive play-calling from head coach Bob McMillen. Did you guys ever exchange words about that, or was it an amicable thing?
A: It was an amicable thing. Again, when they called me, they made it clear from the start that if I came in, I'd do what I'd done for years, and that was call my own plays and put in the offense that I felt I was good at and comfortable with. We didn't have a lot of conversation about personnel, so there were some things that came up, and obviously, we agreed on a lot of things and disagreed on some, but there was never any hard feelings between the two of us. At one point, there was a problem where he had heard rumors of me taking his job next year, and I think that created a problem between us.
Q: Despite all the home losses, the Honda Center must have been an electric place to play. What was the best part of playing there?
A: I had the opportunity to go to a KISS concert; I didn't grow up on KISS-type music and I had never been to a show, and I was like, "Well, what is this going to be like?" And they put on an incredible show, and it was that same way with the games. I've been involved with Arena Football for 18, 19 years, and that was by far the best show outside of the actual football games that I had ever seen. I think it's great for the league. It would be very nice to see if they can get things going and actually win games, and be a playoff contender, because I think that crowd would go crazy for them.
Read an interview with 4th and Loud's wide receiver, Donovan Morgan.
Read More