Unscripted
4th and Loud Q&A – Donovan Morgan (Wide Receiver)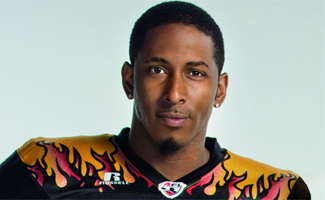 4th and Loud's Donovan "Captain" Morgan, the LA KISS's star wide receiver, talks about his fiery post-game locker room speeches and whether or not he'd make a good rock star.
Q: When you first heard about your old friend Bob McMillen coaching a team co-owned by members of the rock group KISS, what did you think?
A: At first, I thought maybe I don't know if this is going to last; I don't know if this team is really going to become a part of the AFL. But once I've seen that everything was official, and it was in Los Angeles and it was owned by Paul Stanley and Gene Simmons, it kind of was surreal. It was kind of one of those things: "Do they really know anything about football? Are they really going to come to the games?" And all that was proven right to me. They really did know nothin' about football, but they were coming to the games and wanting to learn more about Arena Football. And just having Bob as the head coach solidified everything.
Q: Who is the easier guy to get along with: Bob McMillen, the player, or Bob McMillen, the coach?
A: [Laughs] I mean, I would say Bob McMillen as a coach, because Bob McMillen as a player, you got to see this fire in him… He was much more animated as a player than he is as a coach. He was one of those passionate, fiery guys on the field.
Q: You were a co-captain of the LA KISS this season. What characteristics do you think make the best team captains?

A: Personally, I don't think you can be voted in as a captain. I don't think you can just automatically say you're a captain. I think being a captain comes with leadership ability, it comes with [going] out there and preparing yourself on and off the field at a higher level, like no one else is going to do, whether it's NFL or AFL or college. You just have to go out there and prepare yourself and show your teammates. You have to lead by example as opposed to just leading by talking.
Q: You're the most vocal guy in the LA KISS locker room. Where do those fiery post-game pep talks come from?
A: It just came from deep within, man. It's an ability that God has given me to be able to talk, and people listen, and I don't take that for granted. It was just one of those things. I'm very passionate about what I do, and I feel like if you're not going to be the best and you don't want to strive to be the best, then you shouldn't do anything.
Q: You curse quite a lot on the show. Has your mother had anything to say about it? 
A: [Laughs] Yeah, you know, my mother was like, "Wow, son.'" And my grandmother [too]. They really don't want me to do that, but I tell them that's not an everyday thing. It's just me being caught up in the passion and the moment, that those things happen. Everyday Donovan, you won't hear those many F-words coming out of my mouth. [Laughs] So at the end of the day, I heard a lot of it from my mother and my grandmother and some other people, too. But when you have that type of passion, that type of fire for the game that you love, I'm pretty sure you can mic up one of the most Christian people in the world, and you may hear a couple words come out of their mouth, too.
Q: …Like assistant head coach Walt Housman.
A: [Laughs] We were in a children's hospital, and they had a kitten in there, and somebody asked Hous about his cat, and Hous said, "Hell yeah, I miss my motherf**kin' cat! I miss that motherf**ker!" And we was like, "Ohhhh." And Hous was like, "Oops, I'm sorry." We died laughing. That's just Hous. He doesn't care.
Q: Be honest: Does KISS music make you want to drop your career as a football player and become a rock star?
A: Hell no! [Laughs] I'm a big music lover — I listen to all genres and types of music, and KISS, man, I like some of their music, but I'm not a diehard rock fan. I listened to some of their music and it's good music, but at the end of the day, I'm a football player at heart; I can't sing to save my life.
Read an interview with 4th and Loud's Kenny Spencer.
Read More