Unscripted
4th and Loud Q&A – Kenny Spencer (Kicker)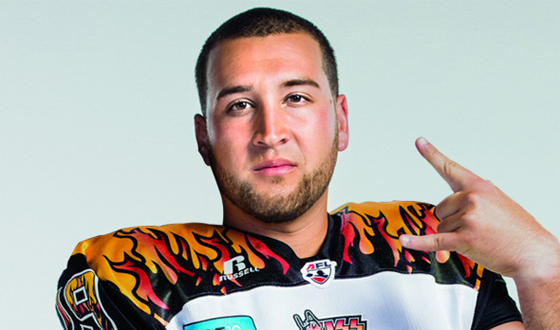 4th and Loud's Kenny Spencer, the LA KISS kicker, talks about his relationship with an LA KISS girl and some "fatherly advice" he received from Paul Stanley and Gene Simmons.
Q: Did you grow up on KISS?
A: No, [but] you heard 'em every now and then, like, in a movie or a show. But after starting to play for the team and hearing them do their thing… they know what they're doing. That's why they're rock legends and in the Rock and Roll Hall of Fame.
Q: Is the relationship you had with one of the LA KISS girls still going on, or is it over? 
A: No, it's not really…we're just friends… It wasn't a big deal. She dances for the team, and it's frowned upon that the players date the dancers. But it was never frowned upon to hang out and have fun together, you know? So, we had fun and we hung out and we had a good time, and we're still really good friends. She did her job, I did my job, and there was one game I missed those three PATs, and they thought that that was the reason. I'm like, Dude, a girl's not going to be a reason for me messing up some PATs. When I step on that damn field, that's football, not a chick. I just f*cked up, you know?
Q: Paul and Gene met with you about the issue, too. What did you get out of that conversation with them?

A: Well, at first, I didn't know what to expect. I mean, with Gene and Paul calling, I kind of felt like I was getting sent to the principal's office… It was more of them giving me fatherly advice. Gene spoke about there being temptations and to keep your head on your shoulders straight. I think they were just trying to tell me, "Don't let it happen." Paul was trying to say, there's stuff going on in your life right now, you can say you leave 90 percent of it off the field, but there's that ten percent that may make you mess up. He's been doing this for 40 years; he tries to leave whatever is going on in life off the stage, and ten percent might mess him up. I don't think they were attacking me. I think they just wanted to make sure my head was in the right place in football, and it is. This is my main priority: Football is the thing I do and I want to do for the rest of my life.
Q: When the coaches set up that kicking competition for you to compete for your job, did you ever think you might lose it? 
A: Obviously, I missed three PATs the game before, but these guys know that sh*t happens. They were cutting people left and right, so I was like, "What the hell are they doing?" And they brought me in and they were like, "We're going to bring in a couple kickers." And I was like, "Bring 'em in, because I'm going to f*ck 'em up." And that's what happened. I think it was more of just a wake-up call.
Q: It must've been tough to see your buddy JJ Raterink get traded. Do you remember what you told him before he left for Iowa? 
A: JJ's a pretty humble guy, and he knew what was happening — that what he was putting on the field wasn't what he was capable of doing. He knew it could possibly come, and that is the bad part of playing professional football: that if you don't perform and you don't put the product on the field, that you could be released. I told him, because he's a religious guy, "God has a plan for you. This is what your plan is. You're going to go down to Iowa, ball out, and you never know what can happen." And you know, he went down there and just killed it.
Q: You seem like you'd be a pretty fun guy to party with. Where does Kenny Spencer go in California to have a good time? 
A: We'd go down to Long Beach to this bar called Panama Joe's and just have a good time and hang out with each other. That is where the chemistry starts. Because you can connect with your teammates on different levels. If you're running on the field, and you don't see this other guy coming, and your buddy comes out of nowhere and blocks the guy for you, and you're just, "How did he know he was there?" Well, that's because you built that over time. You built that chemistry where he wants to save your life before you get your head cut off. I think that's where chemistry's built: outside of the game of football.
Q: Which character in a KISS song makes the better nickname for you: "Dr. Love" or "God of Thunder"?
A: Oh man. I think I might say "Dr. Love," because when Gene did that at the San Manuel Casino, I had never heard that song before, [and] I didn't even know he had that deep voice. That sh*t sounded really cool. So I'd say, Kenny "Dr. Love" Spencer.
Read an interview with 4th and Loud's Beau Bell.
Read More