Unscripted
4th and Loud Q&A – JJ Raterink (LA KISS Quarterback)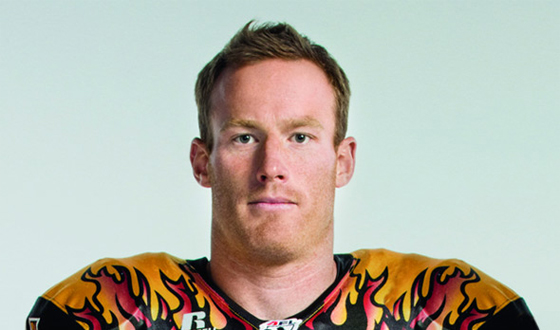 4th and Loud's JJ Raterink, quarterback of the LA KISS, talks about his ups and downs during the team's inaugural season and what it's like being a part of the KISS brand.
Q: So it's the offseason for you at this point. What do you do for a living when you're not playing AFL football?
A: I actually work for a software company. We do tracking software for car dealerships… I travel all around the country, and I go into stores and train new salespeople and managers how to use the software.
Q: In the Series Premiere of 4th and Loud, Colt Brennan is the favorite for the starting quarterback job, but has to retire due to lingering injuries. Did you ever think you'd wind up as starting QB for the LA KISS? 
A: When they did sign Colt, I knew that the name was going to be a big draw, and I knew that was probably going to be something I was going to have to overcome personally to play. Having been a rookie myself, I know that the game is a lot faster than people realize, especially at that position. So it's not that I was sitting there waiting for him to fail or get his opportunity and not succeed. I just know how difficult it is for a first-time guy to get that opportunity. But my mindset the whole time was that I was going to be playing.
Q: There must've been a tremendous amount of pressure on you to succeed.  

A: This was certainly the most pressure that I had been under in my entire career — and that would even date back to college. I'm not sure how much I put on myself, knowing that we were going to have the national notoriety that we did [and] that it was going to be documented in a TV show. You have the media day that we did, [and] I remember walking out, and there were about 20-25 cameras from all the different media sources. I was thinking, "This is how the stars feel when they go to the Oscars." But you could definitely feel that there was going to be some added pressure. I know that it really started with the ownership, with [their] high expectations. For an expansion team, that's tough. But they put the expectations out there for us, and I think that kind of trickled down.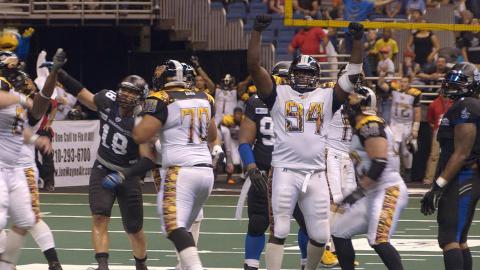 Q: Coach McMillen seems to be a pretty demanding guy. Do you ever butt heads with him?
A: We have a really good working relationship. He and I spent a lot of time trying to come up with the game plan [and] different plays. Maybe there were times when I could've been more outright and said, "No, I don't think this is what we should [do], or we should do this," but we worked together. I think he and I kind of felt that pressure, and it was one of those things [where] we could either turn against each other or try and help each other through. You know, the old cliché, misery loves company? I think pressure cookers do as well. So instead of butting heads, we had to be back-to-back and try and help each other.
Q: That loss against Iowa early in the LA KISS season with your parents in the stands seemed particularly harsh. Tell me a little about that game. 
A: That was one of the worst nights of my life. Having been in Iowa two years previous and getting traded from there, you want nothing more to go back to [your] old team [and] perform well. I didn't want [my parents] to be embarrassed sitting there and feeling one iota of what I was. My parents were not just sympathizing, they were living it. I remember we went [out afterwards], and all the restaurants were closed, so we walked to a little gas station, got some gas station food, and sat around on a little patio outside. And all I remember thinking was "I'm so thankful that my parents are here for everything, especially tonight."
Q: On the brighter side, what was your favorite moment as an LA KISS player this season? 
A: We were up 37-34 against Portland in the home opener, and we got the ball. Our receiver [Donovan Morgan] was wide open, and I remember letting the ball go, and as a quarterback, you know when you've thrown a good one. You almost know that he's going to catch it — nothing's going to get in his way. As soon as he caught it in the end zone, it was a pretty euphoric feeling, because I knew that from there, we had pretty much sealed it. I knew how much was riding on that first game. I turned and looked at my dad, [and] he gave me a big thumbs-up.
Q: What was it like playing for a team owned by guys like Paul Stanley and Gene Simmons? Any different than the teams you played for in the past? 
A: People said, "Did you get to meet 'em?" Not only did we get to meet them, but we had dinner at Gene's house and we got to do some commercial and photo shoots — things that I never, ever dreamed [I would do], nine years ago, when I decided to leave the nine to five "real world" and go play arena football. I even was talking to some of my friends and I said, "I was with Paul and Gene the other day …" and they said, it's kind of cool that you're offhandedly saying their names like they were old high school buddies that we used to hang out with.
Q: There's a scene where you guys go to Gene's house prior to the first home game. What was that like for you?
A: When we went into what people call [Gene's] "shrine," with all the KISS memorabilia and all the gear, you step into a wormhole, where you're seeing the things that [KISS had] done over the years. That was a pretty surreal feeling. Like, "Wow, these guys have been everywhere." To have them invite us to be a part of that brand was a pretty humbling honor and pretty cool. You're going to a dinner party [at] Gene Simmons' house, and getting to meet Shannon Tweed, his wife. It was funny; some of the younger guys said, "Well, who's that?" [when] I got a picture with her. They didn't realize how famous she was.
Read an interview with LA KISS co-owner Paul Stanley.
Read More