Unscripted
4th and Loud Q&A – Beau Bell (Linebacker)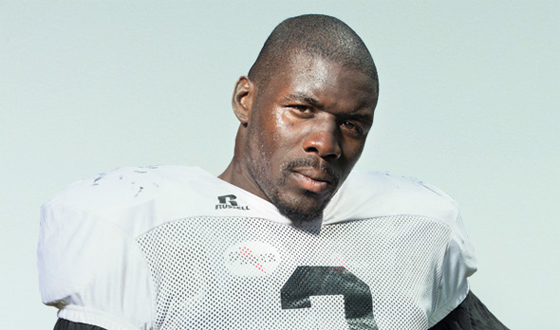 4th and Loud's Beau Bell, starting linebacker for the LA KISS talks about playing with his brother BJ and the bone-shattering hit he laid on the Spokane Shock's quarterback.
Q: LA KISS co-owners Brett Bouchy and Schuyler Hoversten said that you were the first guy they signed to the team. What drew you to the LA KISS? 
A: Honestly, I was already out here coaching, and I thought it would be real fun to play in front of my family and friends; I hadn't played in front of them in 10 years.
Q: You were a coach? Who were you coaching for?
A: Yeah, I'm still coaching the defensive line at Santa Ana College.
Q: It must've been strange having your brother BJ Bell at training camp, trying out for the team alongside you. Was he a welcome addition to camp, or did you find him to be a distraction?

A: Oh, no, he was definitely a welcome addition. I was in training camp with him the year before, when I was in Spokane, and he didn't make the team there. So he was back out here, and he was able to get into [the LA KISS] training camp, so I knew that he had to just go out there and show what he could do.
Q: How did you feel when BJ ended up making the team? Was it as much of a surprise to you as it seemed to him? 
A: You know what, it wasn't surprising to me, because I saw how hard he worked, and how he went out there and was doing exactly what the coach was asking him to do. I mean, he kept getting yelled at by coaches, but I was like, "You're good, you're good, man; just keep working, and whatever the coaches tell you to do to fix it, work on it and fix it." And he got it corrected.
Q: In one episode, coach Bob McMillen compared the LA KISS team to a band of brothers. That's got to mean something entirely different to you, right?
A: I think every single coach uses that term, and that basically means that we have one goal in mind, we have to work together, and everybody has to depend on each other to get their job done. And you can see this year and throughout the show that a lot of people weren't getting their jobs done, and you couldn't count on 'em. If it was war and somebody wasn't doing their job, the whole platoon would be dead. We've got to have each other's backs at all times. When it comes to the end of the day, and you can look yourself in the mirror and say, 'I did my best,' that's all you can ask for.
Q: Both Schuyler and Brett said that they admire you greatly both as a person and a player. What do you think you bring to the table that the next AFL linebacker doesn't?
A: I think what I bring to the table is leadership. I mean, I'm not a vocal leader, per se, like Donovan [Morgan] was this year. I'm more of a guy who goes out there and shows you how to work. If you don't know how to be a professional, and this is your first professional experience, then I want to be able to show you how professionals are supposed to act.
Q: In Episode 5, "Changing of the Guard," you sacked the Spokane Shock's quarterback and broke his collarbone. Did you call him to apologize?
A: I called him to see if he was OK. You know, it's so funny. That's one of my friends right there. That's my buddy. You know, he was my roommate when I was up there in Spokane. So I already had a real close relationship with him. When I heard about it, I was like, "Man, that's not the guy I wanted to hurt; I wanted to hurt another quarterback!"' [Laughs]
Q: Hypothetically speaking, where would you rather be: On that backyard water-slide at Gene Simmons' house with the LA KISS Girls, or swinging from the rafters with one of those go-go dancers?
A: Waterslidin' with the LA KISS Girls. I'm afraid of heights!
Read an interview with 4th and Loud's Joe Mortensen.
Read More