Unscripted
4th and Loud Q&A – Schuyler Hoversten and Brett Bouchy (LA KISS Co-Owners), Part I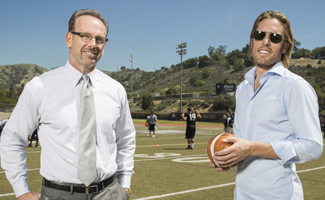 LA KISS president/co-owner Schuyler Hoversten and managing partner/co-owner Brett Bouchy, stars of 4th and Loud, talk about working in the Arena Football League with rock stars Paul Stanley and Gene Simmons.

Q: Have you guys painted your faces, donned black spandex, and joined the KISS Army?
Schuyler Hoversten: No, I became a fan of KISS after having worked for Gene and Paul. And actually, I had never gone to a full-blown KISS concert until the Forum in Los Angeles just a couple of weeks ago. Prior to that, I was just a fan of Gene and Paul. I was just blown away with how they approached business and the entertainment business.
Brett Bouchy: [Schuyler] obviously grew up in a different time than I did. I was born in '69, and my older brother… was a huge KISS fan. I'll never forget in 1979, he went to go see them in concert, and my parents deemed me too young at 10 to go, and I literally thought about running away. My brother called me when they announced their reunion tour, and he said, "Listen, I'm going to get tickets in the first couple of rows, and we're going to fly to Detroit to see the first concert." It was in Tigers Stadium. He talked me into going. It was in 1996, it was sold out, 50,000 people. So I went to that concert, and I'll never forget it. To be working with the guys [in KISS] almost 20 years later is crazy.
Q: How did each of you end up working with the LA KISS? Did you receive a phone call from Paul and Gene, or was it something more formal?

BB: I approached KISS. I was the owner of the Orlando Predators in the AFL for 16 years. We had a neutral-site Arena Bowl in Orlando, and I wanted to turn it into a mini–Super Bowl weekend event, and I thought, "What's rock and roll? What's football? What is a great entertainment experience? It's KISS." I finally got a hold of [KISS manager] Doc McGhee, and we got KISS to play at that Arena Bowl. Then Doc and I became friends… He was talking about doing a team in Nashville, and then I said, "Hey, think bigger than that! Let's go into the second-largest media market — Los Angeles — where Gene and Paul live and call it the LA KISS." I was half kidding, and at the time, I thought it would be those three guys that would do it. Doc immediately called Gene and Paul on the golf course, came back, and said "I love the idea." Then Schuyler and I met briefly in 2008, while he was working for John Elway and Michael Young [for] the AFL's Colorado Crush. Michael was the only guy that I knew when I got here to L.A. I told him I needed a Brett Bouchy, but better than that, here in Los Angeles. And he said, "The guy you have to get is Schuyler." After a four-hour meeting — then subsequent calls from Gene and Paul and Doc — he came on as the president. And we were so infatuated with his job performance this year, that he became an owner.
SH: I was taken aback by the fact that both Gene and Paul had called me and voiced their interest in me joining this new venture. These guys have very busy schedules, and they [went] out of their way to lure me to this organization, so I could come in and make my presence felt and shake things up. It spoke to how they were going to be as owners, how invested that they were going to be, and how successful they were going to be in rolling up their sleeves and doing work with me to get this thing off the ground. And they are that way as owners.
Q: What's it like working daily with two legends of the rock and roll world? How accessible have they been as owners? 
SH: The fact that we could call Paul or Gene and ask them to do anything — whether it be an interview with an LA-based media outlet; or shoot our dancer poster;  or [get their] insights into the look and feel of the team and the logo — they were involved in all of that. They wanted to be; it wasn't like we were asking them. They literally said, multiple times, "You guys are not involving us enough; we want to be involved more. Lean on us, and we'll do anything," which was so refreshing to get from celebrity owners… It truly spoke to the reason why these guys have been so successful in everything else that they've done. And I think it's also because they chose to brand the team, along with Brett's suggestion, with their name. So when we take the field and everything we do, we're a direct representation of the band. So we take that very seriously. We try to channel the KISS attitude of doing things in everything that we do.
Q: Brett, you're a career AFL guy. What has been the biggest challenge working for such a high-profile team? 
BB: It's having to measure up to an iconic brand with the economic [bottleneck] that we have. That's one of the things that's pushed me to do everything I can to elevate the relevance and credibility of not only the AFL brand, but also the LA KISS brand. It's not just another sports franchise; it's the KISS name. It's like a family member. It's the first time there's ever been an iconic music brand tied into a sports franchise.
Q: Schuyler, you came from the baseball world. What is the one thing you miss most about working in baseball or for the L.A. Dodgers?
SH: In all honesty, I can't really point to one specific thing. This opportunity with the LA KISS is the perfect fit for the "Schuyler Hoversten brand" — my personality. The opportunity to play by our own rules and do the things that other teams simply don't have the balls to do. I mean, baseball is very traditional, and I am not. I like doing things big, I like being bold, I like taking risks. Compare all those personality traits to the traits of the Los Angeles Dodgers, and they're very incongruent. So when the opportunity to work for rule-breakers and pioneers comes along, it's an absolute match made in heaven, and it has been a perfect fit.
Q: So you are the Yasiel Puig of the LA KISS brand? 
SH: Thank you for comparing me to a game-changer in Major League Baseball. He's come in and done some big things.
BB: If we created the ideal sports franchise for 'Schuyler the sports executive,' it would be the LA KISS.
Click here to read an interview with KISS legend Paul Stanley.
Read More