Unscripted
4th and Loud Q&A – Bob McMillen (Head Coach)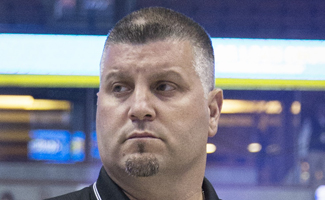 4th and Loud's Bob McMillen, head coach of the LA KISS, talks about what he's learned from co-owners Paul Stanley and Gene Simmons and his favorite guilty pleasure. 
Q: You've been a player and coach in the AFL for 18 years. Did you ever think you'd end up working for and with members of an internationally renowned rock band? 
A: To be able to work with Paul and Gene is actually really surreal. I mean, it's amazing that these are guys I grew up listening to and now they're my bosses. They're just a bunch of regular guys. Everything Paul and Gene have accomplished in those 40 years of being together, [and] they're just normal guys and very smart business guys. And they really, really enjoy watching and being a part of the Arena Football League. Having those guys in your corner makes everything a lot easier.
Q: You just called Paul and Gene your "bosses," but it seems they've given you quite a bit of control over the football team. 
A: That was one of the things that drew me to come to the KISS. I sat down with Paul and Gene and Brett [Bouchy], and one of the things I asked for was full autonomy to run the football side of things. I wanted to be able to do it my way, and they agreed to it. Paul and Gene [said], "We're not football guys. If you ask us to help you on the football side of things, we can't do that. But what we can do is promote us and make this into the biggest thing in the Arena Football League."
Q: Before the LA KISS, you coached for the Chicago Rush. What's the one thing you miss most about working in Chicago? 

A: That's where my family is: my wife and my kids. I came out to L.A. on my own and I have a wife I've been married to for almost 19 years, a 17-year-old son, a 9-year-old son, and a 7-year-old girl. I left them back in Chicago in February and now it's going into August, and I've only seen them a couple of times. It's been a little rough, not only on myself, but on my wife, because she's had to handle most of the load at home with the kids and their sports and school. I spent the last nine years of my career in Chicago, so my little ones only know of daddy being home every night. And my 17-year-old son, who is going to be a senior next year and just committed to Iowa State to play football on a full scholarship, you know, I missed all that stuff. So those are the things I'll never get back.
Q: How does having the KISS brand associated with your team impact you? Is there any downside?
A: It's great! I mean, it's not only great for our team, but it's also great for the Arena Football League. The first game we played, we're on SportsCenter, we're the No. 1 story, the [analyst] has got his face painted on ESPN. You're not going to get that publicity and that advertising and your name out there like we did that first game, and that's a tribute to Paul and Gene and Brett and Schuyler [Hoversten] and those guys in the office that are trying to help us get our name out there.
Q: You said in a pre-game pep talk that "Every team is like a family." Do you have a favorite son on the team?
A: I was close with Donovan [Morgan] this year, I was close with Beau Bell… JJ [Raterink]. It's tough for me just to pick one guy. You know, Donovan and I have had a special relationship, because we played together in 2007 — his first year as a rookie [and] my last year in the Arena Football League. So him and I have a little bit of history together. But I coached JJ in the last couple of years in Chicago. I don't always look for talent when I look for a guy; I look for the type of character that guy is and how much he brings to the table and how much he'll work to make our football team better and successful. That's usually how we end up winning, because I know that they're going to prepare themselves the right way, and you know, those are the guys you want on your football team.
Q: What is one guilty pleasure you enjoy that you think might surprise people?
A: I love fruit snacks… My kids got me hooked on them, because I would always make their lunches for them when I was back in Chicago. Ever since I came out here I've had a box of fruit snacks in my cabinet every week.
Click here to read an interview with co-owners Brett Bouchy and Schuyler Hoversten.
Read More