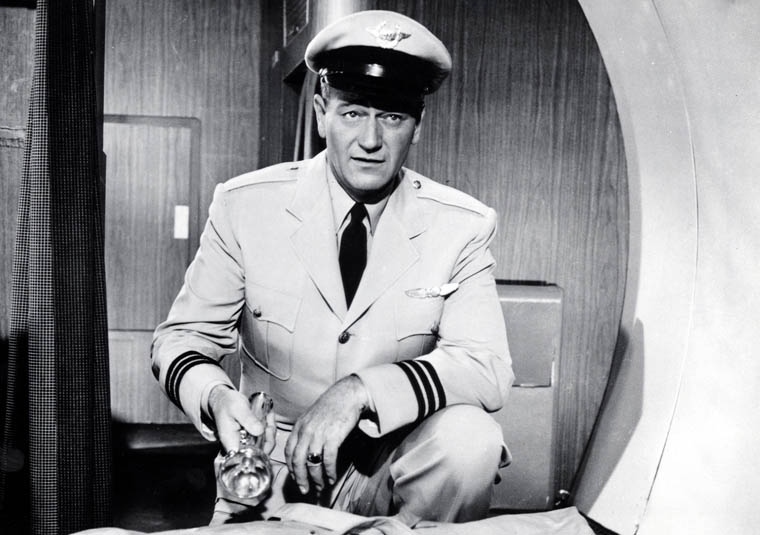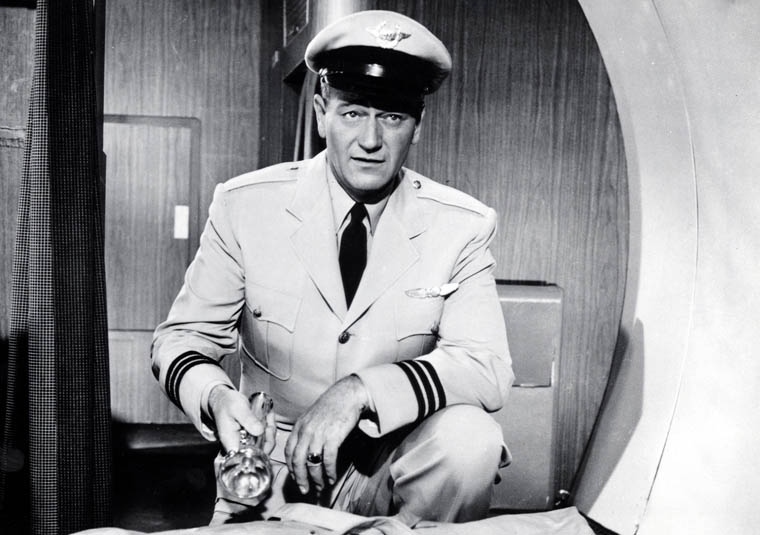 There's no getting around it: the Duke is one of the most recognizable Hollywood icons and one of the most prolific. He personifies the American cowboy, but his range extends far beyond the Western: he did war pics, love stories, and over-the-top comedies. Here's a look at some of the classics he helped create.
Photo by <i>The High and the Mighty</i>, John Wayne, 1954. Photo courtesy of the Everett Collection.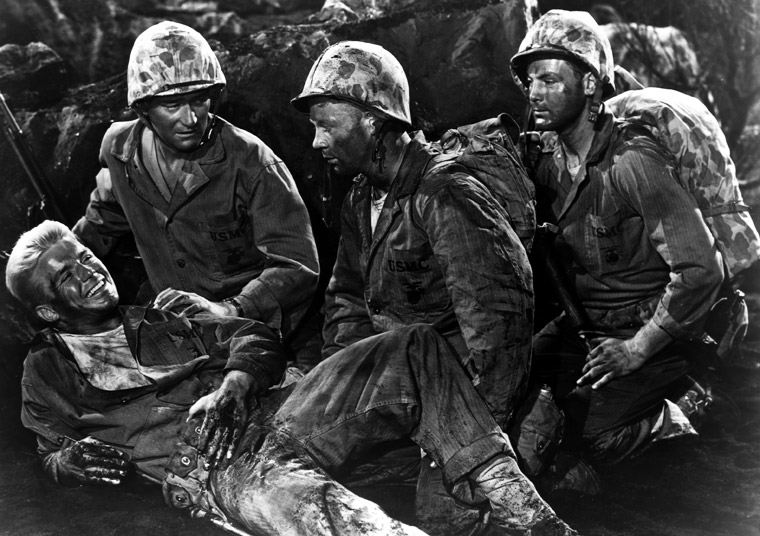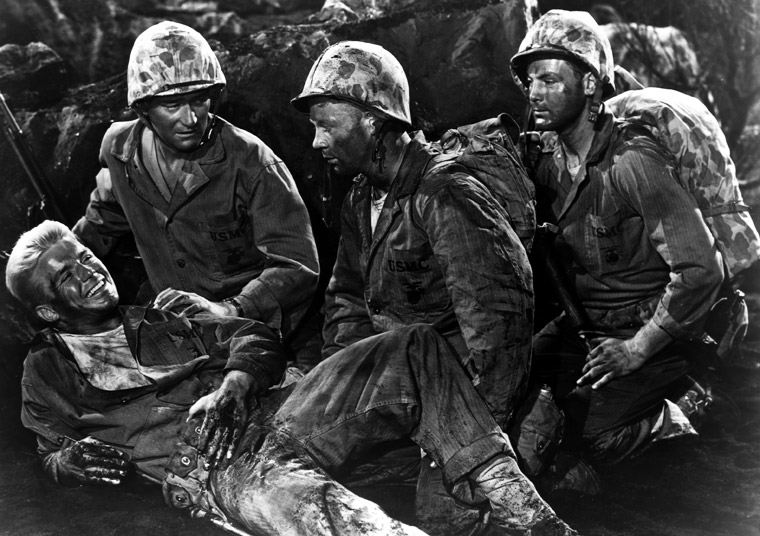 Wayne plays: A hard-nosed marine sergeant in charge of raw and ragtag recruits.
Why it's classic: Wayne received a Best Actor Oscar nomination for his role as Sergeant Stryker. He embodied the ultimate marine disciplinarian: tough, no-nonsense, and (at times) brutal toward his men.
Interesting fact: The three surviving veterans from the real-life flag raising on Mount Suribachi appear in the movie. They reenact the flag raising, using the actual flag they hoisted in the famously photographed moment.
Photo by <em>Sands of Iwo Jima</em>, Richard Jaeckel, John Wayne, 1949.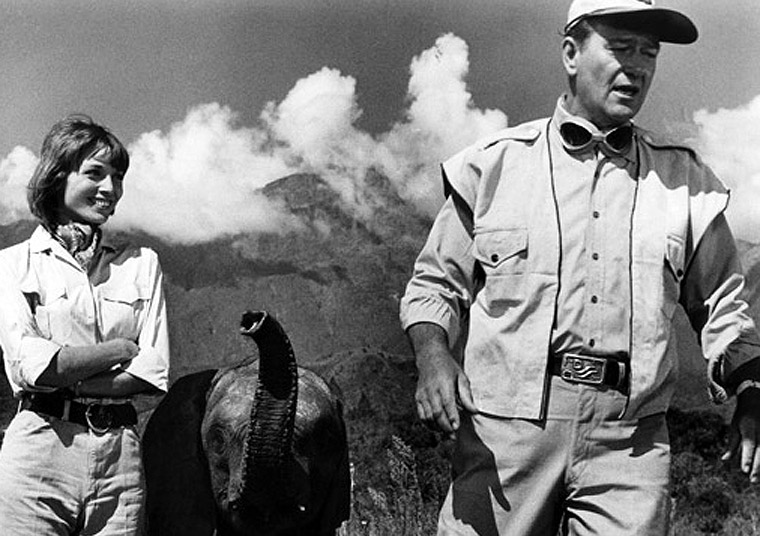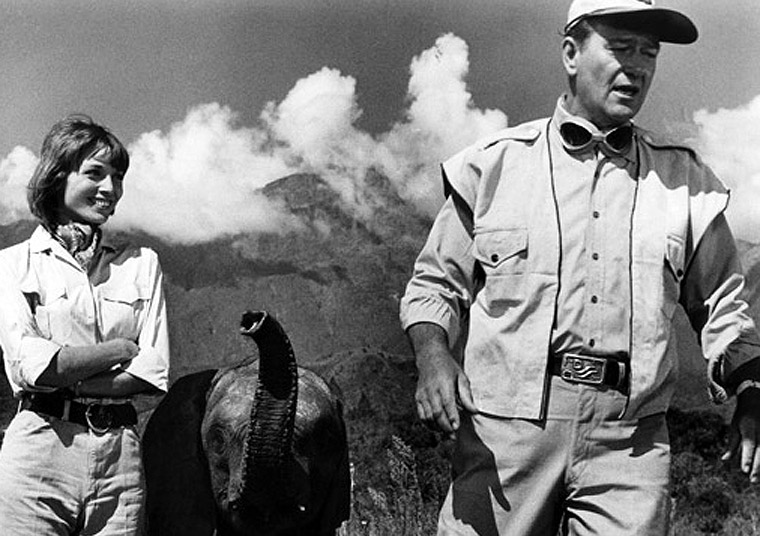 Wayne plays: A big-game trapper capturing African animals for zoos and circuses.
Why it's classic: "Hatari" is Swahili for "danger," and Wayne and his fellow actors apparently saw a lot of it. Howard Hawks's expert direction places you among Wayne and his crew as they 4x4 across the African landscape and attempt to lasso wild animals.
Interesting fact: According to Hawks, the scene in which a rhino escapes and has to be recaptured was live footage of an actual rhino escape -- hence, this wasn't acting but actors facing real-life injury and possible death.
Photo by <i>Hatari!</i>, Elsa Martinelli, John Wayne, 1962.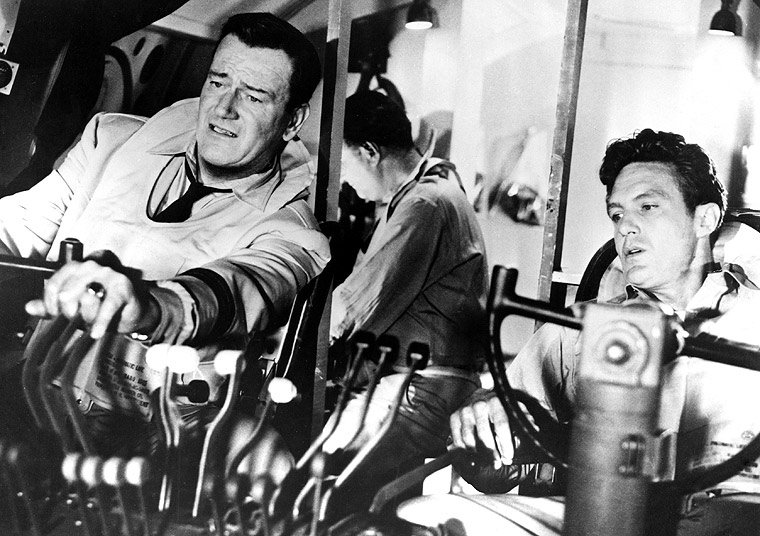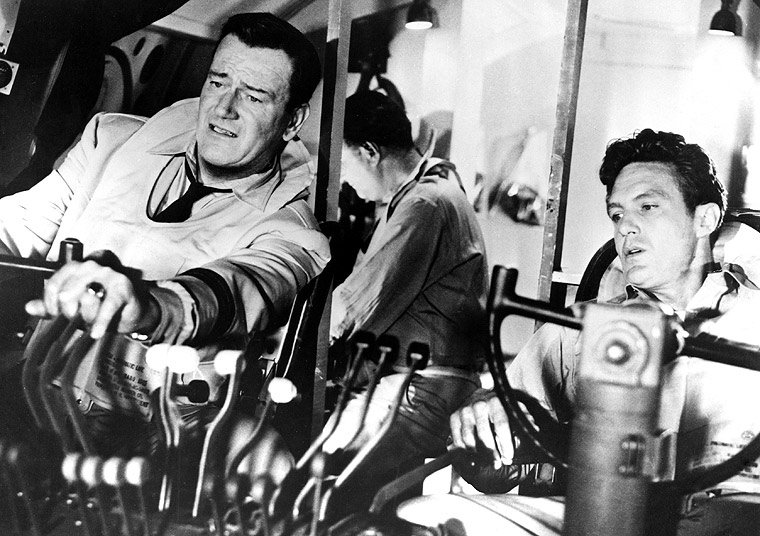 Wayne plays: A co-pilot haunted by having flown the plane that killed his own family.
Why it's classic: Wayne plays a troubled co-pilot whose transpacific flight develops engine trouble en route to San Francisco from Honolulu. The plane's first in command, meanwhile, cracks in the face of danger.
One of the year's top-grossing movies, The High and the Mighty was also pioneering in two ways: first, it started the disaster genre, so fans of Airport and the parody Airplane! owe it a debt. Second, the movie was one of Wayne's earlier co-producing efforts and a successful one at that.
Interesting fact: The DC-4 aircraft used in the movie had been the personal plane of late Argentine dictator Juan Domingo Perón. And while in use as a charter jetliner a decade after the film, it crashed in the Pacific, killing all aboard.
Photo by <i>The High and the Mighty</i>, John Wayne, Robert Stack, 1954.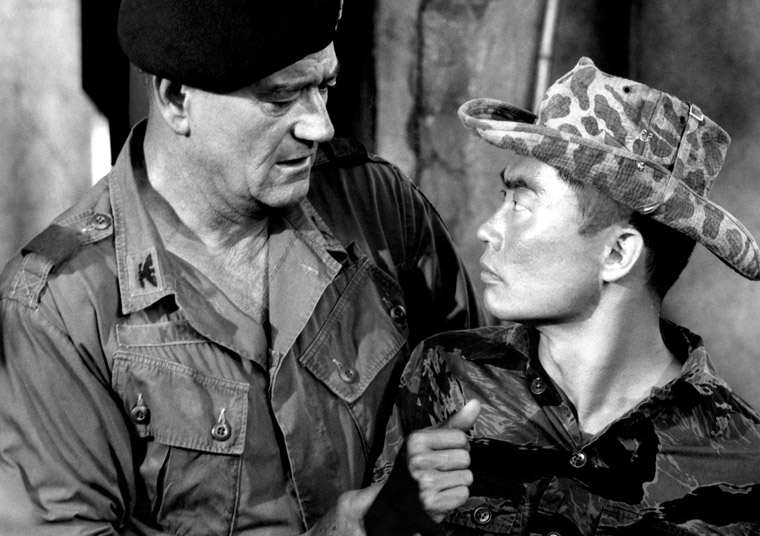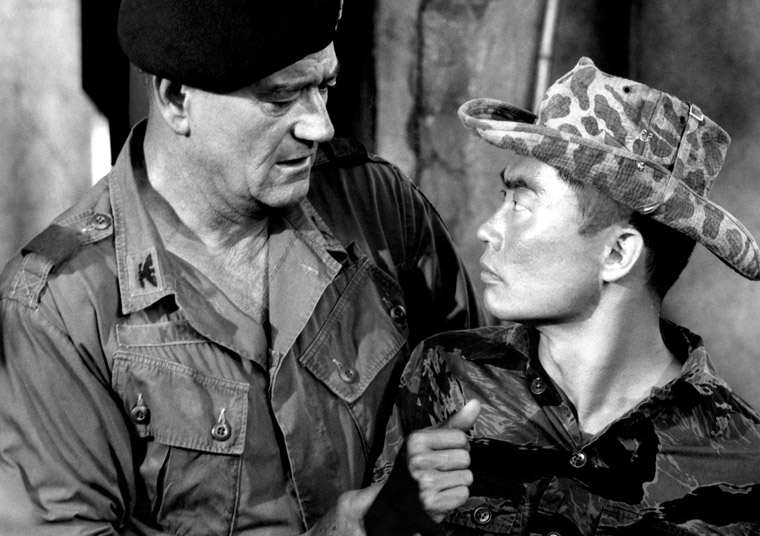 Wayne plays: A battle-hardened Green Beret, fighting the Communists in the jungles of Vietnam.
Why it's classic: The combat scenes pack ample excitement, especially the climactic battle in which the North Vietnamese Army overruns an encampment that Wayne's Green Berets are defending. Still, Wayne's men aren't super-soldier caricatures but sympathetic, three-dimensional characters. One of them, for example, Sergeant Peterson, played by Jim Hutton, wants to adopt a Vietnamese boy. But Peterson is killed by an NVA booby trap.
Interesting fact: Wayne's pro-war stance stands out loud and clear in several expository scenes that caused critics to gripe over the Duke's support of the unpopular war.
Photo by <i>The Green Berets</i>, John Wayne, George Takei, 1968.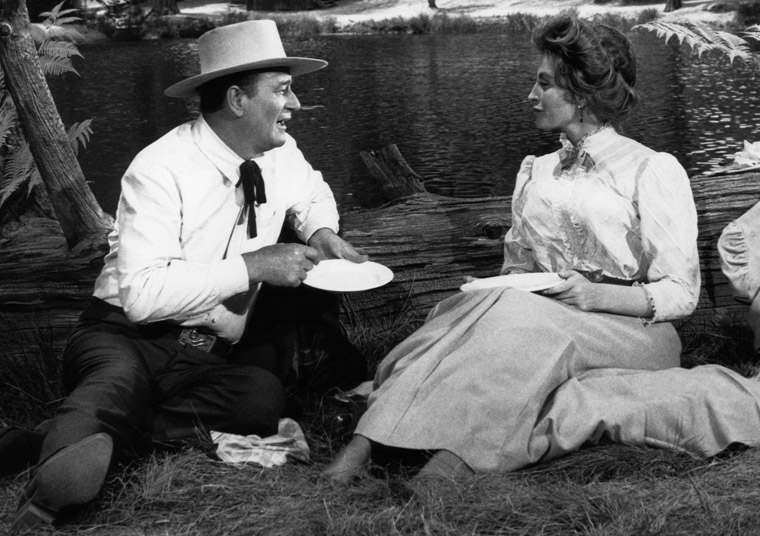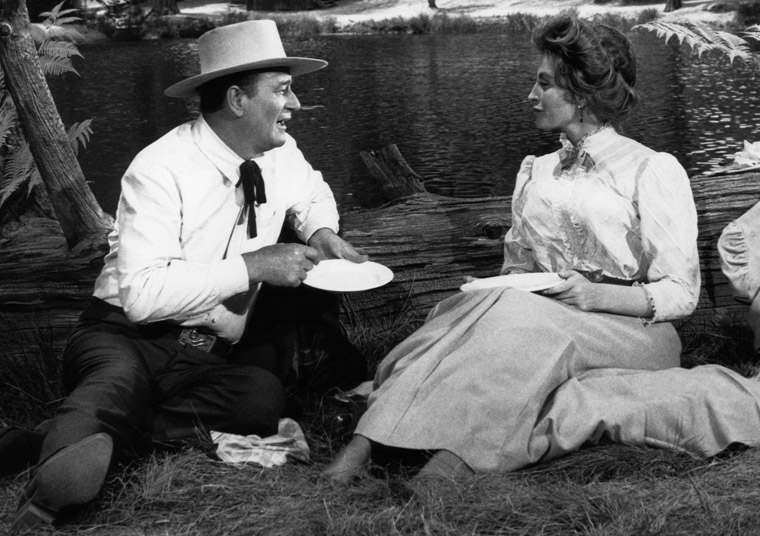 Wayne plays: Miner Sam McCord, whose gold claim yields riches in gold-rush-era Alaska.
Why it's classic: "It's my only politics: anti-wife. Any woman who devotes herself to making one man miserable instead of a lot of men happy don't get my vote," says McCord.
If ever a movie displayed Wayne's comedic chops, this is it. He rips one-liners and affects an acting style that can only be described as over-the-top. In effect, Wayne pokes fun at the hypermacho characters on which he'd built his career and fortune.
Interesting fact: Wayne's co-stars include French model turned actress Capucine, Stewart Granger, and teen heartthrob Fabian, as Wayne's partners on the gold claim.
Photo by <i>North to Alaska</i>, John Wayne, Capucine, 1960. © 20th Century Fox. Photo courtesy of the Everett Collection.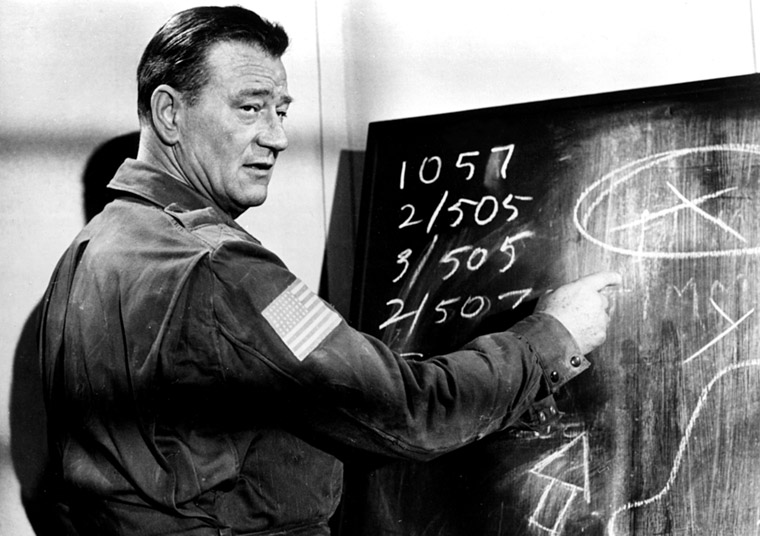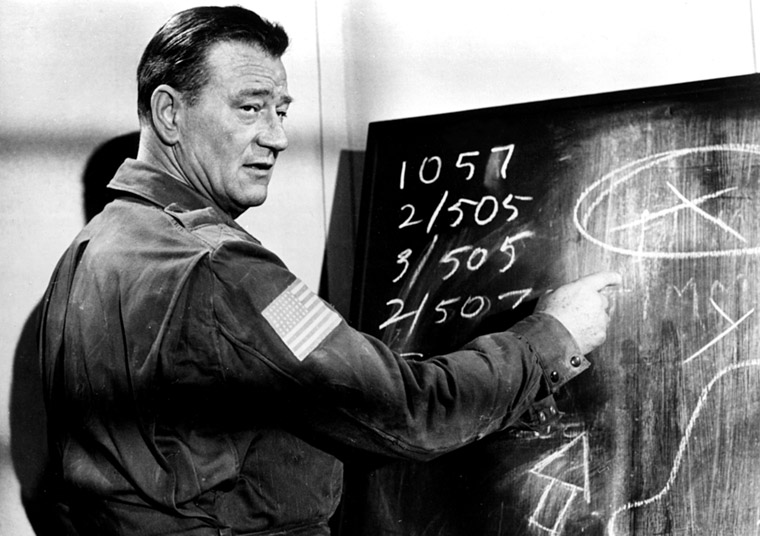 Wayne plays: An Army lieutenant colonel leading his troops into battle on D-day.
Why it's classic: Epic in both scale and star power, The Longest Day is a tight and realistic account of D-day's horrors, defeats, and triumphs, from the hard-fought landings at Normandy to the role played by the French Resistance.
The all-star ensemble cast included Richard Burton, Henry Fonda, Red Buttons, Sean Connery, and Wayne. Wayne's performance was, typically, macho but still believable. He stands out in one scene: as he and his troops come upon slayed paratroopers dangling from the rooftops of Sainte-Mère-Église, there is a shot of Wayne's face. Without uttering a word, he telegraphs a soldier's sorrow, disgust, and anger at seeing fallen comrades.
Interesting fact: Costing more than $10 million to make, The Longest Day was the costliest black-and-white movie ever produced when it was released, and it would only be eclipsed by Schindler's List, in 1993.
Photo by <i>The Longest Day</i>, John Wayne, 1962. © 20th Century Fox.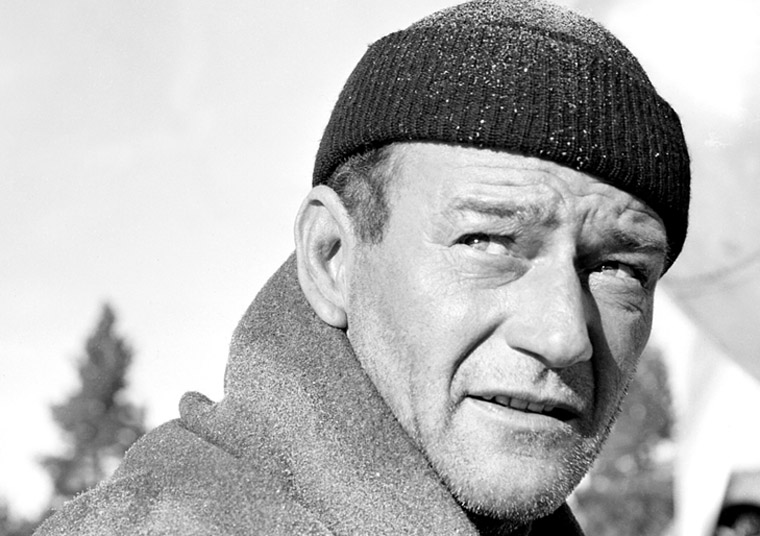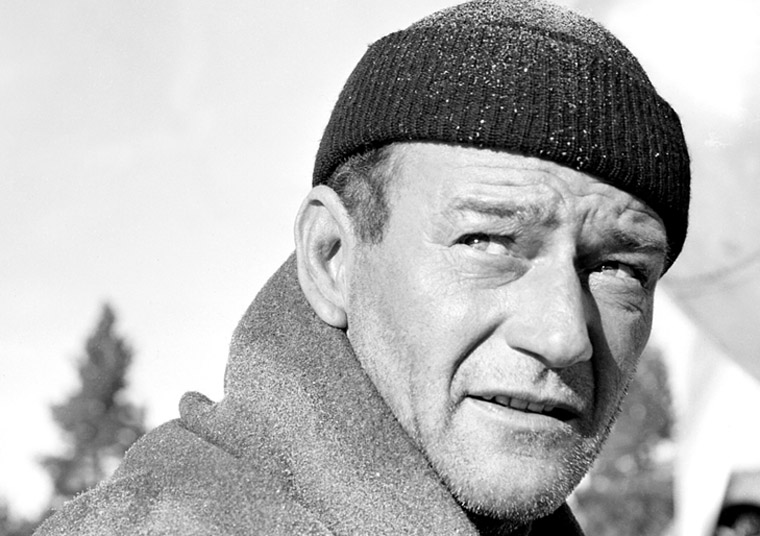 Wayne plays: A cargo-plane pilot who crash-lands in the frozen no-man's-land of Labrador, in far northeastern Canada.
Why it's classic: Wayne doesn't battle bad guys in Island in the Sky. Rather, he battles the elements, as he and his crew wait for rescue in Canada's frigid North. Wayne's performance here shows uncommon restraint. As the days and weeks drag on and as his men lose hope to the unforgiving temperature and to hunger, Wayne broods, he battles his own doubts, and he rallies his men to survive just one more day -- all without resorting to the virile tempestuousness for which he's known.
Interesting fact: Based on Ernest K. Gann's novel of the same name, the movie shows an earlier age of aviation -- without GPS or other sophisticated electronics. Along with The High and the Mighty, this movie was also unavailable to the public for decades, owing to legal disputes. Both movies premiered on AMC, on July 16 and 17, 2005, and are now available on DVD.
Photo by <i>Island in the Sky</i>, John Wayne, 1953.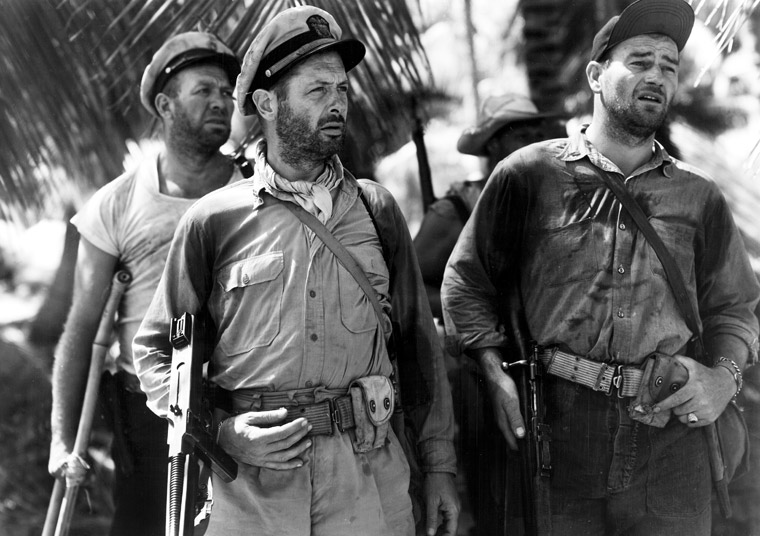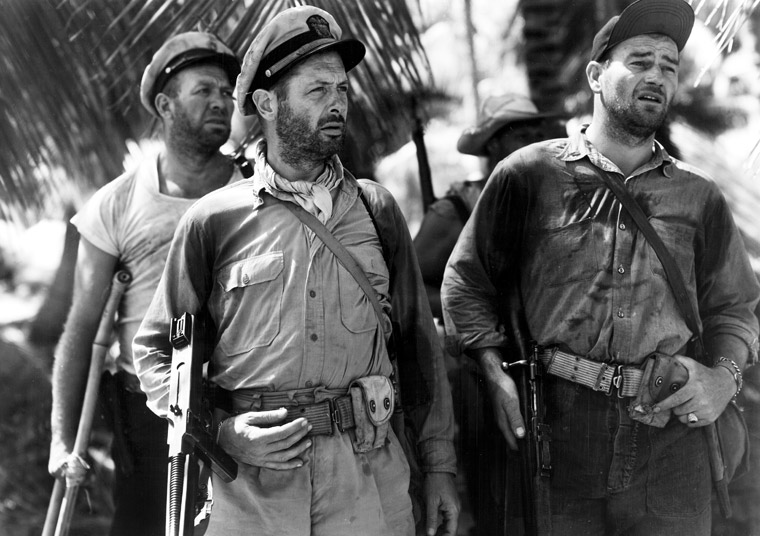 Wayne plays: WWII U.S. Navy lieutenant "Rusty" Ryan, who must help defend the Philippines against the Japanese Imperial Navy with little more than PT boats.
Why it's classic: Like The Searchers, this Wayne-Ford collaboration brought the best out in both men. However, unlike The Searchers, it's Robert Montgomery who is the star of They Were Expendable. Delivering understated performances, Montgomery and Wayne play it without any blustery heroics. In intense close-ups throughout the movie, their expressions carry the weight of the moment.
Interesting fact: Montgomery plays Lieutenant John Brickley, a character based on a real-life Navy lieutenant, John Bulkeley, who led his men against the Japanese in the Philippines. Bulkeley's sailors harassed the enemy in their undermanned and undergunned PT boats.
Photo by <i>They Were Expendable</i>, Ward Bond, Robert Montgomery, John Wayne, 1945.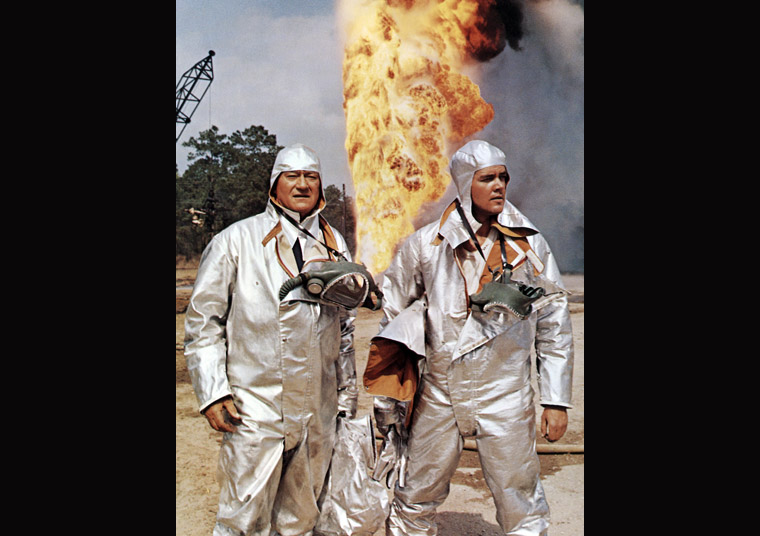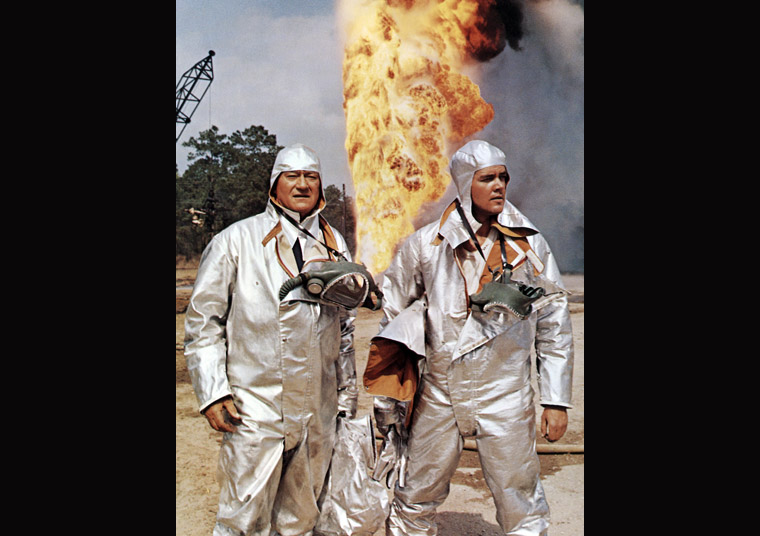 Wayne plays: An oil-rig firefighter who travels the world to put out oil-well blazes.
Why it's classic: An action movie about oil-rig firefighters, this is another fine example of Wayne fighting disaster instead of bad guys. The movie stays true to the itinerant, carpe diem lifestyle of the men (and women?) who do this for a living. One scene captures the hazards they contend with: Wayne and his crew travel to Venezuela to contain a blowout, finding that they must battle the fire and dodge guerrilla sniping from the hills. Even their training presents life-threatening danger: one drill requires the coordinated detonation of powerful explosives.
Interesting fact: The film is loosely based on the life of Paul "Red" Adair, who pioneered many modern oil-well-firefighting techniques and equipment. Some two decades later, Adair's company would gain worldwide fame for extinguishing the oil-field blazes set by retreating Iraqis in the first Gulf War.
Photo by <i>Hellfighters</i>, John Wayne, 1968.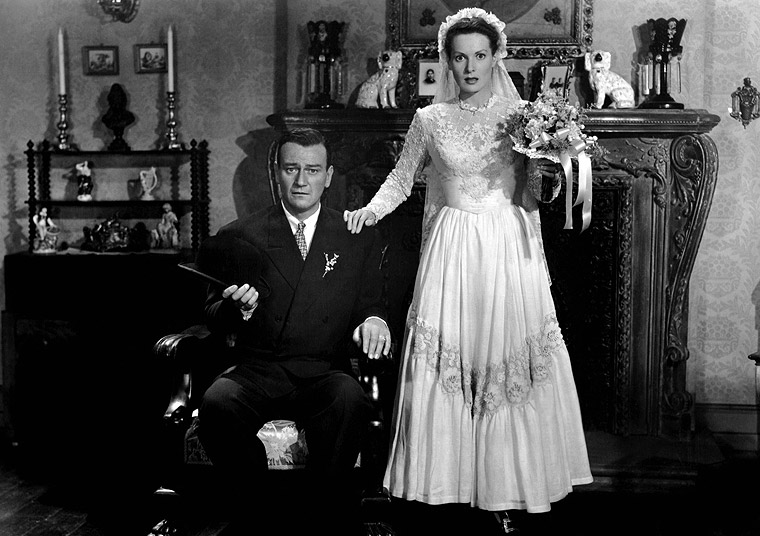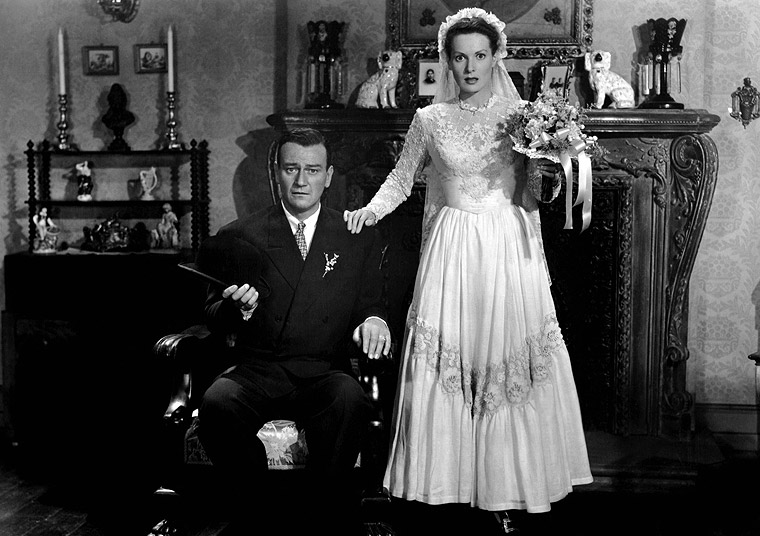 Wayne plays: An American boxer who travels to his ancestral Ireland after accidentally killing an opponent in the ring.
Why it's classic: With stunning cinematography of rural Ireland and sparks flying between Wayne and Maureen O'Hara, this romantic comedy proved a hit with audiences.
Guilt ridden after a fatal ring incident, Wayne retires to Ireland. But his designs for a quiet life fall apart, when he promptly falls for local country girl O'Hara. From the start, Wayne's modern sensibilities butt heads with the more staid Irish courting traditions O'Hara is used to.
Wayne also has to contend with O'Hara's brother, played by Victor McLaglen, who covets Wayne's land. The tension between McLaglen and Wayne culminates in a six-minute brawl that takes the two men literally over the river and through the woods.
Interesting fact: John Ford won the Best Director Oscar for The Quiet Man.
Photo by <i>The Quiet Man</i>, John Wayne, Maureen O'Hara, 1952.