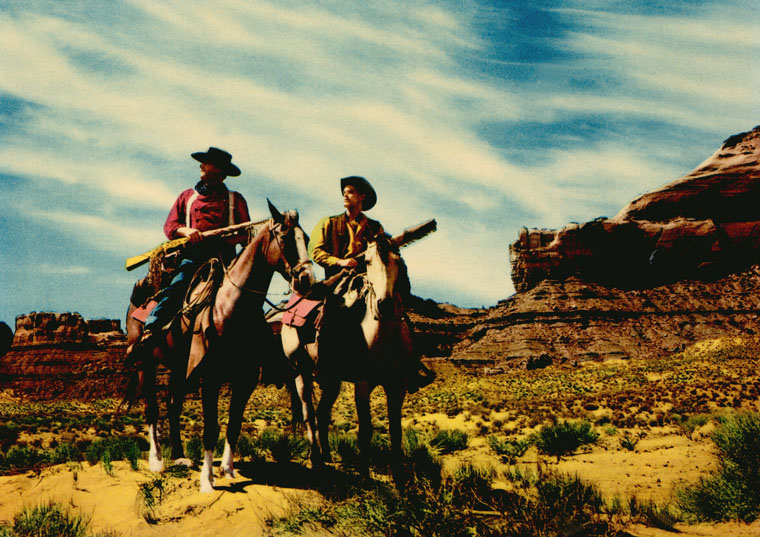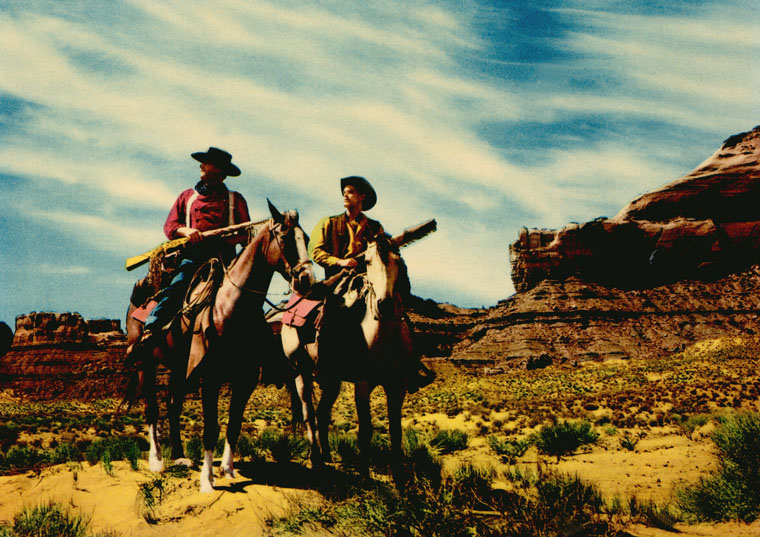 Distinctly American, the Western is arguably our country's greatest contribution to the movies. Though often simple in their set ups -- just a man, a horse, and a mission -- the very finest of these films are complex depictions of heroes on mythic journeys in the Wild West. Here are ten of the best.
[Text by Michael Rowin]
Photo by <i>The Searchers</i>, John Wayne, Jeffrey Hunter, 1956.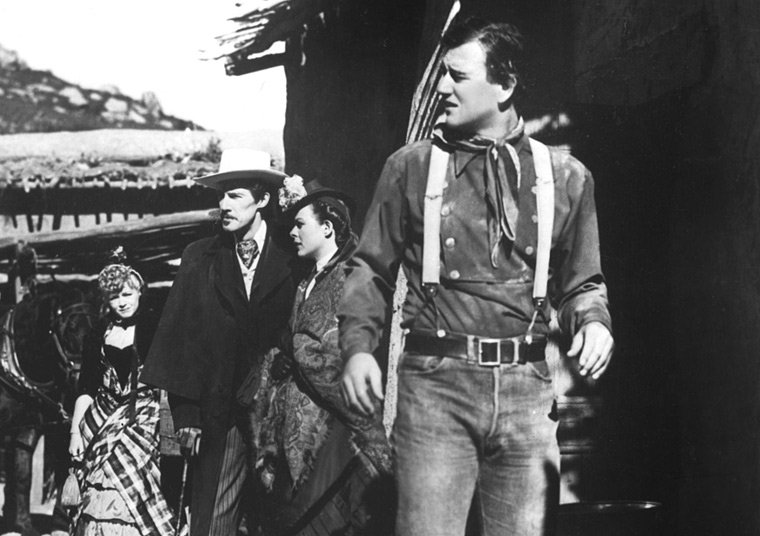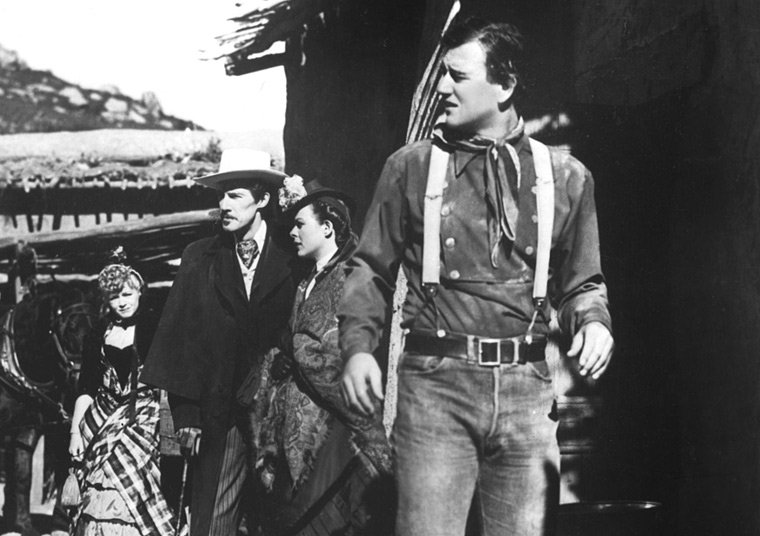 There's a reason why three of the movies on this list are directed by John Ford: He defined the genre! As the first of his Westerns with sound, Stagecoach set the standard and launched John Wayne into superstardom. Eventually, the two Johns would become unthinkable without one another.
Photo by <i>Stagecoach</i>, Claire Trevor, John Carradine, Louise Platt, John Wayne, 1939.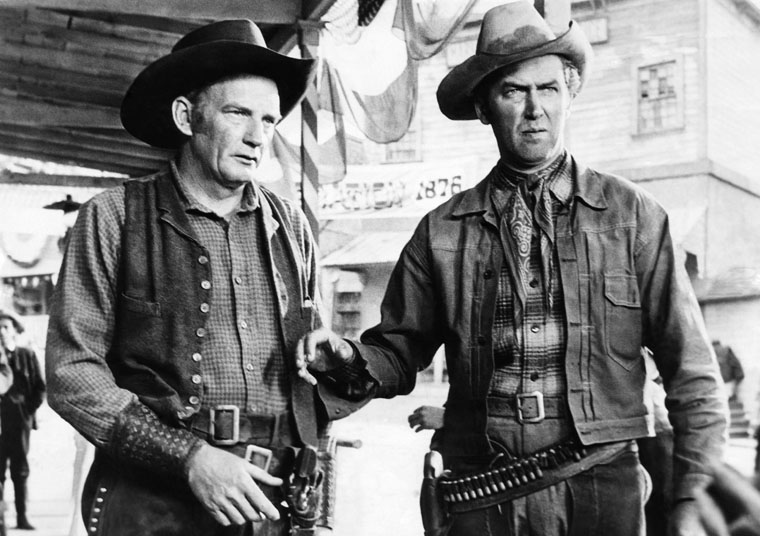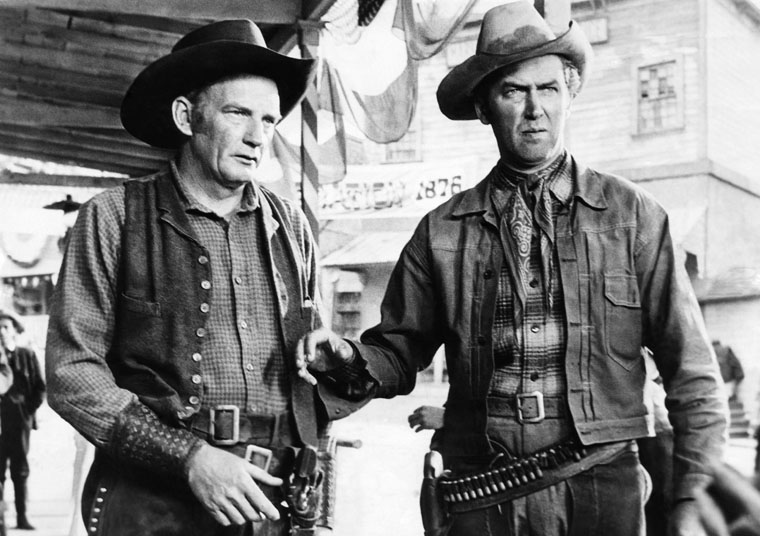 John Ford and John Wayne may have been the dynamic duo of the frontier, but director Anthony Mann and actor James Stewart come in a very close second. Winchester '73 was the first of their five collaborations. It's a tale of sibling rivalry and gun fanaticism with all the grandeur of Greek mythology.
Photo by <i>Winchester '73</i>, Dan Duryea, James Stewart, 1950.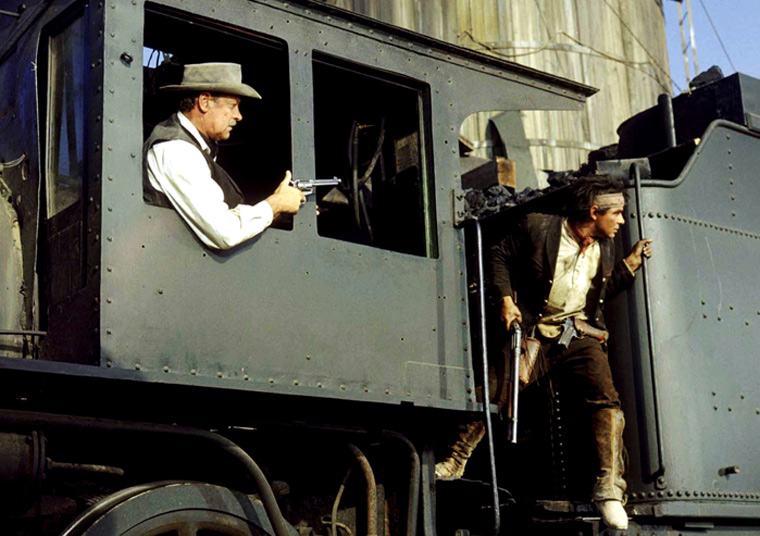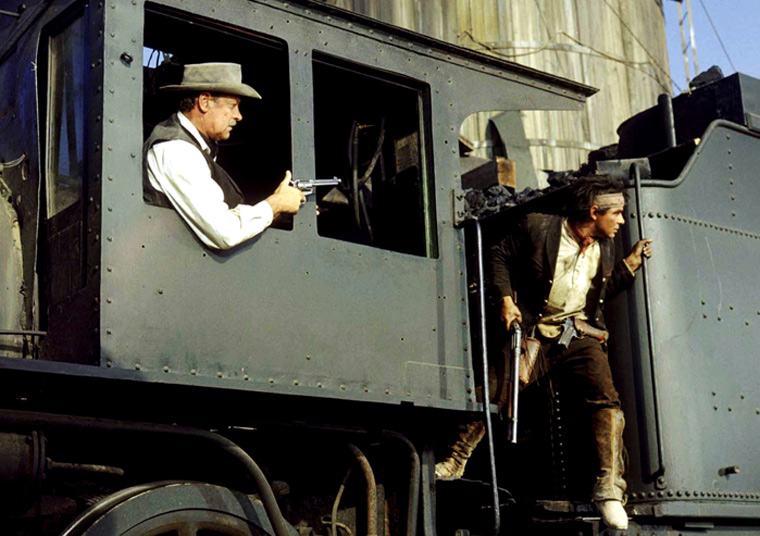 Ultra-violent and hyper-stylized, this controversial film employed varied-speed cameras to simulate the brutality of Old West gunfights. Director Sam Peckinpah felt the movie was his ultimate statement on embattled friendship (and a coded critique of the Vietnam War). It's two films in one.
Photo by <i>The Wild Bunch</i>, William Holden, Jaime Sanchez, 1969.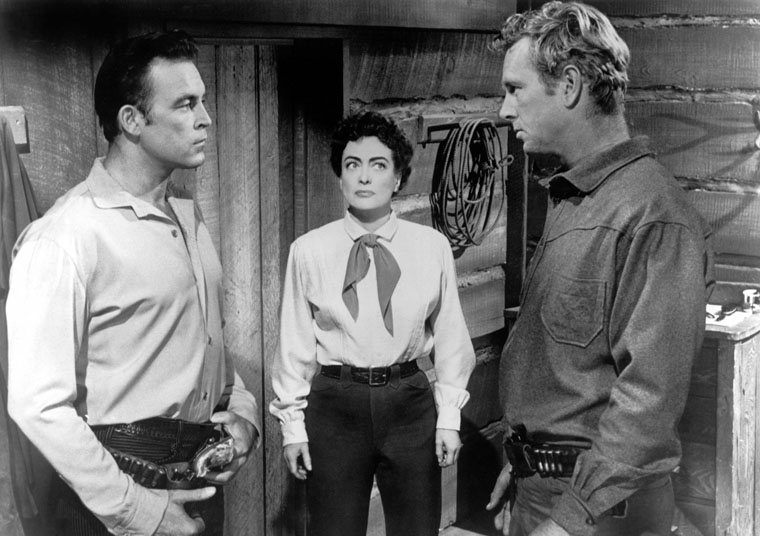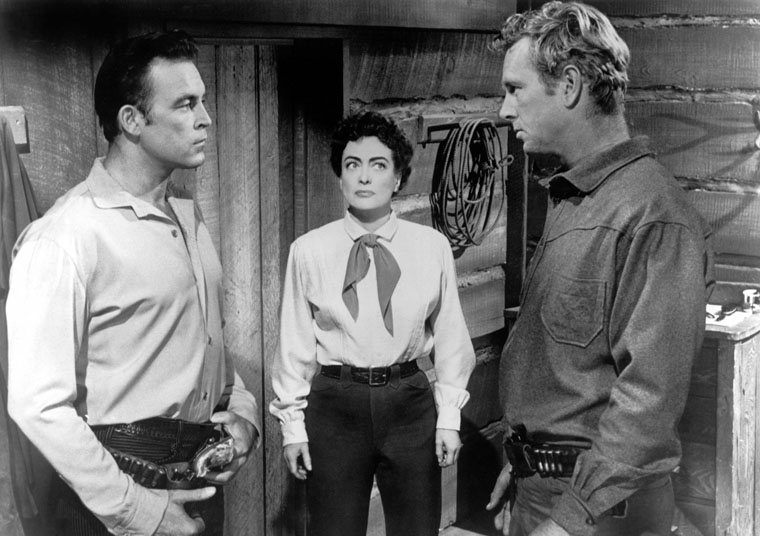 Director Nicholas Ray takes familiar elements of the art form -- the saloon, the posse, and the damsel in distress -- then turns them completely on their heads. Don't let the title fool you. Joan Crawford is the star of the show, which plays less like a John Ford shoot-'em-up and more like a classic melodrama.
Photo by <i>Johnny Guitar</i>, Scott Brady, Joan Crawford, Sterling Hayden, 1954.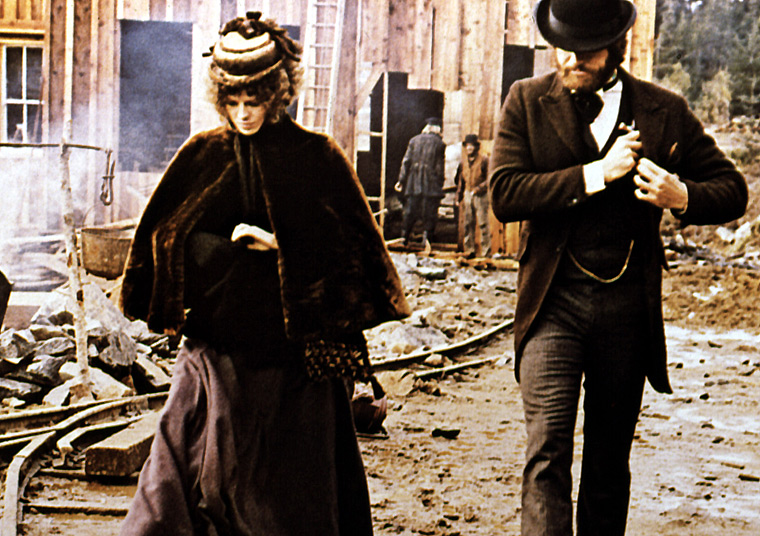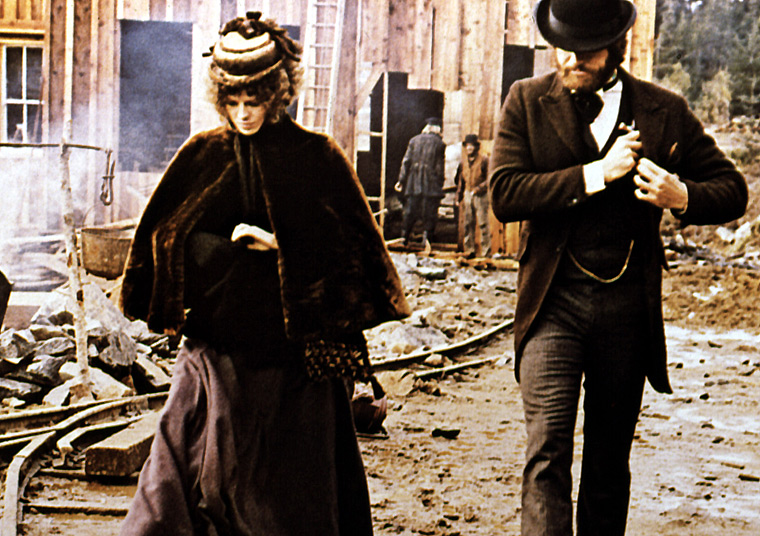 Robert Altman created the greatest revisionist Western of them all by focusing on Warren Beatty's bumbling brothel owner and Julie Christie's opium-addicted madame. Realistically detailing the harsh conditions and random violence of the era, Altman stripped the genre of its romanticism.
Photo by <i>McCabe and Mrs. Miller</i>, Julie Christie, Warren Beatty, 1971.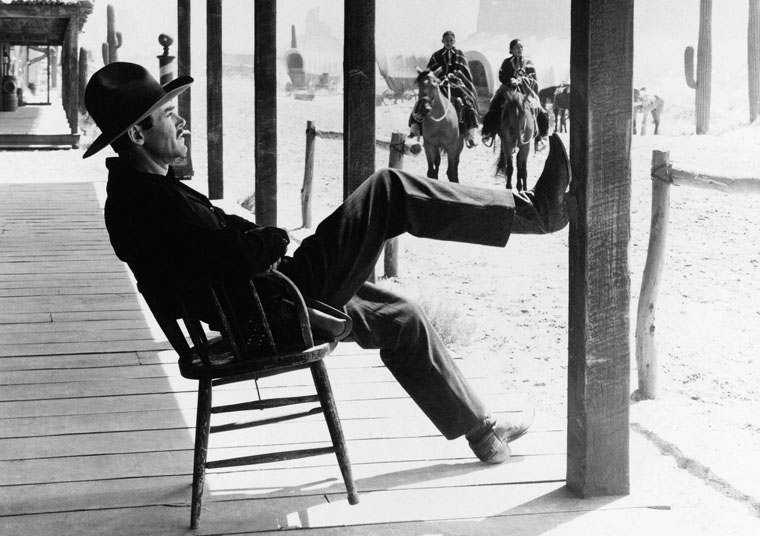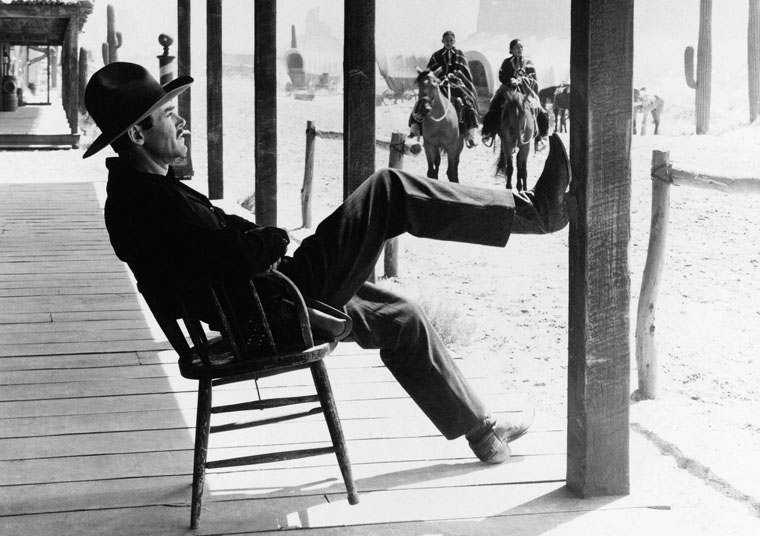 Of the many renditions of Wyatt Earp and the showdown at the O.K. Corral, John Ford's My Darling Clementine is unsurpassed. A visually stunning movie, it's furthermore graced by a subtle, almost tender, performance by Henry Fonda as the legendary Earp.
Photo by <i>My Darling Clementine</i>, Henry Fonda, 1946. © 20th Century Fox.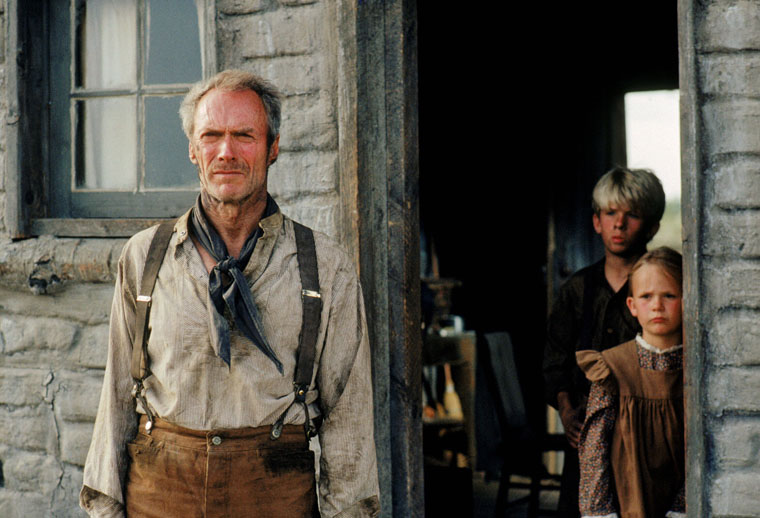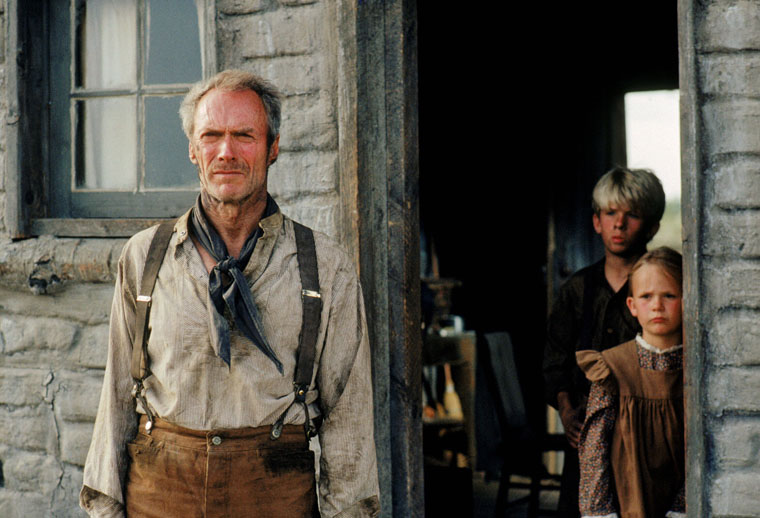 Late 20th-century proof that the Western isn't dead: The conflicted and bitter Unforgiven has no heroes. Eastwood's haunted William Munny views his last job -- delivering some vigilante justice -- not as a chance for redemption, but simply as more violence in a violent land.
Photo by <i>Unforgiven</i>, Clint Eastwood, Shane Meier, Aline Lavasseur, 1992. © Warner Brothers. Photo courtesy of the Everett Collection.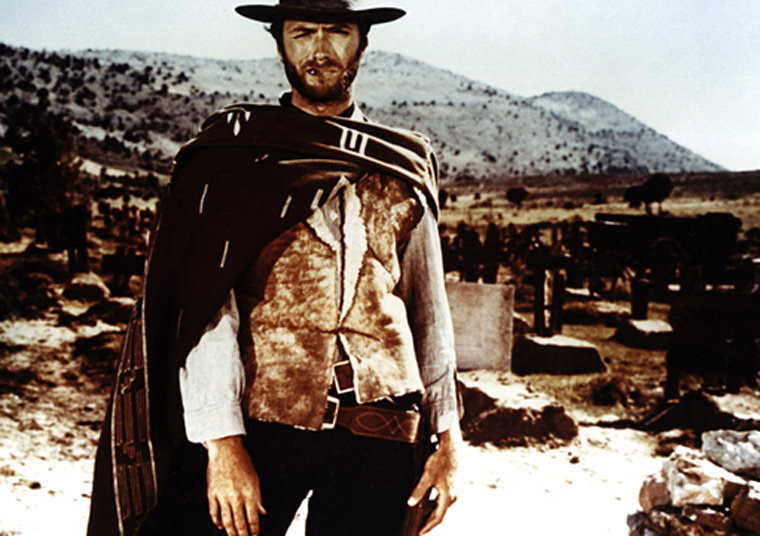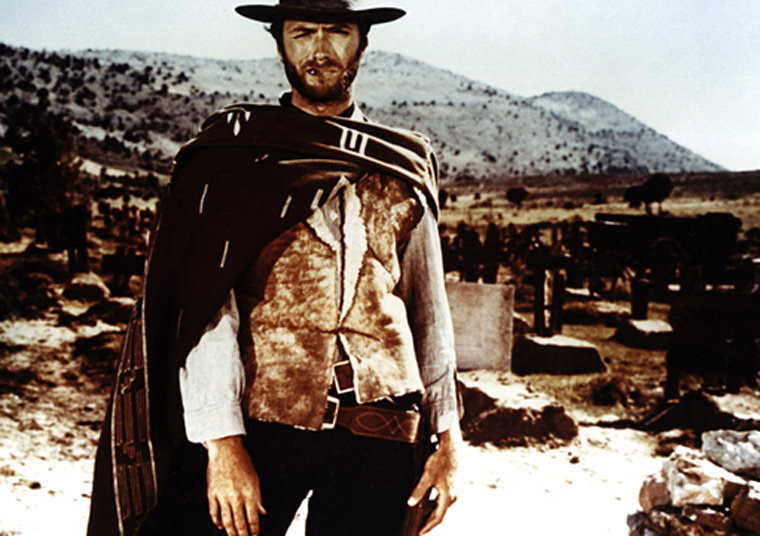 In the sub-genre of Spaghetti Westerns, none is more imitated than this, the culminating chapter of Sergio Leone's Dollars trilogy. From Ennio Morricone's unforgettable theme to the climactic graveyard standoff, this film changed the Western's vocabulary.
Photo by <i>The Good, the Bad, and the Ugly</i>, Clint Eastwood, 1966.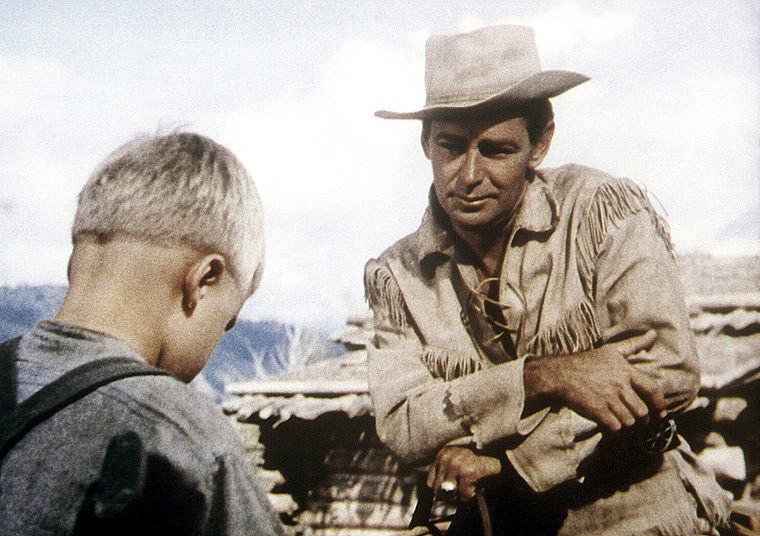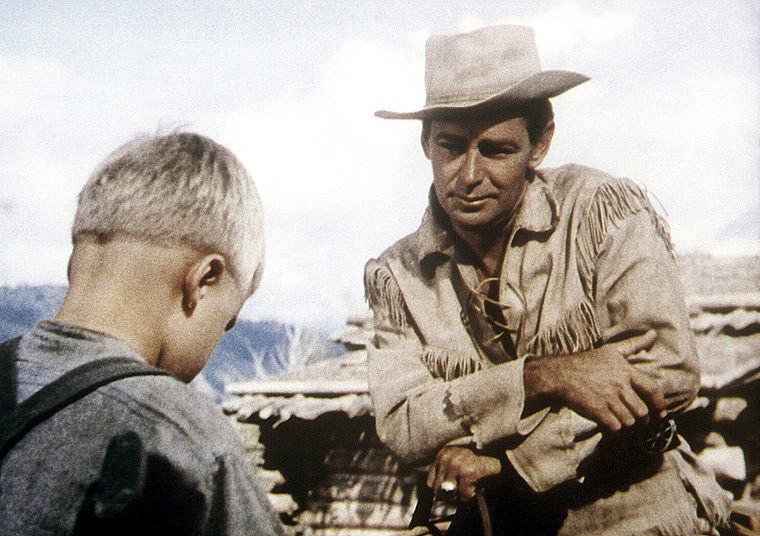 The formula at its best: A roaming gunslinger rides into town, helps settlers fight off bullying cattlemen, then rides off alone inspiring an impressionable youngster to cry out: "Shane! Come back!" No other line from a Western brings on the waterworks like that longing call.
Photo by <i>Shane</i>, Brandon de Wilde, Alan Ladd, 1953.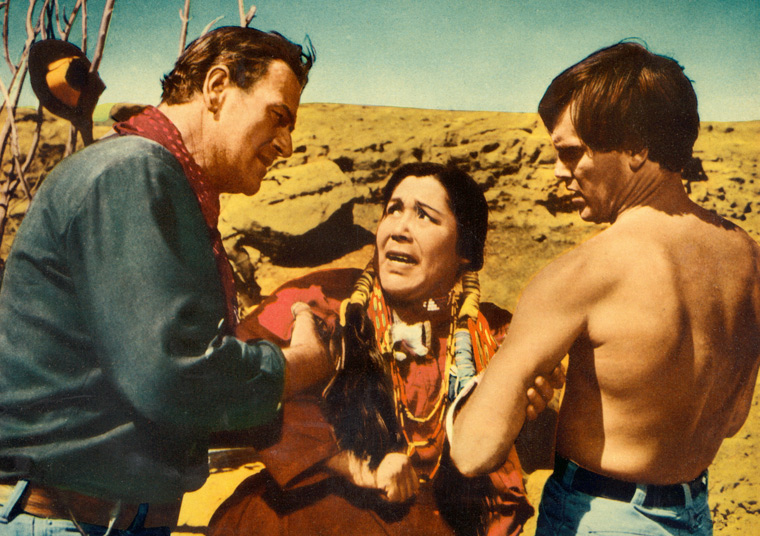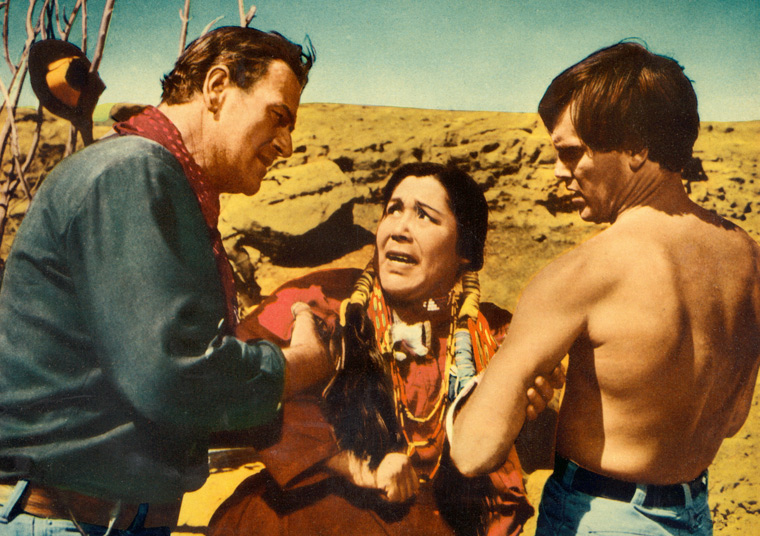 John Ford's masterpiece is the genre's darkest and most complicated film as it casts John Wayne's adventurer in a new light; Wayne's character transforms from the rescuer of the last survivor of his family's murder to a vengeful racist determined to kill his abducted niece, rather than see her raised as a squaw.

What's your favorite Western? Click here to vote.
Photo by <i>The Searchers</i>, John Wayne, Beulah Archuletta, Jeffrey Hunter, 1956.