(SPOILERS) Killing Eve Q&A: Sean Delaney on That Season 3 Shocker
Sean Delaney, who plays everyone's favorite hacker-turned-MI6-tech-genius Kenny Stowton on AMC and BBC America's Killing Eve, chats with amc.com about his reactions to the shocking Season 3 Premiere, what it's like to work with Fiona Shaw, and the on-set joke that changed Kenny's storyline entirely.
WARNING: Spoilers for the Season 3 Premiere below.
Q: Do you think Killing Eve writer Suzanne Heathcote is a psychic for writing that toilet paper scene this season, considering our current time?
A: I know, right. [Laughs] And there's that scene in the first season where Kenny's trying to control how many sheets he's using. I think he knew, there and then, that he needed to be rationing.
Q: What was your initial reaction when reading the script with your character's tragic demise?
A: I have to say I was really excited. I know that sounds really odd from someone who is being made unemployed, but I was warned about it. I've heard horror stories where you just get an email or you find out in the read-through that you're not making it past a certain episode, but [executive producer] Sally Woodward Gentle warned me through my agent beforehand, and pitched this idea they were having for the third season. Before they could even finish saying it to me, I thought that it was genius. What Kenny's death was going to do for Carolyn and Eve as characters, and Sandra [Oh] and Fiona [Shaw] as actors… I think it's just genius as an emotional driving point to bring everyone together and push things forward. It's really exciting. But listen, the novelty wore off pretty quickly when I was back auditioning again and trying to get work!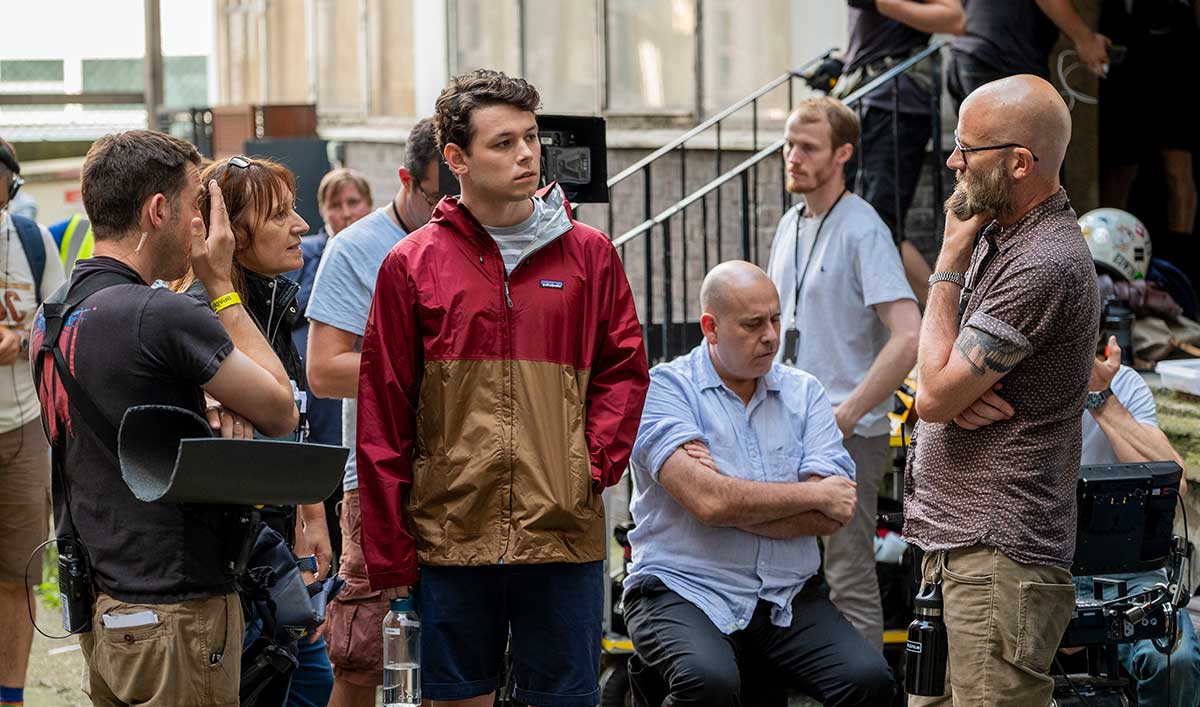 Q: Kenny's death is pretty brutal. What was it like shooting such a traumatic scene, and watching yourself die onscreen afterwards?
A: It's actually quite emotional. Especially in the way Eve (Sandra Oh) finds him. As an actor you try really hard not to leak that fact that, "I know this is the end." I've had such an amazing time on this show, and all the emotions I've had in the last three years, from getting the job in the first place to working with Fiona [Shaw], Kim [Bodnia], Owen [McDonnell], and unfortunately never Jodie [Comer]! I would have given my left arm to do a scene with Jodie, now that I think about it.
Q: If Kenny had ever gotten one-on-one time with Villanelle, how do you think they would have gotten along?
A: I actually think they would have gotten on quite well. Villanelle (Jodie Comer) is really good at sussing people out, and learning exactly what makes them tick, because she's got such charisma as a character and an actress. I think with someone as sharp as Kenny, she'd really struggle, and I think they'd find each other really interesting more than anything. I don't think she'd be very happy with his shorts, though. She'd probably offer a few fashion tips. In terms of parenting style, with Villanelle having no parents and Kenny having a parent that doesn't behave like any parent you could imagine, they'd have a little more in common than you would think.
Q: How would you describe Kenny's relationship with Carolyn, his mother and former boss?
A: A lot of that is based on how this relationship formed in the first place. When I got the role, I wasn't Carolyn's son at all. I was just Kenny the hacker who stayed in the office and didn't have any personal relationships with anyone. So this is why Phoebe Waller-Bridge has won all the awards: It was my first or second day filming with Fiona [Shaw], and I had made the choice of having Kenny be very emotionally restrained and a bit emotionally inarticulate. And Fiona was doing that cool, steel-edged acting that she's brilliant at, and I remember Sandra [Oh] had a little giggle after one of the takes and joked about how we looked like mother and son. Phoebe was listening on her headset, and ran over, I mean ran onto set, and asked Sandra to say what she'd said again. Then Phoebe went off and about an hour later, after a couple of phone calls, came back and was like, "You're mother and son, but don't change anything." Because the idea was that they could be mother and son without giving anything away emotionally.
Q: How did you and Fiona Shaw approach bringing this bizarre dynamic to life?
A: We're absolutely nothing like Carolyn and Kenny. We get on like a house on fire and we can chat for days, and it is really great because we got to evolve this thing of how would a parent and son behave if they weren't very good at being a parent or a son? Everything from how much distance they kept from each other in each scene, to how many times they even looked at each other, and where any moment of affection could be, and whether they could even have a successful moment of affection (the answer was no.) Thinking back to the first episode and then to my last scene with Fiona, where we have this battle that is the most mother and son thing we've ever done in the series, it finally felt like they were starting to be a family, although not a very functional one. And I think it makes it all the more heartbreaking.
I'm very biased, but I have to say I think the award season needs to get ready for Fiona. I think she's a genius, I think she's bloody brilliant, and I think what Kenny's death does to her this season is just so exciting.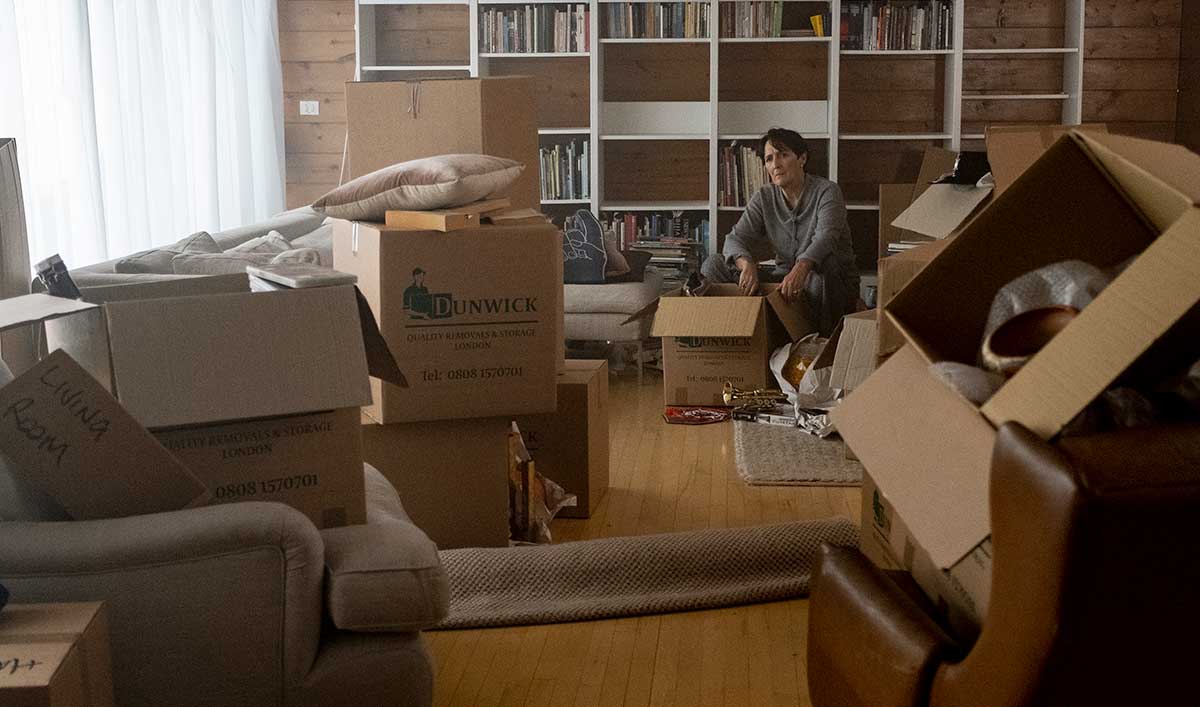 Q: Kenny and Eve's coworker chemistry was also a delight to watch. Do you feel like these characters brought out the best or worst in each other?
A: I think in a lot of Killing Eve, those two things are dangerously close to each other. There's really a fine line between them and even that fine line is blurred. From day one, with Eve getting this job and getting fired from her previous boring job, it's like it's the best thing for her, but then everything that's happened to her since would also make you argue that it was the worst thing. I think Kenny and Eve, they see the social and professional needs of each other, of having something to fulfill them, and everything they chose to investigate is just all life and death. So I think they bring the best and worst out in each other.
Q: We loved getting to see more and more of Kenny's quirks revealed over time. Can you describe one of your favorite character moments?
A: It's difficult to choose! It's really felt like I've grown with him. In terms of a season, this one's definitely been the most fun to do, even though I'm not in it for very long.
In terms of little moments, maybe the cheese puff scene in the first season. One, it was really fun, and two, I was away filming in Romania, and the idea of being put on a plane somewhere to do a job is the kind of thing that you dream of when you get into acting. And also just in terms of how much I learned from that scene, because it was Sandra [Oh] just in emotional dismay doing an amazing performance, and on top of that Fiona [Shaw] doing her deadpan.That balance of finding a sense of humor in the darker times — I'd always hate when those scenes were over.
Travel tip: Always bring cheese puffs. #KillingEve pic.twitter.com/vVmzbCRtXS

— Killing Eve (@KillingEve) May 28, 2018
Q: How do you feel like one of the show's themes, obsession, manifested itself for Kenny?
A: I think one of the genius things about the way the show is written is that it's based around this relationship and will give you that every time, but it also has to move forward and you have to see the cost of it. This time around in season three, what you're actually seeing is not only two season's worth of Eve's obsession with her job and Villanelle, but Kenny's. He's no longer under the protection of MI6 or his mother, and no longer has a boss in Eve to guide him, but he's still pursuing it. Which is a very Eve thing to do. I think the whole point is that Eve isn't the only person who doesn't think in a logical way to get out and save herself.
Q: In what ways are you and Kenny most similar? How are you different? 
A: I like to think we're really, really different. I'm definitely a bit more emotionally articulate than Kenny is. I come from a big Irish family of music and food and social situations. But in terms of intellectual articulacy, I'm not even close to where Kenny is. Physically, I feel like I'm a lot more reckless and a bit more dangerous than Kenny. Also I think I'm a better dresser. Some of those costumes… [Laughs]. But we both love big. I think we both care a lot about the people around us and what we do. So I would say I match his passion.
Q: What kind of project would you love to work on next?
A: That's a good question. I have a bit of a dilemma now where as an actor, I've been really, really privileged to work with these amazing people. I'm very, very aware that Phoebe Waller-Bridge can't create every TV series that I'm going to do. But something the complete opposite of Kenny would be a great way to top this off, because what I've learned from working with these people and developing this role is that I've got loads more to offer than playing someone with social difficulties. I'd also like to go back to my working class roots, whether that's in an American drama, or a British drama, wherever. Something really grisly and physical. This is the first time I'm no longer contracted to stuff, so in terms of what comes now, that's the exciting part.
Click here to stream the Killing Eve premiere for free on amc.com and on the AMC Apps for mobile and devices. Check out the on-air schedule here for more encore viewings of the Season Premiere and upcoming episodes of Killing Eve on AMC.
Wondering how you can have a Killing Eve watch party with other fans in quarantine? Read our tips here for how to swing it while you're stuck at home.
Killing Eve airs Sundays at 9/8c on AMC and BBC America. For the latest news, sneak peeks, videos exclusives and more from Killing Eve, sign up for the Killing Eve Insiders Club.