Killing Eve Q&A -- Gemma Whelan (Geraldine)
Season 3 of Killing Eve has come back strong with new cast members. Among them is Gemma Whelan, a Game of Thrones alum, who leaves behind medieval fantasy fights for another battle: playing Carolyn (Fiona Shaw)'s daughter, Geraldine. She chats here with amc.com about the relationship between Carolyn and her character, how working with Fiona Shaw is a dream come true -- and how she trained under Shaw years ago in an acting workshop. Plus, how would Yara Greyjoy take Villanelle in a fight? Read on for more:
Q: What was it like for you joining this TV show that's become a phenomenon?
A: Really very, very exciting to receive the audition and then obviously to land the role. Incredibly exciting. You know, you're a fan of these shows and you think, "Oh my God, I'd love to work on that show." And for it to actually happen is really exciting and, when it came to, I was really, really pleased.
Q: Were you a fan of Killing Eve before coming on for Season 3?
A: Yes, I was. I watched both seasons as they were broadcast, so yeah very much so.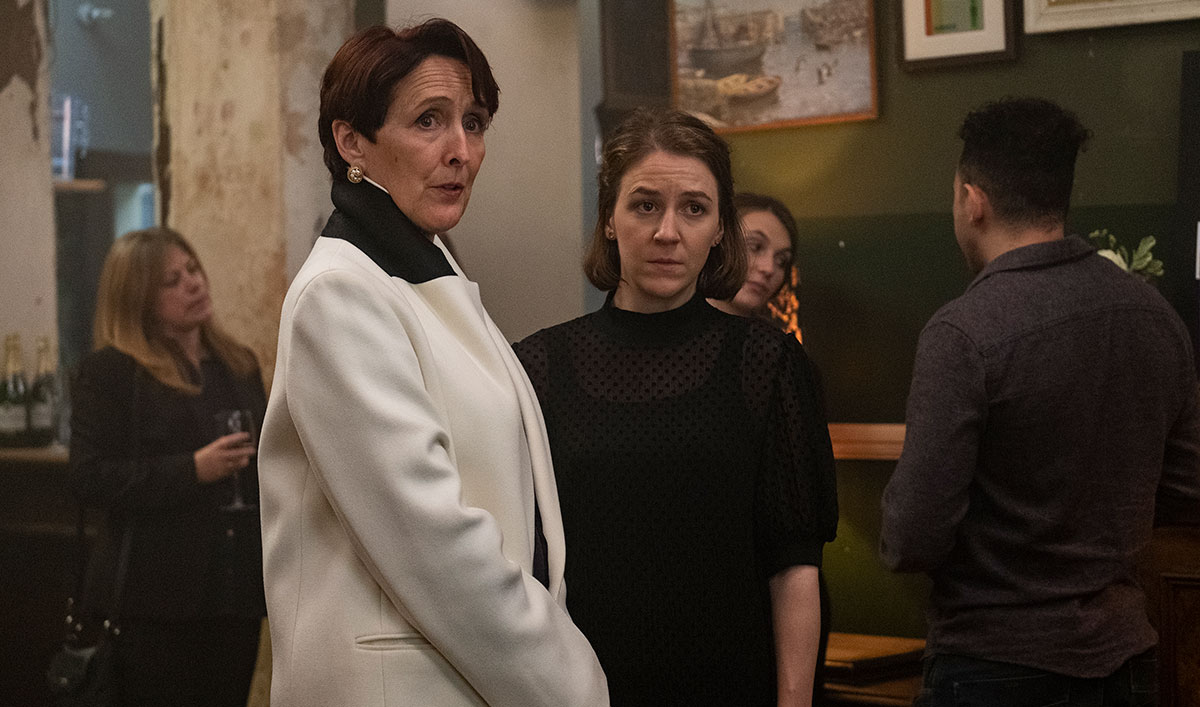 Q: How would you define Geraldine's relationship with her mom and why do you think they push each other's buttons so much?
A: Well, I think they're chalk and cheese, aren't they? They're so different from one another. Geraldine's highly emotionally available and empathetic and sort of almost too plugged into feeling everything and talking about everything. Of course, that's completely opposite of Carolyn, who thinks it's a waste of time to do anything but work -- don't have any feelings and don't take your eye off the prize -- and she's very, very cold. So of course their relationship is tricky, but on top of the fact that, they've lost a loved one and they're both trying to grieve in their own ways. But they have to live together and Geraldine really wants to fix Carolyn and look after her and talk about everything, and of course Carolyn's just completely shut down. It's a very difficult relationship, I think, and one that's understandably fractured. And Geraldine... she's still in Carolyn's space and so it adds an extra kind of irritation because Geraldine hasn't got anywhere to go.
Q: From what we've seen of their relationship so far, Geraldine seems to play the role of the mother more than Carolyn does. Why do you think that is?
A: Yes. I think she's just desperate to try and have a relationship with her mother and she's probably going at it the wrong way, but she is, as I say, incredibly emotionally available and hyper-empathetic and so she's just desperately trying to get Carolyn to talk about things. Often, I think, as children grow up, they can -- not become a parent -- but sort of talk to their parent in a very different way than might be expected. She's just desperate to have a relationship and to connect and to draw Carolyn out of herself, and whatever that takes is the way that Geraldine's going to play it. That's her personality and that's how she chooses to do it, but she's not very successful!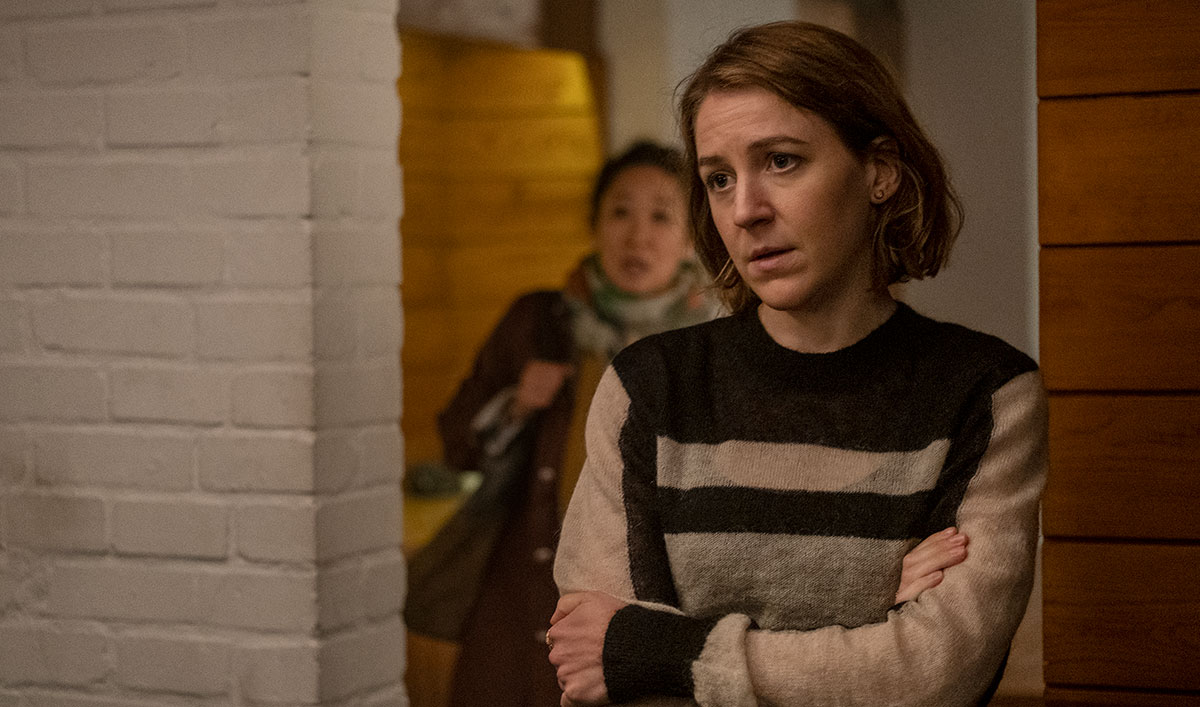 Q: What was it like for you working with Fiona Shaw on set?
A: A dream, really, an absolute dream. I've been a massive fan of hers since Three Men and a Little Lady when she was the headmistress of the school. I've loved her since then and followed her career, and I've seen her in theater and I even did a workshop with her. She probably won't remember it, but I did a Shakespeare workshop with her when I was training and I went and did my monologue for her. I'd say it was probably about fifteen, twenty years ago. I did some sort of iteration of a speech from King John for her. Anyway, whatever it was, she was very kind about it. She won't remember it... So yeah it was just really incredible to me -- in the same show with her and, not only that, but to play her daughter and for her to be so warm and embracing and generous and lovely immediately with me. It was a real dream job, I have to say.
Q: When you were first crafting the character of Geraldine, did you give any consideration to what Geraldine and Kenny's relationship might have been like before the tragedy? Did that play into any motivation for you?
A: It did and it didn't. I was given early iterations of parts of scripts that were never in the final episode. That's not to say they were cut. They were just cut from the final script altogether. But the early iterations for my auditions and stuff, there were certain allusions to the fact that Geraldine had moved away as soon as she could and she was very different from her mother. Her mother wanted her to learn Russian and become part of her world, and Geraldine always pushed against that and wanted to sort of be, I suppose, something completely different from what her mother was. And it also alluded to the fact that she had moved away when she was quite young. As soon as it was legal for her to move out, she went. And Kenny being very similar to their mum, perhaps that would have led to them rubbing up the wrong way with one another, but I don't know. I like to think that she was relatively fond of him but had to get out of the house because of their mother. I think they probably haven't seen each other for awhile, but it's nonetheless devastating when you find out what's happened.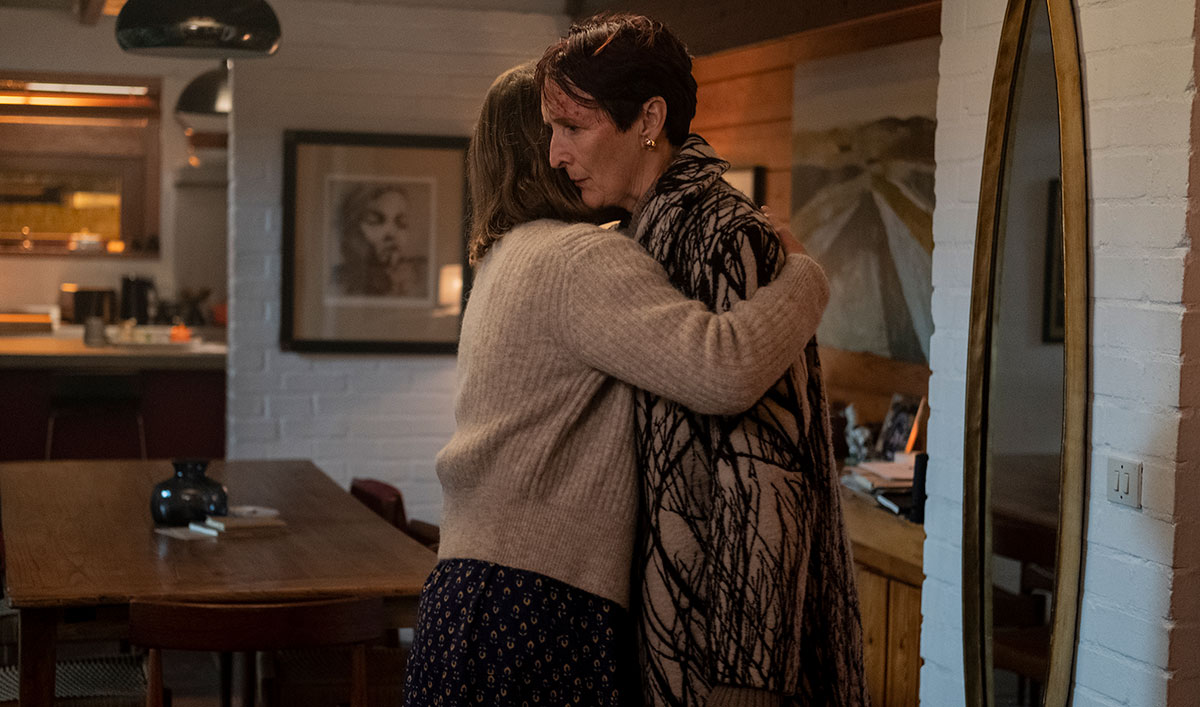 Q: At the end of Episode 3, Carolyn comes home covered in blood after a run-in with Villanelle. What do you think it's like for Geraldine to see her mom looking so fragile?
A: I think she's so shocked, and I think she's not used to this. I don't think she knows the full swing of what Carolyn really does. I think nonetheless she sort of takes it in her stride and tries to, again, sort of envelop her mother in talking about this and taking care of her, but as any child would be regardless of your relationship with your parents unless it's completely broken, it's really upsetting for a daughter to see a mother come home like that. She tries to take control and again can't, and is once again left unable to reach her mother, which is incredibly frustrating for her.
Q: How do you think Game of Thrones' Yara Greyjoy would fare in a showdown with Villanelle?
A: She'd have her for breakfast! [Laughs] Easy, easy. Yara could have her any day.
Q: What was the vibe like for you when you were on the set of Killing Eve? Do you have any favorite memories from your time on the show?
A: It was just a really great, fun, warm environment where there's so many brilliant people on screen and off screen. It was just a really lovely job, full of really fantastic, talented people and there'd be lots of times where we'd be sitting around and sharing snacks and whatever, talking about -- I don't even know what was going on at the time. Just nice, warm, good memories, I guess, from it.
Q: Music plays such a huge part in creating the tension and the excitement of the show. Have you given any thought to if Geraldine had a theme song, what it would sound like and what it would be?
A: If she had a theme song? It would probably be some deeply, deeply pretentious yoga music, I think. Something that's not hugely authentic, but she's really invested in it, I think. Bad yoga music that she's deeply into. Anything with chanting in it would be her theme tune.
Click here to watch the latest episode of Killing Eve on amc.com. and the AMC apps for mobile and devices. Check out the on-air schedule here for more encore viewings and upcoming episodes of Killing Eve on AMC.
For more of an inside scoop about Killing Eve from the cast themselves, check out this interview with Dame Harriet Walter, who plays Dasha. Walter describes the one physical trick that helped her shape her character, plus how Dasha is working to pull Villanelle out of a rut, and more.
Meet the creative team behind Killing Eve in this Closer Look video featuring the people behind the camera. From lead writer Suzanne Heathcote, costume designer Sam Perry, production designer Laurence Dorman and more, discover the amazing talents that bring Killing Eve to life. Watch a sneak peek of Sunday's new episode here.
Killing Eve airs Sundays at 9/8c on AMC and BBC America. For the latest news, sneak peeks, videos exclusives and more from Killing Eve, sign up for the Killing Eve Insiders Club.