Killing Eve Q&A -- Dame Harriet Walter (Dasha)
Few characters on Killing Eve have the gumption to stand up to Villanelle. This season we've been introduced to one such character, the mighty Dasha, played by Dame Harriet Walter. Dasha's relationship with Villanelle is complicated to say the least. She's part mentor, part challenger, and allll headstrong attitude, packaged perfectly in a diminutive frame.
So, bust out your custom track suits and Russian biscuits, and dive into all things Dasha as Walter discusses joining the cast of the critically acclaimed series, how her character pushes Villanelle out of a rut, and the one physical trick that helped Walter lock into her character.
Q: Dasha is such a fascinating character, and it seems like fans have really enjoyed her introduction to the world of Killing Eve. What was it like for you to join the cast of a show that already has such a passionate fan base?
A: I had watched the show avidly and when I got offered the part, I watched it right over again. I watched it as if Dasha was watching it, to make sure I knew the animal I'm supposed to know so well, Villanelle. She does say, "We have been watching you since Rome," so she's been aware of everything Villanelle's been doing. It was really helpful to watch the series again, and really remind myself that Dasha would know all this information. That served as excellent preparation.
To walk into the big table read on the first day and see these people in the flesh — Kim Bodnia, Jodie Comer, and Sandra Oh — made it real. Thankfully I already knew Fiona Shaw very well. Apart from her, it was quite daunting to walk onto a set with some very oiled wheels and a massive fanbase — it was nerve-racking of course! But I had experienced a similar thing with Downton Abbey when I walked in on that after they'd done many seasons. You just think, "Well, somebody wanted me to do this so I mustn't screw up," and you get on with it.
I was also aware that it wasn't a case of fitting in perfectly, because Dasha is a character purposefully coming in from the outside. She's an injection of something different. I thought, as long as I play within the style of the world of Killing Eve, I can fit within it and bring my own flavor to it.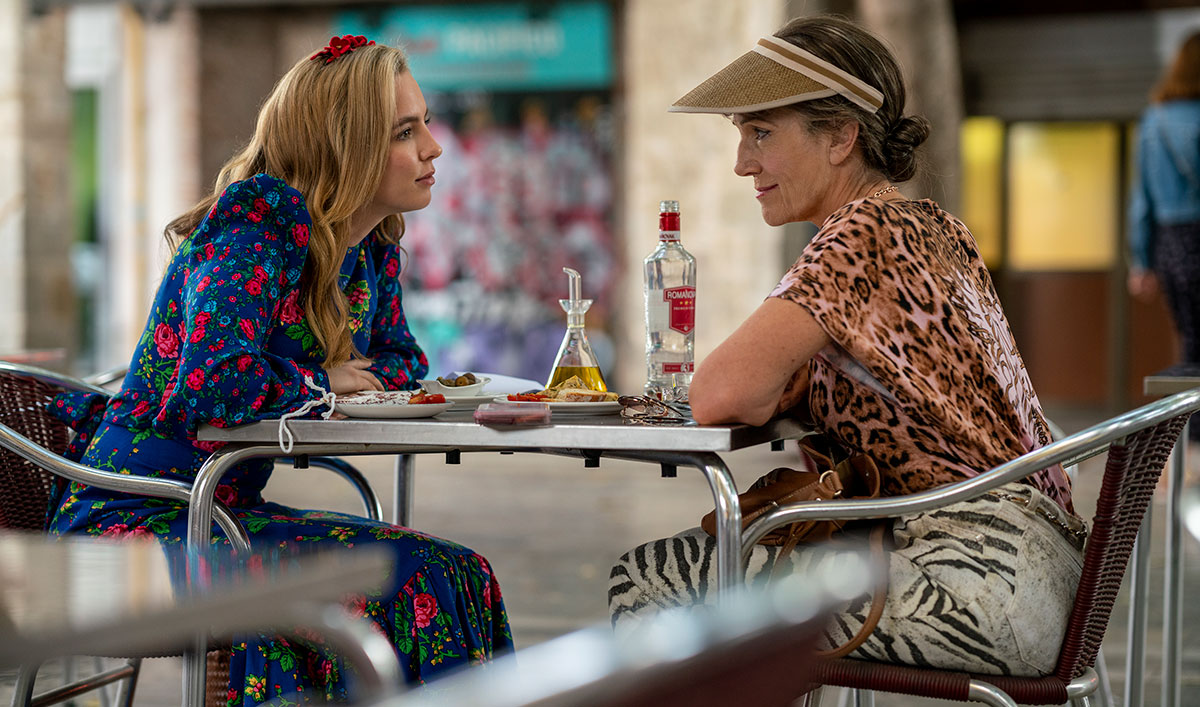 Q: It's incredible to see how Dasha helps peel back the onion of Villanelle's character. We really get at some of those unanswered questions about her roots, and I think a lot of fans are excited to finally get some of that information.
A: That's good to hear. By the time we see Villanelle in Season 3, her life has become very empty and repetitive. She's feeling more and more directionless and trying to get attention from anybody. Dasha comes in as sort of a mother/trainer — she's watching her protégé and thinking, "I think I could get you out of this rut." At least that's how I felt. Dasha is going to give Villanelle a boost! Dasha has had a similar solitary lifestyle, minus the luxury. She's lived alone and is also wedded to this organization. I can't say she's looking at the situation with any compassion or tenderness, but I do think she feels that she can reach Villanelle's heart a little bit… if she's got one.
Q: We love watching you and Jodie on screen together, and there seems to be an ever-present element of competition between the two characters. How did you and Jodie approach those scenes together? Was it really fun to constantly try to one-up each other?
A: It was great fun! I was so familiar with the character that Jodie had created. You look into that face and you see that character. You don't think "Oh, that's Jodie Comer the actress." I saw Villanelle, so I played against that. I thought, "God, is this scary woman going to accept me?!" So it truly was a bit scary! But Jodie's such a great person, and she started to talk and open up. We didn't talk too much — we didn't overdo it. We just got up on our feet and found that our instincts were to play live minute to minute. We looked each another in the eye and tried not to second-guess what the other one was going to do, and it became like a parallel game.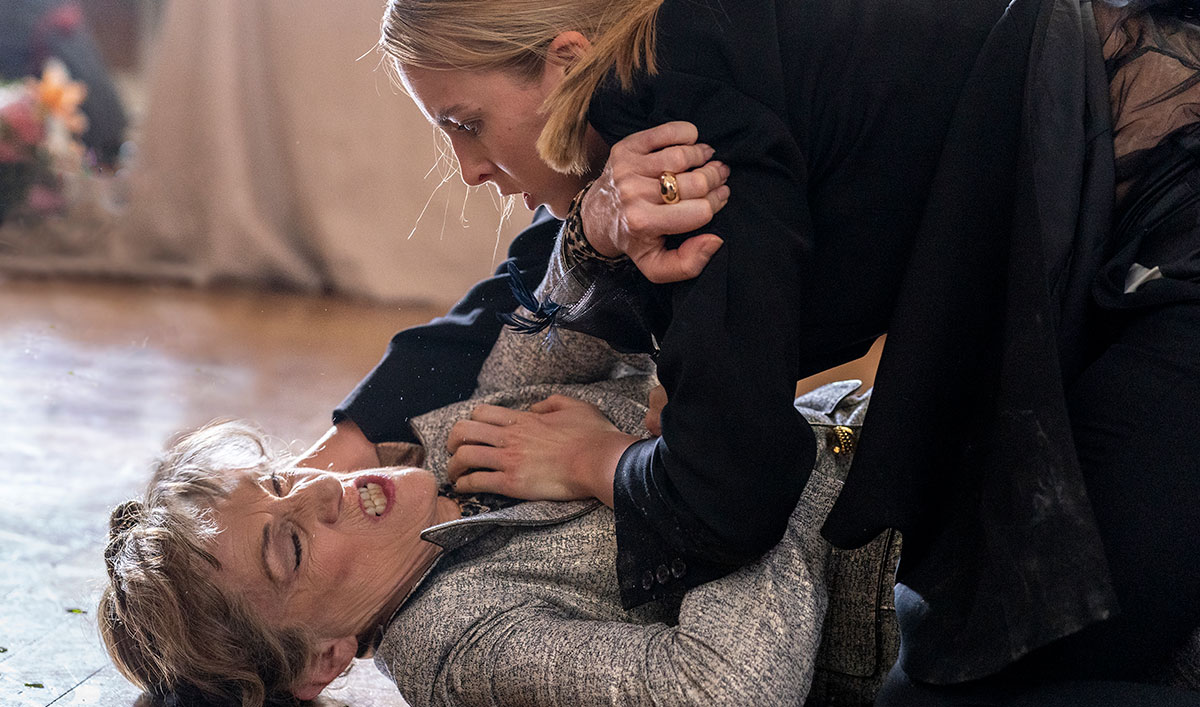 Q: The chemistry really comes across! How would you describe the relationship between Dasha and Villanelle? It's definitely complicated.
A: Yes, it's definitely multifaceted. I felt that, of the two, Dasha is the more vulnerable one. Because of her age and nothing else, she's feeling a bit exhausted by having kept this facade up for so many decades. She looks at Villanelle and thinks "You're who I used to be, this glorious star, and I'm not that anymore. I've lost that, and I'm jealous of you." But there's also an element of "I'm proud of you, and I want you to be great because that will reflect well on me." Plus I do think there's some sisterly rivalry at play as well.
On the other hand, I think Dasha also feels a certain sense of ease with Villanelle, like "Oh thank God somebody who knows me, that I can relax with." And I think that Villanelle feels that as well. But I don't think there's much tenderness in Dasha. When she made her first kill as a young athlete, she decided she wasn't going to have anybody soften her heartstrings and divert her from achieving her most excellent performance. There's something so perfect about Dasha being an Olympic athlete. You get that gold medal or you've failed. If you get behind that mentality, there's no real room for easing up in any aspect of your life. That opening scene really told me a hell of a lot about her character!
Q: With that in mind, did you focus on any real-life gymnasts to help inform the way Dasha carries herself?
A: Definitely. I watched various documentaries. I watched interviews with Olga Korbut, for instance. I remember her very well and wanted to dig into where she is now. I was looking for women my age who had been athletes, specifically gymnasts. And I did train a little bit as a ballet dancer, so that helped. I thought "Well, I'm not a gymnast, but I know how to discipline my body and stand upright like a bolt." I developed a dancer's walk, and I just hoped that would work for a gymnast too — focusing on the precision. So, I tried to find that kind of precise, confident walk.
We did shoot a great scene that I don't think made it to the final cut, where I just walked through the streets of Barcelona one morning. I found Dasha through that walk, as I went up and down the street. I was looking up at the balconies as if they were overflowing with people waving flags and whistling for me. I think Dasha lives in a kind of fanciful world where she's on stage in the middle of the arena at all times — so I always kept that feeling in my body.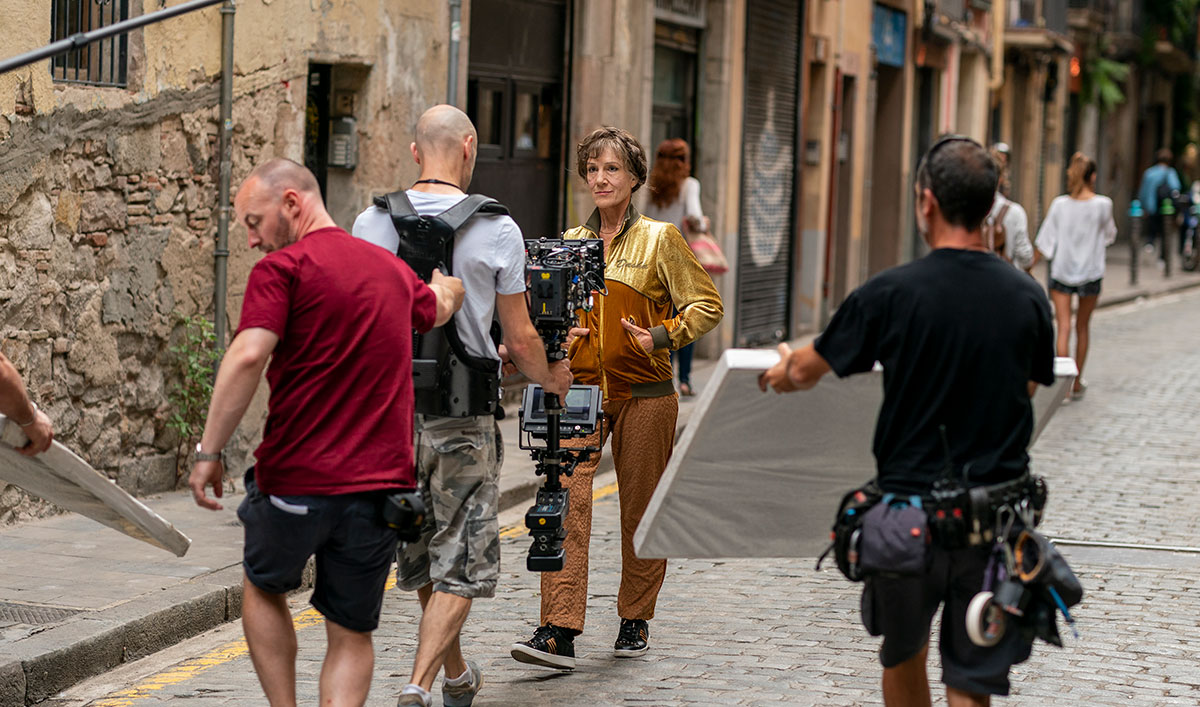 Click here to watch the latest episode of Killing Eve on amc.com. and the AMC apps for mobile and devices. Check out the on-air schedule here for more encore viewings and upcoming episodes of Killing Eve on AMC.
For more of an inside scoop on Killing Eve directly from the cast themselves, check out this interview with Sean Delaney, who plays the beloved MI6-turned-journalist hacker. Delaney chatted with amc.com about his reactions to that shocking scene in the Season 3 Premiere (if you've seen it, you know the one), plus what it's like to work with Fiona Shaw, and how a throwaway joke by Sandra Oh changed Kenny's entire storyline.
Get a behind the scenes look at the episode with this Closer Look into the Bitter Pill set with Sandra Oh, executive producer Suzanne Heathcote and more. Watch a sneak peek of Sunday's new episode here.
Killing Eve airs Sundays at 9/8c on AMC and BBC America. For the latest news, sneak peeks, videos exclusives and more from Killing Eve, sign up for the Killing Eve Insiders Club.