How to Make a Killer Killing Eve Finale — a Q&A with Director Damon Thomas
Director Damon Thomas has helmed a total of nine episodes of Killing Eve so far, including all three epic season finales. Here he gives AMC.com exclusive behind-the-scenes access to some of the series' biggest action sequences, discusses his inspiration (including a scene from The Shining) when shooting the moody end to Season 3, and reveals his guiding principles in keeping the show's addictive blend of comedy and violence intact. Plus, find out more about his long and impressive career as a director of both documentaries and award-winning dramas.
WARNING: Spoilers ahead!
Q: You've directed all three season finales. Seasons 1 and 2 ended with violent cliffhangers, but this time we leave on a much different note. How did you go about pulling off that massive tonal shift?
A: The was a lot of discussion about how we should end Season 3. The 'where' and 'how' it should happen was in some part dictated by where the characters are in the story. Just prior to the final scenes, we knew we had to have the big showdown between Carolyn, Konstantin, and Paul in an attempt to have the truth about Kenny's death. We wanted to have Paul's apartment by the River Thames, so the idea of ending the season near it started to form in our minds. Finally, we decided it should be on the iconic Tower Bridge. We decided we shouldn't end with a moment of "are they, aren't they" dead again as we've done that before. So, we decided to end on a calm but highly charged moment. Their obsession with each other always has deadly consequences and yet their compulsion to be with each other remains constant even though they each know that being together is so destructive.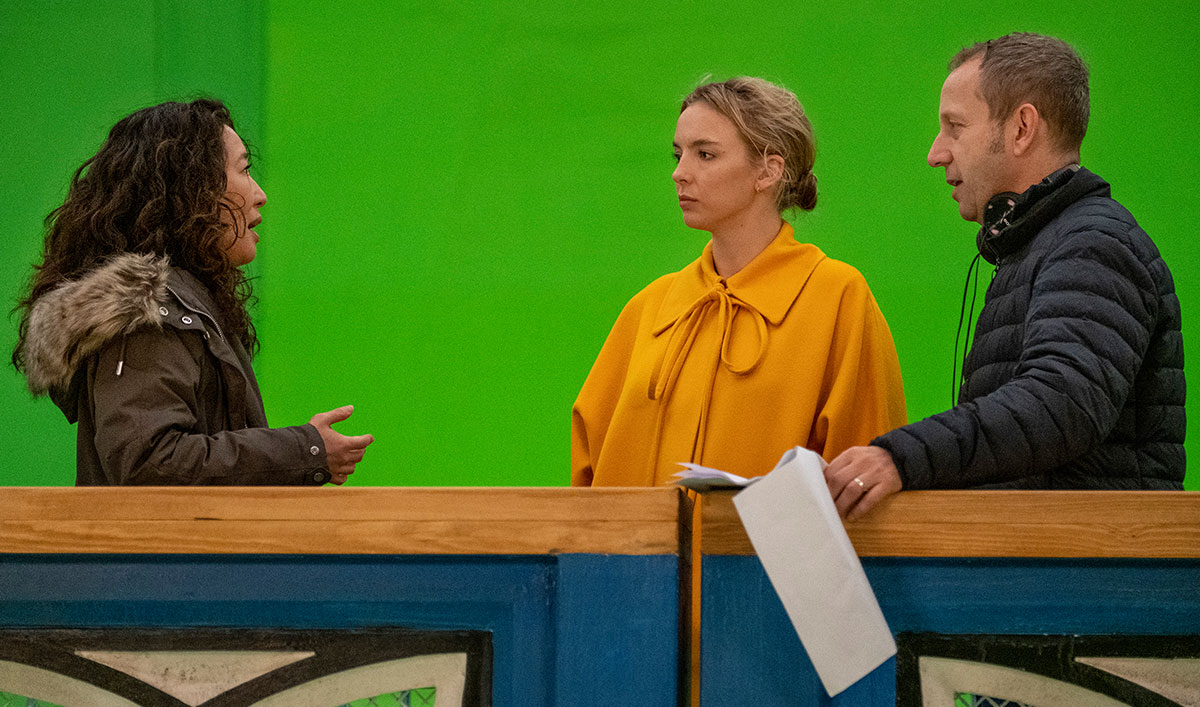 The build-up to the final scene starts in the glorious Rivoli Ballroom, when Eve and Villanelle meet for the first time after seeing each other briefly at the train station. I wanted it to have the feeling of that scene in The Shining, when Jack's in the hotel bar and people are dancing, and it has this timeless 'end of the world' quality -- romantic and strange. I thought a tea dance at the Rivoli would give the scene those qualities especially as Villanelle is in an uncharacteristically reflective mood. She's looking at people in a new way. She's always just seen everyone as a means to an end, but after she kills her mother, it's not the same anymore. I really wanted them to live for that moment and to be very infected by the atmosphere of the place. Villanelle is very much lost in thinking about people's happiness and people growing old together in a real way, not just in a fantasy-like at the end of Season 2 where she says, "Hey let's go to Alaska, I'm cooking spaghetti." She's changed and Eve can see that. Their dance is very romantic but gets interrupted -- so they finish their conversation on the bridge. Finally, they talk but not under the usual perilous circumstances we've come to expect, although there's always a threat shadowing their scenes. Eve just asks Villanelle to help her to make it stop because she can't stop herself wanting to be with Villanelle. I thought that was a fitting moment to show that they've reached this bizarre endpoint where they just can't walk away from each other. But you don't actually know what happens after that moment. So, you can see that the story mitigated the tonal shift.
Q: What have been some of the most thrilling, stand-out action sequences to shoot for Killing Eve?
A: There have been so many good moments for me. One was the beginning of Season 2 as Eve leaves the apartment after stabbing Villanelle -- I pitched the idea of the single-shot scene to the team, and then went to Paris with a few production staff and our operator Joe [Russell] who filmed it on his iPad to see if it could work. The production team played all the characters, just so I could show what it would look like. Then I sent it back rough footage to Sally [Woodward Gentle] and Lee [Morris], and said: "What do you think?" Thankfully they liked it, so off we went.
Another scene that was really fun was Konstantin's escape after Villanelle holds a gun on him in Season 1, and then he runs onto a boat after he hits her with a log. What I liked about it was we just had a very emotional scene between Konstantin and Villanelle which ends with his escape. The whole sequence felt very Killing Eve. And who knew Kim [Bodnia] could drive a speed boat so well.
The Rivoli Ballroom sequence is also a favorite because it's so different and very unexpected. Sequences like that are quite complicated because you've got a lot of people dancing, and just to choreograph it and make it just feel right is difficult.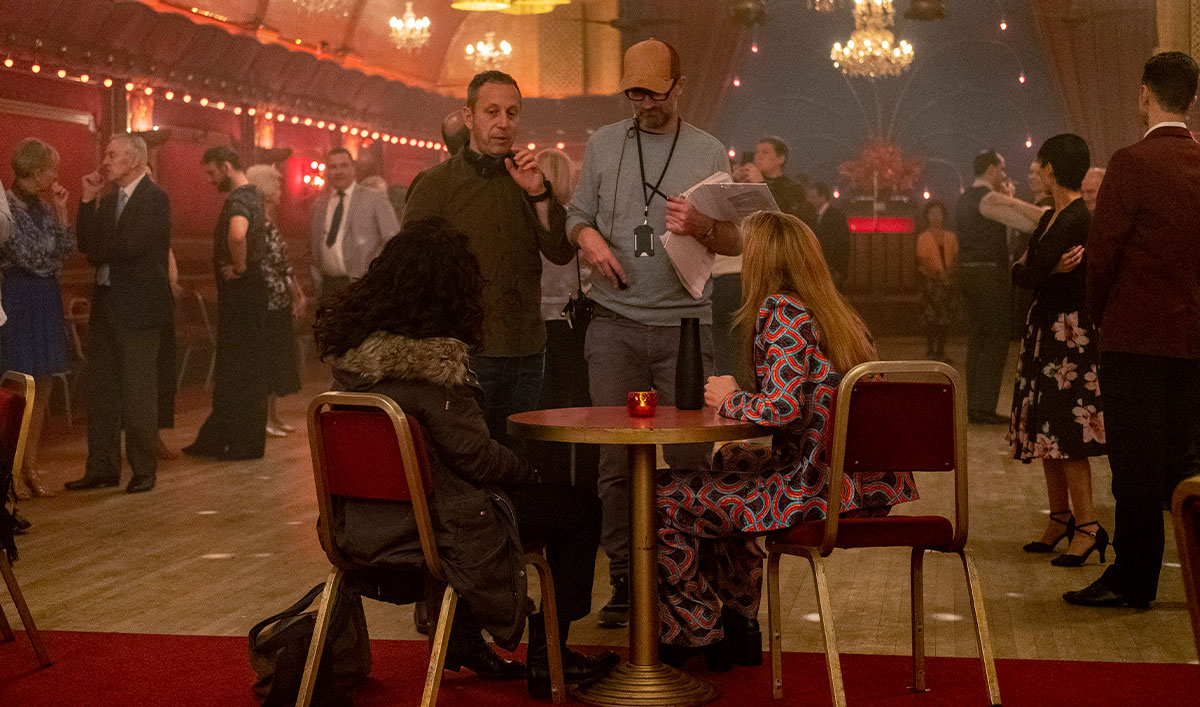 Another couple are: Villanelle chasing Nadia in the Prison Kitchen. It was a crazy scene to choreograph. I also really enjoyed the whole sequence of Rhian and Villanelle on the Tube. I could go on but let's leave it there!
Q: What did filming Rhian's London Tube murder entail? What made it stand apart from Villanelle's other kills this season?
A: So, to give a little context first; Villanelle wants to break away from Hélène, she knows she needs to get away and reassess as killing is not where her head is at right now. She's having what can only be described as an existential crisis, which is unusual for her. Villanelle knows that she probably needs to kill Rhian because that would break the link with Hélène and allow her some breathing space.
One of the executive producers, Gina [Mingacci], said to me, "It would be great to have a Pulp Fiction cheeseburger conversation," and so I suggested that they start talking about what they're wearing since their looks couldn't be more different. Their very funny conversation ends with Villanelle provoking Rhian to snap back. This is followed by a brutal fight.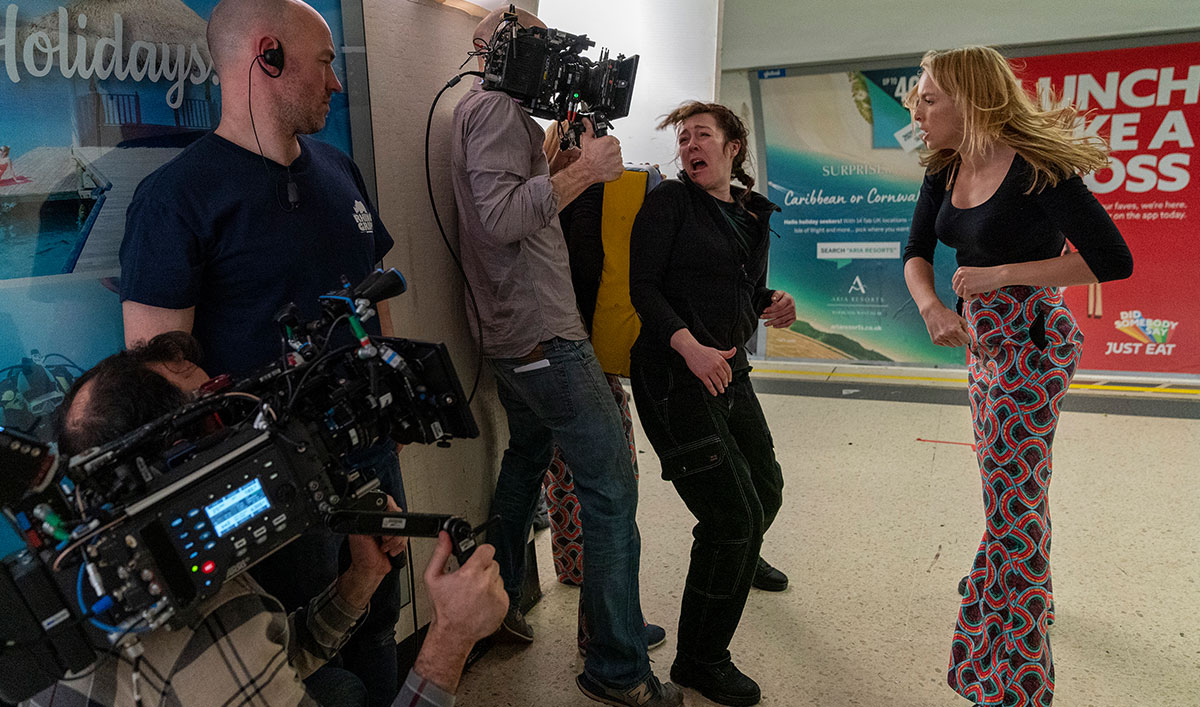 Before filming I'd planned the fight through with Paul [Kennington], the stunt coordinator, and rehearsed it with the actors. We had control of the underground Tube station for one day only and the use of a single train. We were allowed to take the train in and out of the platform, but you can't go on the tracks with a moving train. So we had to animate a train in VFX coming in, which works really well for the kill. We had to film many elements for the whole scene to work seamlessly. Again, it was a real Killing Eve moment because it had all the humor you'd expect and this shocking brutality.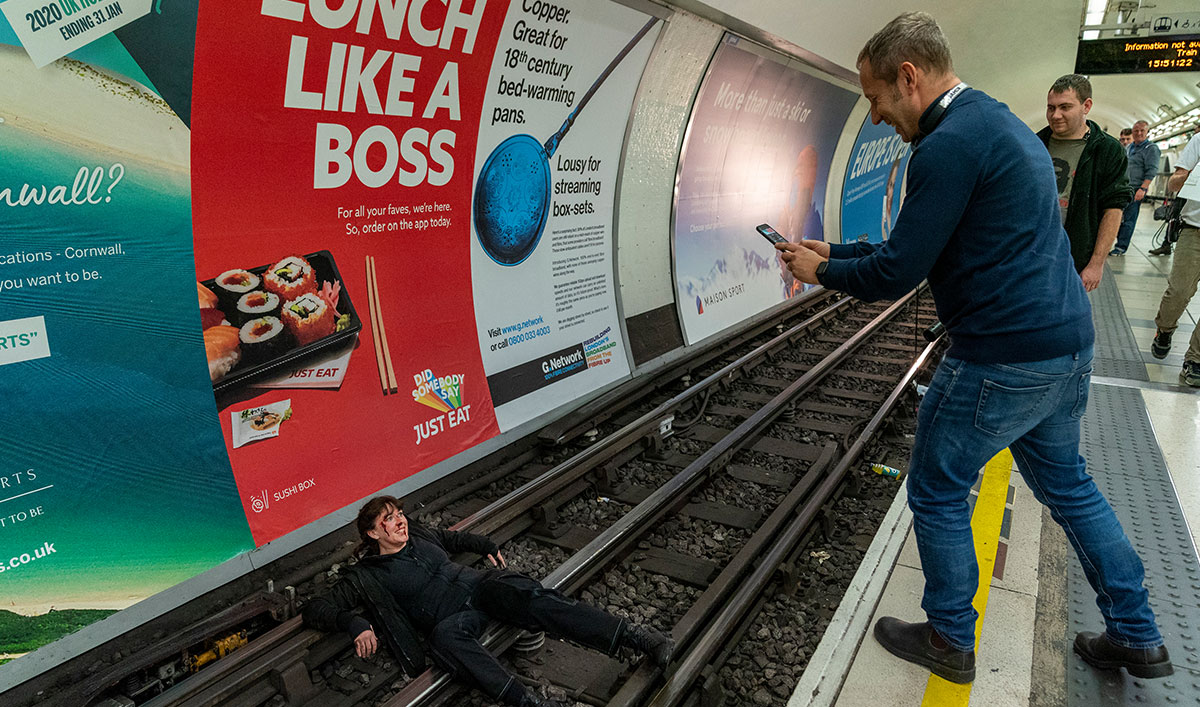 Of course, this scene would be nothing without the acting talents of Jodie [Comer] and Alexandra Roach, who plays Rhian. I'd worked with Alex before and thought she'd bring something different to the role. She worked so well with Jodie. This is an example of what the show does. It's can get great actors to come and play interesting cameos.
Another example is Julian Barratt (from The Mighty Boosh), who played the strange man with the dolls in his house in Season 2. That's another one of my favorite action sequences. Julian (also the character's name) has a big, messy fight with Villanelle who ends up killing him with a knitting needle. The fight has a fantastic, unchoreographed quality to it because he's not a fighter, and she's below her best after being stabbed by Eve. The comedy is heightened by Julian's mother watching it impassively throughout. And what's so good about it is that Julian Barratt plays the part very sympathetically, until he turns nasty. It's something we're always looking to do -- contrast the comedy and the violence to get the unique tone of the show.
Q: What are some of the unique challenges and some of your favorite aspects of directing on Killing Eve?
A: Killing Eve just has a very unique tone and skates the line between comedy and sometimes quite shocking violence. There's definitely a nod towards the Coen brothers' movies, but it's also quintessentially British when it comes to the comedy.
What Phoebe [Waller-Bridge] did brilliantly with the spy thriller genre was to have the people be real and talk to each other like real people, whilst also infusing it with proper eccentricity and great comedy. So, one moment they're having a conversation about how to bring down the global power base of The Twelve, and the next they're talking toilet paper and dandruff. So you have a thriller that is part spy genre, but it's also something else. It's where these two styles meet which really interests me, and which poses the challenge of getting the tone right
I try to make things visually distinctive but without overpowering the storytelling. Everything always has to make sense and be part of the Killing Eve world. So, we work really, really hard on just keeping the quality as high as it can be so it always feels like Killing Eve, but of course married to that is the process of moving the characters along, because you can't have everyone just being exactly the same and not developing. So even Villanelle, who is the psychopathic killer, does have to have an emotional character progression and I think you can really see that in Season 3.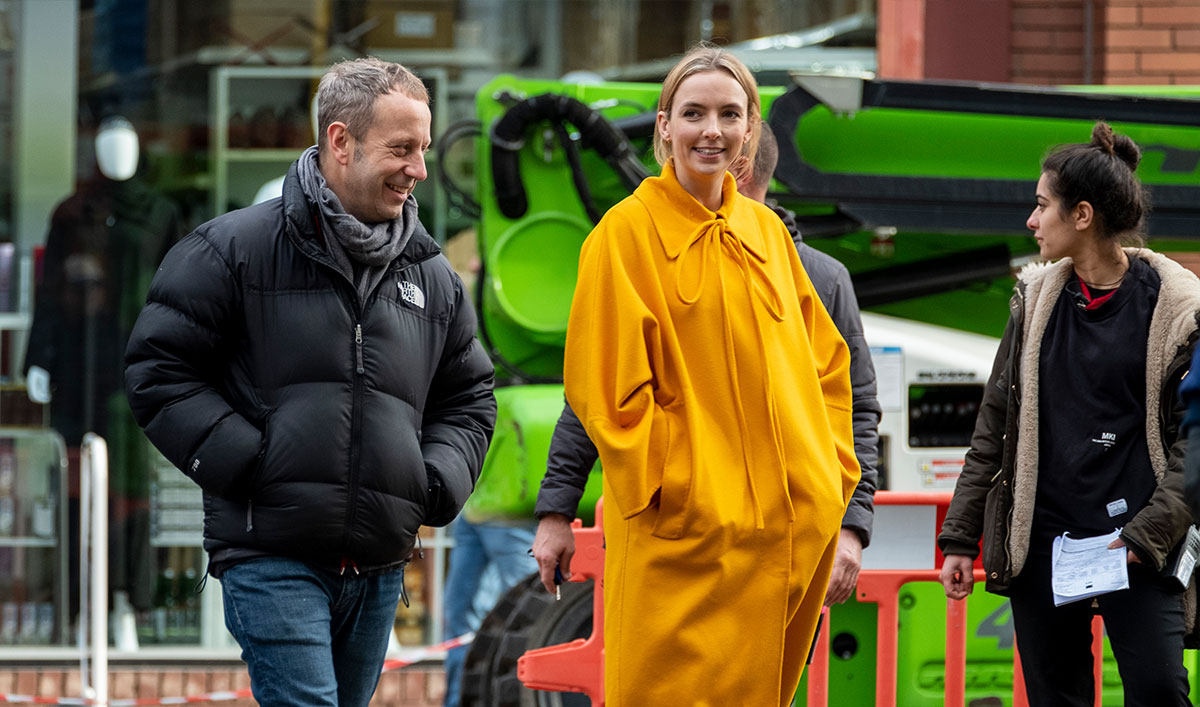 The hardest thing is to keep it as Killing Eve as possible, but also keep it as good as possible, and it takes a lot of work. There's a sense of the surreal and the absurd. It's like Carolyn saying, "I once saw a rat drinking a can of Coke there," then just walking off. It's one of those eccentric asides. It's that eccentricity that gives the show its character and flavor. It's about creating a world and its palette that is really nice to be in and to enjoy. You know what it's going to be like because you have the characters quite well-established. That's what the joy of it is -- just keeping those characters moving along, but also just enjoying them all.
Q: Could you walk us through your script-to-screen process, and how you approach bringing the episodes you direct to life?
A: Once you get a script as a director, you always set about breaking it down scene by scene, thinking how each scene will be filmed and what's the best approach to tell the story most effectively. This information is then fed back to the writers, executive producers and eventually the production team as we try and make everything as shoot-ready as possible. Because I've now done nine episodes of Killing Eve, I've hopefully developed a real feel for the show and the characters and the actors who are playing them, and I can predict how they might react to what's coming down the line, which helps the whole process.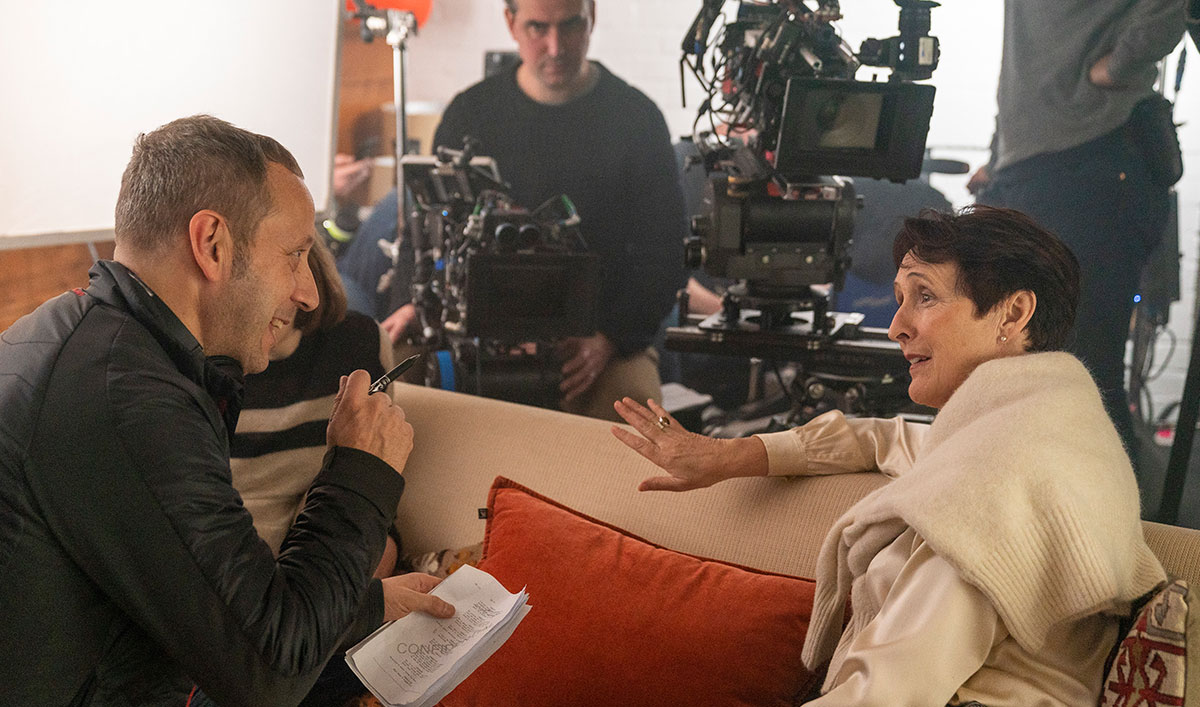 There's always pressure because there's always time limits, and you always want more time. All I can do is try and remain calm, rely on my experience to get me through and let everyone do their job.
This time round it's been harder because of the global pandemic -- everything has had to be done remotely from grading to visual effects to rerecording lines. For example, we've had to rely on new ways to watch our colorist Gareth Spensley work. He's been in lockdown like everyone else, working in his apartment. So we've had to watch remotely from our own homes whilst feeding notes back over a conference call. We all just adapted and everyone has been amazing, even though it's taken a little longer. We've only just finished Episode 8 today (May 18), and that's airing May 31.
Q: Do you ever touch base with Killing Eve writer-producer Phoebe Waller-Bridge?
A: I saw her at the Emmys and we had a drink afterwards with all the Fleabag gang at an after after-party, so that was lovely. Occasionally, we talk on the phone. Obviously, she's sort of busy these days. [Laughs] We had a great working relationship on Killing Eve so hopefully I'll get to work with her on something else in the future.
Q: What was it like transitioning from documentaries to dramas?
A: Blade Runner was the film that made we want to be a director as a teenager. But I ended up working in documentaries after a short stint in News & Current Affairs after joining the BBC from University. For a long while before I made the move to drama, I directed lots of documentaries on a huge variety of subjects. For example, I made two all access profile docs on Tim Roth and David Beckham. I made one on psychopaths and the secret life of self-storage. I made a couple of BBC Horizon's -- the first on the origin of anthropology, and the second on how humans acquired speech (called "Why Do We Talk"), and then there was one on about the origins of spiritualist mediums and why we speak to the dead. I did a three-parter about humans going to Mars, too. I did a lot of really varied stuff.
The move into drama was slow as there wasn't many opportunities -- I made a couple docudramas, one on Beethoven, before I met Mark Gatiss of The League of Gentlemen and Sherlock. He came to me with a documentary but I said, "Why don't we make it a drama?" And he said, "That's what I want to do." We only had £125,000 but we persevered and ended up making this hour-long drama set in the Antarctic. I filmed inside tents in an ice fridge to get cold breath. After that we started collaborating, making The Worst Journey in the World and then A Crooked House. I got an agent and here we are 14 years later. So, in one form or another I've been directing a very long time. There have been lots of crazy situations where you go, "Wow, this is mad but incredible fun." It's been brilliant to work on a show like Killing Eve and, like I've said before, you come back for the people. It's almost all the same camera team and a lot of the same cast from the beginning. Those relationships are what make it special. We all know each other so well. Who knows what'll happen next.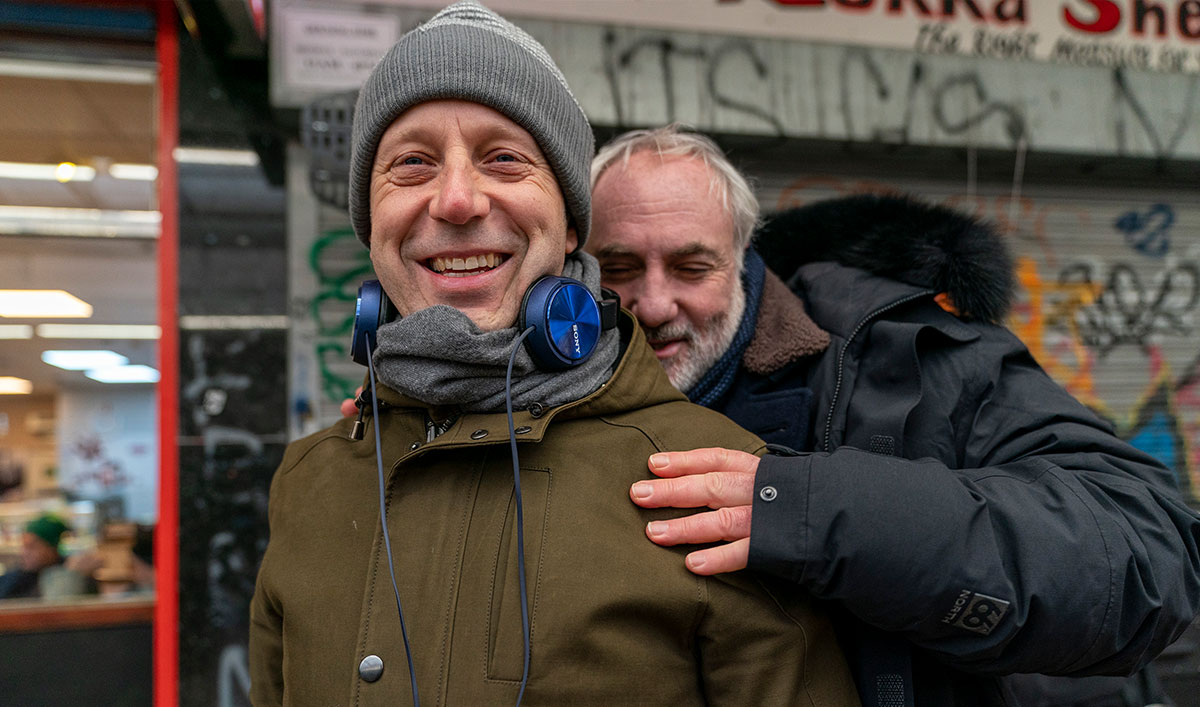 Click here to watch the Season 3 Finale of Killing Eve on amc.com, or stream it on the AMC apps for mobile and devices. Check out the on-air schedule here for more encore viewings of Killing Eve on AMC.
For more inside scoop on Season 3, check out our cast and crew interviews with costume designer Sam Perry, Raj Bajaj (Mo Jafari), Owen McDonnell (Niko Polastri), Dame Harriet Walter (Dasha), Gemma Whelan (Geraldine), and Sean Delaney (Kenny Stowtown).