Killing Eve Fashion File: Style Goes to the "Dark Side"
The tide is turning in the latest episode of Killing Eve, and the characters' fashion choices are some of the best indicators of how the emotional ripples of recent events are changing their course. Villanelle (Jodie Comer) returns to a fashion high this episode, but her style choices suggest she feels caged by the state of her life. Carolyn (Fiona Shaw) may be in muted, light tones, but it's never been more clear how alone she feels in the dark world of MI6. Finally, Eve (Sandra Oh)'s latest fashion change shows she's ready for revenge and is out for blood. See why costume designer Sam Perry calls that outfit "a bit of a turning point" in this week's Fashion File.
Dress for the Job You Want
Back from her soul-searching (crushing?) trip to Russia to visit her long-lost family, Villanelle returns to high-style form. She arrives for a meeting with one of the Twelve's higher-ranking members, Hélène (Camille Cottin), wearing a navy Dice Kayek suit that radiates power with metallic lace-up shoes from Simone Rocha's 2019 Fall collection. Costume designer Sam Perry recalls dressing Jodie Comer for this scene: "The Dice Kayek suit is Villanelle dressing the part of a serious assassin who is going places. I went to Paris to find the suit and was so pleased that it got worn for the scene with Hélène." As she pursues her promotion to become a Keeper in the Twelve, and with the golden shine of her shoes, Villanelle is absolutely showing off that she's the gold standard among international assassins.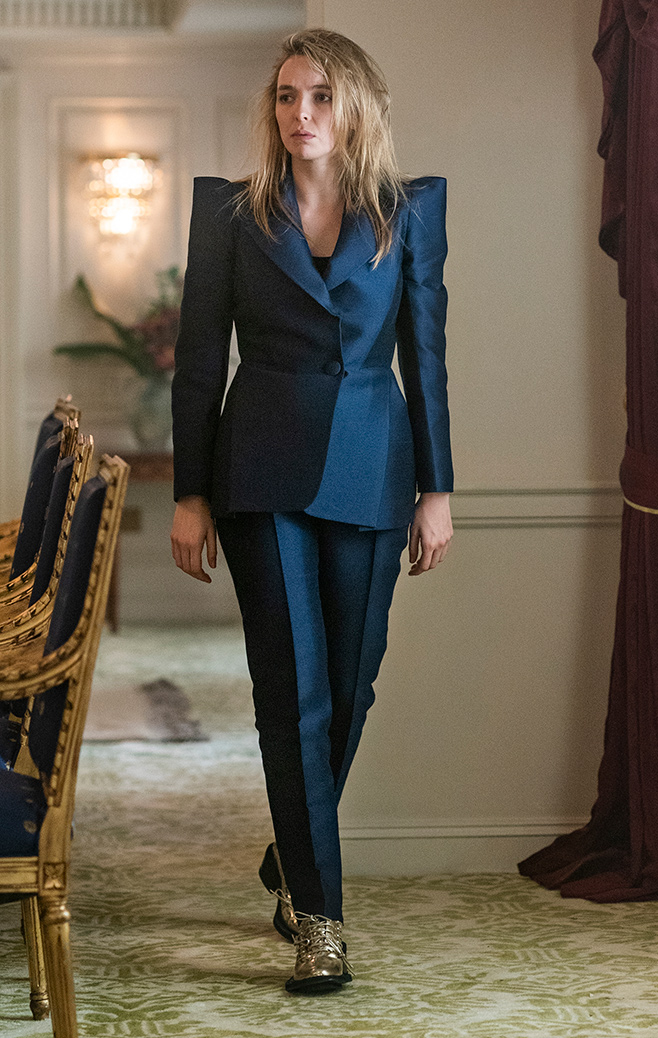 While Hélène's softer Parisian style isn't as intense as the pauldron-like shoulder cut of Villanelle's suit, her fashion choices also highlight that she's not to be messed with. Perry explains, "Hélène is another character that has the income to wear expensive clothes and a fashion sense. I was interested in her style being a little bit intimidating to Villanelle. She needed to look chic and effortless but also in charge." This isn't the first time we've seen Hélène, who visited Dasha by the poolside in Episode 4 and ordered the elder Keeper to drive a wedge between Eve and Villanelle, resulting in poor Niko's unfortunate pitch-forking. Again, Hélène is wearing a monochrome outfit of cream and black, which seems to be her signature look.
Her style is exceedingly refined, but just as much of a mask as her fake name -- white and black are shades, not colors, and give little away. But there is one color that Hélène slips into her costumes: red, which throughout this episode in particular, seems to indicate the "Dark Side." In fact, the first we see of Hélène at all in the season is her red suede shoes in Episode 4, standing beside Dasha on the pool deck. Here, in her meeting with Villanelle, she's trying to win Villanelle over and doesn't give her edge away, save for a small hint of color in her nail polish -- almost as if to indicate the blood on her hands through her work with the Twelve.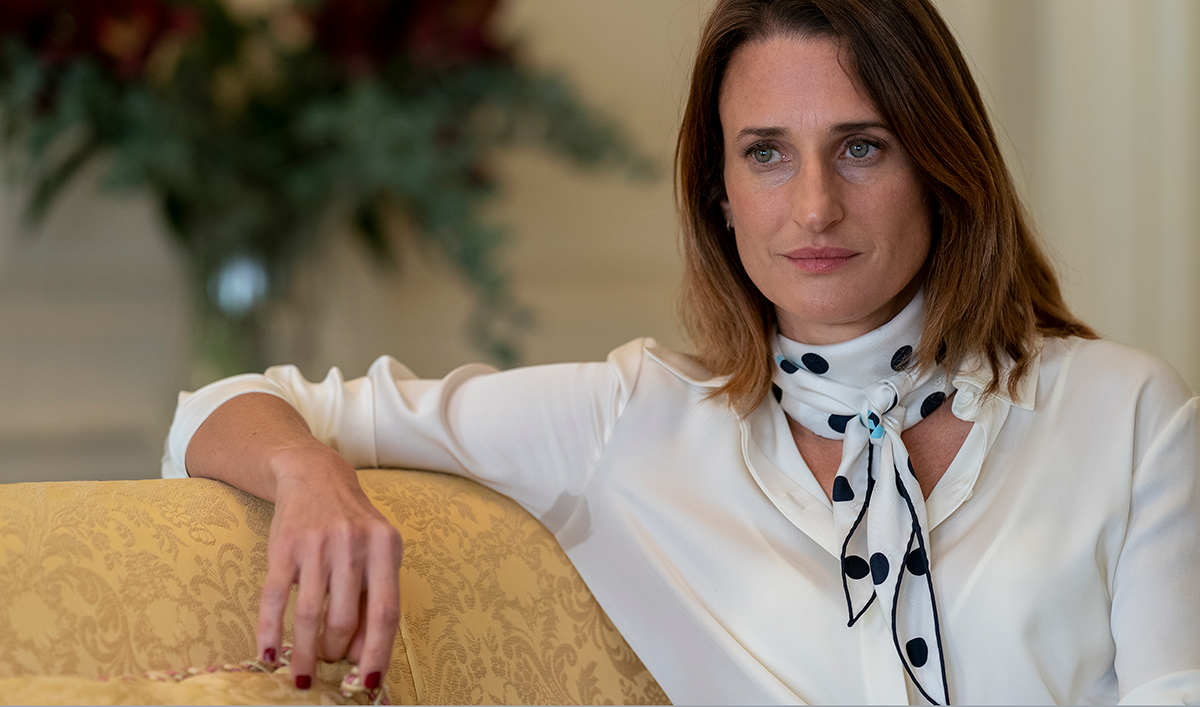 Unfortunately for Hélène, Villanelle is tired of the blood on her own hands. She's returned from Russia a changed person, and when Hélène gives her another standard assassination job, implying that her "promotion" to Keeper is a sham title meant to placate her, Villanelle has had enough.
The Chic Prisoner
The next time we see Villanelle, she crashes Irina's hockey game to speak with Konstantin. Dressed in a flowing, silky striped jumpsuit by Palmer Harding, she puts on a show of being a "good sport" in the stands -- until Konstantin asks her what she really wants. "I'm coming with you," she says, with somewhat uncharacteristic earnestness.
And suddenly the metallic stripes on her costume seem like those of an haute couture prison jumpsuit. She's finally realized that she's trapped in the grasp of the Twelve, there's no such thing as "upward mobility" when you're an assassin for a shadow society, and she desperately wants to get out. She knows Konstantin has a plan to escape, and she wants in. "It means you have to leave everything. The clothes, apartment, and her," he says, taking a dig at her obsession with Eve. "I know," she says. She promises not to do anything strange to tip-off their plan.
The Red Contagion
Of course, Villanelle is terrible at keeping promises. A short while later, Villanelle shows up at Irina's school and asks her if she wants to "bank off." Villanelle wears a bright red Courrèges coat and red-striped pants, in almost the same shade as Irina's earlier hockey jersey. Could this be Villanelle's way of subtly appealing to her rival for Konstantin's attention? But she may not need to try very hard. Irina's school uniform includes a deep red bowtie, signalling that they may have more in common than their shared father figure. Does Irina also have a bit of a "dark side"?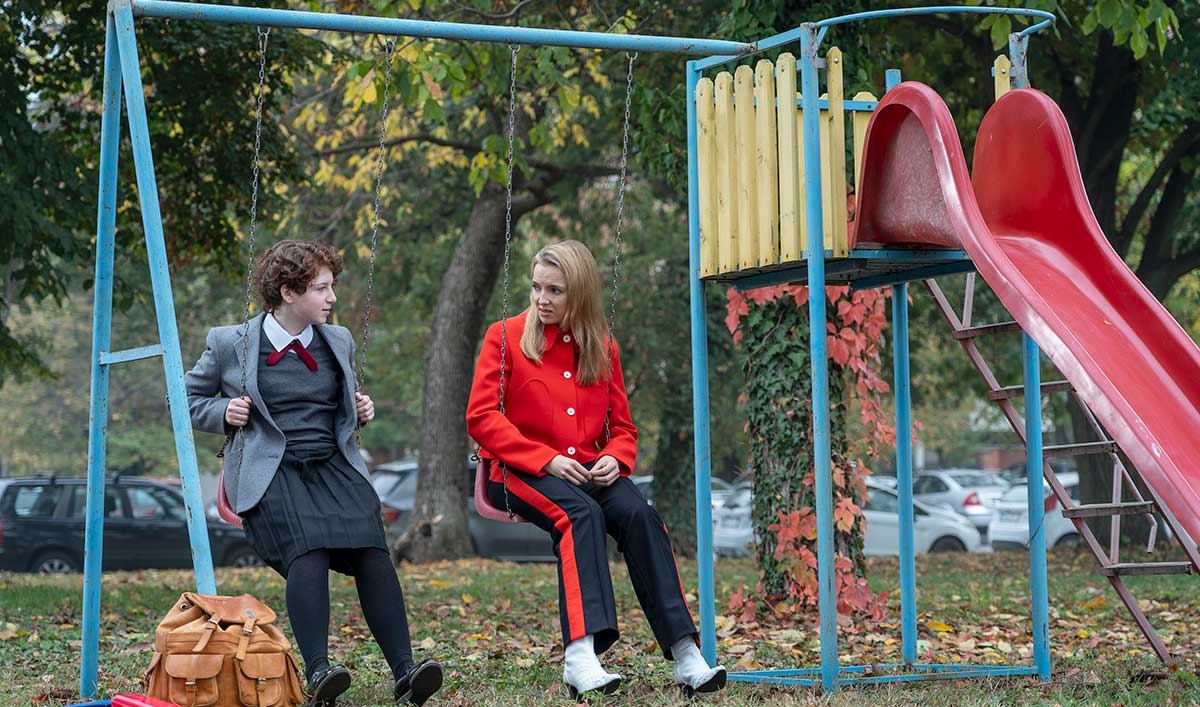 Villanelle takes Irina for a joyride down an airstrip. Irina controls the wheel, but it's clear that Villanelle is the one steering the conversation. She needles Irina to find out more information about Konstantin's plan to escape, and bonds with her over Irina's hatred for her mother's boyfriend. "If it's that bad, kill him," Villanelle says. "You're a real role model, you know that?" Irina retorts. But as they careen down the runway in a red junker car, Villanelle's bloody influence may be taking a malignant root in the teenager after all.
Spy vs. Spy
Meanwhile, Carolyn's costumes are an indication of her trust in those around her -- or rather, lack thereof, since it's depleting more and more with every new encounter. She continues her investigation into Kenny's death outside of the MI6 information network when she meets with a presumed old contact and friend, Mike. Sitting on the park bench next to Mike, her jacket is a mixture of beige and dark, foggy charcoal -- a tonal match to Mike's dark jacket and a subtle indication of her alignment and trust in his information. Mike tells her that he discovered that Kenny had been calling a Russian number -- and that he'd emailed this information to her over a week ago, but she never received it. Suddenly the fog in Carolyn's style is lifted, as if she's seeing those around her for the first time.
The next we see of Carolyn, she's in a crisp white turtleneck and khaki jacket. She makes a beeline for Paul and asks him about the phone records, not giving away that she already knows the answer. "Are you...working for them, Paul?" she asks when he makes excuses for the delay.
Standing across from each other, Carolyn in white and  Paul in black, the pair seem reminiscent of the Mad magazine comic strip Spy vs. Spy. Their standoff gets tense until Paul laughs off the accusation that he's aligned with the Twelve, but with their costumes at the opposite ends of the shade spectrum, it's clear they're not aligned with each other.
Later, Carolyn confronts another person she thought she could trust: Konstantin. Once again, he's in black opposite to her white as she interrogates him with more vehicular terror. "What did you want with my child?" she demands, swerving all over the road to scare him into the truth. "I swear I did nothing!" he says, "She kissed me!" Carolyn rolls her eyes. Another betrayal, this time from her own daughter. But Carolyn doesn't let up on Konstantin, because she knows that he spoke with Kenny before he died. "He wanted to know if I was his father!" Konstantin finally reveals after Carolyn nearly drives headlong into another car. This lands heavily on Carolyn and she orders Konstantin out.
At home, Carolyn winds down by cooking in the kitchen, still wearing her white turtleneck. Geraldine walks in, dressed in head-to-toe black, a clear indication of just how wide the emotional rift between them has become. In a heartfelt conversation, Carolyn tells Geraldine just why they're so emotionally far apart, and also drops that she knows Geraldine kissed Konstantin and demands to know what else she's been lying about. Is there anyone she can trust?
The Dark Side
Eve has spent much of the season in a fashion rut. Not that Eve ever really prioritized style over comfort (with a few notable exceptions), but her steep recovery after the fallout in Rome had her hiding in kitchen whites, swimming in sweats, and weighed down by wrinkled gray and muddy brown colors so far this season. But not anymore.
When Eve realizes that Villanelle and Dasha are connected, something clicks. She knows Dasha had something to do with the attack on Niko, and she intends to get the truth -- and perhaps even revenge. With nothing to lose, she travels straight to Barcelona to confront Dasha herself.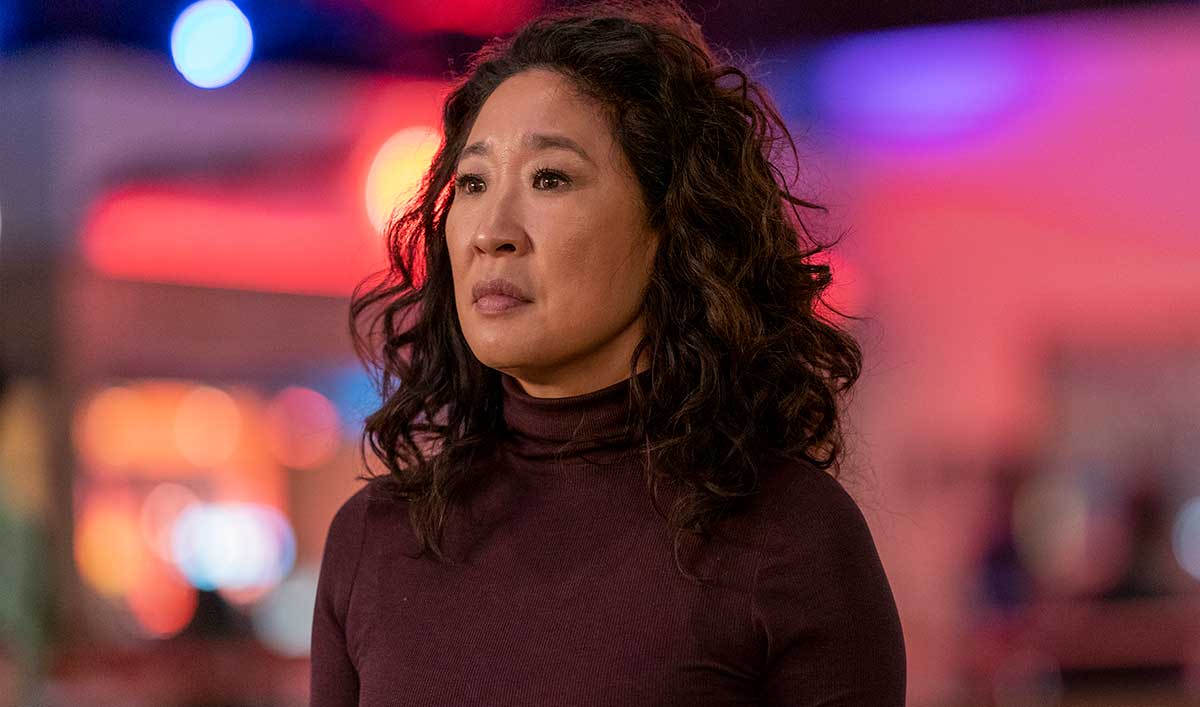 Arriving suddenly at a bowling alley in Barcelona, Eve cuts an imposing silhouette, appearing very much like a challenger approaching from the shadows. She wears her signature turtleneck look, but this time in a deep burgundy color, signalling that she's out for blood. Sam Perry recalls this particular scene: "We plot all of Eve's costumes for the episodes with Sandra in advance and this outfit marks a bit of a turning point."
Eve pinpoints Dasha's weak point -- her need to win at everything -- and uses that to engage in a verbal sparring match about her role in Niko's fate. With Dasha in a brown tracksuit and Eve in deep red, it would be hard for an outsider to guess which is the assassin. It's almost as if their social roles have swapped. "You think you are winning?" Dasha says as Eve turns out to be surprisingly good at bowling. But her words are loaded; she claims Eve will never "win" over Villanelle. "You can't beat us, you understand? I can kill you anytime. End of game," Dasha says, and packs her bowling ball and leaves. But despite the threat, Dasha is clearly the one running away.  Their bowling match might be over, but the game is just beginning. This new burgundy on Eve shows how she's reclaimed her personal power, while the red hue, like in Villanelle, Hélène, and even Irina, signifies a renewed blood lust.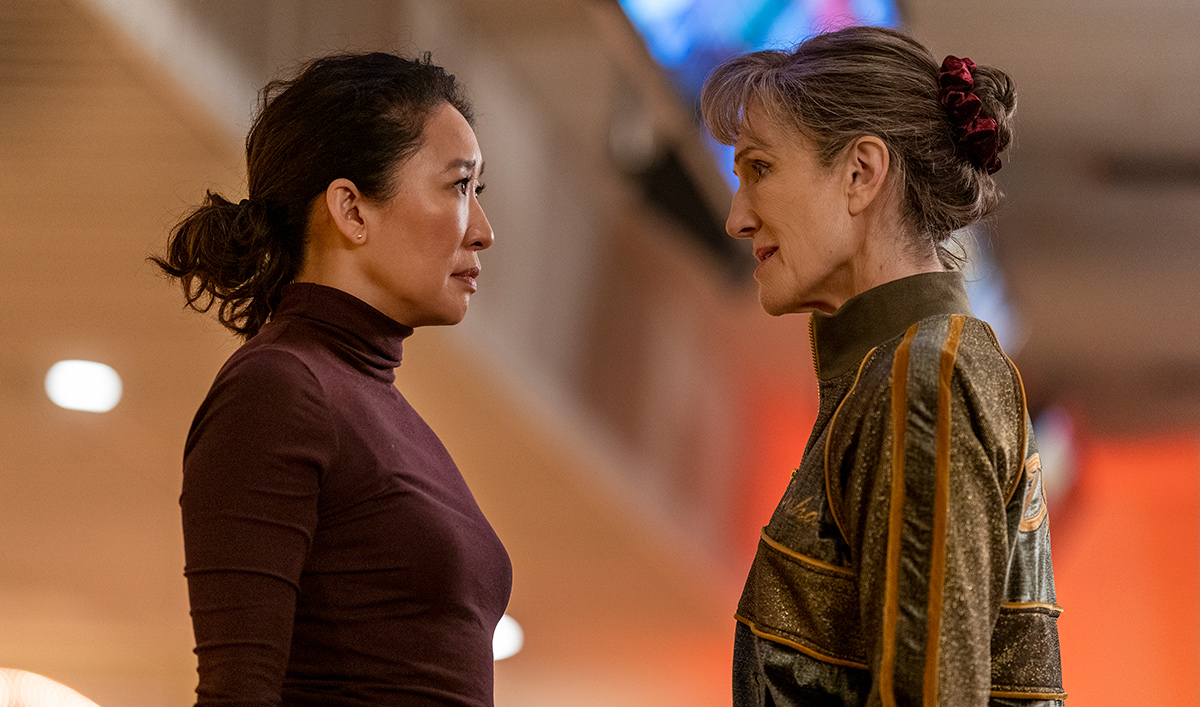 After all, though Villanelle may have lost fiery passion for murder, Irina has picked up her fallen torch. The sardonic teenager may have sarcastically disparaged Villanelle as a role model on their airstrip joyride, but it doesn't take Irina long to start acting like her "older sister." The night that she and Konstantin are meant to flee the clutches of the Twelve and escape to Cuba, Irina hits her mother's boyfriend with a car, and then gleefully runs over him again, killing him. It seems the penchant for blood has infected Irina as well.
Click here to watch the latest episode of Killing Eve on amc.com and the AMC app for mobile and devices. Check out the on-air schedule here for more encore viewings of Episode 6, "End of Game," and upcoming episodes of Killing Eve on AMC.
For more about the costumes and style of the series, read this Q&A with costume designer Sam Perry. Perry dives deep into her process for creating the looks of the series, her designing process, what a typical day on the Killing Eve set looks like, and more. Take a look at more Q&As with cast and creators such as Owen McDonnell, Gemma Whelan, Dame Harriet Walter, Sean Delaney, Suzanne Heathcote and more here.
Get a behind the scenes look at how Killing Eve goes global as the cast and crew give fans a closer look at the international locations of the season. From London, to Barcelona, Romania and more, Sandra Oh, Jodie Comer and more give an inside look at what it takes for the series to jet set around Europe and how it affects their performances and the series. Then watch a sneak peek of Sunday's all-new episode here.
Killing Eve airs Sundays at 9/8c on AMC and BBC America. For the latest news, sneak peeks, videos exclusives and more from Killing Eve, sign up for the Killing Eve Insiders Club.