Killing Eve Fashion File: How Villanelle Embodies a "Beautiful Monster"
Our characters' worlds are in chaos after the latest episode of Killing Eve, and the emotional storm of their situations are ever-present in their costumes. Villanelle (Jodie Comer) puts on her usual sardonic demeanor following the painful failure of her last job and her desperation to leave the ranks of the Twelve, but her style indicates that this attitude is as much a mask against her current situation as her various styles. Eve (Sandra Oh) carries her renewed purpose for revenge to a fateful meeting in Scotland, after which she'll never be the same, and Carolyn (Fiona Shaw) wears the bloody weight of her investigation around her shoulders. See how the characters' style choices speak to their inner "monster" in this week's Fashion File.
Tough as Leather
The last we saw of Villanelle, she was nearly despondent on the bathroom floor while Dasha (Dame Harriet Walter) stitched up her arm, which was wounded during her electrifying fiasco in Romania. She seems to be on the mend at the beginning of Episode 7, though her style choices for her meeting with Hélène hints that she might still be struggling with the emotional fallout of her botched job. Villanelle wears a teal leather trench coat to her meeting with chic Parisian femme fatale Hélène. The leather is quite thick, seeming almost as much like a suit of armor, as the metallic panoplies around the room. The heft of the fabric makes her seem bigger and bolder, perhaps to compensate for how her injury on the job has made her seem small, fallible, and fragile. She's literally donning a thicker hide -- a second skin -- after losing her mettle for murder in Romania.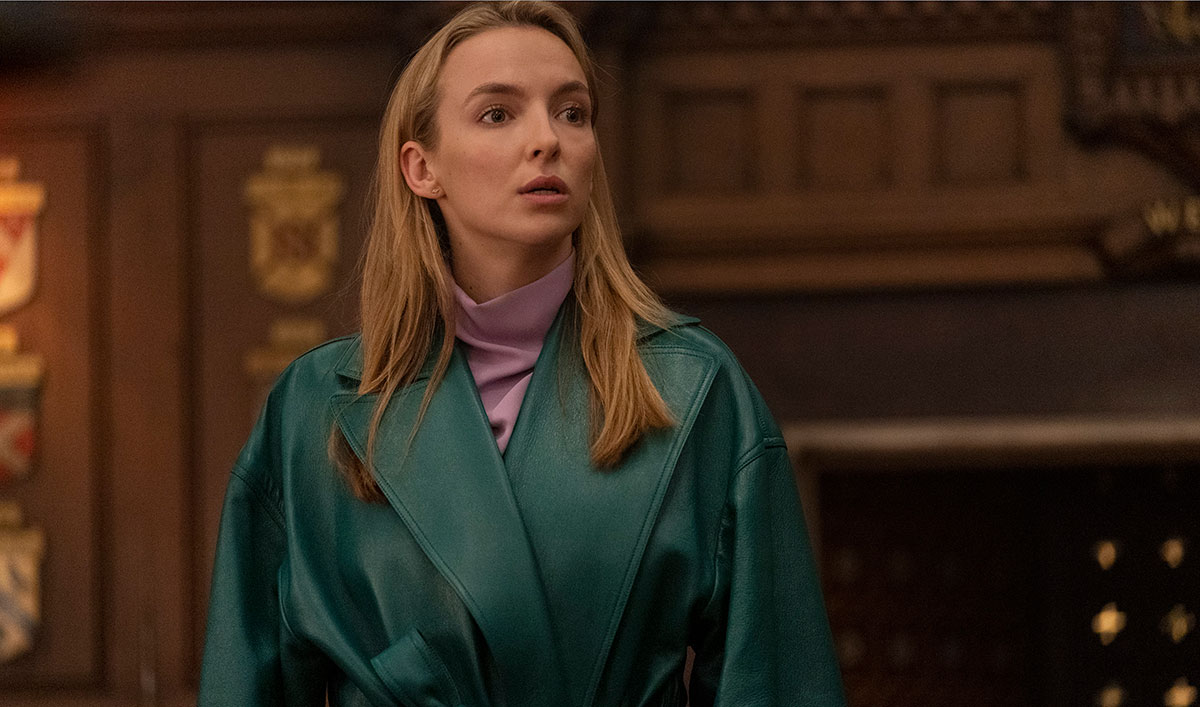 Of course, this doesn't stop Villanelle from slinging barbs at Hélène, including alluding to a plan to kill the ranking Twelve member with a nearby chair. However, Hélène is the one with the edge here, cutting an imposing figure in a white and black suit, keeping with her monochrome color palette. The thin, red lining of her blazer's lapel acts as a reminder of the constant threat of violence Hélène exudes. Despite Hélène's declarations of love for Villanelle, Hélène has never seemed more dangerous -- and it's little wonder: with the angle of her blazer's lapel turning upward, they seem like horns lined with blood, making Hélène seem downright Lilithian.
"You're a beautiful monster, Villanelle," Hélène says, but Villanelle is clearly shaken by Hélène's embrace and mothering kiss. Hélène starts to walk away and even though Villanelle doesn't take her emotional bait, she wants another job. "I'll take Dasha," she says. Hélène agrees. Before she leaves, she tells Villanelle, "You wouldn't be able to, by the way -- kill me before I killed you. You're a child. You have no idea what you're dealing with."
Villanelle quips back at her, but as soon as Hélène leaves, her strong facade falls. She sits, shrinking slightly into the turtle shell of her teal hide coat, and sighs.
Beautiful Monster
Villanelle's new job takes her to Aberdeen, where she commits to honoring the Scottish tradition of tartan knits. On a sprawling golf course, Villanelle and Dasha scope out their supposed target: a gregarious American a few holes down. Villanelle channels the golf course's green in her Gucci trousers and green jacket, but of course, she's already locked on to her real target: Dasha. And with the addition of the jacket's long green shag of fur, Villanelle seems to also be channeling the look of a monster hiding in a child's closet. If Hélène is going to call her a "beautiful monster," she'll be a beautiful monster.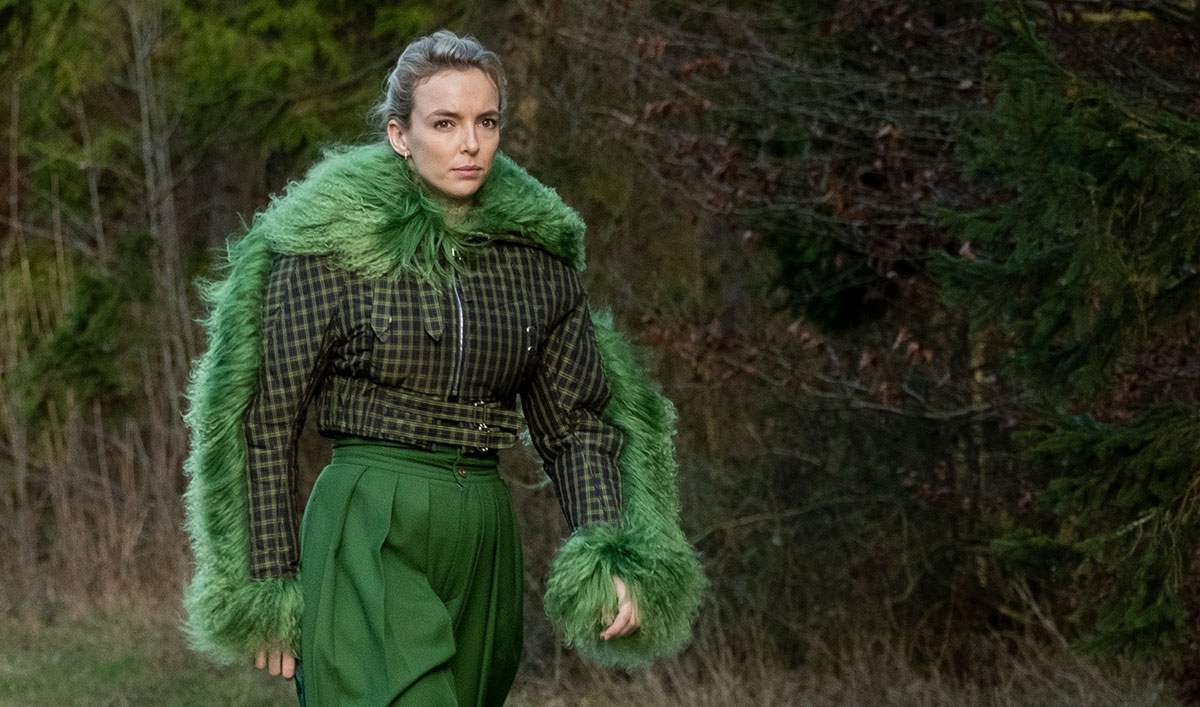 Recalling the process of dressing Jodie Comer for this scene, Killing Eve costume designer Sam Perry says, "I really wanted something bonkers for Villanelle's golfing outfit to reflect her state of mind. I got the trousers from Gucci and loved them, but was really searching for a cropped green jacket. Initially, I was looking for something vintage -- I couldn't believe how lucky I was to find the Charlotte Knowles jacket. It was exactly what I was after, the tartan pattern and crazy green monster fur couldn't have worked better with the scene."
After luring the American into the woods with a story of a lost ball, Villanelle turns the tables on her unsuspecting victim and takes a big swing -- at Dasha. With a well-landed blow to the head, she drops her former mentor to the ground with one hit. She yells at the American to run, and then walks away into the woods. Away from Dasha, away from the Twelve, away from it all. When Konstantin picks her up along the side of the road, it's clear the plan to escape has commenced. Let's see if Hélène still finds this monster "beautiful."
Red Revenge
We mentioned in last week's Fashion File that Eve reclaimed her personal power on her trip to Barcelona, confronting Dasha in a deep burgundy red that seemed to hint at her renewed blood lust and zest for revenge. Eve holds on to that feeling now that she's set her sights on a new goal: finding Villanelle. While she's on the hunt for clues to Villanelle's whereabouts, she's wearing a hat and scarf in almost the exact color that she wore in her bowling battle with Dasha.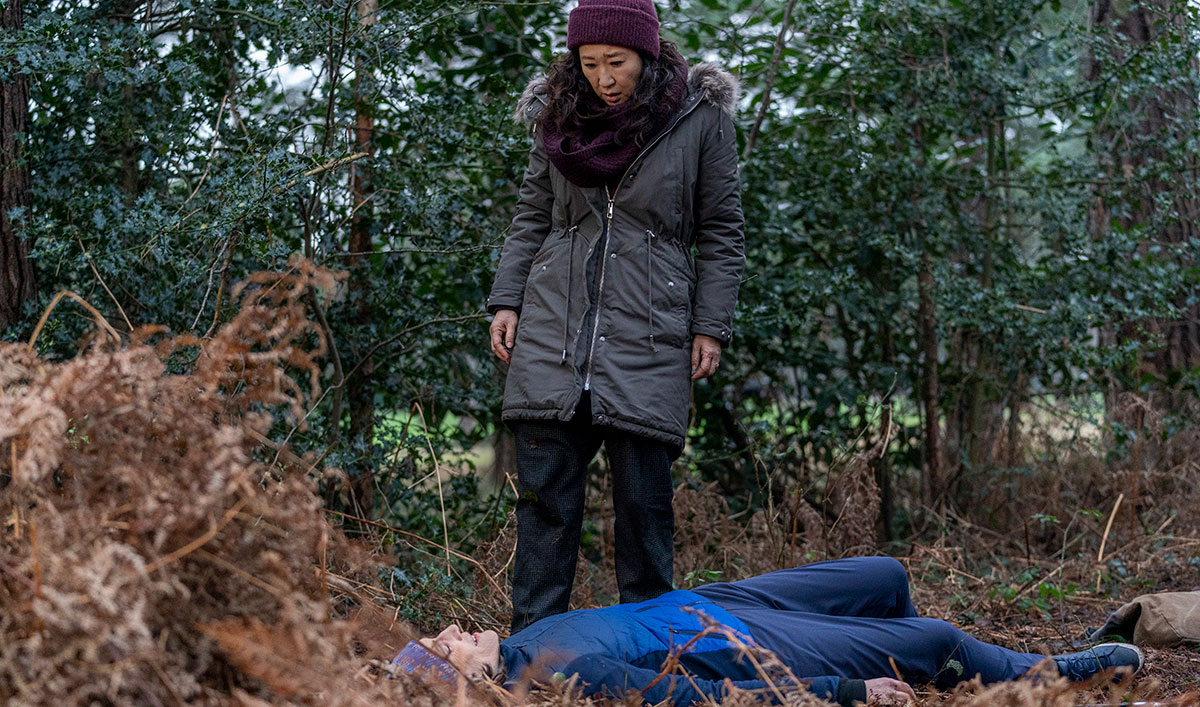 After tracing Villanelle's credit card, she discovers it was used in Aberdeen and sets out to find her -- and nearly does. Like ships in the night, Eve misses Villanelle on the golf course, but finds Dasha, bleeding and dying on the ground. Dasha implies that she was indeed the one who tried to kill Niko, and Eve snaps. She steps on Dasha's chest and crushes her sternum, indulging in the pain she inflicts on her husband's would-be murderer. When sirens sound in the distance, Eve flees before she can finish the job -- but it's clear that the transformation to the "dark side" that she started in Episode 6 has gone to the next level. Like Villanelle, she has embraced her inner monster.
The Bloody Mantle
Meanwhile, Carolyn continues her investigation into Paul's suspicious activity. Determined to find the smoking gun that he's a member of the Twelve, she sets Mo (Raj Bajaj) on the trail to dig up clues. At first, there are signs that she might have good news: Mo calls her to confirm that he found what Carolyn was looking for to connect Paul to the Twelve. But unfortunately, her celebration doesn't last long. She gets a phone call that Mo has been killed.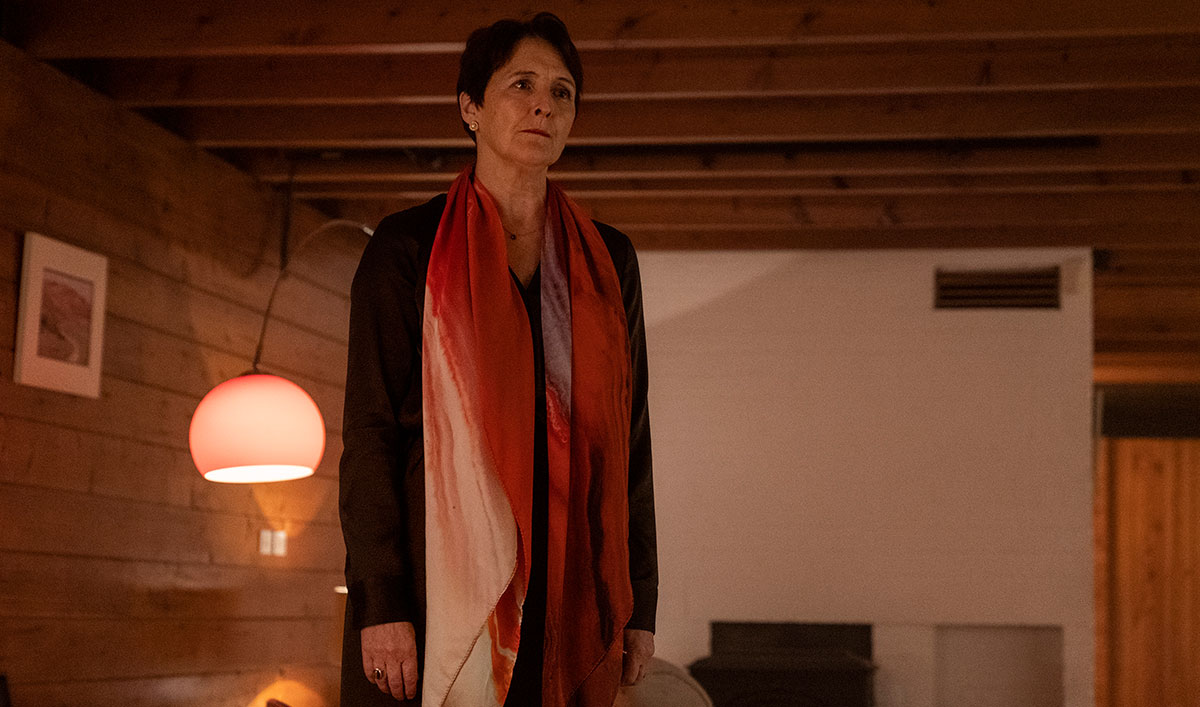 Geraldine (Gemma Whelan) accuses Carolyn of being an "emotional iceberg" when she finds out the news, but Carolyn's costume is doing all of the talking. She wears a silk red and cream scarf hanging loosely around her neck (a notable color on Carolyn, who is almost always in muted tones). With the red tones streaked and diffused throughout the cream, it looks morbidly representative of the bloody mantle she carries as the head of this investigation. "I feel like the walls are closing in on me," she tells Geraldine, "It's starting to feel personal." To lose Kenny, and then Mo, Carolyn is struggling to stand tall with the weight of their deaths hanging on her shoulders. But it could signify something else: has Carolyn been touched by the red contagion, like Villanelle, Hélène, Eve, and Irina? Is she ready to turn to violence?
Click here to watch the latest episode of Killing Eve on amc.com and the AMC app for mobile and devices. Check out the on-air schedule here for more encore viewings of Episode 7, "Beautiful Monster," and upcoming episodes of Killing Eve on AMC.
For more about the costumes and style of the series, read this Q&A with costume designer Sam Perry. Perry dives deep into her process for creating the looks of the series, her designing process, what a typical day on the Killing Eve set looks like, and more. Take a look at more Q&As with cast and creators such as Raj Bajaj, Owen McDonnell, Gemma Whelan, Dame Harriet Walter, Sean Delaney, Suzanne Heathcote and more here.
Get a behind the scenes look at the inside world of Dasha. Played by the ineffable Dame Harriet Walter, Dasha has power, charisma, and incredible track suits. In the latest Closer Look video, the cast and creators dive deep into Dasha's back story, how Dasha and Villanelle are more alike than they'd like to admit, and more.
The Killing Eve Season Finale airs Sunday at 9/8c on AMC and BBC America. For the latest news, sneak peeks, videos exclusives and more from Killing Eve, sign up for the Killing Eve Insiders Club.