Killing Eve Fashion File: Home Is "Wear" the Heart Is
Fashion is an important part of Killing Eve. Not only does it provide fans with stellar style goals, but it's also a subtle indicator of the inner workings of the characters' mindset and the hidden relationship dynamics at play. That's perhaps never been more obvious than in the latest episode of Killing Eve, in which Villanelle (Jodie Comer) returns home to Russia to visit the family she long thought was deceased. So much of Villanelle's identity is wrapped up in fashion -- perhaps because it's through fashion that she can put on so many different identities -- but what happens when she can't escape the ghosts of the past, when the mask of Villanelle starts to slip, and she reverts into her old self, Oksana? In this Killing Eve Fashion File, we dive into how the costumes of the characters speak to the emotional burden of coming back home for Villanelle.
The Prodigal Blue
When Episode 5 opens, we find Villanelle walking down a desolate road. With her oversized backpack and headphones over her ears, she looks like a child who has just come off the school bus, walking back home after a long day of class. And, in a way, she is: Villanelle is coming home to her family for the first time in over a decade. The rest of her outfit only adds to the somewhat juvenile look -- her plaid trousers and khaki jacket are reminiscent of formal class attire and her light blue turtleneck is bright and beautiful like a cloudless sky. It's as if returning to the Mother Land has aged her down, back to before Villanelle became "Villanelle" -- when she was just Oksana.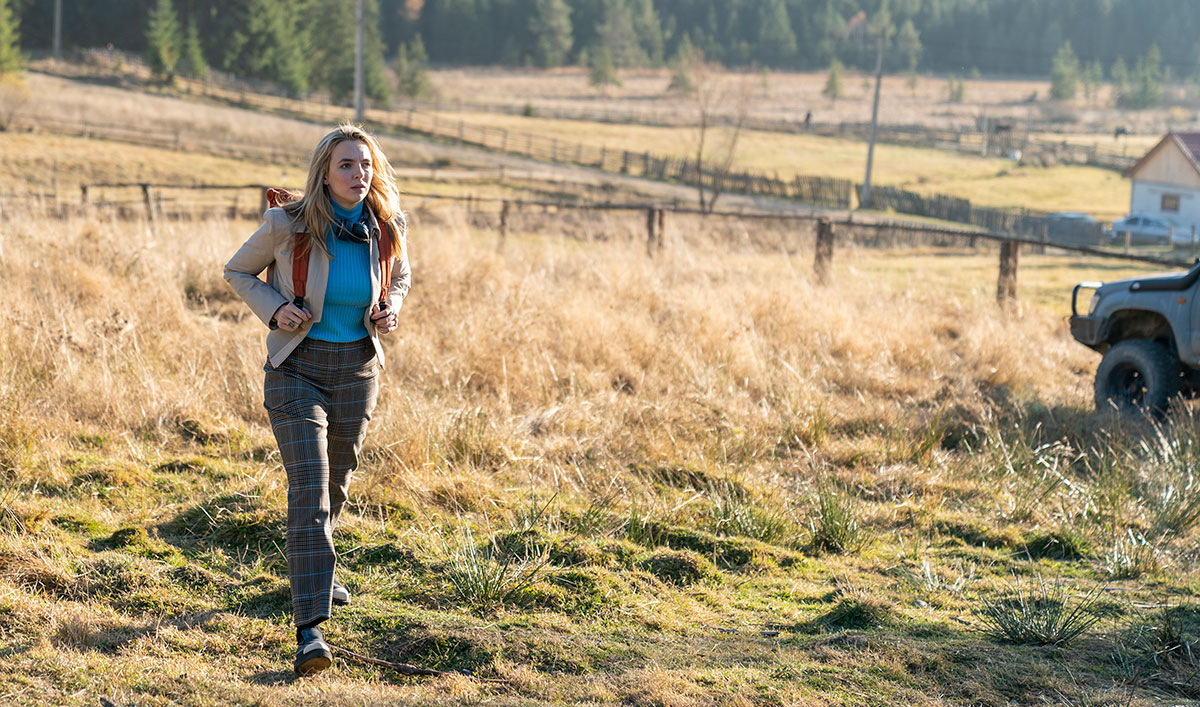 Of course, to the rest of Villanelle's family, her turtleneck is probably more indicative of how she's basically dropped in out of the blue. Her brother, Pyotr (Rob Feldman), thought she died in a fire when they were young -- so imagine his surprise, and her step-family's shock, when a beautiful English-speaking woman shows up at their house in isolated Gryzmet, deep in rural Russia, claiming to be blood.
After the initial shocking reunion, Villanelle sits in her young half-brother, Bor'ka's, room while the rest of the family argues over her arrival in the kitchen. As Bor'ka (Temi Blaev) asks her questions about the cities she's travelled through and what Elton John might have eaten there while he toured through them, Villanelle peers around the corner at her brother and the rest of the family. Wearing Bor'ka's pink Elton John-inspired heart glasses, she literally watches them through rose-colored lenses. She waited so long to find her family, even enduring a bout of miserable hiccups, and now they're right in front of her.
But when her mother comes home, the reality of her situation -- and her past family trauma -- all comes rushing back. She rips off the rose-colored glasses and tosses them aside, desperately looking for a way to escape the house before she sees her mother. But she's too late --  she locks eyes with her mother, who wraps her in a hug wracked with sobs, and suddenly there's no turning back.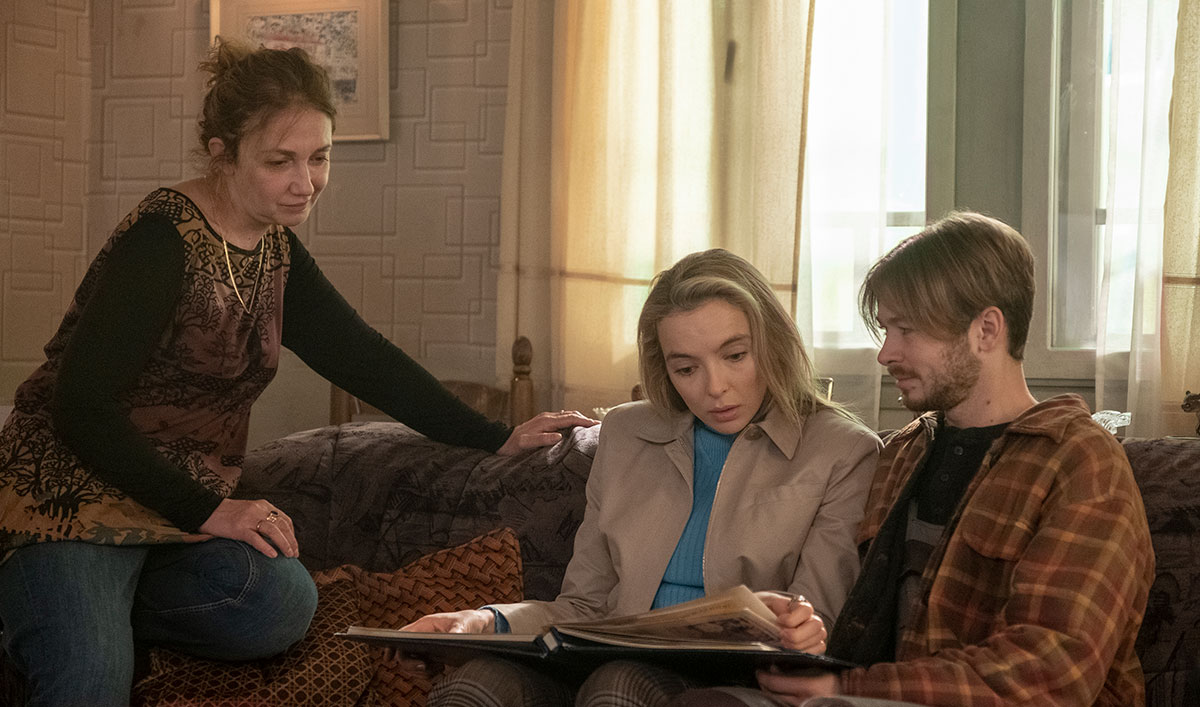 At first, things seem just as rosy as the Rocket Man's glasses. Pyotr breaks out the scrapbook while her mother, Tatiana, looks on and reminisces over Villanelle's baby pictures. But Villanelle's costume shows she's still clearly at odds with her family. Nestled in between the mottled orange of Pyotr's plaid shirt and the ruddy orange of the couch's throw pillows, Villanelle's bright blue shirt stands in stark contrast to her family home. After all, blue and orange are direct opposites on the color wheel. In fact, throughout the episode, Tatiana, Pyotr and Bor'ka all wear a range of orange colors, in direct contrast to Villanelle's blue tone.
The Black Sheep
On the second day of her visit, Villanelle is still committed to her place as an interloper. Wearing head-to-toe black, with black pants and a black bomber jacket, she's the visual representation of the family "black sheep." She spends time with each member of her family throughout the day -- first Pyotr, then Yula and Fyodr, Bor'ka, and her mother's new husband, Grigoriy -- but each time she acts more like an observer, passing through their day like a shadow.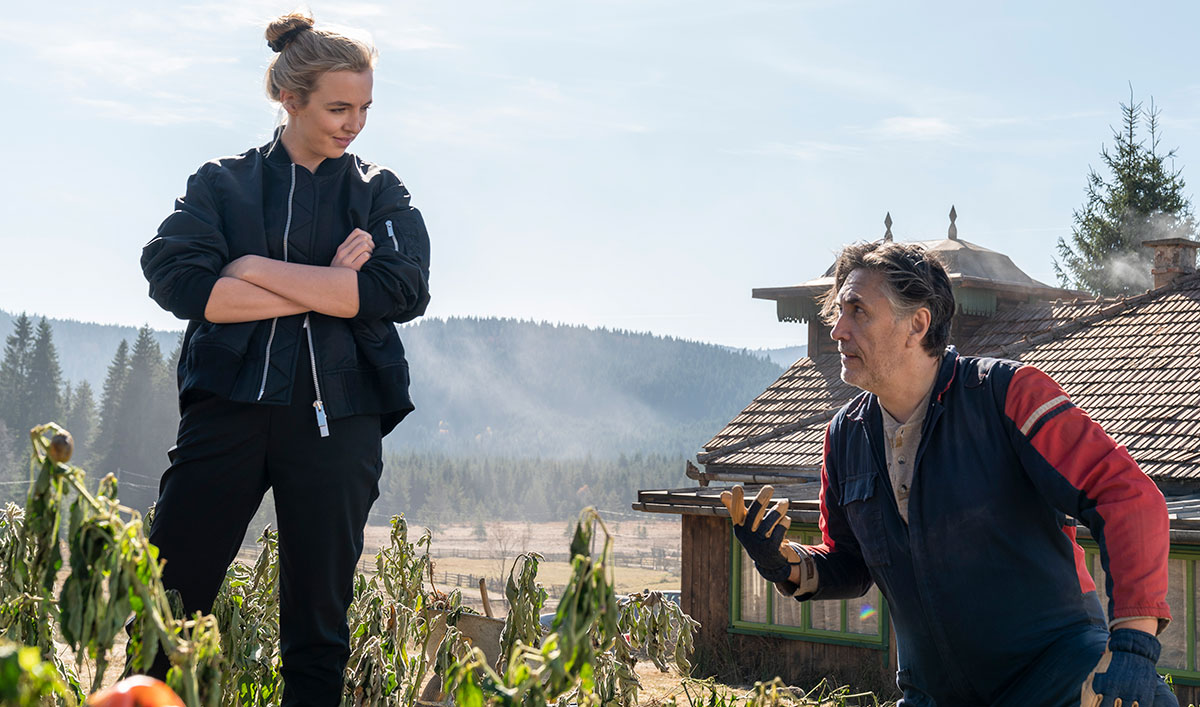 Indeed, she casts a large shadow over Grigoriy while he works in the garden, especially when she tells him that her mother used to be "different." He knows there's a lot to unpack in that word. Of course, none loom larger than Tatiana herself, who says she has something to give Villanelle and calls her into the house. Alone inside, Tatiana offers Villanelle her old vintage jumpsuit from the 80s. She altered the piece herself to fit Villanelle's size. Plus, it's blue: Villanelle's color in the scheme of the family dynamic. Could this be a sign that Villanelle's mother is ready to recognize and embrace her as part of the family?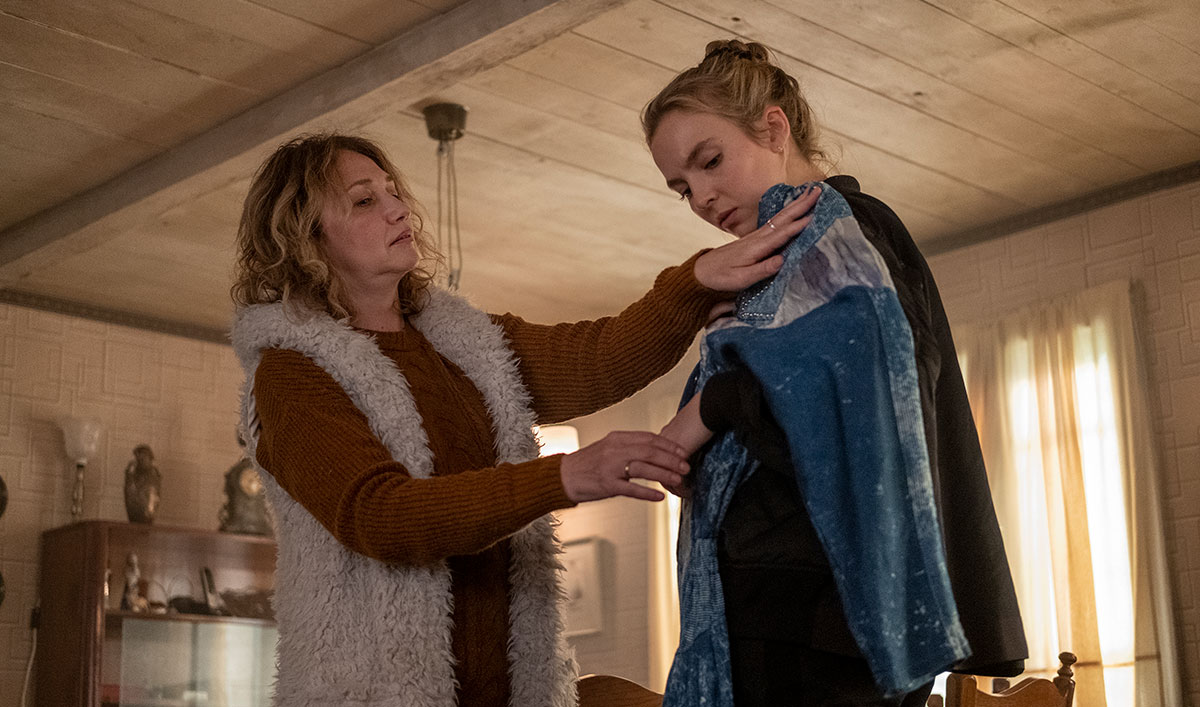 Dressed for Battle
The next day, Gryzmet hosts its annual harvest festival. A delightfully peculiar celebration of local characters, Villanelle seems to totally embrace the festivities. Certainly, her fashion seems to indicate so: Her Paco Rabbone top is patterned with shades of orange, while her dark green skirt is the mixture of her family's ruddy orange and her sparkling blue.
But the fan-like orange pattern of her shirt is also reminiscent of Paco Rabbone's iconic chainmail dress. Though Villanelle spends the day enjoying the local fare, including dominating the dung throwing contest and taking home the top prize (a room fan), her style indicates that she's still wearing a sort of armor against the emotional turmoil of spending time with her family.
The Broken Heart
As the night carries on and she sees her mother's behavior more clearly, her armor starts to buckle -- and quickly the weight of the past proves to be too much. Later that night, Villanelle surprises her mother in the kitchen, and her costume is more of an indication that she's gone off the rails than the tomato juice strewn under her eyes to look like bloody tears.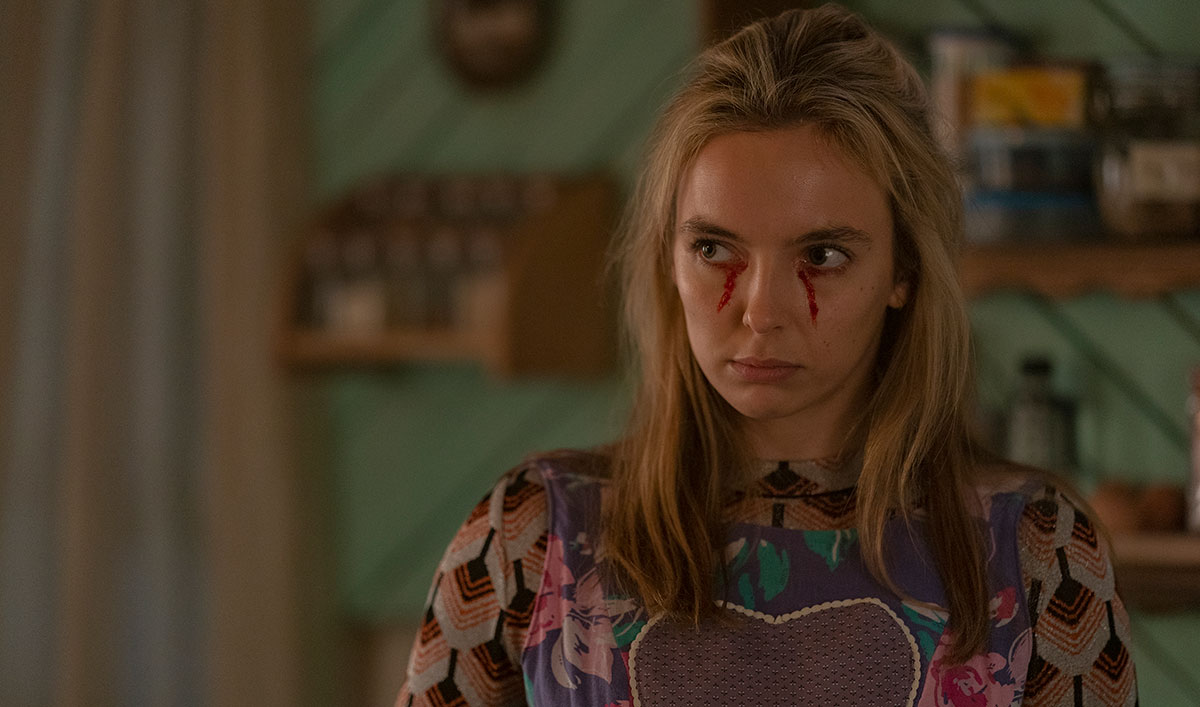 Costume designer Sam Perry recalls dressing Jodie Comer for this particularly moving scene: "This was an outfit which evolved as we were filming. The apron wasn't in the script, but it was something that Jodie and Shannon [Murphy], the director, wanted to try. The apron was made at the last minute from an old '80s skirt by myself and Gracie, my lovely trainee. I really liked all the clashing colors and patterns, and the symbolism of Villanelle wearing something of her mother's."
Villanelle confronts her mother over the way she shunned her as a child in a never-before-seen moment of true emotional fragility -- she's literally baring her heart over her chest in the form of her mother's apron. "Altogether, it's a very unhinged look," Perry adds. Has Villanelle ever been more vulnerable, or more authentically shaken? She's so unhinged, in fact, that she murders her mother, blows up the family's home, and presumably kills everyone, save for her brothers, Pyotr and Bor'ka. Maybe this is Villanelle's attempt at returning true to form, but it's clear she still can't leave the past behind. On the train leaving Gryzmet, she's ditched the Oksana orange and is back in blue -- but it's the blue of her mother's jumpsuit.
Click here to watch the latest episode of Killing Eve on amc.com and the AMC app for mobile and devices. Check out the on-air schedule here for more encore viewings of Episode 5, "Are You From Pinner?," and upcoming episodes of Killing Eve on AMC.
Get a behind the scenes look at Villanelle's family home. Featuring interviews with Jodie Comer, lead writer Suzanne Heathcote, production designer Laurence Dorman, and more, discover how the creative team rebuilt a rural house in Romania for the set, how the claustrophobic experience of filming in the small house for a week affected the actors' performances, and more. Plus, why is Bor'ka obsessed with Elton John? Get a closer look at the latest episode, and then watch a sneak peek of Sunday's all-new episode here.
Read a Q&A with Owen McDonnell, who plays Niko Polastri, here. The actor chats with amc.com about Niko's journey this season, his fractured relationship with Eve, and his thoughts about that scene in Episode 4.
Killing Eve airs Sundays at 9/8c on AMC and BBC America. For the latest news, sneak peeks, videos exclusives and more from Killing Eve, sign up for the Killing Eve Insiders Club.