Killing Eve Fashion File: A Love Like Day and Night
In the Season 3 Finale, Villanelle (Jodie Comer) has left her plan to flee to Cuba by the wayside, and Eve (Sandra Oh) commits to helping Villanelle move on. But how can a relationship like theirs last? In the latest fashion file, dive deep into how Eve and Villanelle's fashion statements show how these two women, worlds apart, can't stop coming back to each other.
The Audition
At the Royal Albert Hall in London, Villanelle climbs the staircase to the upper balcony to meet with a surprising guest: Carolyn (Fiona Shaw). "A little overdramatic, don't you think?" Villanelle asks Carolyn about the lavish location, but Villanelle is certainly not one to talk. The wide lapels of her floor-length coat are covered in pink sequins and feathers.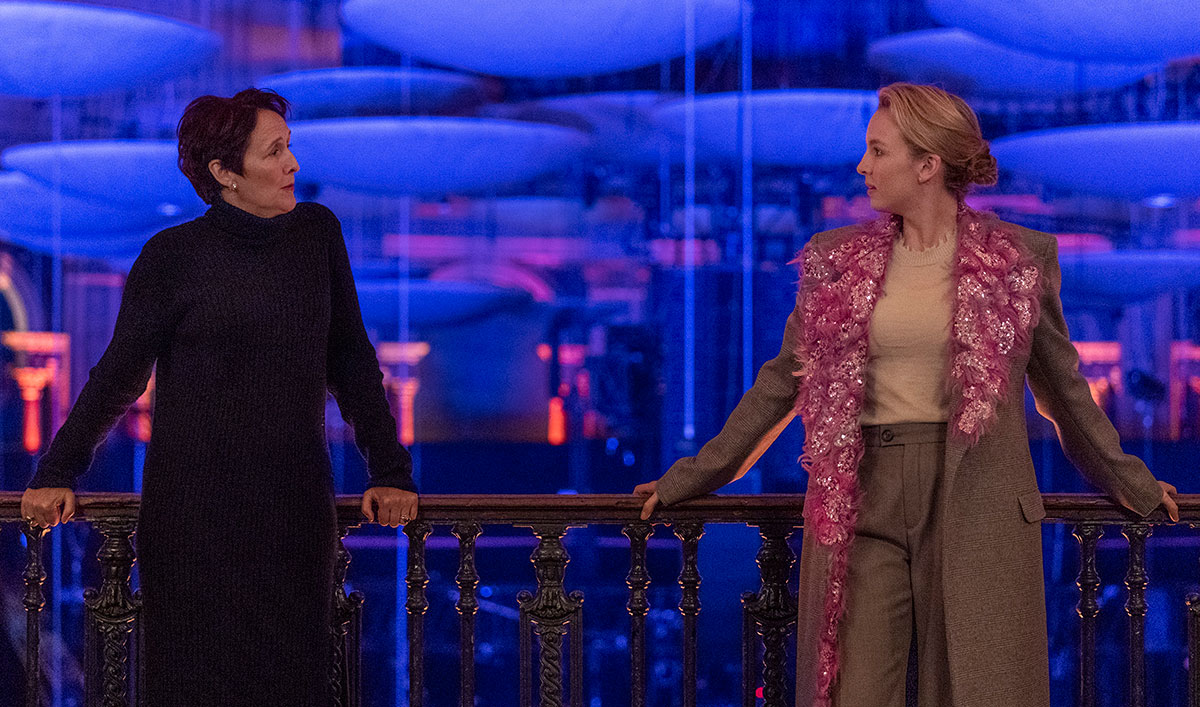 Notably, Villanelle seems to be otherwise mirroring Carolyn's usual style: muted colors, long coats, work trousers. She's already half playing the part of an MI6 employee as she tells Carolyn she wants to take her up on her job offer. Of course, Villanelle can't help from adding her special flair, as if to almost literally be peacocking with the addition of the pink feathers. Carolyn, though, is not herself. Wearing a deep black dress, she seems to be in mourning from Mo Jafari's recent death. Indeed, when Villanelle appeals herself to Carolyn to work for MI6, Carolyn asks her, "Who killed Mo Jafari? Who killed my son?" When Villanelle can't answer, Carolyn goes for the jugular: "You were trained to do one thing and one thing only. If you can't do that, what use are you to me? To anyone?" Carolyn cordially wishes her luck in her next endeavors, but its clear Villanelle has been summarily rejected.
All Roads Lead Back to You
The next time we see Villanelle, it's in the lavish Rivoli Ballroom in London. Sitting alone at a table, she watches the paired dancers sullenly -- her pensive face at odds with the colorful, winding patterns on her Halpern suit. When Eve walks up to her, Villanelle brightens, but only somewhat. Eve stands in stark contrast to Villanelle, wearing all black from head to toe. She's come a long way from stylistically willing herself invisible at the beginning of Season 3, wearing a dingy white uniform by day and unwashed lounge clothes at night. By running to Villanelle's side now with a cutting black silhouette, it seems as if her embrace of the "dark side" is complete.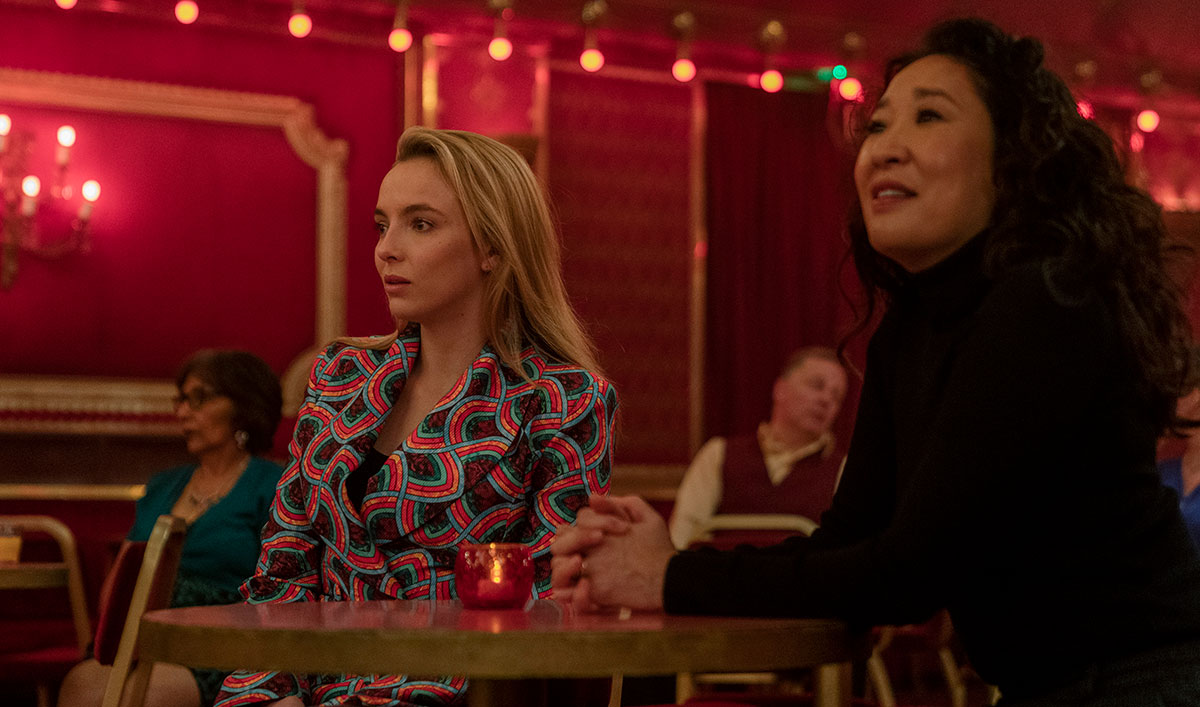 Of course, Villanelle's double-breasted patterned suit has enough color for both of them. Featuring twisting, multi-colored lines, it looks as if to be covered in serpentine pathways, like marking Villanelle's whole body with the winding roads she's taken throughout her life to get her to this moment, with Eve. She tells Villanelle that the same ballroom they're dancing in was the location of the first murder she committed for the Twelve. Now she's returned to the place where it all began, covered with the colorful tracks she's taken through the world in their name, ready to turn her back on it all.
Costume designer Sam Perry recalls dressing Jodie Comer for this scene: "Meeting up with Eve at the ballroom is a big deal for Villanelle. We could have gone for a big dress number here, but I think it's good to try and go in the opposite direction… I love the mad print of the suit and it is such a contrast to Eve's clothes when they are dancing."
Villanelle and Eve sway together on the dance floor and indulge in thinking about a future together. Villanelle's outlandishly "mad" print seems to highlight how crazy this idea is, but Eve certainly doesn't care anymore. Unfortunately, it doesn't last long. When Hélène's lackey, Rhian, crashes their date, Villanelle sends Eve away, handing her the ticket for Konstantin (Kim Bodnia)'s safety deposit box and calling it "Freedom."
Day and Night
While Villanelle is brutally dispatching Rhian, Eve is out collecting Konstantin's secret cache while trying to keep Konstantin himself from running off with it -- and from having a heart attack. But when Konstantin is called in by secret Twelve conspirator, Paul, Eve accompanies him to the MI6 head's home. There, the two are surprised to find Carolyn, who commands the room with a gun. To complete the party, Villanelle shows up after tracking Konstantin's phone.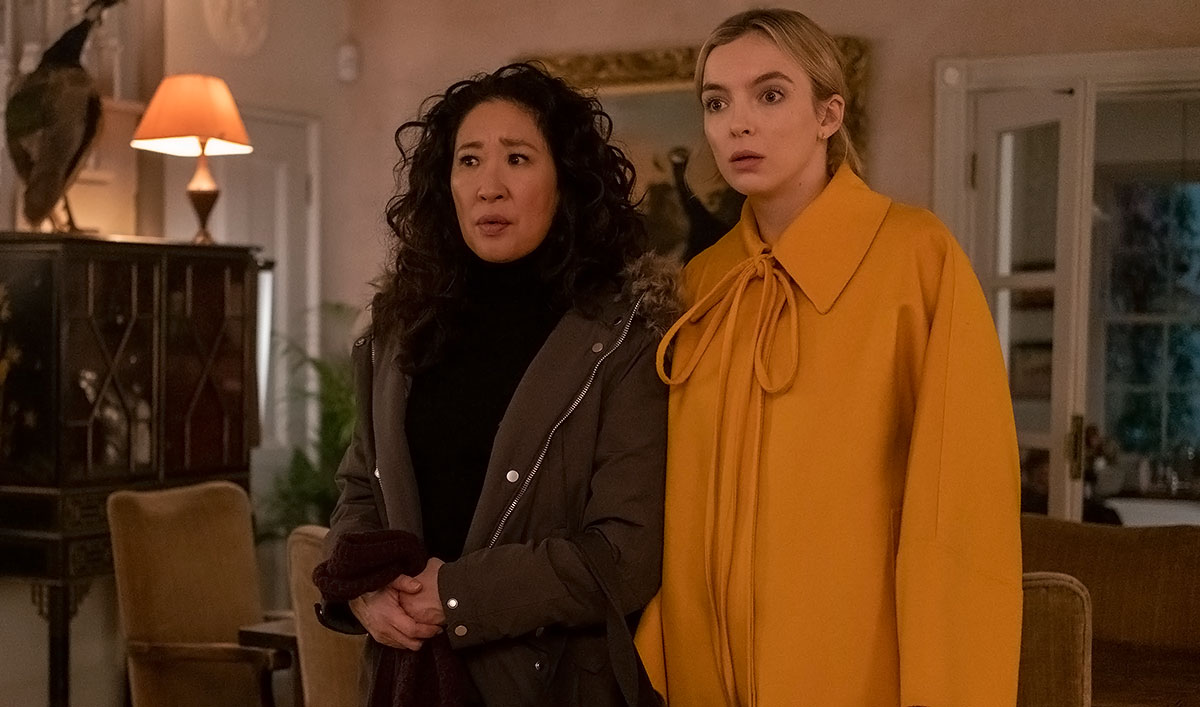 With Eve in all black and Villanelle in a bright yellow coat by Loewe, the unlikely pair look like representations of night and day. Forced to sit together on a small loveseat, they watch as Carolyn has come for blood as revenge for Kenny's death. But once Carolyn kills Paul, and lets Konstantin leave, Carolyn implies there can never truly be justice for Kenny. "What I've come to realize is that one cannot destroy the Twelve," Carolyn says. Villanelle agrees. "Maybe it's time you went cold turkey?" Carolyn tells Eve, nodding towards Villanelle. But Eve can't stomach the thought of turning her back on Villanelle, and she takes off into the night.
Villanelle chases Eve, who stops on a bridge to look out over the Thames. Eve reveals that she killed Dasha, and the two of them bond over their roles in her death. "Isn't that romantic?" Villanelle says dryly. Eve says they're the only people who would think that. "I used to be like them," Eve remarks as she looks on at the passerby along the bridge. "What? Badly dressed?" Villanelle says (someone has also observed Eve's style changes as she indulges in her darker nature).
In Eve's dark world, with Villanelle dressed in yellow sunshine, it's as if Villanelle has visibly become the light of Eve's life. "When I try to think of my future, I just see your face over and over again," Eve says. Shining like the bright beacon of an angler fish, will chasing after Villanelle deliver Eve directly into the underbelly of the Twelve?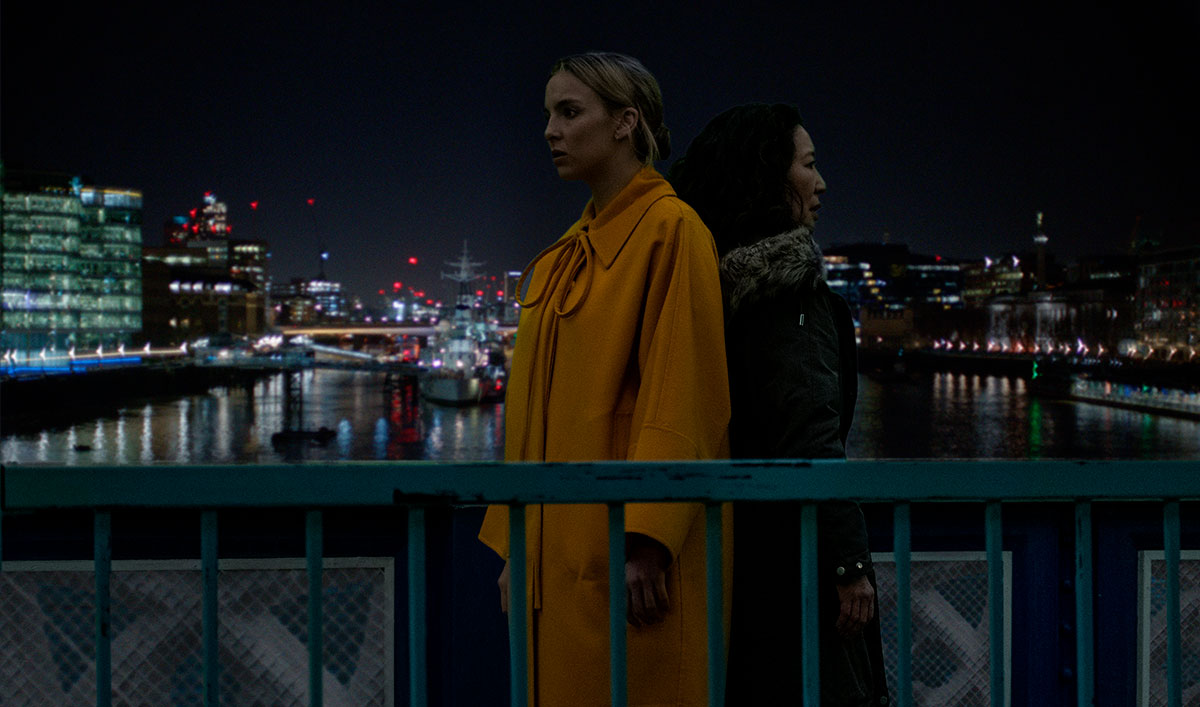 Eve knows being with Villanelle is dangerous. She begs Villanelle for help. Villanelle proposes that they stand back to back, walk in different directions, and never look back -- the night and day separate again. They walk across the bridge but stop at the edge. Eve can't escape Villanelle's gravity and turns back. Villanelle stops, turns around, and smiles. Where will they go from here?
Click here to watch the Season 3 Finale of Killing Eve on amc.com, or stream it on the AMC apps for mobile and devices. Check out the on-air schedule here for more encore viewings of Killing Eve on AMC.
For more behind-the-scenes info about Killing Eve Season 3, read a Q&A with director Damon Thomas. The three-time finale director gives AMC.com exclusive behind-the-scenes access to some of the series' biggest action sequences, discusses his inspiration (including a scene from The Shining) when shooting the moody end to Season 3, and reveals his guiding principles in keeping the show's addictive blend of comedy and violence intact.
For more insider perspectives on Season 3, check out our cast and crew interviews with costume designer Sam Perry, Fiona Shaw (Carolyn), Raj Bajaj (Mo Jafari), Owen McDonnell (Niko Polastri), Dame Harriet Walter (Dasha), Gemma Whelan (Geraldine), and Sean Delaney (Kenny Stowtown).
For the latest news, sneak peeks, videos exclusives and more from Killing Eve, sign up for the Killing Eve Insiders Club.