11 Moments When Niko Was "So Over It" on Killing Eve
School teacher Niko Polastri (Owen McDonnell) has been through a lot over two and a half seasons of Killing Eve. As evidenced by his return to his motherland of Poland in Season 3, Episode 4, "Still Got It," he seems to have finally realized that most of his tough times are a direct result of his marriage to unofficial MI6 agent Eve (Sandra Oh) and her ongoing cat-and-mouse game with Villanelle (Jodie Comer). But even when he tries to get away from Eve, unfortunately, the dark cloud of her obsessions seems plenty capable of crossing borders.
While Niko's fate remains up in the air, we decided to retrace the path that got him here. Here are 11 times when Niko, despite trying his best to be supportive, was just so over it.
1. When Niko unknowingly gets involved with a murder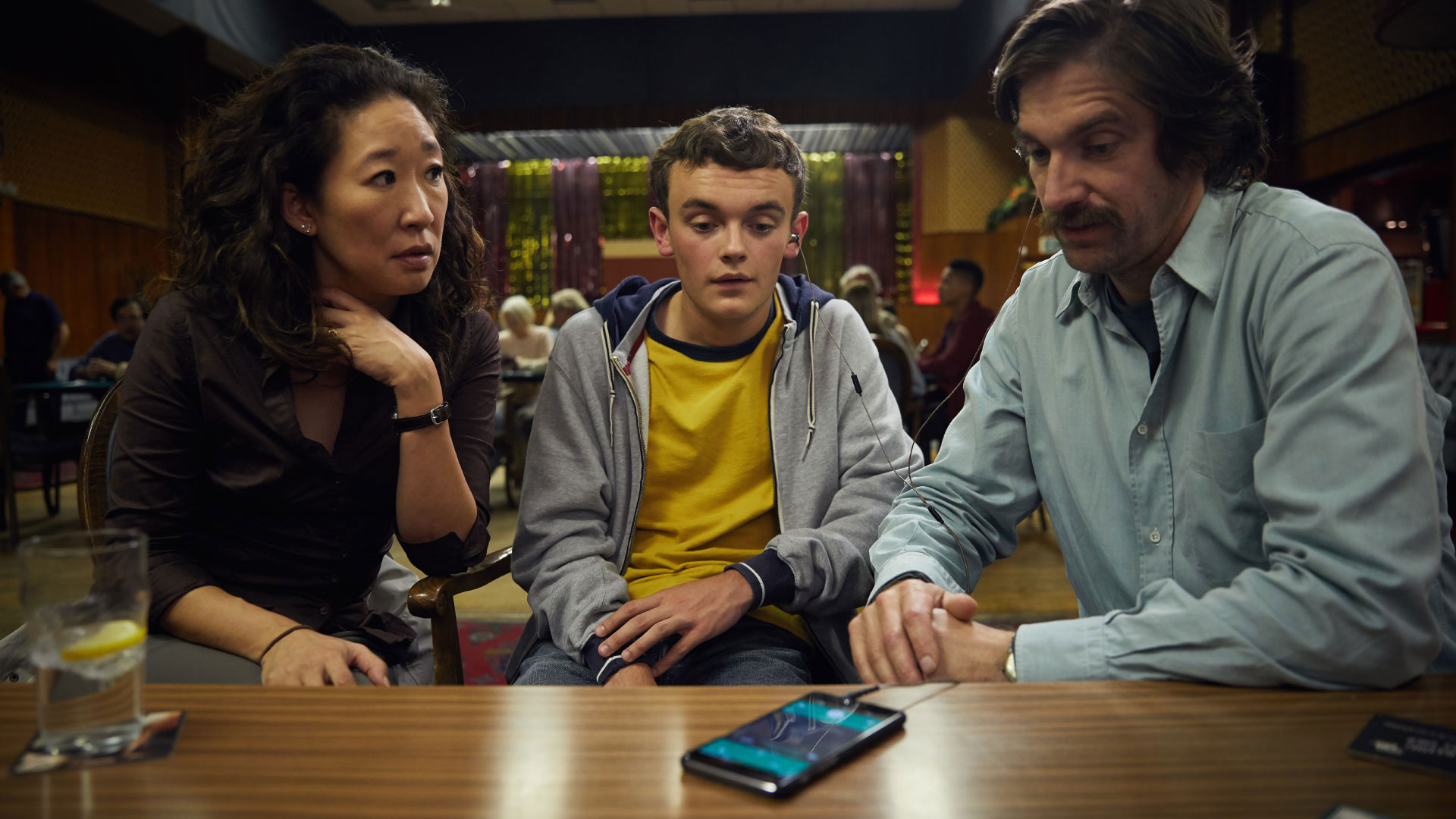 Early on in Season 1, Villanelle strikes and leaves behind a witness. Eve is asked to go to the hospital to keep an eye on her, but she goes one step further. With Niko speaking fluent Polish, she asks him and his teenage friend Dom from bridge club to translate the ramblings of this rattled woman, which Eve has recorded. Since Dom is a young'n, he almost immediately picks up on the woman's lingo.
The woman is talking about the killer, describing the murderer as "flat-chested," meaning... MI6 is looking for a woman. While Niko went along with it, looking back, this was probably the first time he was involved in something he shouldn't have been. It also nearly got Dom killed!
2. When Niko patiently listens to Eve describe how she would kill him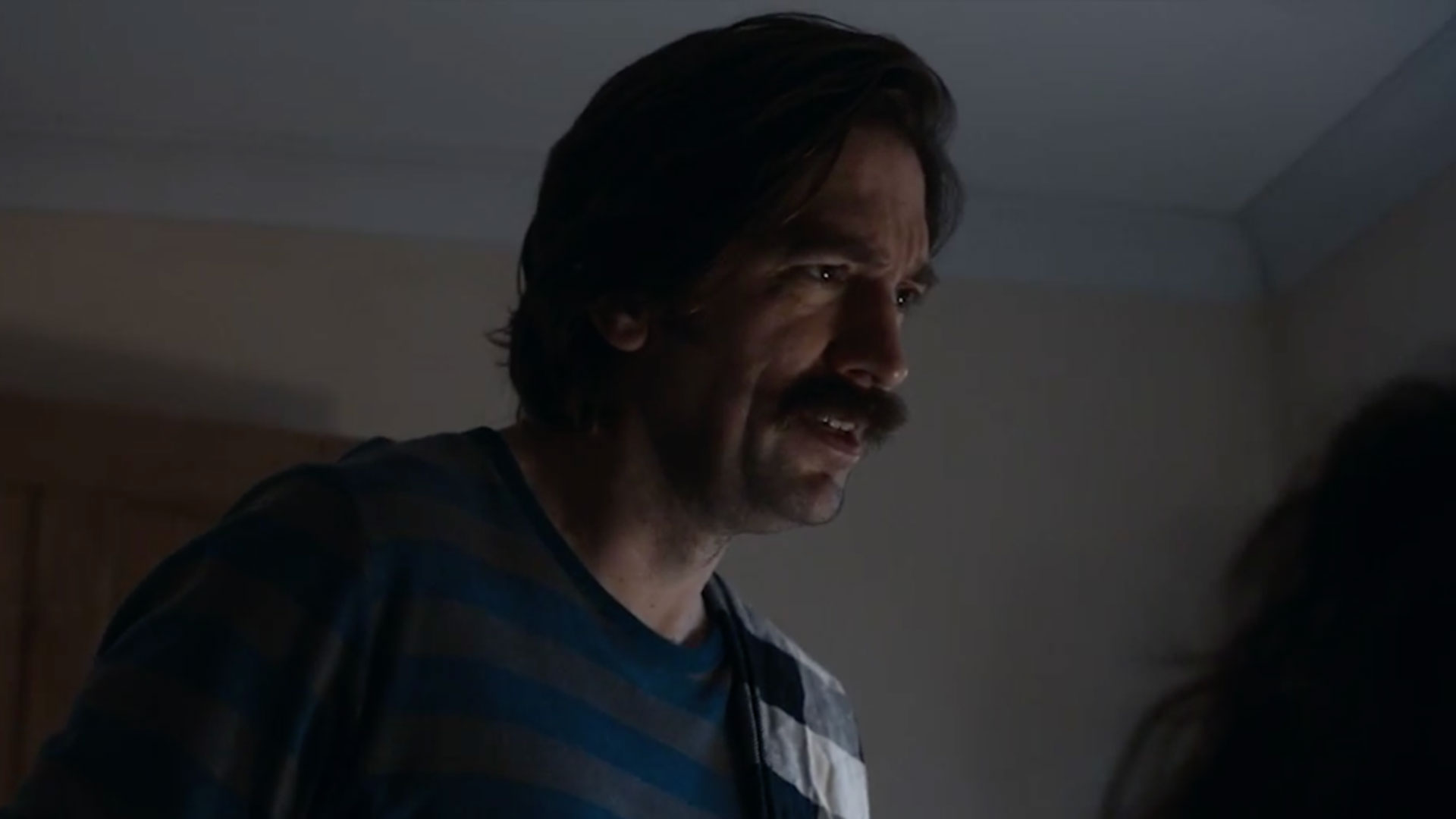 Niko is the best husband ever. He's making Eve dinner, while she obsesses over the murderess she's looking for. When he tries to coerce Eve to come to the dinner table, she instead asks him, "How would you kill me, if you could?" He can't really think of anything, ending on, "I don't know. Flatter you to death." Eve, however, has a very elaborate answer. "I'd paralyze you with saxitoxin and suffocate you in your sleep. Chop you into the smallest bits I could manage. Boil you down, put you in a blender. And then take you to work in a flask and flush you down a restaurant toilet."
Needless to say, he's gobsmacked but not speechless, replying, "You've already thought about that." He plays it off as being sexy, but we don't think he's really into this vibe at all.
3. When Niko agrees to sex and Eve interrupts to talk... about work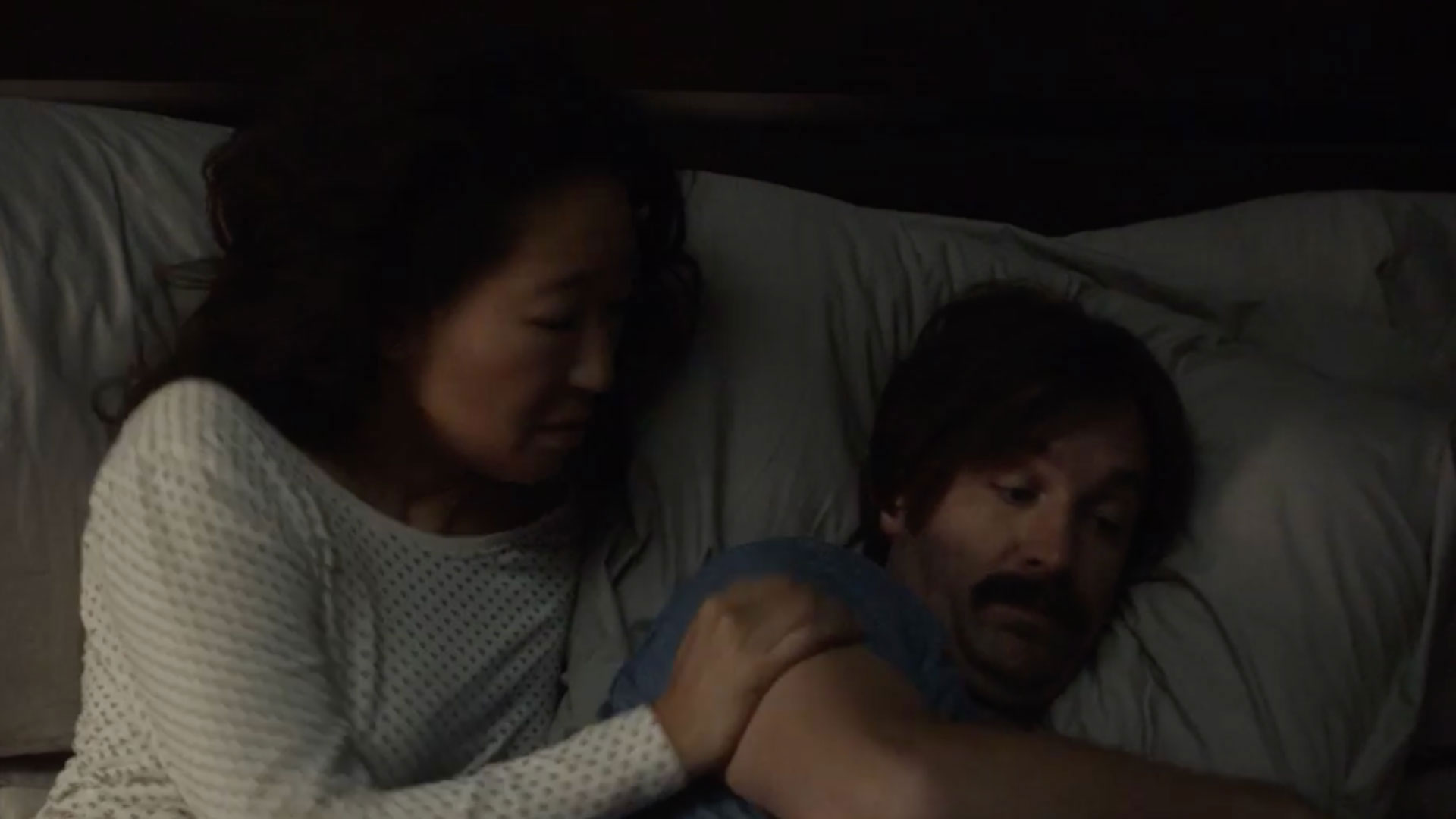 Niko and Eve lay down to go to bed. They turn the lights off, and each goes to their respective side of the bed. Eve changes her mind and says to him, "Do you want to have sex?" He's up for it. She starts smooching him, but then stops, saying, "You know, someone is lying about the CCTV." They stop the love-making to chat about her theories. She eventually goes back to what they started, saying, "Sorry! Sex." But at that point, Niko is pretty knackered and declines the offer.
4. When Niko walks in on Eve and Villanelle having an intimate dinner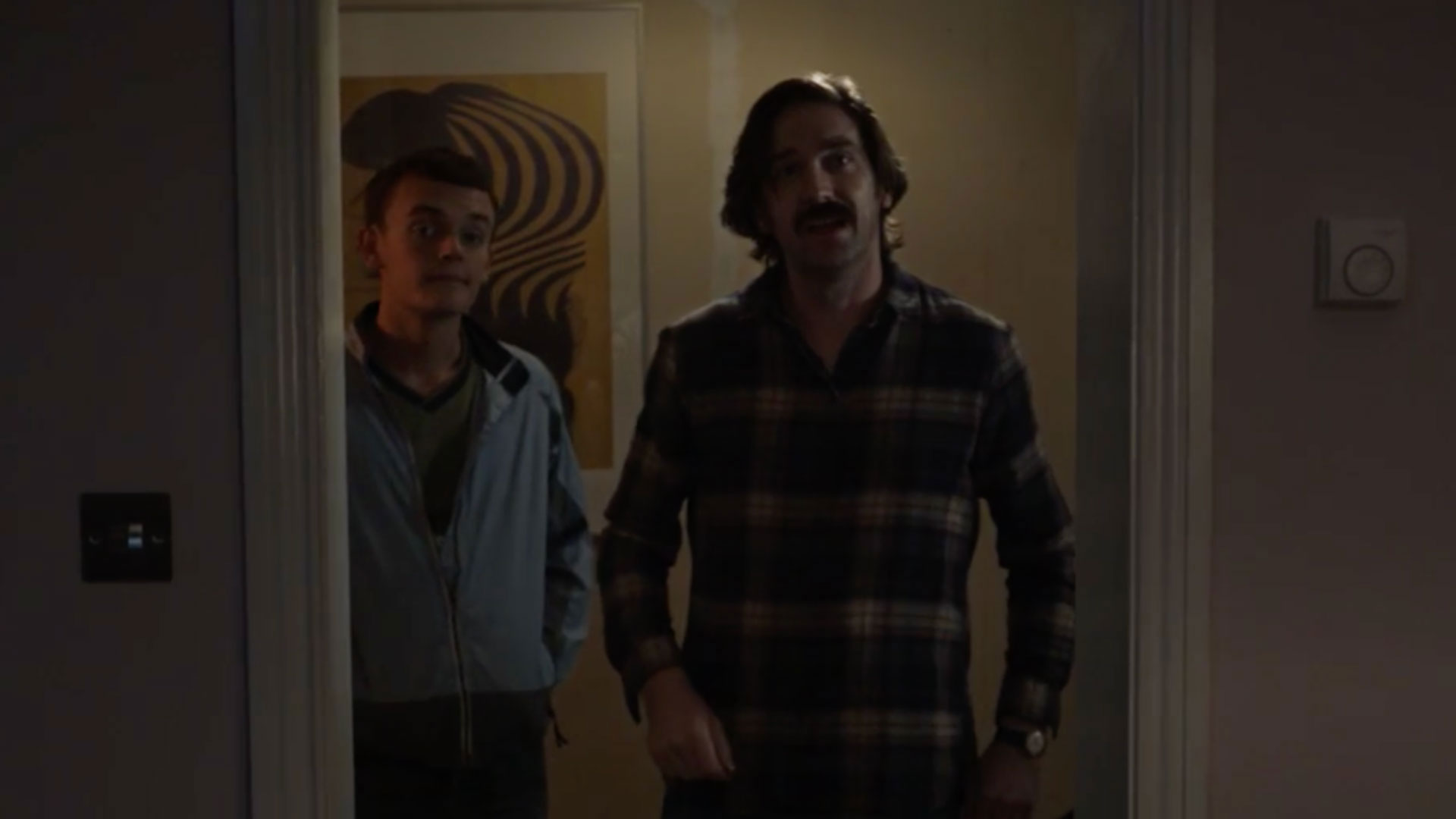 Niko comes home one night, with Dom in tow, to find that Eve has a new friend over. That friend? Oh, it's Villanelle on her way out. Villanelle puts on a posh English accent and yells back to her unsuspecting hostess, "Thanks, Eve. That was dee-lic-ous!!" When Niko makes his way to the kitchen, he finds Eve soaking wet, practically hyperventilating. She tries to put on a happy face, but her fear is impossible to hide.
This time, Niko is speechless. He looks at Dom with questions written all over his face. He just stands, mouth agape, looking back at Eve, dumbstruck at what his wife is turning into -- someone who hosts a psychopath at their dinner table for shepherd's pie.
5. When Niko fights for his wife's attention... and loses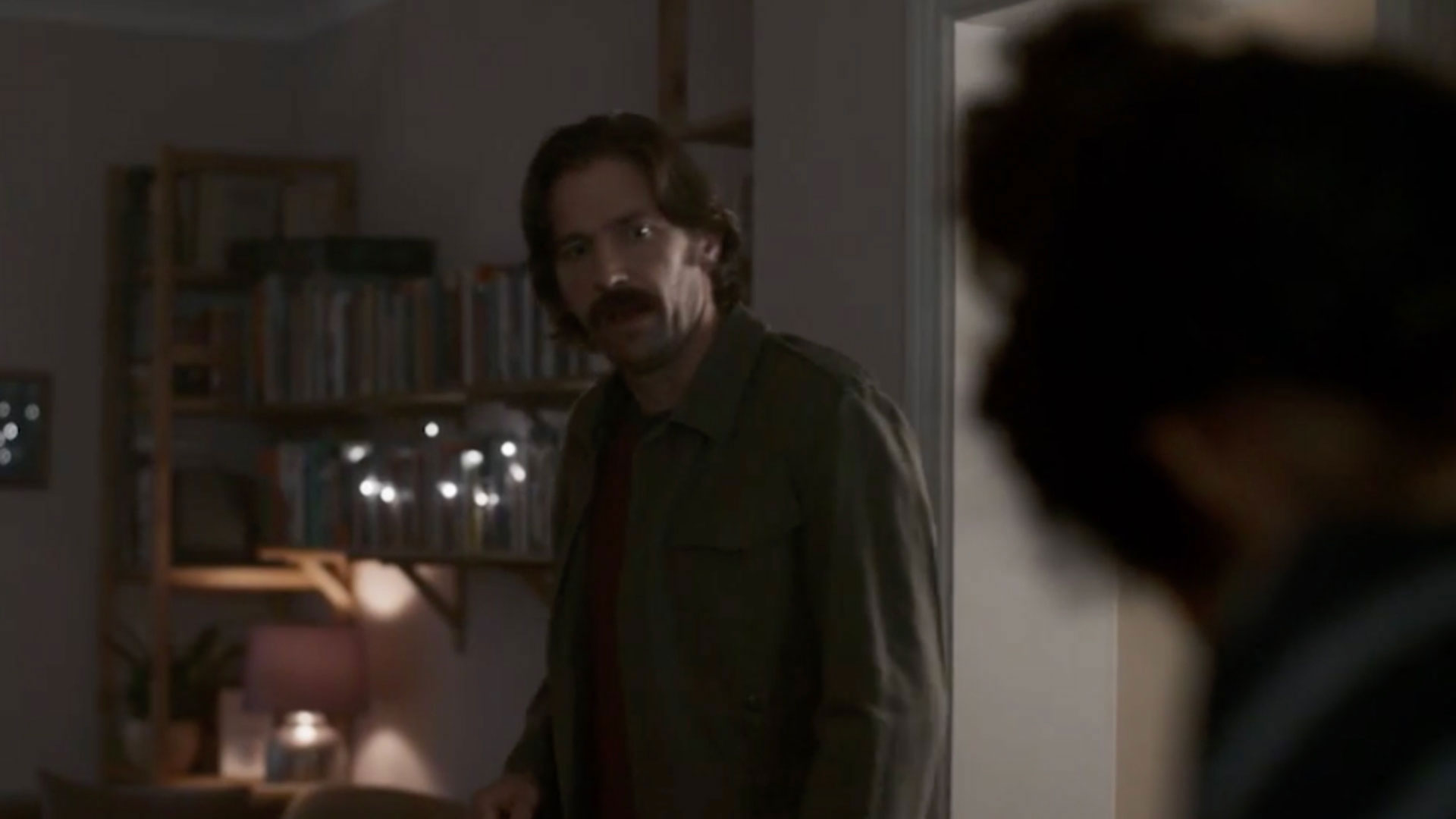 In Season 2, Eve is back from Paris. Niko finds her cooking up a storm in the kitchen. He asks about her "work trip" and she speedily replies, "Fine. Fine. It's boring." Stabbing Villanelle in the gut and leaving her to die isn't all that boring. But, clearly, she doesn't want to talk about it. Niko shuts off the music and demands some sort of explanation, saying to Eve, "Can we talk about what happened? When you pissed off."
Eve apologizes for being a jerk, announces that she's been fired and that they can go back to being normal. Niko calls her out, saying, "You certainly seem completely normal." Sarcasm: the truest sign that Niko is SO over it.
6. When Niko is accused of being inappropriate at school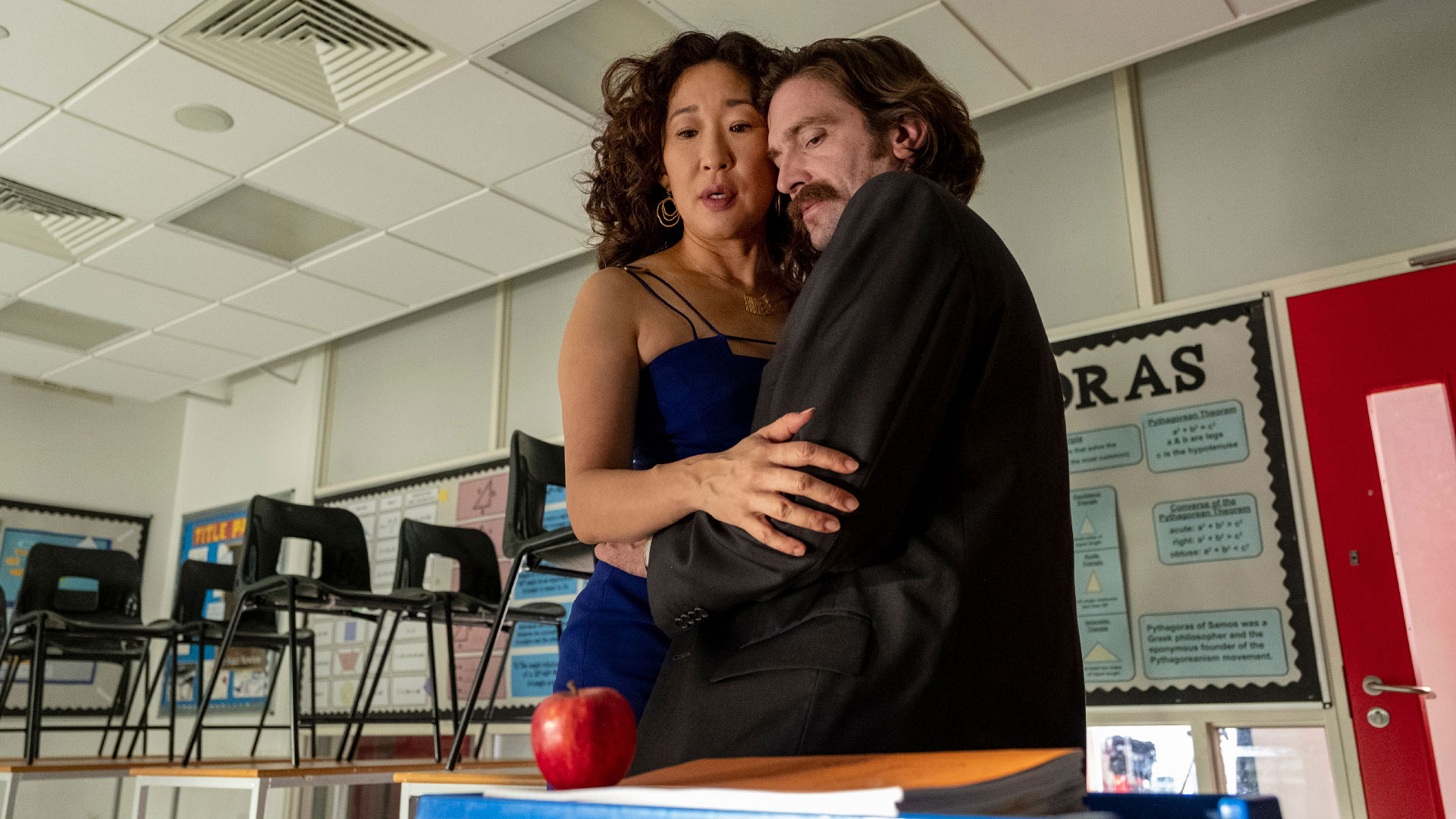 Eve turns up at a school event to support Niko and she finds out someone has been calling the school, making anonymous reports against Niko. His teacher friend Gemma (Emma Pierson) says to Eve, "No one believes these stupid complaints." The main problem is, Eve had no idea. Niko decided not to confide in his wife, because her mind is clearly elsewhere. He's not all that worried, because he has a clear conscience. Even so, when an accusation involves minors, it can get very messy.
What's even messier is this teacher friend of his, who is clearly sweet on him. She praises him to Eve as if she doesn't know her own husband. There is a shift happening, even if Niko doesn't realize it. He's replacing his wife with another woman.
7. When Niko is approached by Villanelle on a school field trip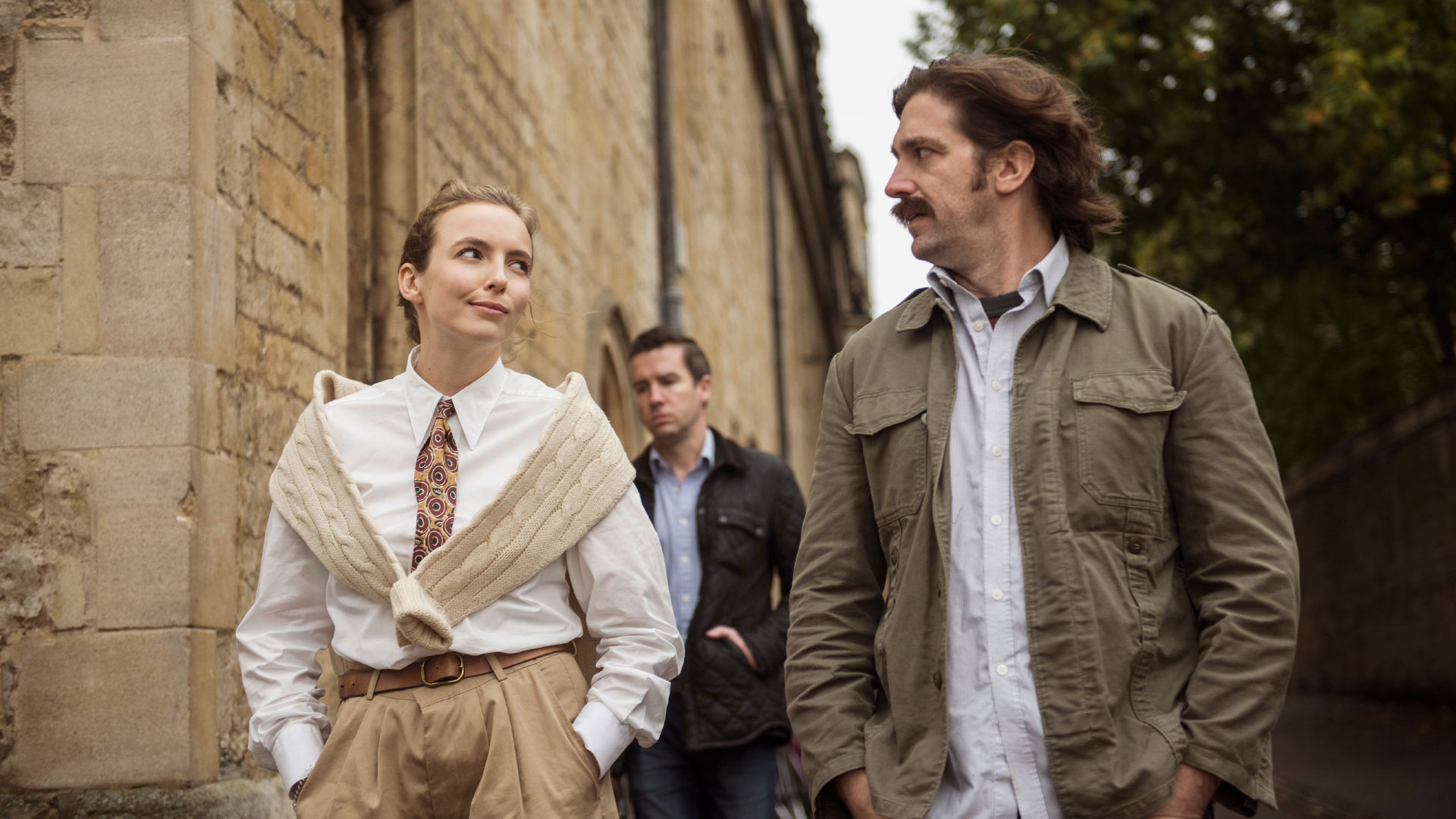 Niko takes a class to Oxford as part of a spelling bee. A woman comes up to him, dressed in khakis and a crisp white shirt, with a sweater over her shoulders. It's Villanelle, playing the studious role. She slyly says to him out of the corner of her mouth, not even making eye contact, "I'm sorry for making the complaints." Niko didn't even realize someone was standing next to him, and it turns out it's his wife's new gal pal. When he does realize it, his face drops. Villanelle goads him, saying, "I was just trying to get Eve's attention, but she does not care about your life. At all." And it works.
He walks away from the kids and when at a safe distance, he takes her by the collar, pushes her up against the wall. She's still baiting him, saying, "I didn't know you had it in you. Good for you." He could've ended it right there by just strangling the life out of her, but, he lets her go. Niko is one of the few people who got that close to Villanelle and survived.
8. When Niko is caught in the middle of Eve and his new love interest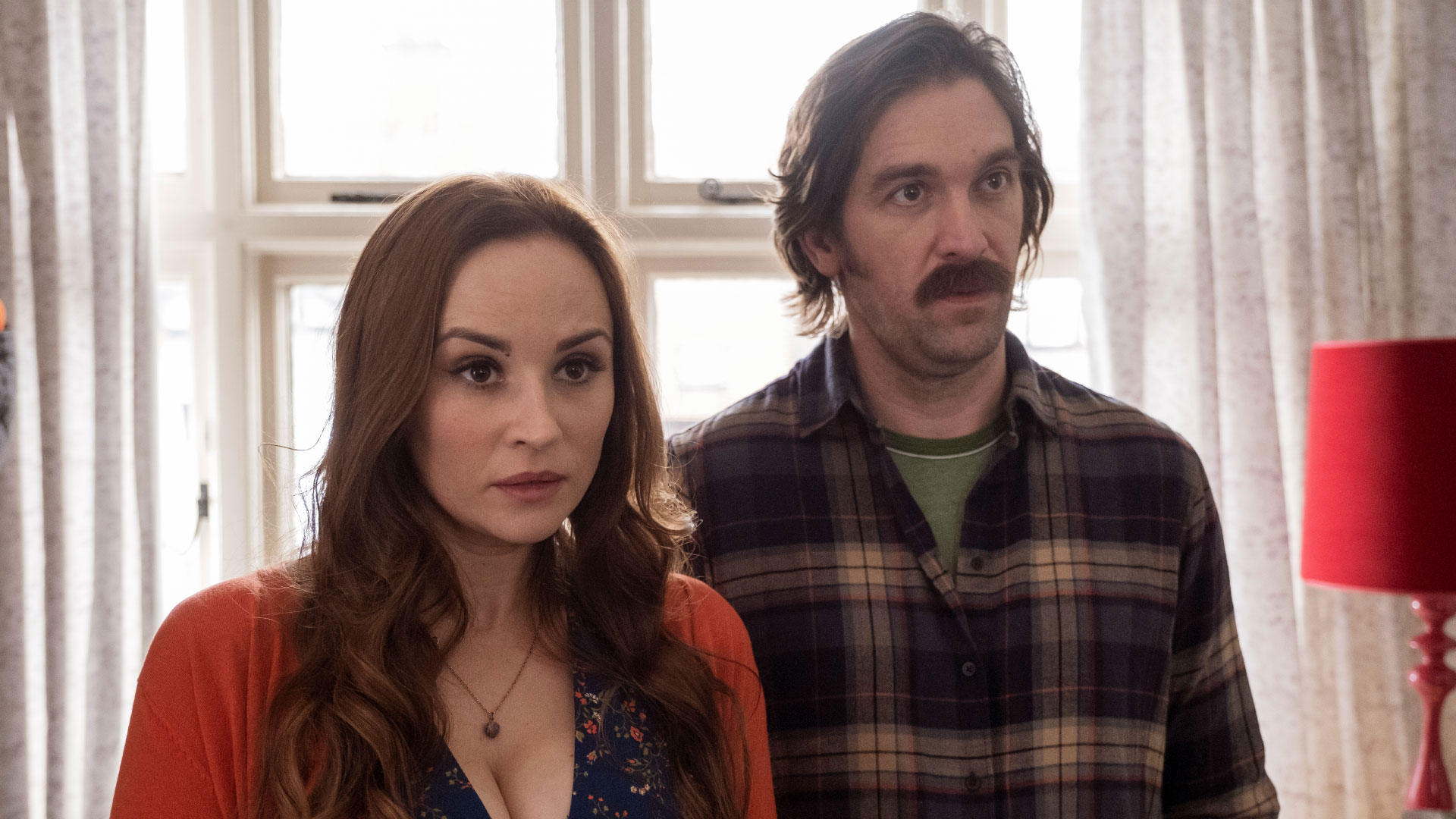 Niko decides to move out and goes to stay with Jemma, his friend from work, who surely is loving his arrival. But Eve is not having it and makes a visit. Niko stands by the fact that they're "just friends," and while we believe there's no sex going on yet, Gemma definitely has an agenda. She's pretending to be Niko's friend, to gain his trust and draw him out of the "friend zone." Niko doesn't see it. When Eve shows up to her house to confront them, it completely backfires.
Niko is infuriated with Eve. She comes across as the bad guy, even if she's fighting for her marriage. Maybe he does know what Gemma is up to, and he just needs a little kindness because he's not getting it at home. He sends Eve away without any hope of getting back together. Eve pats him on the shoulder, saying, "You'll be happy here." He takes one last shot at her: "I dread to think where you'll be happy, Eve."
9. When Niko is cornered by Villanelle 
Niko and Gemma move some of his things into a storage unit. He says to her, "You really don't have to help, Gemma." She likes helping him, and suggestively says, "I can always do some more." Villanelle turns up, right as she says this, responding in her valley girl-like speak, "Yuck. Get. A. Room." Villanelle let Niko go in Oxford, but Gemma does not get off so easy. Villanelle gives the two of them a chance, sitting them down for a little chat. She asks Niko if he loves Gemma, with his answer being, "No." She asks about Eve. "Yes," he says. Oh, Niko, you should've lied. Villanelle smirks to herself, saying, "So close. I was so close to letting the both of you go. You should've chosen Gemma."
She can't kill Niko, because Eve will never forgive her if she does. So that leaves Gemma. We don't actually see it, but we find out later that Gemma is killed by asphyxiation with a plastic bag placed over her head. It seems Villanelle knocked Niko out and he missed the struggle. He didn't have to actually watch the murder take place, but waking up to a dead body is alarming enough.
10. When Niko relocates to a mental institute
So alarming, in fact, that in Season 3, he's moved into a mental institute. Eve makes an unsolicited visit, but he's just so not interested. She gives him a little pep talk, saying, "We are going to get through this. You have to know this. It's one day at a time. And you're getting better with every day." Oh, Eve, there is no "we" anymore. She's the one who caused all of this, so probably not the best person to be doling out advice. He says to her, "This is not something you can fix, Eve. Her parents think she killed herself, do you know that?"
Eve doesn't look all that fazed. Niko goes on, summing up his feelings: "Our entire relationship has had you at the center of it." She interrupts him, saying, "I never wanted that." He finally stands up for himself, saying, "Well, you didn't do much to change that, did you?" He is resigned. It's over.
11. When Niko ghosts Eve, but she is super persistent 
Niko ends his speech, saying, "I think we can both admit, I deserve more. And more than you." Ouch! He checks himself out of the mental institute and makes another move. She only learns he's gone when she goes to visit him again. And he did not leave a forwarding address. As viewers, we know he's in Poland, and he appears to be content. He's living a simpler life. Even if he's not really happy, he at least has the energy now to fake it. Eve keeps texting him, but he doesn't respond.
She gets the hint, but she ignores it, practically begging to hear back from him. When she finally gets a response, she stops what she's doing, drops everything and makes her way to Poland. Hasn't she learned yet? Where she goes, trouble follows. Once again, she is putting herself first and putting Niko in danger. Oh, Niko. We hope he can bounce back from all of this.
Do you find yourself cheering for Niko? 
Click here to watch the latest episodes of Killing Eve on amc.com and the AMC app for mobile and devices. Check out the on-air schedule here for more encore viewings and upcoming episodes of Killing Eve on AMC.
Read a Q&A with Owen McDonnell, who plays Niko Polastri, here. The actor chats with amc.com about Niko's journey this season, his fractured relationship with Eve, and his thoughts about that scene in Episode 4. Take a look at more Q&As with cast and creators such as Gemma Whelan, Dame Harriet Walter, Sean Delaney, Suzanne Heathcote and more here.
Get a behind the scenes look at Season 3 with the latest "Closer Look" video, this time Konstantin's world with the cast and creators. Featuring interviews with Kim Bodnia, Jodie Comer, Fiona Shaw and more, plus the creative team who bring the series to life, fans of the series can get an insider's look at how Konstantin's journey this season has come together. Watch a sneak peek of Sunday's all-new episode here.
Killing Eve airs Sundays at 9/8c on AMC and BBC America. For the latest news, sneak peeks, videos exclusives and more from Killing Eve, sign up for the Killing Eve Insiders Club.