Dressing Killing Eve: A Q&A With Costume Designer Sam Perry
When asked how she brings the costumes of the BBC American/AMC drama Killing Eve to life, costume designer Sam Perry says, "Coffee is important." In this Q&A, the creative mind behind Killing Eve's iconic looks talks about her process of creating the outfits for Season 3, breaks down a day-in-the-life of a costume designer, and more.
Q: What is your process like for dressing characters in a scene? Where do you begin?
A: When dressing the characters for a scene the most important thing to consider is the script and where the story is going. Of course, ideas start to jump into your mind as you are reading, but there always needs to be a reason for the costume choice.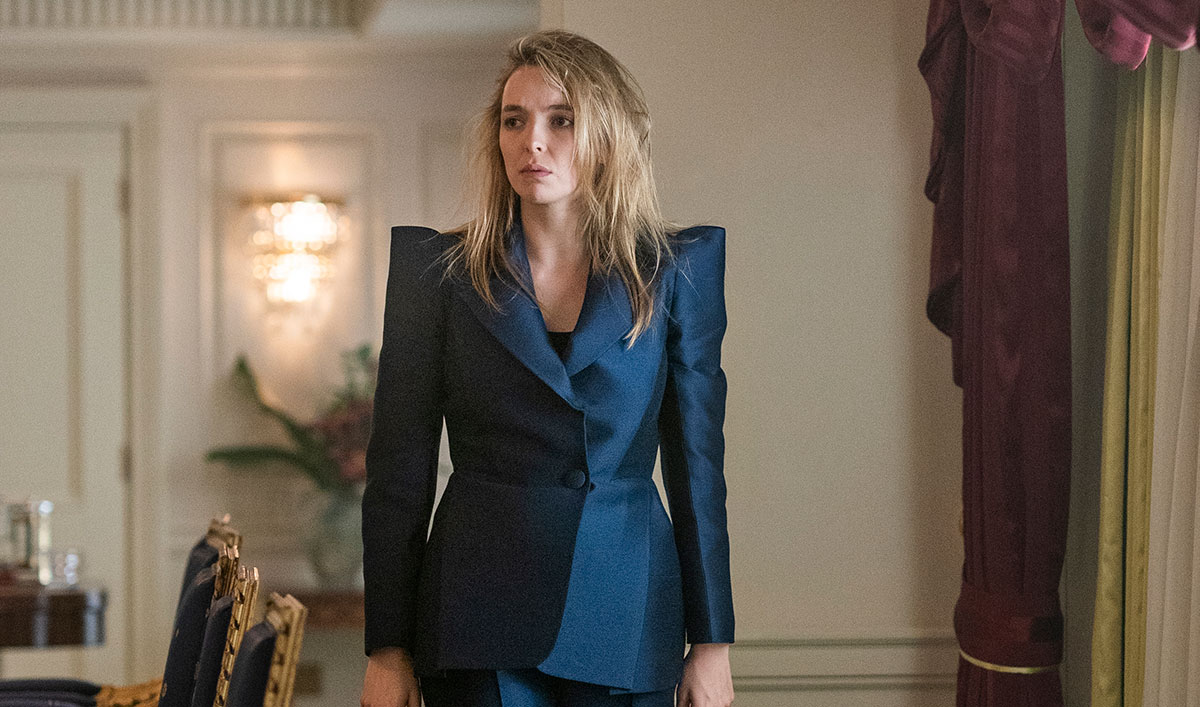 Collaboration is really important. We talk through all the costume choices with the directors and producers. I work closely with Juliette Tomes, the hair and makeup designer, to make sure the costume and hair and makeup work together for a complete look. The "clowns" look [in Episode 2] was an example of when working closely together is important, Juliette's wig and makeup were key to the entire look working and really complimented the style and colors of the costume.
I also enjoy talking through looks with Laurence Dorman, the show's production designer. He will show me pictures of the locations and this really helps me plot the costumes and make sure that the colours and styles that I pick work with the overall picture that he is trying to create. The wonderful flat which was found for Villanelle (Jodie Comer) influenced the retro-looking costumes that I used for the scenes shot there.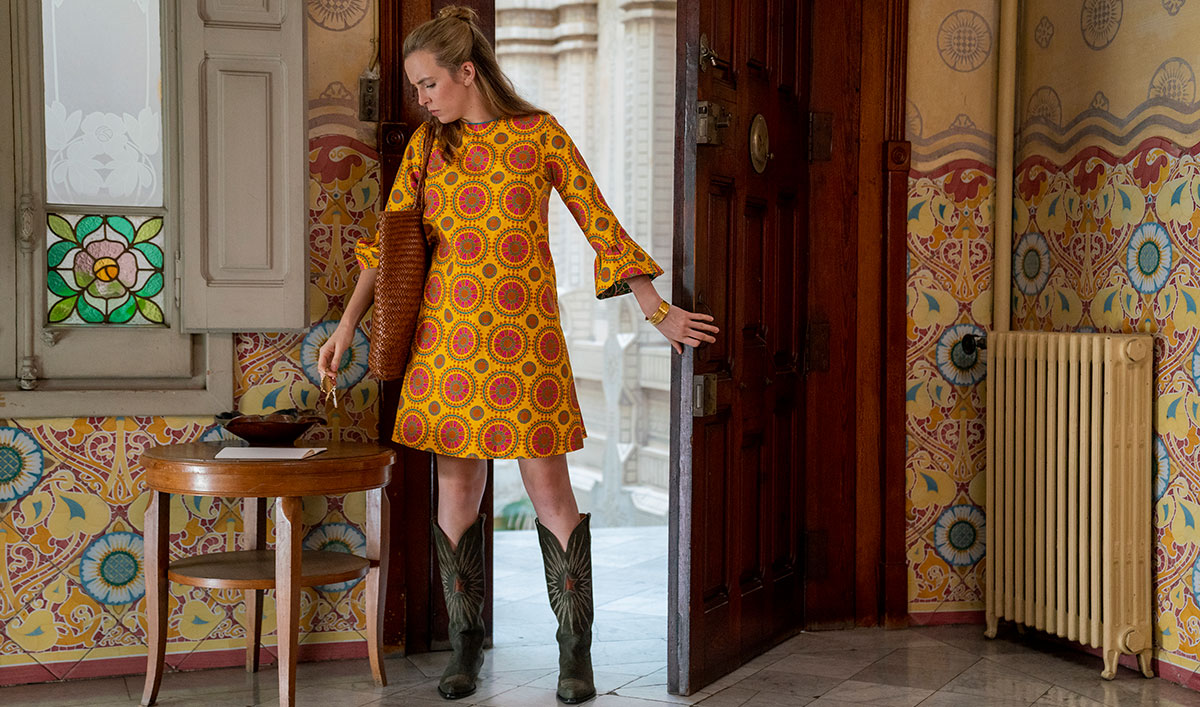 Q: When you read a scene, do you already know the look you want to achieve?
A:  I try not to have any set ideas on the look of the costumes until I have digested the script. Obviously, garments I have seen on my travels jump to mind, but usually, I will get an idea and then have to go out and search for it.  
Q: Can you speak to the color palettes of characters this season? Does each characters' palette represent something for you?
A: Carolyn (Fiona Shaw) works really well in earthy tones. I bought a lot of soft grays and camel jumpers for her grieving outfits and moved into darker rust and olive green tones later on in the [season]. Eve's costumes shouldn't be too exciting. They are practical but not too considered by her. There is quite a bit of oatmeal, khaki and sludgy blues -- nothing that would shout out at you. It's fun when you find a really sad looking blouse for Eve (Sandra Oh) in a charity shop or market store that you know will work. Hélène (Camille Cottin) is another character that has the income to wear expensive clothes and a fashion sense. I was interested in her style being a little bit intimidating to Villanelle, she needed to look chic and effortless but also in charge. Hélène is more graphic and monochrome than Villanelle, the main 'uniform' she wears is cream and black but she has accents of colour with her Hermes silk scarves or red suede shoes.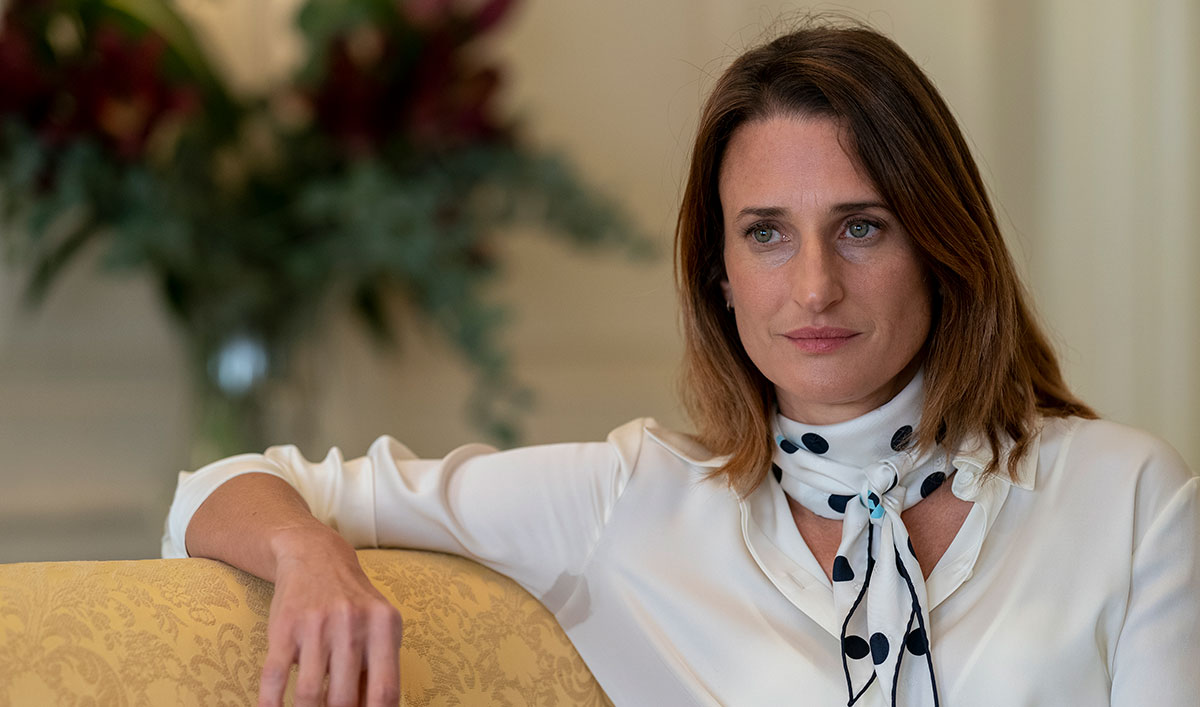 Q: It also seems this season there's a lot of vintage styles and references, especially in Villanelle's wardrobe. Why the eye for dynamic throwback fashion, and what does it say, for you, about her character? 
A: I love hunting around in vintage shops and thought it would be good for Villanelle to have some outfits that she had picked up in a little vintage shop on her travels. The vintage striped dress Villanelle wears with Dasha (Dame Harriet Walter) in Barcelona was very affordable and I loved the fact that it was one of a kind. The whole [season] is centered around Villanelle's past and family so a vintage approach to her costumes to me felt like the natural way to start the design process. Dasha was so much fun to design. Her tracksuits were a mixture of early 90's style with a nod to Russia and her past as a celebrated gymnast. Harriet wore the tracksuits and other costumes so well, I was worried she would look too cool -- she even made a visor look good!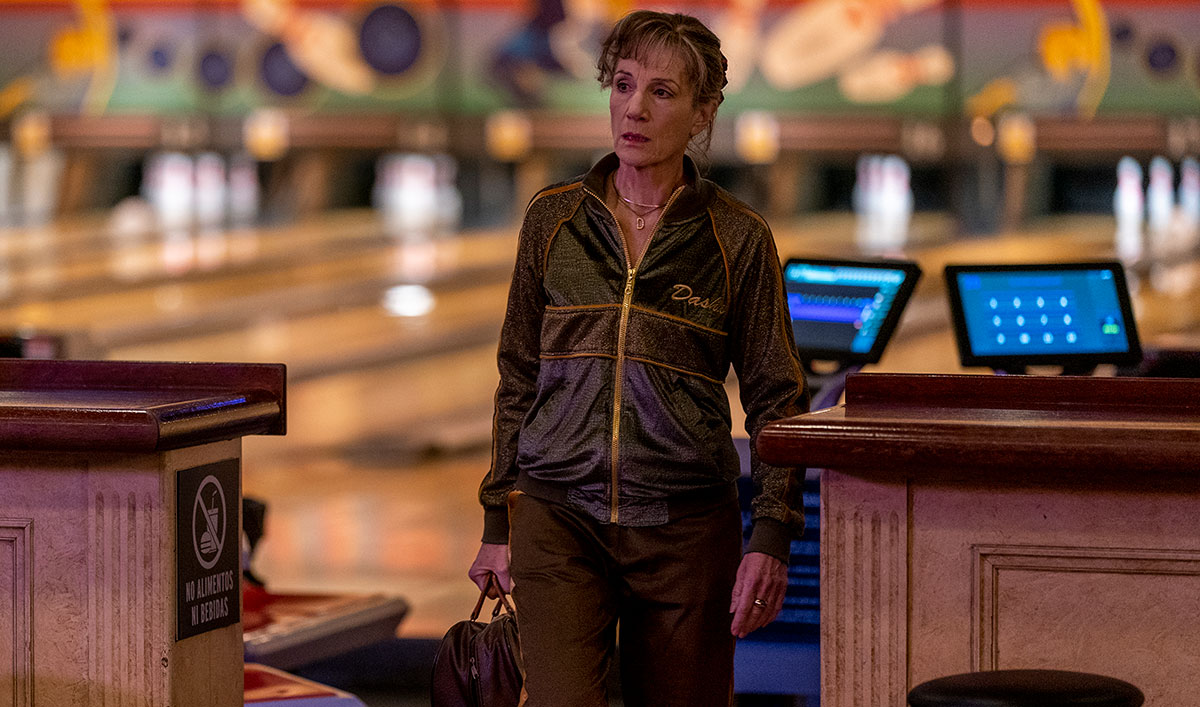 Q: What does a typical day-in-the-life look like for you? How much of your day is spent in the office versus out in the world looking for key pieces?
A: A typical filming in costumes starts when we arrive at the costume truck, usually around 6:30 AM. Coffee is very important. The start of the day is busy, as costumes are set out for our actors in their trucks for the first scene of the day. If there is a new costume being established on a character, I am hovering around to make sure there are no last-minute alterations or changes. Liv and Cristina, our brilliant standby's, look after the actors on set - so once filming for the day has started I will have a catch up with Katie, my supervisor, to make sure we have everything we need for the rest of the day and look at scenes coming up later in the week that we might still need to work on. I normally leave the truck early afternoon to prep and shop for costumes coming up later on in the week. I often have a costume fitting with new characters later on in the day, either back at set or in the costume office. A lot of leg work goes into visiting all the shops to actually see what is out there, internet shopping is a great asset and makes the job easier, but it isn't a substitute for actually going to the shops and going through the rails for inspiration.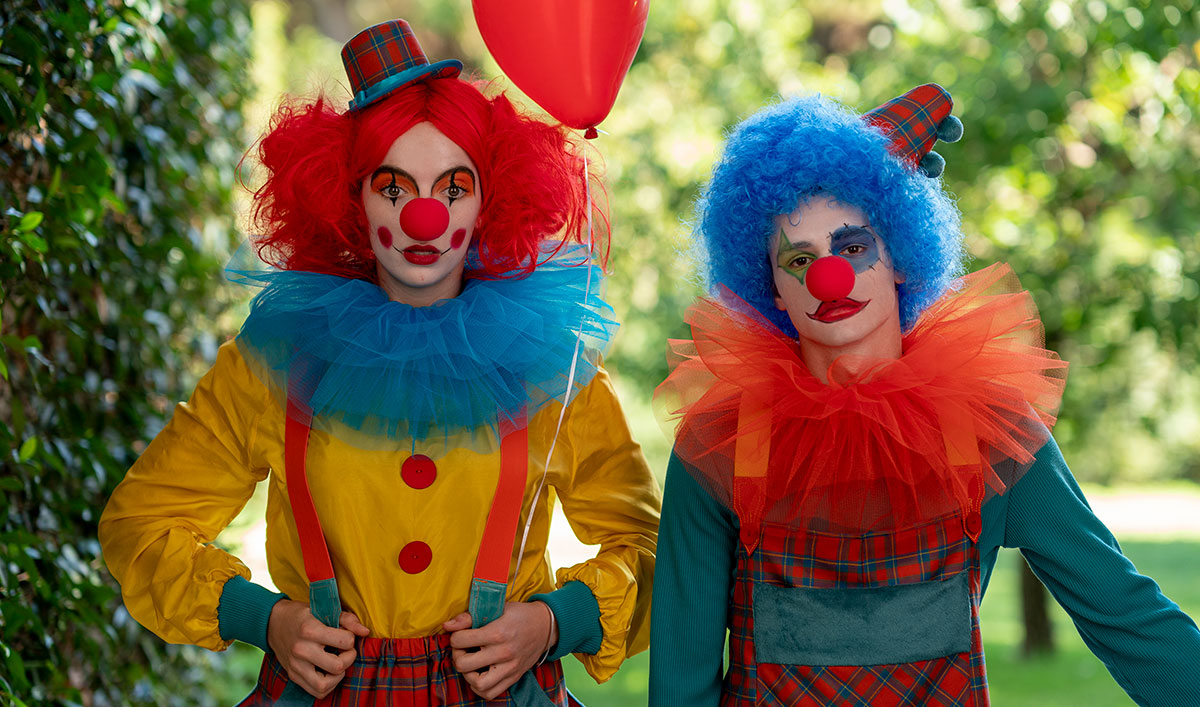 Q: Is there one costume or look that you've been particularly proud of, or that stands out for you?
A: The most exciting costumes for me to get designed were the clown costumes for Villanelle and Felix. My wonderful costume maker, Ann, is just brilliant to work with and managed to get the fashion edge to the cut of the trouser pockets and the bellowing of the sleeves on Villanelle's silk shirt. The end costume looks just like the initial sketches that I did.
Q: How much of the clothing we see on camera is bought in a store versus crafted on the set?
A: Most of the costumes worn on Villanelle in the show are bought from boutique stores and vintage shops. For other characters, like Eve, we go to the high street, charity shops, and markets. A lot of time went into searching for simple items, like Eve's character bag -- the one we all loved in the end came from Shepherd's Bush Market. Costumes do get designed and made especially for the show. The 1970s sport kits for Episode 1 were based on the materials and cuts of the time. We found some horrid beige leopard toweling fabric which we used on one of our favorite track suits. All of Dasha's tracksuits and her suit for the wedding were made from scratch and a lot had duplicates.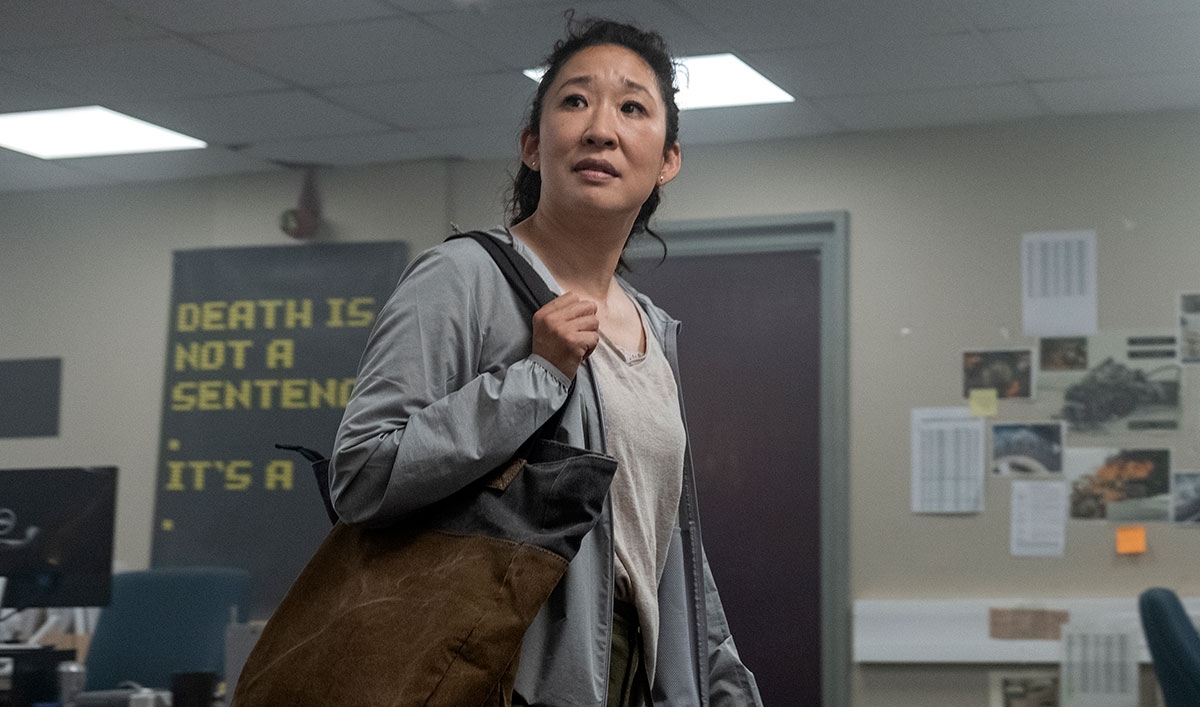 Q: How much specific detailing goes into altering certain pieces?
A: We don't expect everything to fit perfectly straight from a store. We often have a couple of fittings for an outfit and then get alterations done until we are happy. For Eve, we also want everything to look lived in so all her clothes go through the wash a few times and left to dry naturally. A lot of work goes into getting the clothes believably crumpled.
Click here to watch the latest episodes of Killing Eve on amc.com and the AMC app for mobile and devices. Check out the on-air schedule here for more encore viewings and upcoming episodes of Killing Eve on AMC.
Read a Q&A with Owen McDonnell, who plays Niko Polastri, here. The actor chats with amc.com about Niko's journey this season, his fractured relationship with Eve, and his thoughts about that scene in Episode 4. Take a look at more Q&As with cast and creators such as Gemma Whelan, Dame Harriet Walter, Sean Delaney, Suzanne Heathcote and more here.
Get a behind the scenes look at Villanelle's family home. Featuring interviews with Jodie Comer, lead writer Suzanne Heathcote, production designer Laurence Dorman, and more, discover how the creative team rebuilt a rural house in Romania for the set, how the claustrophobic experience of filming in the small house for a week affected the actors' performances, and more. Plus, why is Bor'ka obsessed with Elton John? Get a closer look at the latest episode, and then watch a sneak peek of Sunday's all-new episode here.
Killing Eve airs Sundays at 9/8c on AMC and BBC America. For the latest news, sneak peeks, videos exclusives and more from Killing Eve, sign up for the Killing Eve Insiders Club.