(SPOILERS) Killing Eve Q&A -- Sally Woodward Gentle (Executive Producer)
Executive Producer Sally Woodward Gentle has been described as "a rabble-rouser surrounded by renegades" (Deadline) as she helms subversive British hits like Killing Eve. Here, she chats with AMC.com about the latest season of Killing Eve: from filming all over Europe, to Carolyn's emotional journey this season, to where she thinks Eve and Villanelle can move forward in Season 4. Read on for more:
Q: When you're looking for new projects, do you and your team have a checklist of what you keep in mind for your brand of storytelling? Or do you operate more on a gut reaction to the pitches that you hear?
A: It's much more instinctive. I'd say about 80 percent of our slate is vaguely self-generated, so it'll be IP or it'll be through territory that we're interested in. We spend a lot of time talking to talent and meeting people who we think have got fantastically strong and individual voices. And then a lot of our job is marrying those two, which is sort of how Killing Eve came about. I'd met Phoebe just because I loved Fleabag when I read the stage play, and then we got Luke [Jenning]'s [Codename Villanelle] books  in, and I just thought it would be really good fun to see what it looked like if you put those two together. ... We also don't like to do stuff that feels like other people have done it, which makes it difficult because it means that all the time you're trying to sell somebody an idea that hasn't really hasn't been done before, so you've got to hope that they will go along with your vision or that you manage to communicate in as succinct a fashion as possible why it's going to be so brilliant and that they will understand that. We've got a slate of I think really brilliant projects, but each of them feels very idiosyncratic and very authored and so you just hope that you find brilliant people who share your vision and want to go on a ride.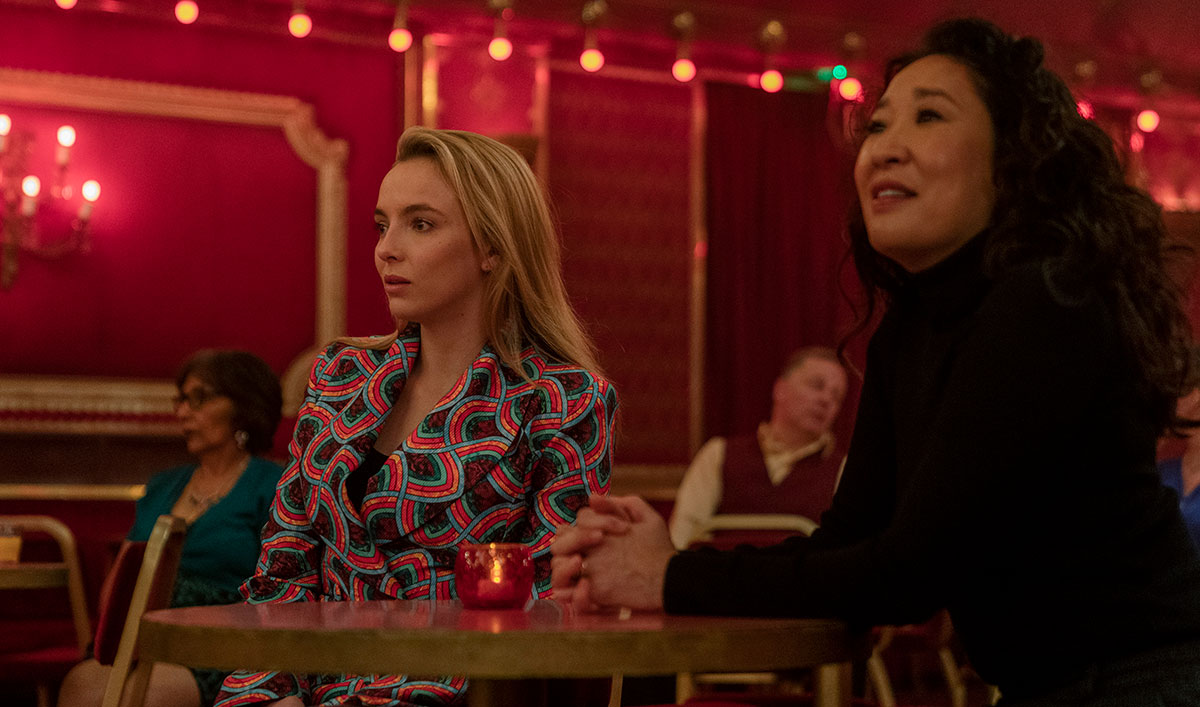 Q: How did you first break into the television industry? When did you know that this is what you wanted to do?
A: Oh my God, that was a long time ago! My father worked in television and I always wanted to be in film or study chimpanzees. The closest I got was the opportunity to work in film and television. I first worked in costumes and I also worked as a floor assistant and then I went to work with an independent company called Limelight, who produced music promos and commercials. The director of that, film director Steve Barron, he directed things like the "Billie Jean" video and the A-ha "Take on Me" video and he'd also made a film called Electric Dreams -- and I was his assistant on the first Teenage Mutant Ninja Turtles movie, and that's how I got into it. And, at the time in the U.K., it was when Channel 4 was just starting up, and Channel 4 was the first publisher-broadcaster. Everybody else made their shows in house, and Channel 4 created the independent sector in the U.K....It was quite the Wild West, and so basically somebody would say, "Can you produce?" and you'd stick your hand up, go, "Yeah I can produce" and if you couldn't, you just had to sort of wing it, and it was scary but really good fun and you just got on with it, so that's how I came into it.
There are a lot of producers over here who are proper creative auteurs who've got their own companies, whereas the States has a huge studio model that didn't really exist in the U.K. It's always been a sort of rebel community of creative producers.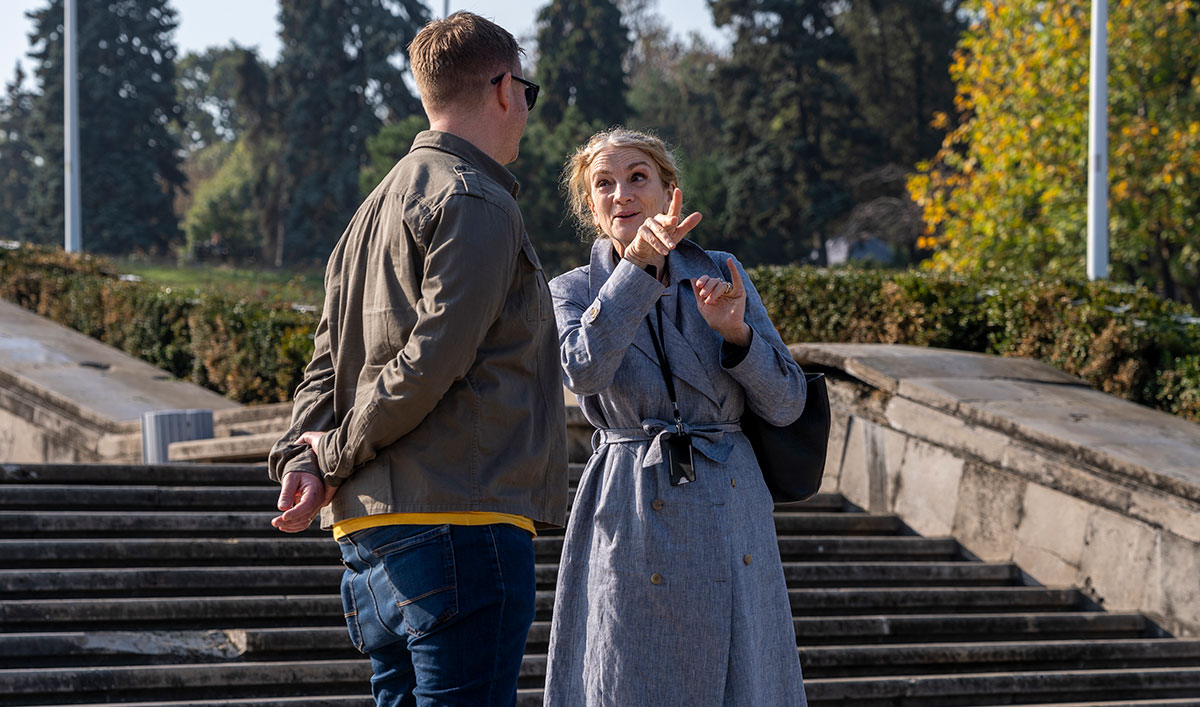 Q: Killing Eve is so international. How do you and your creative team decide where the show is going to go each season? And then how do you manage the production across multiple countries?
A: Well, we've got an amazing co-producer of the show called Adrian Kelly who's been with us from the beginning. We always have really great producers who are problem solvers and they're creative, and then Lee Morris, who's my partner at Sid Gentle. We worked together at the BBC and, when we were there, he had the reputation of basically, if any show went tits up or anything happened in a really difficult area, you called in Lee Morris... I'm quite instinctive and impetuous, but he's really thoughtful. ... When we're thinking about where we want to film, we will on the whole be led by story and where we think great characters come from and the situations that we want to put the characters that we've grown to love, but, at the same time, we'll think, "Well, where haven't we been before? Where could we really have fun?" And then also "Where is there a filming infrastructure?" So we will work with people on the ground, so production companies in, for example, Romania or Italy or France, but, on the whole, we will take the lion's share of our own crew.
Get a Closer Look at the International Locations of Killing Eve:
Q: Does the rebellious nature of television production in the  U.K. help with a show like this, where you can make your own rules?
A: I think it does. I think it's the only way that you can do it. And you've got to be sort of free to have everybody to go along on that journey with you. But it is quite British. It feels like we've sort of sussed out how to do it, but it doesn't feel like we've done anything brand-new. It's just like we've done it quite well. Other shows do it, but we do really enjoy lightly solving problems. Quite often, some of the exteriors in the place where they're meant to be in and then some of the interiors you might film within the U.K., but if you set yourself sort of parameters and rules and your directors understand that and understand that within that they can play creatively, then that works, and we're not very dictatorial about what they have to do, but it has to work. Clearly it's got to work within the schedule. It's got to work financially.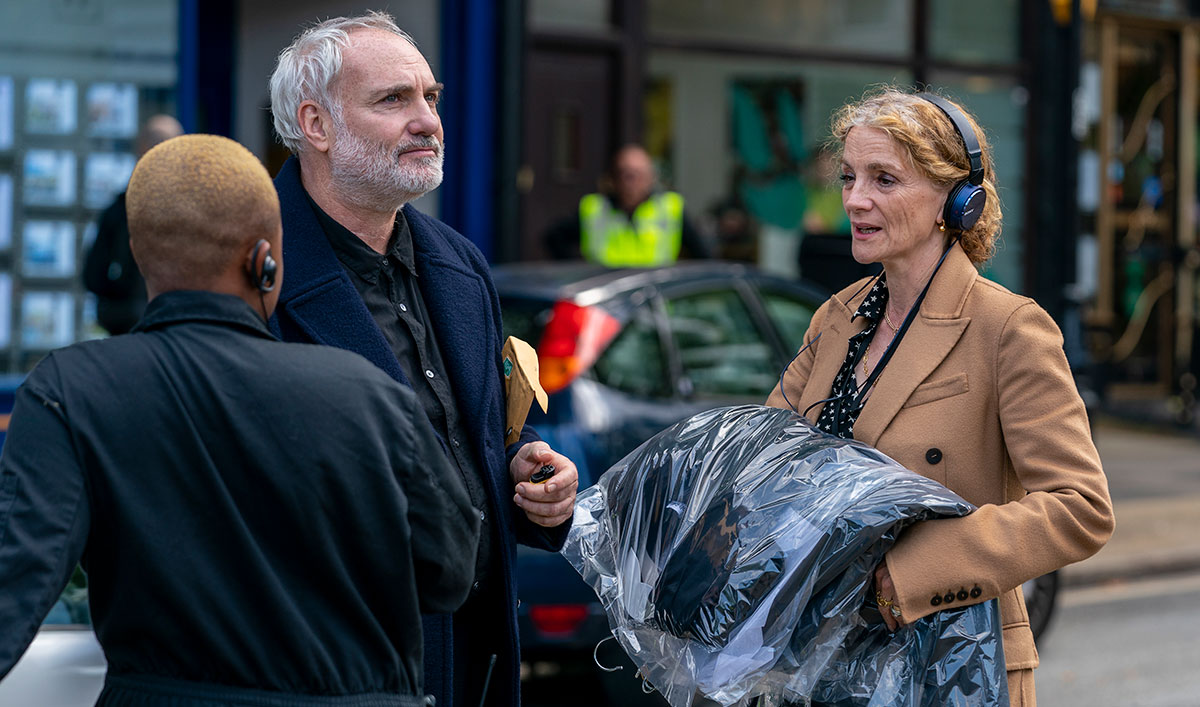 Q: Each season has its own narrative theme. How would you describe Season 3?
A: Season 3 I think is when the scales have fallen from the eyes of both Villanelle (Jodie Comer) and Eve (Sandra Oh), but they're on a slightly different personal journey, and Villanelle suddenly realizes that she isn't in control of her own destiny and she's not really in control of her own life. She thought she had sort of extraordinary freedom from being this super-talented assassin who was valued by the Twelve and valued and feted by Konstantin (Kim Bodnia) and that was revealed to be a total sham. But, not only that, Konstantin deliberately dropped into conversation [in the Season 2 Finale], really I think as a way to show "You're not in control anymore," the fact that some of her family might be alive, so I think that that sort of rocks her, and then to discover that Eve survived is another thing that makes her think, "You know what, everything isn't within my control," and I think that her ego is such that she wants to get that back. And then Eve really, even though she thinks that she's fine and she thinks she's got to this place that feels comfortable for her and she's not going to go back into that darkness, has to live with the fact that she ax murdered somebody to death [in the Season 2 Finale], and not only that but somebody who meant an awful lot to her ended up dead. I don't think she can help but think that along the way she had dragged Kenny (Sean Delaney) into a situation that meant that he died, and so there is the searching for her as well about who she is and what it will mean and whether she can ever be free from whatever this obsession actually stands for with Villanelle.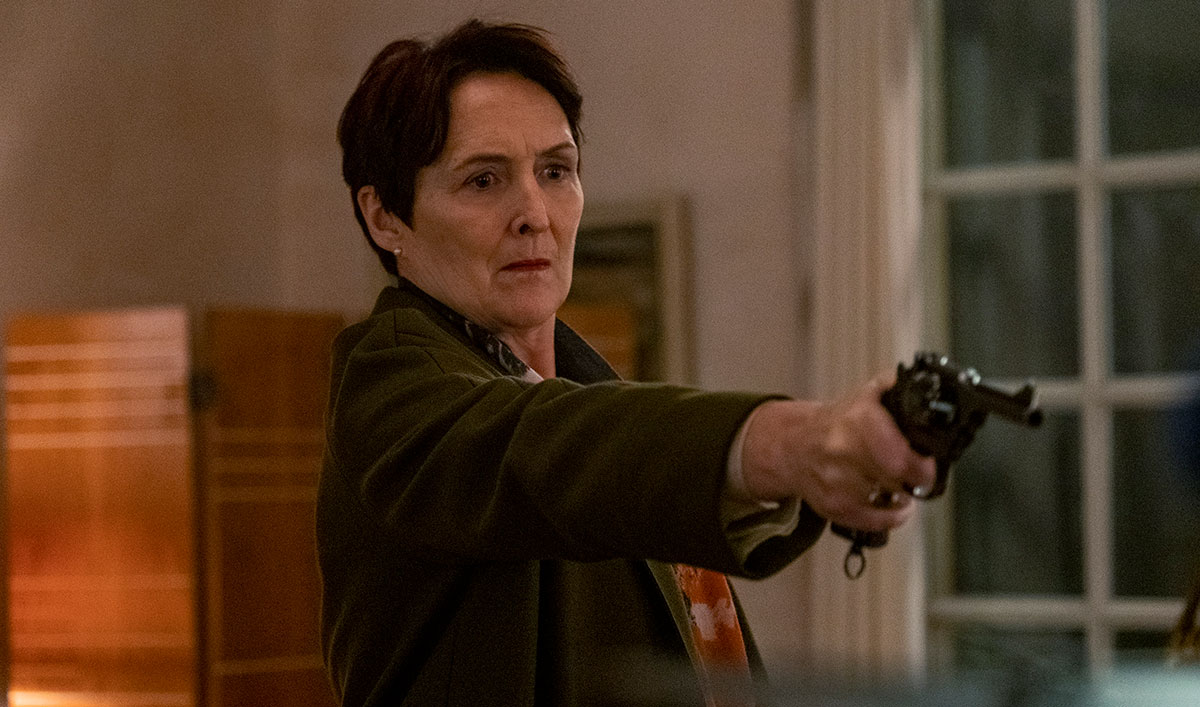 Q: Why was it important for you and the creative team to put Carolyn (Fiona Shaw) through the emotional wringer this season?
A: I think that Carolyn, who's always been the first really strong woman in the mix, needed to be given her own story and also she's been so much a part of the lives of Villanelle and Eve and, in a way, had brought them together, you know, and has manipulated both of them. And so to open up her life was really important because she is an extraordinary character, and, for me, it just enriches the thing as a whole. It's not just about Villanelle and Eve and the cat and mouse. It's about all of human life, and Carolyn has got such richness and depth to her but also has been living in a way where I think she thought nothing could touch her. So the death of Kenny has really touched her in a way that leaves her slightly reeling at the beginning of Season 3. I think it was important to have another character who was impacted by the consequences of what they'd done and they thought they could get away with it. She can't act with impunity, at some point it was going to impact on her life in the way that it impacted on Eve's life and poor old Niko (Owen McDonnell).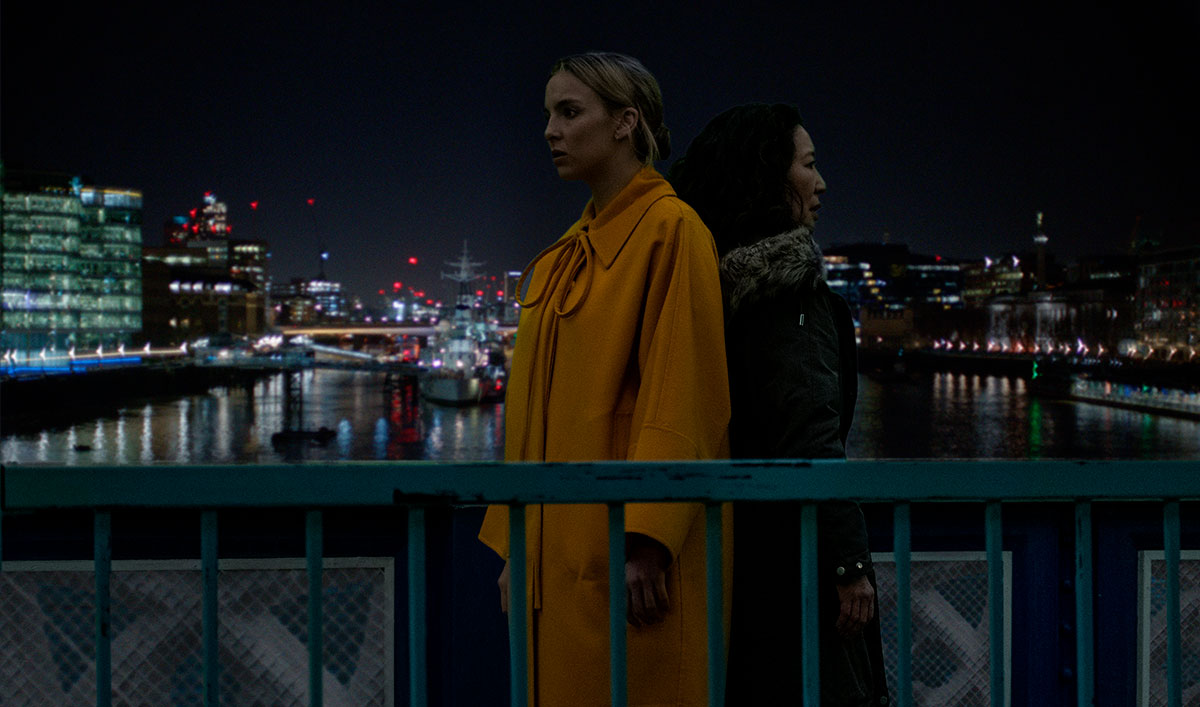 Q: We leave Eve and Villanelle on quite the cliff-hanger. Where do you want to see them go in the future?
A: I think that I would love to really understand how that relationship plays out because clearly it's massively significant to both of them, and I don't think either of them have really got to the bottom of why it is so significant and what it has said about them as individuals and as human beings. The thing about Villanelle as well is that, although she doesn't behave in the way that a lot of us do, I think she's got a lot of qualities that some of us wish we'd had -- not necessarily that we'd kill people but that we could wake up without fear and we could do stuff where we feel that we don't need to suffer the emotional consequences. But clearly, it shakes something in her and ultimately what she does in Season 3 shakes something in her, so where does that leave Villanelle and ultimately how explosive is their relationship? I think we can move it on, and we will move it on, significantly in Season 4 and do something really quite bold with it. And Eve at the end of Season 3 has been responsible for somebody else's death. They both kill Dasha and that bonded them in a way I'm sure, even though for Villanelle I don't think there was massive significance in her whacking Dasha round the head with a golf club, but definitely for Eve to crush somebody, even if she thought that she deserved it because she was responsible for Niko, it's a biggie.
Q: Looking forward to Season 4, with the new lead writer Laura Neal, what ways are you looking forward to working together?
A: We're already working with her. We talk to her every day, and she's brilliant and bouncy and wild and reckless and loves these characters with a ferocity. The whole room just loves them and it's incredible, really, just to hear people talk about the characters of the show like they're real people and they're so invested in them and their complicated, mucked up lives. To take that on and see how much you can play with them. She's had a year of being steeped in what the show is about, but then be able to sort of release her and go, "OK now go play" is brilliant.
Click here to watch the Season 3 Finale of Killing Eve on amc.com, or stream it on the AMC apps for mobile and devices. Check out the on-air schedule here for more encore viewings of Killing Eve on AMC.
For more behind-the-scenes info about Killing Eve Season 3, read a Q&A with director Damon Thomas. The three-time finale director gives AMC.com exclusive behind-the-scenes access to some of the series' biggest action sequences, discusses his inspiration (including a scene from The Shining) when shooting the moody end to Season 3, and reveals his guiding principles in keeping the show's addictive blend of comedy and violence intact.
For more insider perspectives on Season 3, check out our cast and crew interviews with costume designer Sam Perry, Raj Bajaj (Mo Jafari), Owen McDonnell (Niko Polastri), Dame Harriet Walter (Dasha), Gemma Whelan (Geraldine), and Sean Delaney (Kenny Stowtown).
For the latest news, sneak peeks, videos exclusives and more from Killing Eve, sign up for the Killing Eve Insiders Club.