THR Spotlights Better Call Saul Video; Bob Odenkirk On Saul's Past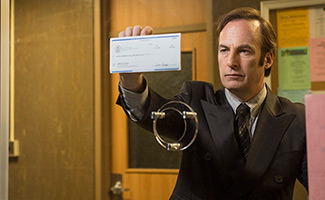 This week, The Hollywood Reporter and several other publications spotlight the Better Call Saul music video, while Bob Odenkirk sits down with 7x7 to talk about Saul's past. Plus, Bob Odenkirk will appear at the New York Comedy Festival. Read on for more:
• The Hollywood Reporter spotlights the Better Call Saul promotional music video, which has a "hysterical tune" performed by Junior Brown and with lyrics by Vince Gilligan and Peter Gould. Deadline observes that the video features some snippets of new scenes from the Breaking Bad spinoff.
• Slate calls the song "surprisingly good," while Rolling Stone says "the lyrics offer enough insight into Better Call Saul to get fans excited about the show's possibilities." The Boston Globe, CBS News, E! Online, HitFix, The Independent, MTV, The New York Post, Time, TVLine, Vulture, The Wall Street Journal, TheWrap and Zap2it also check out the music video.
• 7x7 interviews Bob Odenkirk, who reveals that Saul "has a rich past, full of heartbreak and pain. [His story] will resonate with anyone who has strived to be appreciated and who has gotten his ass kicked by life."
• According to The Hollywood Reporter, Breaking Bad's composer, Dave Porter, will also create the score for Better Call Saul.
• Variety reports that Bob Odenkirk will mark the release of his book, A Load of Hooey, with a performance on Nov. 9 at the Gramercy Theatre as part of the New York Comedy Festival.
• Splitsider shares a video, where Bob Odenkirk teamed up with Funny or Die to turn his short play "Hitler Dinner Party" into "a fully realized and extremely awkward animation."
• According to Dread Central, Kitchen Sink, a movie starring Bob Odenkirk, will be released by Sony in September 2015.
To stay up-to-date with all the latest Better Call Saul news, join the Better Call Saul Insiders Club.