Uncategorized
Story Notes for The Bourne Identity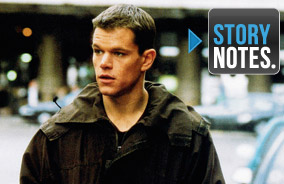 Weeknights during prime time on AMC, you can catch Story Notes — real time trivia and facts about your favorite movies! Below is the online version of the Story Notes for The Bourne Identity.
Automotive Notes
Marie (Franka Potente) drives a vintage Austin Mini Cooper. Executive producer Frank Marshall thought it was "the kind of car that her character, a gypsy, [would] have."
The Mini Cooper was featured in a lot of '60s and '70s spy movies. It enjoyed a mini-revival after this movie.
Awards Notes
Matt Damon won an Oscar in 1998 for co-writing Good Will Hunting with Ben Affleck. As of 2013, he's been nominated for two acting Oscars, for Hunting and Invictus (2009).
Stunt Coordinator Nick Powell won Best Fight Choreography at the American Choreography Awards for his work on this movie.
Biographical Notes
Before this, director Doug Liman was known for the indie movies Swingers (1996) and Go (1999).
Executive producer Frank Marshall had two hit franchises under his belt: Indiana Jones and Back to the Future. He has known director Doug Liman since Liman was a child — he was friends with his father.
The same year as this, Brian Cox and Chris Cooper were both in Adaptation. Cooper won an Oscar for it.
Doug Liman later directed Mr. and Mrs. Smith (2005), about two married assassins hired to kill each other.
Casting Notes
Matt Damon had just starred in Ocean's Eleven (2001). This was his first time headlining a major action movie.
Chris Cooper also stars in American Beauty (1999) and The Patriot (2001).
Orso Maria Guerrini (Giancarlo) is an Italian actor with over 100 acting credits, mostly in his home country.
Brian Cox played the villain Stryker in X2: X-Men United the year after this.
Sylvester Stallone and Russell Crowe were both in the running to play Bourne. Liman thought she was right for the part based on her breakout role in Run Lola Run (1998).
Doug Liman offered the part of Marie to his Go star Sarah Polley, but she turned him down.
One of the research technician is Josh Hamilton from Alive (1997) and American Horror Story.
Another research tech is Walton Goggins from The Shield and Justified.
Julia Stiles had just starred in Save the Last Dance (2001).
French actor Nicky Naudé also plays a hitman in Hitman (2007).
Many people wondered why Julia Stiles was cast for such a small part in the movie. Doug Liman said he wanted a well-known actress so the audience would pay attention to her scenes.
German actress Franka Potente had just starred opposite Johnny Depp in Blow (2001).
Gabriel Mann (Zorn) went on to play Nolan Ross on the TV series Revenge.
Crew Notes
Production designer Dan Weil also worked on the spy/assassin movie La Femme Nikita (1990).
The fights were choreographed by stunt coordinator Nick Powell (The Last Samurai).
Health Note
A UCLA psychiatrist diagnosed Bourne as having "selective dissociative amnesia." She described it as being caused by an unconscious conflict due to a traumatic event.
Location Notes
The movie was shot in seven European nations, but mostly in the cities of Paris and Prague.
Prague stood in for Switzerland in the movie.
The "U.S. Embassy" was actually a shuttered bank in Prague that was about to be turned into a hotel.
Music Note
Composer John Powell also wrote the scores for Face/Off (1997) and The Italian Job (2003).
Director Liman would visit composer John Powell's home recording studio for six-hour listening sessions.
Production Notes
After getting recognition for Swingers, Liman knew he wanted to adapt Ludlum's book. He piloted a plane to Ludlum's home in Glacier National Park in Montana to ask for the rights.
Damon was surprised when he was offered the role because in the book Bourne is a much older man. "But Liman told me he didn't want to do James Bond; he saw it more as a European La Femme Nikita."
Director Doug Liman wanted Matt Damon to walk like a boxer. Damon: "There was a kind of directness in it and an efficiency about the way they moved."
Matt Damon went through hundreds of hours of gun training so he'd look comfortable holding a weapon.
Director Doug Liman purposely didn't show anyone smoking in the movie. He said it was because there was a lot of smoking in Swingers and he wanted to set a better example here.
Franka Potente said she was happy to be able to use her real German accent for this movie. She said it helped her relax on set, as opposed to her previous movie, Blow, where she played an American.
Matt Damon trained in the Filipino martial art Kali for the movie. Kali involves using the aggressor's energy against him and conserving your own energy.
One of the reasons director Doug Liman wanted to shoot in Paris was to practice his French.
Quotation Notes
Then-36-year-old director Doug Liman said he wanted to make a spy film for his generation. "Most of the spy films I've seen have had nothing in common with anyone I've ever known.
Franka Potente on her character's relationship to Bourne: "I think he's definitely taken by her, and her energy… She's very much alive… where he's numb and robotic."
Dir. Doug Liman: "In a lot of ways this is Marie's story, because she's the one normal person in the movie."
Damon called Franka Potente "an alpha female. A really strong woman." He told People magazine she had "infectious forward momentum."
Script Notes
Screenwriter Tony Gilroy (Michael Clayton) worked closely with dir. Doug Liman on shaping the script.
Doug Liman based a lot of the CIA operation's details on his father's memoir. Arthur L. Liman was chief counsel in the Iran-Contra hearings in the 1980s.
In the script, Marie screamed and cried after seeing the assassin jump out the window. Franka Potente decided instead to play the scene like she was in shock.
Set Notes
The U.S. Embassy scene guards are mostly real U.S. Marine Security Guards who were stationed in Germany at the time. They wore their own uniforms and gave advice on what tactics they would use to clear the embassy.
An exact replica of the building that stood in for the U.S. Embassy was constructed on a soundstage for close-ups of Bourne climbing down.
World-class free-climber Neil Bentley doubled for Damon for the more dangerous climbing shots.
Matt Damon climbed down the last 30 feet of the building himself, without a stunt double. He called it "the most grueling thing I had to do."
Liman wanted the camera operator to be late moving the camera, adding an "edge" to the photography. So he didn't let him watch rehearsal – that way, he wouldn't know which character spoke next.
They used the same stunt driving team that worked on the famous Paris car chase scene in Ronin (1998).
Source Notes
The Bourne Identity (2002) is based on spy novelist Robert Ludlum's 1980 bestseller. It kicked off a billion-dollar franchise and made star Matt Damon a bona fide action hero.
Author Robert Ludlum got the idea for the Bourne books after experiencing temporary amnesia. He could not remember 12 hours of his life and was later diagnosed with a medical condition.
The Bourne Identity had been adapted once before, as a 1988 TV miniseries. It starred Richard Chamberlain as Bourne and followed the plot of the book much more closely.
Bourne is named after Ansel Bourne, a 19th century man who woke up one day not knowing who he was.
In the book, Marie is a French-Canadian government economist and she doesn't go with Bourne willingly.
Tech Note
In the book, the bank account number is on a piece of microfilm. Liman wanted to modernize the technology.
Read More