Unscripted
The Pitch Q&A – Ryan Cramer and Sean Alatorre (Neuron Syndicate)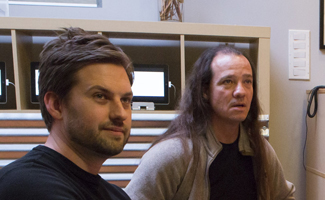 In Season 2, Episode 4 of The Pitch, Tommy Bahama chose Neuron Syndicate as the winning agency. Neuron Syndicate CEO Ryan Cramer and VP Sean Alatorre talk about their unusual history together and why they chose not to share their concept with the client in advance.
Q: Ryan, you met Sean when you were a 19-year-old and called him your mentor. Did he start out as your boss?
Sean: I had to pretend to be his boss!
[They both laugh]
Ryan: Yeah. When he came into the agency where I worked and freelanced, I was just wrapped up in his skill set and his level of thinking and creativity. We both got each other's sense of humor. So that two weeks was a lot of fun. I remember I was really proud when I was able to show Sean a few things in Photoshop — he was like, "That's really cool, man. That's great!" It felt really good for me that I could help Sean.
Q: How has your relationship evolved while working together over the years?
Ryan: I learned a lot from Sean and was constantly studying him. It's interesting how over the course of starting Neuron, our roles have evolved. I'm very interested in the business side of Neuron, so I think in a sense, it's flipped in a way. Now Sean comes to me for a lot of business stuff, which is great. It gives me that feel-good feeling again. It's reciprocating. It's like we're mentoring each other in different areas of the company, especially since I'm not as involved in the creative day-to-day stuff as much as Sean is. But that's OK, I've learned that's my role here. I'm totally cool with that.
Sean: Now, we're like two whacked-out brothers. [Laughs] We take care of each other. We try to listen to one another. We're very appreciative, or at least I am, of the other's input. There's very little ego involved, which I think helps us sustain such a lasting relationship. We're always just looking for the best solution that's going to help the company — our employees overall, our clients overall, and each other.
Q: How does working on a pitch for a brand like Tommy Bahama differ from your work in entertainment advertising?

Ryan: They are very different approaches. Ultimately it comes down to, how do you convey a great concept through design and the platform that it's on? Sean and I have more of a traditional advertising background. I remember leading up to this pitch, it felt like we were going back to our roots. We're really blessed to have our entertainment clients, but trying to market something like Tommy Bahama uses a different part of your mind.
Q: When Rob Goldberg from Tommy Bahama came to visit to talk ideas, you decided not to show him the direction you were heading in.

Ryan: You mean when he was mad?
Sean: When he pretended to be mad.
[They laugh]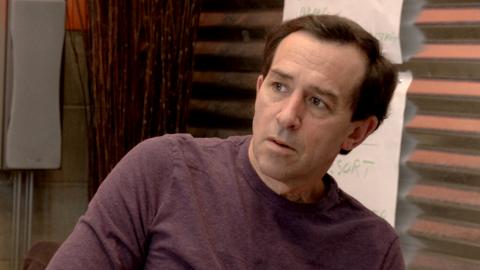 VIDEO: Neuron Syndicate Debates Their Strategy
Q: So after he left, you weren't worried about making the decision to keep him in the dark?
Ryan: No, not at all. A lot of clients request that. They say, "Hey, if you want to show me something early to make sure you're on the right track, I'm open to that." And we have done that and learned our lesson: It's not a good approach. It's very different than painting color swatches on a wall before you paint your house. It doesn't work like that. You can't kind of sample it.
Sean: We're going to solve the client's problem. We might not solve it the way they want to. But the solution we're going to provide, we're going to believe in and present as if it's the one we think they should go with. It's totally up to them to pick it.
Ryan: Also, we weren't quite sure what this tagline was going to be attached to visually yet, so we didn't want him to have his own visions of something. If people hear something or you try to describe it, everybody paints that picture differently in their head. We don't want them to be disappointed because they're envisioning a different big picture.
Q: During the pitch, what were your initial thoughts when the client said they were disappointed in the lack of apparel in the ads?
Ryan: We really weren't concerned.
Sean: What we were doing was more like storytelling.
Ryan: We were really trying to pull in the emotions of these women. Also, in the initial brief they said they wanted it to cater to both men and women. The way the copy was written and the way the images were presented allow the viewer to conjure up what the woman would be wearing while attaching it to Tommy Bahama, rather than just clothes speaking out in a literal sense.
Q: Did either of you experience any perks to having a camera crew follow you around?
Ryan: No.
Sean: In fact, we actually lost a lot of sleep. [Laughs] Nah, no perks. We're in LA. There are cameras everywhere. Nobody cares.
Click here to read about why Tommy Bahama chose Neuron Syndicate.
Read More