Uncategorized
Story Notes for Erin Brockovich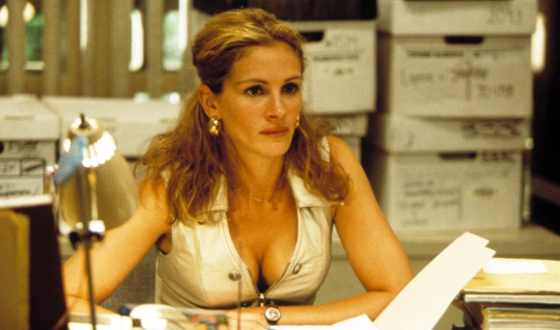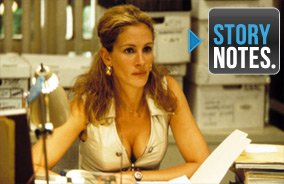 Weeknights during prime time on AMC, you can catch Story Notes — real time trivia and facts about your favorite movies! Below is the online version of the Story Notes for Erin Brockovich.
Automotive Note
George rides a Harley-Davidson Heritage Softail Classic. Aaron Eckhart bought a Harley to research the role, and now he says he "can't get off" it.
Award Notes
Julia Roberts won 12 Best Actress awards for Erin Brockovich, including the Oscar.
Roberts was nominated for two Oscars before turning 25, for Steel Magnolias (1989) and Pretty Woman (1990).
Steven Soderbergh was nominated for a Best Director Oscar for Erin Brockovich. He lost to himself, for Traffic. He's the third director ever to be nominated twice in the same year.

Biographical Notes
Director Steven Soderbergh's first film, Sex, Lies, and Videotape, kick-started the '90s indie movement. He wanted to do Erin Brockovich because he hadn't done anything like it before.
In 2000, Julia Roberts was listed as No. 1 on Forbes' list of "100 Most Powerful Celebrities."
Finney is used to playing generous rich guys. He was Daddy Warbucks in the 1982 film Annie.
Cinematographer Ed Lachman had worked with director Soderbergh before on The Limey (1999). Erin Brockovich appealed to him because of Soderbergh's indie approach to a big studio movie.
Eckhart's first acting job was In the Company of Men (1997), written and directed by his friend Neil LaBute.
Music composer Thomas Newman's dad, composer Alfred Newman (The King and I) has nine Oscars. His cousin Randy (Toy Story) has 2.
Director Steven Soderbergh moved to L.A. right out of high school and worked as a game show scorer.
Conchata Ferrell and Julia Roberts worked together a decade before this, on Mystic Pizza (1988).
Erin Brockovich was a real departure from the romantic comedies that made Julia Roberts famous.
Early on, Julia Roberts got so picky about scripts that she didn't work for two years (1991-1993).
Director Soderbergh was working non-stop. He was in pre-production for Traffic during Erin Brockovich. While finishing Traffic, he started work on Ocean's 11 (2001), also starring Julia Roberts.
While shooting near Hinkley, Roberts visited a local school, spending five hours with the kids. Many of the elementary students were from low-income, single-parent homes, like Erin's children.
Finney is also a British stage legend. He's a two-time Tony nominee and an Olivier award winner.
Erin Brockovich said she was voted "Least Likely To Succeed" in her high school.
Veanne Cox is also a Broadway actress. She was nominated for a Tony in 1996 for the musical, Company.
The real Erin wrote a Times best seller, Take It From Me: Life's a Struggle, But You Can Win (2001).
Masry went on to serve as city councilor and mayor of Thousand Oaks, CA, until his death in 2005.
From 2011-2013, Steven Soderbergh made seven movies, including Magic Mike. In 2013, he retired from directing to paint. He joked that he might come back to direct Ocean's 14.
Casting Notes
Julia Roberts, fresh off Runaway Bride (1999), wasn't sure she should do another movie so soon. When she read the script and found out Steven Soderbergh would direct, she decided to do it.
Albert Finney (Tom Jones, The Dresser) has been nominated for five Oscars, including for this role. As of 2013, he's never attended the Academy Awards – and he's never won.
Conchata Ferrell plays Berta on Two and a Half Men.
Valente Rodriquez plays Ernie on George Lopez (2002-2007).
Erin Brockovich hoped Goldie Hawn might play her. Ed Masry joked it should be Rosanne Barr. Still, director Soderbergh said Julia Roberts was the only person he could imagine playing Erin.
Aaron Eckhart plays Harvey Dent (Two-Face) in The Dark Knight (2008).
Scotty Leavenworth (Erin's son) had just played Gary Sinise's son in The Green Mile (1999). Gemmenne de la Peña (Erin's daughter) worked with Eckhart again seven years later on Towelhead.
Marg Helgenberger started her 12-year run on C.S.I. right after this movie came out.
Five years later, T.J. Thyne became Dr. Jack Hodgins on Bones (2005-2013).
Mimi Kennedy is Dharma's mom on Dharma and Greg (1997-2002).
Tony-winner Cherry Jones is the sheriff in Signs and President Taylor on 24.
Ted Daniels is Wade Williams, who plays Brad Bellick on Prison Break (2005-2008).
Many of the extras in the court scene are real plaintiffs involved in the Hinkley case.
The real judge from the actual case, LeRoy A. Simmons, was cast to play the judge in the movie. He came out of retirement for this.
Kurt Potter is played by Peter Coyote from E.T. and Outrageous Fortune.
Veanne Cox is on Seinfeld. She heckles Jerry, so he heckles her at her office.
Tracey Walter has been in over 166 movies and TV shows including Batman and Repo Man.
Finance Notes
$28 billion in 1993 is about $45 billion today.
Roberts made $20 million for Erin Brockovich. She was the first actress ever to make that much.
Health Notes
Chromium-3 really is good for you. It helps reproductive and cardiovascular health.
The real Erin got sick from Hinkley's toxins. They shot a sub-plot where she ends up hospitalized.
PG&E started using chromium-6 back in the 1950s.
Historical Notes
The first mobile call was made from a car in St. Louis, MO in 1943. Service wasn't great then either. At most, three people in the same city could make calls at one time.
At the time, the case awarded was the largest class action settlement in history.
Location Notes
Erin Brockovich was filmed near Hinkley, in California's Mojave Desert, where the real story took place.
PG&E's Hinkley compressor plant in southern California helps pumps natural gas up to Oregon.
The UCLA campus is one of the top five campuses used in movies and TV. Old School, Legally Blonde, and the Buffy the Vampire Slayer TV show were all shot there as well.
Love Note
At the time, Julia Roberts was dating actor Benjamin Bratt (Law and Order, Demolition Man). Roberts sent Bratt some shots of her Brockovich costume. He replied, "You can't go out like that."
Music Notes
The score was composed by 11-time Oscar nominee Thomas Newman (American Beauty).
Director Soderbergh said Sheryl Crow "sounded like Erin… she had a strength that was similar to Erin's." Her Grammy-nominated hit "Everyday Is a Winding Road" plays over the credits.
Plot Note
"Pattee" is Brockovich's maiden name. That's how she signs in at the Water Board.
Pop-Culture Notes
Erin Brockovich was one of AFI's "Top 10 Films of 2000." It received an Oscar nomination for Best Picture.
In his breakout movie, In the Company of Men, Aaron Eckhart was just like Erin's ex-husbands. In that movie, he plots to get revenge on all women by dating an innocent girl and breaking her heart.
In a 2001 TV special, the real Erin helped motivate people to rebuild a run-down Manhattan park. She described it as "Extreme Makeover: Home Edition" on steroids.
In a Simpsons spoof of Erin Brockovich, Marge sues "The Motherloving Sugar Co." She discovers "big sugar" has been sweetening everything in the town, making everyone fat.
Erin Brockovich was on TIME magazine's 2012 list of "Top Ten Movie Moms We Wish Were Ours."
Erin Brockovich was No. 31 on AFI's list of "Top 100 Movie Heroes," just five slots behind Superman.
Press Notes
The New York Times says Erin Brockovich makes you feel the terror of a single mom "in the pit of your stomach."
The New York Times calls Soderbergh a "wry, unobtrusive observer, waiting to be surprised by what [he] sees."
Production Notes
The real Ed Masry and Erin consulted with the filmmakers on everything from the script to the set.
Executive producer Carla Shamberg first heard Erin's story from the chiropractor they shared. Shamberg took it to her husband Michael and his partner Danny DeVito. They decided to produce it.
Director Steven Soderbergh wanted the movie to feel true, so he shot it like a documentary.
Albert Finney turned down his role at first. Producer Danny DeVito knew Finney's girlfriend and asked her to convince him.
Soderbergh said Erin Brockovich is a Rocky movie. He kept the first Rocky in mind while filming.
One of the PG&E lawyers is Erin Brockovich producer Michael Shamberg.
Julia Roberts is a lefty. To play the righty Erin, she learned to write with the other hand.
Julia Roberts called Erin Brockovich the perfect experience and the best thing she'd ever done. The real Erin Brockovich also loved the movie. Her only complaint was that the skirts were too long.
Prop Notes
Many of the pictures, degrees, and memorabilia in Ed's office are copies of the real things.
Masry was never on the cover of L.A. Lawyers. They got special permission to make the cover featured in the movie.
Quotation Notes
The real Erin said these times were hard to re-live: "I moved on and [it's] in my face. I shed a lot of tears."
Roberts was nervous working with Finney, thinking he was "going to be all groovy deep-actor guy and I'm going to look like I'm over here rubbing nickels together."
Roberts called her own daughter her inspiration, because she is full of "joy, openness, and wonder."
Director Soderbergh said the real Erin and Julia Roberts share a "charisma… a light in the eye."
Julia Roberts said Erin curses to demand people stop judging her appearance and listen to her.
Roberts said this was "the most complex person and scenario" she'd ever played.
Roberts said being a mom is a tougher job than making a movie: "It's a much longer day!"
Director Soderbergh: "I wanted people to understand the details of the case… to know the stakes. These big corporations can just throw money at these cases and wear you down."
Julia Roberts said this story terrified her: "If this happened here, where else is it happening?"
Aaron Eckhart said Director Soderbergh "works silently. You don't even know you're making a movie."
A real Hinkley plaintiff told Director Steven Soderbergh that the contaminated water tasted really sweet.
Director Soderbergh said sometimes in stories like this there's a single villain, but not in this movie. "It can be very frustrating to not know exactly who was responsible."
Script Notes
Susannah Grant's screenplay for Erin Brockovich was nominated for an Oscar. Director Soderbergh fact-checked the script with the real Ed and Erin.
Screenwriter Susannah Grant said she had a hard time writing the first draft for Erin Brockovich. Grant: "Any life is complex, and Erin's… was a labyrinth." At first, the movie was about Erin's entire life. Then they realized the big story was the lawsuit.
There is only one courtroom scene from the Hinkley case in the movie. Screenwriter Susannah Grant focused on how the case was built rather than on courtroom drama.
Set Notes
Soderbergh kept the real Erin and Julia Roberts apart so Roberts wouldn't imitate her. Roberts said it's for the best: "All that energy in one room would have been too much to bear."
Erin Brockovich plays a a waitress in the movie. For fun, they gave her a name tag that says "Julia." Julia Roberts was a nervous wreck during that scene. It was the first time they'd ever met.
Aaron Eckhart ad-libbed a lot, saying things that popped into his mind while he was in character.
Director Steven Soderbergh sometimes kept two cameras rolling at once. He didn't want to have to ask actors to repeat a great, spontaneous moment.
Scotty Leavenworth's mom praised the way Roberts handled the kids off camera: "Just like a mom."
Source Notes
The story revolves around a 1993 landmark class action lawsuit, Anderson vs. PG&E.
Times were so tough for the real Erin that she had to steal medicine for her children.
Erin's real-life co-workers sent out a memo about skirt length due to Erin's outfits. One woman actually took a ruler out and measured Erin's skirts.
The real Erin said this movie is almost completely accurate, but she was never Miss Wichita. She was Miss Pacific Coast. Since she was born in Kansas, director Soderbergh went with Wichita.
The real Ed Masry had just gotten married to his second wife a year before the movie takes place.
One of the first things Erin found out was that 90% of the tainted water had already been consumed.
Donna's cancer and Mandy's miscarriages both happened to a plaintiff very close to the real Erin.
The real Erin asked the filmmakers not to make her look like "Mother of the Year."
George is the only character besides Ed Masry and Erin's kids who are real people from Brockovich's life. All of the other characters in Erin Brockovich are inspired by combinations of different people.
The real Erin is dyslexic, a disability that makes it hard to read.
The real Erin would talk on the phone with Hinkley plaintiffs daily from 7PM to 1AM.
Potter is based on two lawyers from major law firms that joined Ed and Erin.
PG&E admitted to a Fox reporter in 1994 that Corporate found out about the contamination in 1987. PG&E Hinkley knew as far back as 1965, causing skepticism that Corporate didn't know sooner.
Symbolism Note
Hinkley scenes are overexposed and dusty brown, to show the town withering with no clean water. Director Soderbergh used a similar effect in Traffic, de-saturating the shots of the Mexican desert.
Trivia Notes
In 1993, when this movie is set, there were 13.6 million single parents in America.
In 1993, McDonald's had just been sued for making its coffee too hot.
A 2010 study showed that 31 U.S. cities had dangerous levels of chromium-6 in their water.
Ed charges a contingent fee, which is usually about 1/3 of the settlement. They're common in personal injury suits.
Erin probably wouldn't have heard of Krispy Kreme in 1993. The franchise didn't open a California store until 1999.
Illegal wiretaps are a federal crime, punishable by up to five years in prison and $500,000 in fines.
Most babies say their first word at around eight month to a year old. Girls tend to speak earlier than boys.
Chromium is from the Greek chroma, or "color." It has brilliant reflections of green, red and yellow. Emeralds and rubies get their coloring from trace amounts of chromium.
Punitive damages is money awarded to the plaintiff beyond repayment for expenses. It literally means to "punish," and it's where big money gets awarded in large settlements.
Julia Roberts and Marg Helgenberger both appeared in the 2012 telethon "Stand Up To Cancer."
Erin Brockovich sparked several investigations into water pollution and chromium-6. Right after the film's release, the LA Times revealed that chromium-6 polluted the L.A. River for decades.
Wardrobe Notes
In reality, Erin was known for her short hemlines. Roberts called an Erin dress a "dre" with no "ss." Roberts: "You know, the whole part that covers your butt wasn't there."
Costume designer Jeffrey Kurland built undergarments for Roberts to "enhance the character." Julia Roberts: "I've gone 30 years without cleavage and suddenly, pow!"
Julia Roberts wore knock-off Candies shoes the entire movie… until the final scene.
Read More