Uncategorized
Story Notes for There's Something About Mary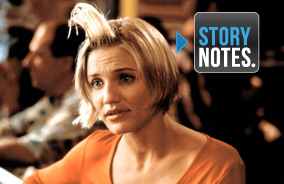 Weeknights during prime time on AMC, you can catch Story Notes — real time trivia and facts about your favorite movies! Below is the online version of the Story Notes for There's Something About Mary.
Award Notes
Matt Dillon won the MTV Movie Award for Best Villain for playing Healy.
Cameron Diaz won the New York Film Critics Circle Award for Best Actress for playing Mary.
Jonathan Richman won an ASCAP Film and Television Music Award for this movie.
Cameron Diaz and the movie were both nominated for Golden Globes.
Biographical Notes
This is the third movie directed by brothers Peter and Bobby Farrelly (Dumb and Dumber, Kingpin).
Ben Stiller and Chris Elliot both have comedy roots. Elliot's dad was part of the comedy team Bob & Ray. Ben's parents are Jerry Stiller & Anne Meara.
Jeffrey Tambor played a cokehead dentist in the TV movie Cocaine: One Man's Seduction (1983).
Cameron Diaz traveled to Nepal for an episode of MTV's Trippin' in 2005.
Cameron Diaz started out as a model when she was 16.
Matt Dillon's dad is a golf coach. The Farrellys said, considering that, he was a pretty poor player.
Matt Dillon later played an architect in You, Me and Dupree (2006).
Elliott and Stiller both starred in shows on Fox in the early '90s: Get a Life and The Ben Stiller Show.
Lee Evans (Tucker) changes outfits throughout his stand-up routine because he sweats so much.
Matt Dillon has been in a little trouble with the law – he was arrested for speeding in 2008.
Lee Evans has been called "the master of physical comedy" based on his stand-up routine.
Cameron Diaz played a bisexual woman the next year in Being John Malkovich (1999).
Ben Stiller played a wannabe superhero named Mr. Furious in Mystery Men (1999).
Cameron Diaz competed in the Long Beach Grand Prix Pro/Celebrity car race in 1998.
Lee Evans was no Eagle Scout when he was younger — he was a drummer in a punk rock band.
Casting Notes
Ben Stiller had just been in Flirting with Disaster and The Cable Guy (both 1996) when he was cast as Ted.
Cameron Diaz was always the number one choice to play Mary. The filmmakers thought she was the perfect woman.
W. Earl Brown (Warren) later played Dan Dority on Deadwood ('04-'06).
Willie Garson (Ted's friend) played Stanford on Sex and the City (1998-2004).
Mary's mom is played by Markie Post from Night Court (1984-1992).
The woman asking about class actions is Bobby Farrelly's wife Nancy.
The psychiatrist is Richard Jenkins from Step Brothers (2008) and Six Feet Under.
Dom is played by Chris Elliott from Cabin Boy (1994) and Groundhog Day (1993).
Matt Dillon (Healy) had just starred in Wild Things. This was eight years before his Oscar nod for Crash.
Jeffrey Tambor had just finished his 6th and final season on The Larry Sanders Show ('92-'98).
Lin Shaye (Magda) is a Farrelly brothers regular; she was also in Kingpin and Dumb and Dumber.
Freddy is played by Warren Tashjian, the real-life inspiration for Mary's brother Warren.
Khandi Alexander (Joanie) was on both NewsRadio and ER when this was filmed.
The troubadours are played by Jonathan Richman and Tommy Larkins. Richman founded The Modern Lovers in 1970 and heavily influenced the punk rock movement.
Almost all of the extras in the movie are either friends of the Farrellys or crew members.
Tucker is played by Lee Evans, from Mousehunt and The Fifth Element (both 1997).
The hitchhiker is Harland Williams, whose first movie was the Farrelly brothers' Dumb and Dumber.
Rob Moran is an old friend of the Farrellys and has been in six of their movies.
Richard Tyson played the villain in Kindergarten Cop (1990).
Matt Dillon wasn't the only choice to play Healy. The Farrellys also considered Hank Azaria (The Birdcage).
Sean Gildea (Warden) has been in more Farrelly movies than any other actor. It's been nine, as of 2013.
The long-haired prisoner is Cameron Diaz's father Emilio.
Docky and his wife are played by the Farrellys' parents. Docky is their dad's nickname.
In 1998, Brett Favre had just led the Packers to two consecutive Super Bowls, winning one. Favre: "Still, to this day, I am mostly remembered for my 30-second part in Something About Mary."
Finance Notes
Porcelain veneers cost an average of $1100 per tooth.
There's Something About Mary is the 5th highest-grossing romantic comedy of all time, as of 2013.
History Note
The Peace Corps was created by President Kennedy in 1961 to promote world peace and friendship.
Location Notes
The Cardozo Hotel, on Ocean Drive in Miami, is owned by Gloria Estefan.
The brothers grew up in Rhode Island, where parts of this movie were shot.
Love Notes
Cameron Diaz and Matt Dillon were dating in real life while filming the movie. They met a couple of years earlier while they were both shooting movies in Minnesota.
Cameron Diaz and Matt Dillon broke up shortly after the movie wrapped.
Music Notes
"Margo's Waltz" by Lloyd Cole, 1991. This is one of Peter Farrelly's all-time favorite songs.
"Let Her Go Into the Darkness" by Jonathan Richman, 1995. Richman won an ASCAP Film and Television Music Award for this movie.
"Mary's Prayer" by Danny Wilson, 1987.
"(They Long to Be) Close to You" by Burt Bacharach and Hal David, performed by Sally Stevens, 1998.
"Everything Shines" by The Push Stars, 1998. The Push Stars is one of the Farrellys' favorite bands.
"Every Day Should Be a Holiday" by The Dandy Warhols, 1997.
"This Is The Day" by Ivy, 1997.
"True Love is Not Nice" by Jonathan Richman, 1998.
"Ahora es Mejor" by Jonathan Richman, 1998. The English version of the song is called "Now is Better Than Before."
"All These Days" by The Sons, 1998.
"Is She Really Going Out With Him" by Joe Jackson, 1978.
"There's Something about Mary" by Jonathan Richman, 1998. Richman also wrote songs for the Farrellys' Kingpin (1996) and Fever Pitch (2005).
"Summertime" by George & Ira Gershwin, 1935, performed by Ray Conniff.
"History Repeating" by The Propellerheads with Shirley Bassey, 1997.
Plot Notes
Dom said, "Each day is better than the next," which means his life is more miserable every day.
Look for clues to Woogie's identity throughout the movie.
Pop-Culture Notes
Harold and Maude (1971) is about a young man who falls in love with a 79-year-old woman.
Matt Dillon acted with The Karate Kid star Ralph Macchio in The Outsiders (1983).
Cameron Diaz was Entertainment Weekly's "It Girl" of 1998.
The Farrelly brothers have been called "Visionaries of Vulgarity" and "Kings of Crass."
Benji is the only dog to ever appear as the centerfold in Playgirl magazine.
Red Sox all-star Tony Conigliaro, like Warren, was hit in the face with a baseball in 1967.
In the Farrellys' Dumb and Dumber, the main characters also fight over a woman named Mary.
The Farrellys compared this to the end of a mystery film, when the suspects gather to find out whodunit.
AFI named There's Something About Mary (1998) one of the 30 "Funniest Movies of All Time." It was a critical and box office hit, making $369 million worldwide.
The premiere party for There's Something About Mary was set up like an '80s prom.
There's Something About Mary was on both Gene Siskel and Peter Travers' Top Ten Lists for 1998.
Mongo was the name of the henchman in Blazing Saddles (1974). Bobby Farrelly called this movie "a cross between When Harry Met Sally… and Blazing Saddles."
Press Notes
Roger Ebert: "Magda [looks] like she's been put through the same process that produces Slim Jims."
Variety: "Dillon's Pat… resemble[s] Burt Reynolds at his most deliberately insincere."
Quote Notes
Chris Elliott (Woogie/Dom): "I knew what [the blemishes] looked like when we put them on, but seeing them that big on-screen was pretty disgusting. My wife was covering her eyes."
Peter Farrelly: "For us, this is the perfect movie…We got everything we wanted into this movie — things that we never thought we'd be able to get away with."
Co-writer John Strauss: "How everyone behaves towards Warren is a key to who's good and who's not."
Matt Dillon was pretty new to comedy. He said, "It can be difficult because there's a lot of timing involved."
The Farrellys said Harland Williams was "impossible to direct." Bobby Farrelly: "Whatever you write, he's going to do it his own way."
Peter Farrelly on Diaz: "You don't even think about sex when you're around her; it's purer than that. It's a thumpy kind of love, from the heart. She's so charming."
Bobby Farrelly: "Cameron's like Grace Kelly – but with gas."
Matt Dillon: "Healy is just an out-and-out scoundrel… and [is] a little bit of a loser in his own way."
W. Earl Brown said once he figured out Warren's walk, the character grew from there.
Peter Farrelly: "Ted has to be sympathetic. We… have to be behind Ted because the world dumps on him."
W. Earl Brown (Warren): "I expected there might be a lot more controversy about [playing Warren.] There was very little backlash."
Stiller on the Farrellys: "Their genius is that they get actors to do things you never thought you'd do. Not until months later, when you see it up on a screen, do you realize what you've done."
Peter Farrelly: "The 'SportsCenter' line is the icing on the cake for her being the perfect woman."
Script Notes
The Neary Center is named after the Farrellys' mom, whose maiden name is Neary. The Farrellys named a lot of the characters and places after friends and family.
The idea for the movie came from the writers seeing an aerobics instructor changing in her window. They wondered what would happen if someone sent a private eye to look for her.
Pat Healy is named after one of the movie's associate producers.
Warren is based on the Farrellys' neighbor, Warren Tashjian. He has a cameo later in the movie.
Mary's stepdad is based on the Farrellys' father, who would always pull pranks on their sister's dates.
Set Notes
Woogie's shoe fetish was Chris Elliott's idea.
On set, Chris Elliott shared a trailer with the dog that plays Puffy.
Favre signed footballs and played catch with everyone on set.
Cameron Diaz visited her old high school to remind herself how to act like a teenage girl.
"Can of whoop ass" was improvised by Keith David, who ad-libbed most of his lines.
According to Peter Farrelly, Cameron Diaz had a better swing than the golfer hired to stand in for her.
Puffy is played by a dog named Slammer, who is really a girl.
There were at least six fake Puffy dolls used in the movie.
Sports Note
Steve Young had led the San Francisco 49ers to a Super Bowl victory four years earlier.
Trivia Notes
Art Deco has a sleeker design, whereas Art Nouveau is more decorative and flowery.
Harvard was named the #1 graduate school for architecture in 2012.
The 8 Minute Abs videos (1995) sold over a million units.
Hitchhiking is completely illegal in only six states.
There's no cure for genital herpes.
According to a 1998 study, 1 in 12 women has been stalked at some point in her life.
Pizza delivery driver was ranked the 5th most dangerous job in the U.S. in a 2003 study.
Boa constrictors can eat large animals whole, including deer, boar, and even dogs.
Pompano Beach is about 35 miles north of Miami.
Rhode Island's only full-service highway rest area was closed in 2011.
Adult boa constrictors only need to eat once every 10-14 days.
"Architect" was chosen as the job women find sexiest in a 2005 poll.
Rice-A-Roni was created by a family-owned pasta company in San Francisco in 1958.
Mail-order brides were becoming increasingly popular in Japan in the late '90s.
One Nepalese rupee is worth about a penny.
Some Story Notes movies give you a chance to win $500 via the Golden Note sweepstakes. Go to the Story Notes homepage for a full schedule of relevant films.
Read More