Uncategorized
Larry, Moe and Who? A Look at the Many Other Stooges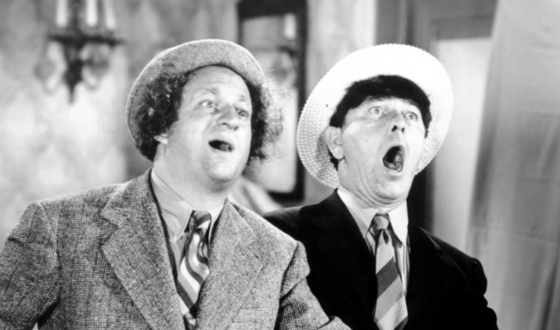 Can you name the Three Stooges? The first two were always Moe and Larry.
But what about number three? In truth, he was a rotating numbskull
played by five actors over 50 years. The third Stooge was, at varying
times, Shemp, Curly, Joe, Curly Joe, and for a while after Shemp's
death, the "Fake Shemp" — a mix of old Shemp footage and another actor's
back and side. When you watch the classic Three Stooge shorts on
various weekday mornings on AMC, pay close attention and then answer the
following: Who is the funniest third Stooge? Need some help? Here you
go…
Shemp Howard
Born Samuel Horwitz, Shemp got his nickname from his mother's Eastern
European pronunciation of Sam. Shemp, who was the older brother of Moe
and Curly, was the third Stooge early in the act, before parting over
personal differences with Ted Healy, the creator of the act. He reprised the role from 1946, when Curly had a stroke, till his own death in 1955. Shemp was a relatively relaxed
third Stooge, with fewer mannerisms than later third Stooges; he was
famous for his hilarious high-pitched squeal of both terror and delight.
He also appeared in comedies with WC Fields, Abbot and Costello, and
Charlie Chan. When asked to return after Curly's stroke, Shemp was
initially hesitant, but Shemp felt an obligation to Moe and Larry to help them
keep the Stooges going.
Curly Howard
Curly, born Jerome Horwitz, was the youngest of the Stooge brothers. At
age 12, he accidentally shot himself in the foot while cleaning a rifle;
to hide his slight limp from the injury, Curly developed his now-famous
exaggerated walk. When Shemp left, Moe recommended his little brother,
but Ted Healy (the act's original creator) didn't think his chestnut
curls and formal mustache looked funny enough. Jerry disappeared and
came back completely bald. Healy joked that Jerry looked "girlie," but
Moe misheard his comment as "curly," and the name stuck. Curly was
famous for having an indestructible head; for slapping himself silly and
spinning like a top; and for his trademark "N'yuk, n'yuk, n'yuk,"
"soiteny, " and "woo-woo-woo." Oddly enough, Curly was an
introvert off-screen. He developed hypertension and
obesity, and while on the set of Half-Wits Holiday, he suffered a
stroke. Curly never regained enough strength to act full-time but did
make a cameo appearance (with hair) in Hold That Lion!, the only movies
in which all of the original Stooges — the three Howard brothers and Larry
Fine — appear together.
Joe Palma
The Stooges were still under contract with Columbia Pictures when Shemp
died in 1955, and the studio decided to hire an actor to "stand in" for
him: Joe Palma. As the fake Shemp, Palma (born Joseph Provenzano) wore
makeup and a wig, and was filmed from the back or the side; these shots
were combined with stock footage of the real Shemp from past movies.
Years later, director Sam Raimi, having lost most of his cast and crew
in the middle of filming The Evil Dead, had to rely on stock footage and
body doubles. A Stooges fan, Raimi thought of Palma and coined the term
"a Fake Shemp," which has been used in the movies ever since.
Joe Besser
Moe and Larry wanted to continue their act as the Two Stooges, but
Columbia Pictures instead hired comedian Joe Besser and his established
whiny man-child character. Even though the Three Stooges relied on heavy
slapstick, Joe's contract stated that he couldn't be hit excessively
(this was later revised), so Larry offered to take the slaps instead,
changing the dynamics of the threesome. Joe was the only third Stooge
to hit Moe back without repercussion. He was known for the lines "You
crazy you" and "Not so fast." Joe appeared with Moe and Larry until
Columbia shut down two-reel shorts production. Moe and Larry invited him
to tour with them in a live Three Stooges act, but Joe, whose wife had
suffered a heart attack, declined.
Curly Joe DeRita
In 1958, the Three Stooges shorts started appearing on television and
suddenly they became household names. Moe wanted to take advantage of
this new fame by reviving the act. Larry suggested Joe DeRita (born
Joseph Wardell) for the third Stooge after seeing him in a Las Vegas
show. When they discovered that Curly was the most popular among
television viewers, he shaved his head and was called Curly Joe. Curly
Joe was the first Stooge to talk back to Moe, saying "OK, buddy boy" and
"One of these days, you gonna poke my eyes out." This lineup created
movies geared more to children, including Snow White and the Three
Stooges, and Have Rocket, Will Travel. They worked together until 1970, when Larry suffered a stroke. Curly Joe put together a new act with replacement Stooges, but it didn't pan out. He died in 1993; his tombstone reads "The Last Stooge."
Click here for a full schedule of The Three Stooges on AMC.
Read More