4 Football Movie Tips for Rookie Quarterbacks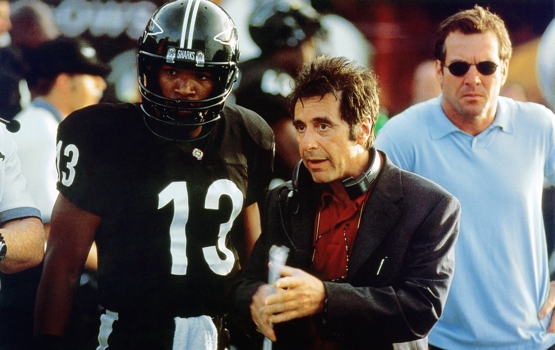 In the frenzy that is the NFL draft, four teams this year — the Panthers, Jaguars, Titans, and Vikings — all used their first pick to select franchise quarterbacks. These rookie QBs are even now learning the ins and outs of the game from coaches and countless hours of preparation. All will study lots of film.
But is it the right kind of film?

Movies like The Blind Side and Friday Night Lights capture the game's humanity … on the high school level. But this is the pros, and as such, these young men could learn from movies featuring professional quarterbacks. Of course, they're too busy to develop a cheat sheet. That's why we did it for them.
Keep Throwing Up
There's a lot wrong with Oliver Stone's bombastic
Any Given Sunday
.
The uniforms. Lawrence Taylor. The lack of a cohesive plot. But what's
right is the play of Jamie Foxx's Willie Beamen — the role that started
his trek from WB sitcom also-ran to an Oscar winner for
Ray
.
Taking the field for the first time, Beamen throws up and from then on
ritualistically heaves before every game, while maintaining his own
distinctive style of play. Much is said in the movie and in real life
about quarterbacks adapting to the pro game. Beamen, instead, makes the
pro game adapt to him. By doing so, he continues to win games and
eventually the trust of his coach and team. That said, play like
yourself. Keep puking.
Don't Go Backwards

There's a moment late in Paper Lion, adapted from George Plimpton's book about the ordeal of going through training camp with the Detroit Lions on assignment for Sports Illustrated,
when one feels for Alan Alda (who plays Plimpton), sitting on the
bench, waiting for his chance to get into a preseason game. Plimpton's
been hazed, roughed up, and ridiculed by his teammates. Now he might not
get a chance to play.
Then he does. In three plays, Plimpton loses 41 yards. So, um, don't do that.

Find a Ride

Or, better yet, don't ride your bike to practice. Learn from Joe
Pendleton, the Los Angeles Rams quarterback wonderfully played by Warren
Beatty in Heaven Can Wait,
after a car plows into him in a tunnel just days before a start against
Dallas.
His soul separated from his body before its time, Pendleton is
forced to find a new body to play quarterback in. Winning a Super Bowl
is the ultimate career highlight — but no chance of that if you're not
careful.
Know the Game

Not the audibles or routes, but the game. Nowhere do you learn that better than in North Dallas Forty,
perhaps the best football movie ever made. Here one sees the inner
angst of Nick Nolte's character — an aging, battered receiver named
Phil Elliott, coping with the inequities of a game he loves. But for all
of Elliott's rumination, we best come to know what it takes to
persevere in football through the quarterback, Mac Davis's Seth Maxwell.
Maxwell is all at once lewd, foul-mouthed, sexually promiscuous, and a
man publicly willing to buy into the system so long as it keeps him on
the field. He sees what Elliott can't or won't.
"Hell, Poot, we're all whores," Maxwell says to Elliott early in the film, "might as well be the best."
More
than 30 years have passed since that line, but they still hold true for
today's quarterback. No other position in sports demands as much and
takes so much from those who play it. Success comes from being
individually selfish in the ultimate team game. You have to be a leader
of men while pursuing personal goals. What makes football great for fans
is its complexity and ever-evolving nuance. But what ultimately makes a
great quarterback is a simple principle: Survive. Just survive.
Read More