Uncategorized
Story Notes for True Grit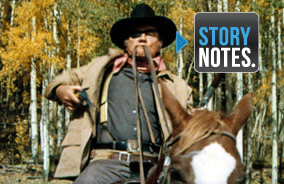 Monday through Thursday, at 8PM | 7C, AMC presents Story Notes — real-time on-air trivia about your favorite movies. Tonight's movie was True Grit.
Award Notes
Director Henry Hathaway told John Wayne he might win the Oscar if he wore an eye patch. He was right.
As Wayne was handed his Oscar for this role, he leaned in and said, "Beginner's luck."
Biographical Notes
True Grit was produced by Hal B. Wallis. He produced over 350 movies, including Casablanca.
Wayne loved playing cards. His favorite games were bridge and hearts. Aside from being a good player, Wayne was extraordinary at counting cards.
In real life, Glen Campbell isn't from Texas. He's from Arkansas, where this story takes place.
In real life, Wayne was an early riser. He would often wake before 5 a.m.
Just prior to filming, Kim Darby had a baby with her husband, James Stacy. They divorced soon after.
Strother Martin came to Hollywood in the late forties to work as a swimming coach.
Wayne wasn't exactly a lawyer, but he did take pre-law courses at USC.
Before True Grit, Darby had appeared in several TV Westerns including Gunsmoke and Bonanza.
Campbell was raised Baptist.
One month after True Grit, Dennis Hopper directed and starred in Easy Rider.
Hopper went on to create iconic roles in Speed, Hoosiers, Blue Velvet, and Apocalypse Now.
In his younger years, Wayne could take a hit. He played college football at USC.
Less than a year later, Darby was nominated for a Golden Globe for Generation.
In the fifties, Jeff Corey was blacklisted from Hollywood because of his liberal political views.
Casting Notes
Darby is 14-year-old Mattie Ross. Darby was actually 21 when filming began.
Yarnell is played by Ken Renard. He appeared in over 35 TV shows including Gunsmoke.
That's John Doucette as the sheriff. Early in his career, he was cast regularly as an outlaw.
Wayne is Rooster Cogburn. He's ranked No. 13 on AFI's list of the "50 Greatest Screen Legends." At 62, he was still a major draw at the box office.
Wallis cast Darby because he thought she was "full of spunk and determination."
That's Campbell as La Boeuf. At the time, Campbell was known as a singer, not an actor. In 1968, the Country Music Association named him Entertainer of the Year.
Star Trek fans may recognize Alfred Ryder (the defense lawyer) from the first episode that ever aired. Ryder played Professor Robert Crater in "The Man Trap."
Chen Lee is played by H. W. Gim. He was Ching in John Wayne's McLintock!
Hathaway says he cast Campbell because he knew his title song would be a hit. It was. But he says, "If he'd been a really lousy actor, I wouldn't have cast him."
Martin is best known for his role as Captain in Cool Hand Luke. He was also in the No. 1 movie of 1969, Butch Cassidy and the Sundance Kid.
Darby drove a hard bargain, too. She turned down the role three times before finally signing on.
Mia Farrow was originally cast as Mattie, but she withdrew six weeks before filming began. She wanted Roman Polanski to direct the movie, but Hathaway already had the job.
Before speaking with Hathaway, Wayne told his daughter Aissa she could play Mattie. Hathaway told him, "You can go and break your daughter's heart and tell her she can't do it."
Elvis Presley was originally considered for the role of La Boeuf. When his manager demanded Elvis get top billing over Wayne, any hope of a deal was lost.
Despite his legendary status, Wayne had to ask to be cast in True Grit.
That's Jeremy Slate as Emmett Quincy. He wrote and starred in the cult hit Hell's Angels '69.
Robert Duvall plays Ned Pepper. Three years later, he would be cast in The Godfather.
Ron Soble was a Golden Gloves boxing champion in 1944.
After True Grit, Darby struggled to find female roles as strong as Mattie.
Corey plays Tom Chaney. He was a lawman in Butch Cassidy and the Sundance Kid.
That's John Fiedler as Lawyer Daggett. He was the original voice of Piglet in the Winnie the Pooh series.
Fashion Note
Colonel G. Stonehill is wearing a string tie, popular in Westerns of the fifties and sixties.
Finance Note
La Boeuf is still hunting for his payday, but Campbell made a combined $3 million in 1969.
Health Notes
Depending on the bite, Mattie could have only a few hours to live.
Rooster cut an "X" over the fang marks and rubbed chewing tobacco in the wound. This was a common remedy but not all that effective.
History Notes
Chickamauga was the second-deadliest battle of the Civil War. Gettysburg was the first.
Hangings were considered social events in the Old West. Vendors sold food and drinks, and kids even attended.
The sheriff is right. U.S. marshals were the highest-ranking lawmen in the Old West.
It was not uncommon to share beds. Luckily, most boardinghouses would provide laundry services.
The real Judge Parker from Fort Smith, Arkansas, sentenced more than 150 people to be hung.
Historians believe Rooster was based on deputy U.S. marshal Heck Thomas. Thomas was a real U.S. marshal for Parker. He brought in some of the toughest outlaws.
General Sterling Price was a Confederate general who also served as the eleventh governor of Missouri.
After the Civil War, the Texas Rangers were eliminated. In 1874, they were brought back. Rangers were hired for protection from Native Americans and to ensure law and order.
In the Old West, soap was regularly made from animal fats.
Lawyers did exist in the Old West, but you don't often see them in Westerns. They helped bring order to the developing territories.
In the Old West, it would've been rare to see a woman traveling through Indian Territory.
Something like this actually happened during a bank robbery in 1892. Outlaw Emmett Dalton of the Dalton gang rode into gunfire trying to save his brother.
Coffee was popular in the Old West but was actually hard to find and very expensive.
Kirby Smith was a general for the Confederate army. His first name was actually Edmund.
Just because men were outlaws in the Old West didn't mean they were all bad.
Location Notes
The story takes place in Arkansas, but this is actually Ridgway, Colorado. Hathaway also filmed How the West Was Won here.
McLennan County is 365 miles southwest of Fort Smith.
The river no longer exists. Today it's known as the Blue Mesa Reservoir near Gunnison, Colorado.
The scenes around the dugout were filmed just outside of Mammoth Lakes, California.
One scene was filmed in Ouray, Colorado. It's near the Million Dollar Highway. The road was given that name because it weaves through gold-mining communities.
The mountain in the background is Chimney Rock. It was named a National Historic Site in 1970.
Music Note
Legendary composer Elmer Bernstein wrote the score for True Grit. His career spanned 50 years and included movies from The Ten Commandments to Animal House.
Plot Notes
As her father's bookkeeper and closest adviser, Mattie is wise beyond her years.
"Who knows what's in a man's heart?" is a theme that will come up throughout the movie.
Mattie tries hard to be strong, but she's still a young girl who misses her father.
Rooster doesn't need a warrant to intimidate. His reputation is more than enough.
The lucky gold coins give Mattie a renewed hope.
Rooster has a past with Pepper, which will make things complicated.
Rooster, La Boeuf, and Mattie have slowly become an unconventional family.
Chaney had his chance to kill Mattie but didn't. He'll live to regret it.
After four months on the trail, La Boeuf finally catches his man.
Still the renegade at heart, Rooster doesn't bother asking whether he can borrow the wagon.
Pop-Culture Notes
In 1969, three of the top ten movies and two of the biggest shows on TV were Westerns. True Grit reflected the changing times of the sixties both in American society and in Westerns.
True Grit was an unusual Western because its hero was not only a woman but a young girl.
In 2010, the Coen brothers remade True Grit with Jeff Bridges as Rooster. Bridges wore the patch over his right eye instead of his left. He said it "just felt right."
Critics say this movie reestablished Wayne as a major movie star for the next decade.
Don't worry about General Price. He returned for the sequel, Rooster Cogburn, in 1975.
Prop Notes
Chaney is carrying a Winchester 1866 rifle. Today it would be worth $15,000 to $40,000.
The Colt Dragoon weighs over four pounds and was introduced in 1848.
Quotation Notes
Wayne says Rooster was "sure as hell my first decent role in twenty years. And my first chance to play a character role instead of John Wayne."
Darby: "I am really afraid of horses."
Campbell: "It was one of the biggest thrills of my life just to ride on a horse beside John Wayne."
Wayne said, "That was no easy thing: for John Wayne to go and ask a producer if he can have a role."
Wayne on Darby: "Jesus, I got along better with Kirk Douglas!"
Hathaway said, "[Author] Charles Portis was a great writer, and we kept his dialogue in the screenplay because it was perfect."
Darby: "I had no idea the impact or the icon that he was."
Campbell says this performance is "John Wayne from his toenails to the top of his head."
Wayne once said, "I was born to play this part."
Wayne: "That was me having fun. For the first time, I felt like an actor."
Random Notes
It's fitting that he would walk in during dinner. La Boeuf is French for "the beef."
In Arkansas, moving a dead body is illegal, but hunting hogs remains legal year-round.
Even with a chimney, there's little ventilation in these mud dugouts.
A man's gun was part of his identity like the kind of car a person drives today.
A rattlesnake can strike from a distance of half its body length.
A horse can carry only about 20 percent of its weight. Little Blackie is built for 200 pounds or less.
Script Notes
In the novel, author Portis writes that Pepper's "woolly chaps sang as they swished back and forth."
In both the novel and the 2010 version of True Grit, La Boeuf survives.
Set Notes
Wayne is a foot taller than Darby, but the meeting on the stairs puts them eye to eye.
Initially, Wayne refused to wear an eye patch for the movie.
Darby's stunt double was 48 and wore a clay mask to better match Darby's face.
It was so cold on one day of filming, you can see the horse's frosty breath.
Despite his best efforts, Wayne said, he didn't get along with Darby on set.
Wayne would wake up at dawn to practice horse-riding scenes.
Symbolism Notes
Rooster handles the rat the same way he handles outlaws.
The women's movement in America gained momentum in the late sixties. Mattie represents that same relentless spirit.
Mattie continues to carry her father's revolver, emphasizing her strength and independence.
Mattie's insistence on cleaning La Boeuf's wound represents the modern world coming to the West.
Mattie gives Rooster the gun because he's like family to her.
Technology Notes
Rooster's right. La Boeuf's Sharps rifle is very powerful. That gun is built for buffalo hunting.
A Colt revolver could produce the same power as a large musket. Mattie's misfire saves Chaney.
Trivia Notes
"Loves to pull a cork" means Rooster is a bit of a drinker.
"Make medicine" meant "come to an agreement" in the Old West.
Mattie should probably steer clear of the "bust head." That's straight sour-mash whiskey.
Ordinarily, Rooster and La Boeuf would have traveled with a packhorse to carry extra supplies. Packhorses were seldom seen in Westerns because they slowed down the action.
A "brush popper" is someone who fires a gun from the brush and then flees the scene.
A corn dodger is a deep-fried mixture of cornmeal, water, butter, and salt. In some cases, sugar was added to the mix to enhance the cornmeal's sweetness.
A horse has to be trained to carry a dead body. Without practice, the horse might be spooked.
"Putting someone afoot," or shooting a person's horse, was one of the worst things you could do.
In the early days of Westerns, some actors were contractually required to ride behind the star.
A "jerk line" is a single rein attached to the lead animal in a team of horses or mules.
"Shot to pieces" was a common phrase in the Old West. It was even used in courtroom reporting.
The snake's rattle is made of keratin. That same protein is found in human hair and fingernails.
Read More