Uncategorized
Movie History – The Godfather of Gangster Films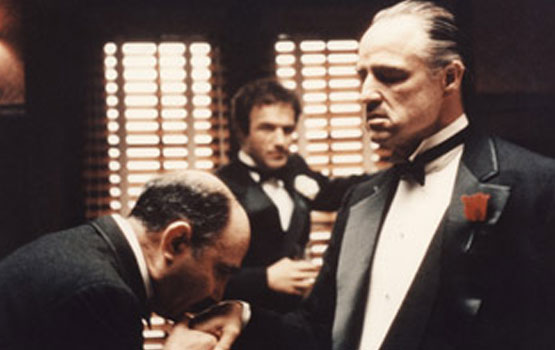 In 2011, AMC acquired exclusive on-air and on-demand U.S. cable rights from Paramount to the Godfather films for nine years, (the longest TV licensing deal ever signed for the trilogy). Many accolades have been given to director Francis Ford Coppola's filmed saga, and the series has become universally revered as the definitive gangster drama. Themes include revenge, intrigue, betrayal, alliances, violence, and the corrupting influences of power, ambition, and loyalty to one's family. The first two films, in 1972 and 1974, are considered masterpieces of American moviemaking, and many film reviewers consider the second part equal or superior to the original. So just what has made this collection of films so memorable?
Critical, Award-Winning, and Commercial Success
The first two films both won the Academy Award for Best Picture. The second film was the first winning sequel in Academy history. The three films received a total of 28 nominations and were awarded nine Oscars, including a Best Actor Oscar for Marlon Brando in 1972 and a Best Supporting Actor Oscar for Robert De Niro in 1974. Collaborators Coppola and Mario Puzo (the author of the best-selling 1969 novel that began the legend) won Best Adapted Screenplay in both 1972 and 1974. The Godfather: Part II (1974) won twice as many Oscars as the first film. The first part of the saga was a tremendous critical and commercial success — and the highest grossing (domestic) film of its year and time (at $135 million). With a production budget of $6.5 million, it was also the most profitable film. The second film took in only $48 million in box-office (domestic) business, while the third film grossed $66 million (domestic) and $137 million (worldwide). Its production budget was a whopping $54 million. The third film had seven Academy nominations (including the first for cinematographer Gordon Willis) but zero Oscars.
Frequently Quoted
Many familiar lines of dialogue have become catchphrases, including the following:
"I'm gonna make him an offer he can't refuse."
"Luca Brasi sleeps with the fishes."
"Keep your friends close but your enemies closer."
"Michael, we're bigger than U.S. Steel."
"Just when I thought I was out, they pull me back in."
The Heroic Portrayal of a Mafia Dynasty
Gangster films are one of the oldest movie genres, emerging as an influential force in the early thirties (e.g., Little Caesar (1930), Public Enemy (1931), and Scarface (1932)). But Coppola's films reinvented the genre, elevating the classic Hollywood crime film to a higher level by portraying the gangster figure as a romanticized tragic hero. The specific words "Mafia" and "Cosa Nostra" were not found in the original film's script; they were replaced with the more respectable term "the family."
The Story
All three of the Godfather pictures start with a party or celebration and end with a bloody retaliatory massacre (filmed as montage).
The Godfather (1972)
The first part was a modern version of Shakespeare's King Lear, featuring aging patriarchal crime king Don Vito Corleone (Marlon Brando) and three sons: volatile Sonny (James Caan), Fredo (John Cazale), and young Michael (Al Pacino). Corleone was a rags-to-riches success story, a turn-of-the-century Silician immigrant who had become the head of one of the five Italian-American families in the boroughs of New York who operated a crime syndicate. It took place from the mid-forties to the mid-fifties, a ten-year period. The "honorable" crime family, working outside the system owing to exclusion by social prejudice, was threatened by the rise of modern criminal activities: the dirty drug trade. Family loyalty and blood ties were juxtaposed with brutal and vengeful bloodletting, including Corleone's attempted assassination in 1945 after he refused to bankroll a rival's drug activities. The rich and enthralling film was characterized by superb acting, deep character studies, beautiful photography, authentic re-creation of the period, a bittersweet romantic subplot, a rich score by Nino Rota, and superbly staged portrayals of gangster violence. Its grim, dark passages and bright exterior scenes were all part of the beautiful cinematography by Gordon Willis. Romanticized scenes of the domestic home life of members of the family — a family wedding, shopping, kitchen cooking, a baptism — were intertwined with scenes of horrific violence and murder contracts. A total of 23 deaths littered the first film.
The Godfather: Part II (1974)
The brilliant and somber second film was both a sequel continuation of and a prequel to the 1972 film, with fewer deaths (sixteen). It followed the rise of two successive generations of Corleone power and extended over a period of 60 years. After his heart attack, in 1955, Vito Corleone (Brando, replaced by Robert De Niro in this film) was ultimately succeeded by his educated youngest son, Michael (Pacino), a U.S. Marine Corps officer in World War II who became even more ruthlessly coldhearted to persist. The major portion of the film began in 1958, about three years after the conclusion of the first film, following Michael's career from his patriarchal prime to his decline a year later, when he sought legitimacy in Nevada and invested heavily in gambling casinos in pre-Castro Cuba. The saga showed the inexorable transference of sins from the immigrant father to his modern-day son. Its final devastating image was of a ruthless, prematurely old Michael as he sat quietly and introspectively, staring blank-eyed at his chilly Lake Tahoe compound, on a lawn chair as winter approached. The film masterfully cut back and forth between the two parallel stories, contrasting two eras and their protagonists. The prologue (about a quarter of the entire film) was the background story of the rise of the youthful Don Vito Corleone, smuggled as a young boy out of Sicily to become a Mafia chief in the early aughts in the Little Italy section of New York City.
The Godfather: Part III (1990)
The third film (generally considered the weakest of the trilogy) began in 1979, about twenty years after Don Michael Corleone (Pacino) had given the order to have his older brother, Fredo, killed and eight years since Michael and his wife, Kay (Diane Keaton), had last seen each other, after divorcing in 1959. Consigliere and adopted brother Tom Hagen was now dead, replaced by B.J. Harrison (George Hamilton), and the Lake Tahoe compound was in disrepair, as Michael had moved out of the casino business. Sixtyish Michael Corleone was taking steps toward cleansing himself, breaking his ties to the Mafia business, legitimizing his violent reputation, and buying his way toward respectability, all while trying to find a worthy successor. Michael had semi-reconciled with Kay and his estranged noncriminal son, Anthony (Franc D'Ambrosio), who had aspired to be an opera singer rather than a lawyer. His main conflicts were with syndicate-crime associates conspiring against him (Joey Zasa (Joe Mantegna)) and his illegitimate hotheaded nephew, Vincent Mancini (Andy Garcia), son of Michael's late brother, Sonny, who carried out unauthorized retaliatory murders. Vincent ultimately became Michael's reigning godfather heir in exchange for permanently promising to end his tempestuous affair with Mary (Sofia Coppola, the director's own daughter) — his own cousin — leading to more tragedy. The film ended with a coda years later, in 1997, with white-haired Michael's anticlimactic, peaceful death from a heart attack at his Sicilian villa as he slumped over in his chair while recalling the various loves of his life.
Read More