Uncategorized
Q&A – Tyler Perry Defends the Schizophrenia of Why Did I Get Married Too?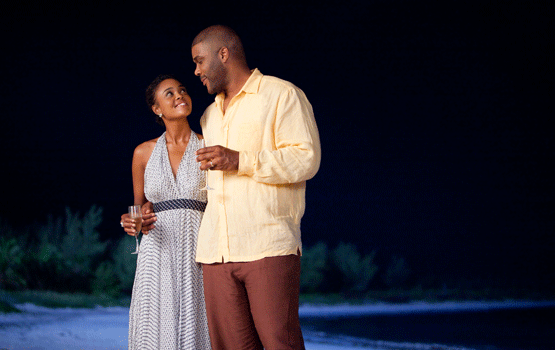 Tyler Perry films are franchises, no doubt about it — but usually when the writer-director-actor does repeats, it involves a certain character named Madea. This time out, in Why Did I Get Married Too?, he's reprising his most normal character, the one who's most like him: a nice guy named Terry who goes on a marriage retreat to reconnect with his wife, Dianne (Sharon Leal), along with three of their couple friends. Once in the Bahamas, they all ask themselves the question that is the film's title — and some find it hard to answer. Perry had no such problem when a series of questions about the making of the film were put to him.
Q: Why do a sequel?
A: You know, I wrote this because this was the only group of characters I've written where I felt like they had more to say. I just love working with this cast, and I wanted to re-create the fun we had working on the next one. I wanted to reprise these couples, tell more stories about their relationships, and I just think there are even more stories that we have to tell that still have not yet been told. We could take them to Europe next, go on a yacht somewhere [for the next marriage retreat]. I think, this time, we stressed each couple to the max, with whatever marital situation they were facing.
Q: Why the focus on married couples? You're not married yourself.
A: Our parents were all married for 30, 40 years, but our generation is a little different. I think it's important to show a husband and a wife together, in a room, raising children, because you don't see that anymore. And I think anyone in a relationship will get it and it will resonate. I got some messages on my message board — this is what blows my mind — and they'll say, "This is something I'm going through right now. We were having trouble in our relationship, but we saw this and we cried, we prayed, and we worked it out." And those moments, that's what matters to me, more than anything else. So to have millions of people see the film and have it affect them in some way, that's beyond what anyone can say. Anybody in a relationship can relate to at least one of these four couples.
Q: So let's talk about the couples. Angela and Marcus are the comic relief.
A: Michael Jai White [who plays Marcus] is so great at so many things — like being an action hero [in Black Dynamite] — that it's good to see him do comedy. And the chemistry between him and Tasha Smith [as Angela] is electric. She brings the life and fun to it. I need to bring Angela in to make me laugh, because she not only is a great actor but her comedic timing is brilliant, and I appreciated her for doing that.
Q: Why go back and forth between the grief and pain of the other couples and the comic situation between Angela and Marcus?
A: We can be talking about something serious or laughing, and then you go home and find out something tragic happened. I get a lot of flack from critics that my comedies are all over the place, my dramas are all over the place, they're schizophrenic — as if I don't know that! But my comedy just comes to me. I just write it the way life happens. I'm not trying to follow a formula. I want a balance, because when I'm watching it, this gets pretty deep.
Q: Janet Jackson, as Patricia, really gets to let loose in that scene where she's swinging the golf club at everything.
A: She hit me with the golf club! She hit me, and she hit herself. Her ankle was swollen. And you know, when Malik throws the whiskey, the vodka at her? I didn't tell him to do that. That just came out of nowhere, but that was incredible. He was blessing her, like "I bless you," with the bottle, with the spirits.
Q: Her final scene with Gavin is so powerful, so full of regret.
A: My mother died December 8, and I was looking at some pictures of her, from 2006, and I asked myself, "Is there anything I would have done differently?" You know, if anyone had told me she was going to die. And the greatest gift that gave me the most peace was that I could honestly say that I would not change one thing. So even with this film, and that scene, if someone tells you that someone you love will be in an accident, and they will die, is there anything or any choices that you would make now? What would you do?
Q: What's next?
A: We're doing For Colored Girls Who Have Considered Suicide
When the Rainbow Is Enuf, and then, right after that, I'm going to do a movie dealing more with death and grief and humor. As I experience life and go through things, that's what I write about. And what speaks to me speaks to millions of other people. So it's important to me that it comes through me unfiltered, that no one is watering it down. It comes out raw, and it goes to the audience. And I love it when people get it.
Read More