AMC News at Sundance 2010: The Wrap-up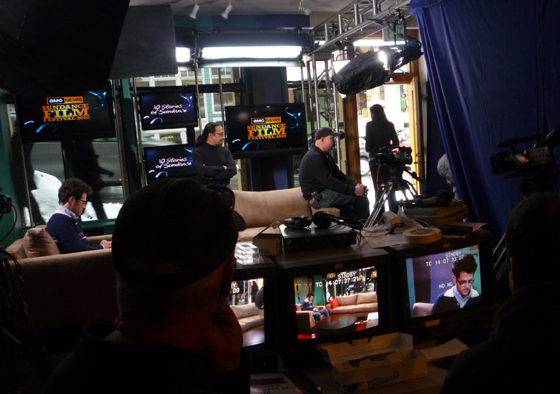 Two years in a row, the team that brings you AMC News has relocated to Park City Utah for the annual Sundance Film Festival at the end of January. Dozens of people put together and execute a plan to rent a storefront on Main Street in Park City and, for a week, turn it into a full-fledged TV studio, as you can see in the picture above.
Sundance is the United States' most important film festival, and this year the theme was "rebellion," which to some, including festival founder Robert Redford, meant a return to its "roots" (without Paris Hilton and ambush marketers). Well, both Hilton and the marketers showed up again, but it didn't stop us from focusing on the more interesting stories of the festival.Along with creating a half-hour AMC News Special: 10 Stories of Sundance, our goal was to bring the AMC News audience the most authentic look we could so we turned to Twitter and this blog to send out video, images and observations to chronicle the opening press conference and the goings-on in our studio, on the streets and in theaters.
Here are some relevant tweets and the stories behind them from AMC News producer Mark Marraccini (@marramark), myself, and others:
"8: The Mormon Proposition" is a documentary about the Mormon Church's role in the passage of proposition 8 in California, which for now has ended same-sex marriage in the state. The documentary sold out before any other, and drew a group of protesters.
"Drunk History: Douglass & Lincoln," won the Jury Prize in Short Filmmaking.
Documentary Directing Award
The tragic earthquake in Haiti and its aftermath was on the minds of many at the festival. Several actors and musicians participated in the Hope for Haiti Now telethon and then flew to Sundance, including John Legend, who came into our studio. Legend was at Sundance to promote Davis Guggenheim's Waiting for Superman (as was Bill Gates) the documentary about education in the United States.
The CEO of DreamWorks Animation came into our studio to talk about Sundance, 3D (the documentary

Cane Toads: The Conquest

premiered in 3D at Sundance).
Senator Boxer stopped by to discuss the documentary Climate Refugees, with director Michael P. Nash.
Diane's four documentaries at Sundance were the aforementioned Waiting for Superman, Cane Toads: The Conquest, Casino Jack and the United States of Money about former Washington lobbyist Jack Abramoff, and Countdown to Zero about nuclear weapons.
Restrepo was the opening night documentary at Sundance. It's an experiential film that follows United States soldiers at a remote outpost in Eastern Afghanistan. Junger and Heatherington took 10 trips to there.

Blue Valentine was acquired by the Weinstein Company.
Those are only fraction of the stories at the festival. For a whole lot more, tune into the AMC News Special: 10 Stories of Sundance and keep following AMC News on Twitter. There's one more tweet, without which we wouldn't have any stories to tell:
Read More