For Omen 2, William Holden Changed His Mind About Working With the Devil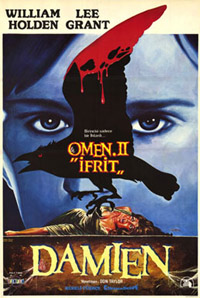 Oscar-winner William Holden turned down the lead role in the original Omen film, claiming he didn't want to star in a film about the Devil. Whether this was a moral grievance or because he merely found the script silly, an actor is entitled to his principles — but I have a bone to pick with this excuse. Holden had already indirectly engaged in dealings with the Dark One for many years, so why draw the line at being Damien's daddy? Perhaps he suffered spiritual setbacks after starring in the 1968 war movie The Devil's Brigade? Jeopardized his immortal soul while on the set of Satan Never Sleeps back in '62? One can't help but wonder whether he found the title of The Towering Inferno a little too metaphorically loaded for his tastes.
But the Devil takes a pleasing form, and in the end, the allure of
money and success vanquished all hope for a moral victory. When The Omen
(starring Gregory Peck instead) turned out to be a huge hit, and a part
in the sequel became an option, Holden didn't turn down the role of the
Antichrist's uncle who must finish the work Peck's character was unable
to complete. While not the blockbuster the first film was (as few
sequels are), Damien: Omen 2 was one the more successful of Holden's final projects before his death in 1981.
One can't help but wonder about the degree of personal sacrifice he
felt while going through those motions — whether he was inwardly
laughing or cringing while assembling the Seven Sacred Daggers of
Meggido. Be sure to look for clues on that famous face when Damien: The Omen 2 airs.
For a complete schedule of this movie on AMC, click here.
To share you review of this movie, click here.
Read More